Archived Arts & Entertainment
Coming full circle: BearWaters Brewing opens Waynesville location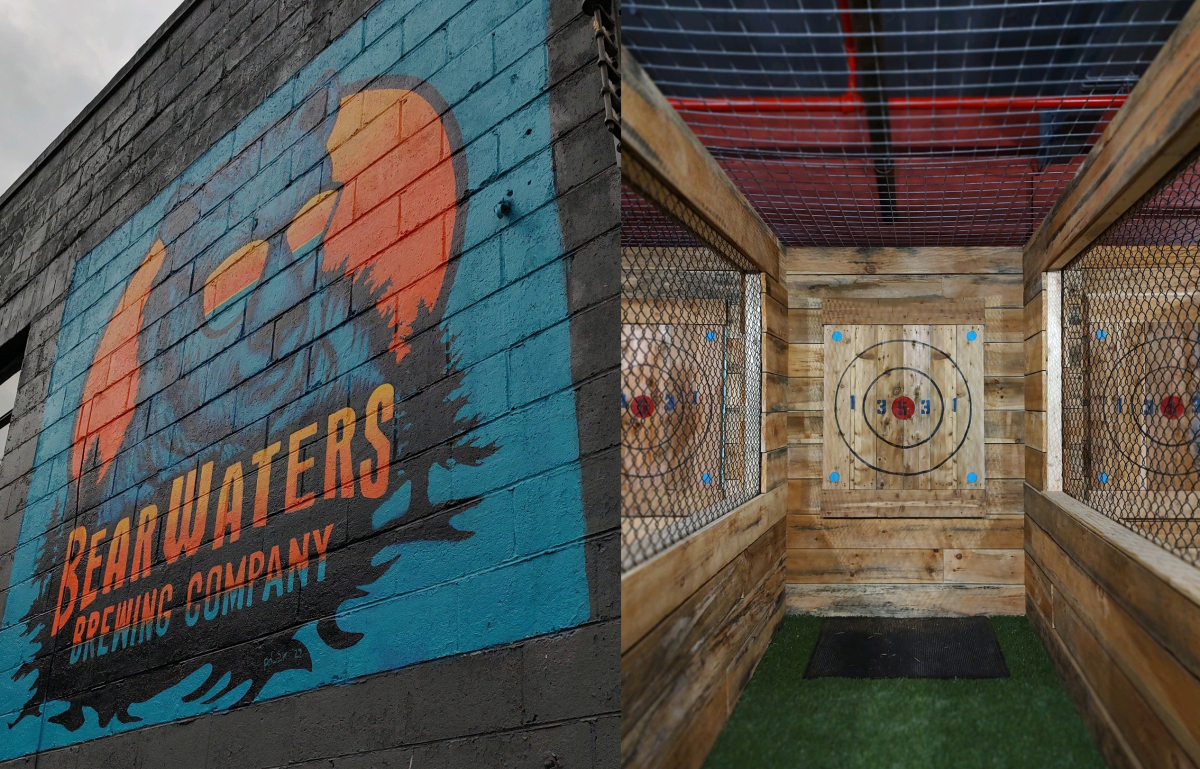 BearWaters Brewing in Waynesville will feature axe-throwing cages, an arcade and more.
Garret K. Woodward photo.
Last Thursday morning, Kevin Sandefur spent five hours spreading gravel in the parking lot of the brand new BearWaters Brewing location on South Main Street in Waynesville.
"The truck driver dropping off the gravel asked if I was one of the owners and I said yes. He goes, 'And you're out here doing the parking lot?' Yep," Sandefur chuckled.
Founder/co-owner of BearWaters, it's been a long, arduous road for Sandefur — blood, sweat, tears and craft beer. Known as "The Warehouse," this latest endeavor in West Waynesville will not only be the brewery's third brick-n-mortar spot — with Riverside in Canton and Creekside in Maggie Valley — but also a truly full circle moment for Sandefur & Co.
"[The Warehouse] is a testament to never giving up, just persevering and working hard," Sandefur said. "If you keep grinding and grinding, you're eventually going to get to where you want to be as long as you don't give up. Obviously, there's been a lot of challenges, but we've never stopped trying to move forward."

The last remaining structure from the former Dayco factory — once a powerful economic driver within Haywood County for decades — BearWaters purchased the enormous 20,000-square-foot building in June 2021. Dubbed "The Warehouse," BearWaters aims to pay homage to the proud blue-collar roots of the property and its surrounding West Waynesville/Hazelwood community.
"This is another piece of history in Haywood County that we were able to kind of revitalize and making into something functional again," Sandefur said. "And we though the timing was right with everything happening on this side of town — rebranding of the Waynesville Inn & Golf Club, new [Hampton by Hilton hotel] being built, Plott Creek apartment complex."

On its 10,000-square-foot main floor taproom, there's a full arcade/game room, pickleball/cornhole courts and several axe-throwing cages. The space will host community gatherings, sports leagues and art classes hosted by WNC Paint Events. Plans are already in the works for a basement whiskey/bourbon tasting room and rooftop lounge component. Food trucks will also be onsite.
"This project is a long plan that we've just been taking one step at a time," Sandefur said. "We wanted to create a place that families could come and have an opportunity to do some fun activities — it's set up for everything for all ages."

And with the rapidly changing cultural, social and economic landscape of Haywood County and greater Western North Carolina, many folks might not remember or be aware of the origin story of BearWaters Brewing.
A 30-year resident of Haywood County, Sandefur was awarded a $7,500 startup seed grant from the Haywood County Chamber of Commerce in 2010. Those funds were at the heart of what became the first BearWaters taproom — two modest side-by-side storage units just off Russ Avenue in Waynesville, which were eventually torn down when the Publix grocery store was built.
"We were fortunate in the little storage unit and we had some really cool moments in there in the beginning," Sandefur reminisced. "And to look at where we are now, and to see what we have become? There's a lot to be proud of — it's exciting, and it feels good."

By 2016, Sandefur teamed up with food/beverage professional Art O'Neil, and the duo soon launched the popular BearWaters Riverside brewery/restaurant along the Pigeon River in downtown Canton. Not long after came the BearWaters Creekside on Soco Road in the west side of Maggie Valley.
In August 2021, BearWaters faced its biggest hardship to date when a massive flood due to Tropical Storm Fred bulldozed through Haywood County. A wall of water overtook the banks of the Pigeon and burst into BearWaters Riverside. But, the brewery was steadfast and resurrected itself, reopening mere weeks later.
"We're been through a lot and we're still here. And now being back in Waynesville, it feels like it was the missing piece that we were lacking," Sandefur said. "Waynesville is the completion of a two-year project of day-in-and-day-out things that need to get done. But, then you stop and actually see people coming in and interacting with the space, their eyes lighting up — it makes all that hard work worthwhile."

Standing outside of The Warehouse, Sandefur gazed through the big bay doors on the main floor. Numerous family, friends and esteemed members of the community are milling about inside, each taking in every detail of the building. Their faces light up just as Sandefur had hoped. In the coming days, the general public will be able to enter this next chapter of BearWaters.
"When we first started, we didn't want to be just 'Waynesville's brewery,' 'Canton's brewery' or 'Maggie Valley's brewery' — we wanted to be 'Haywood County's brewery,'" Sandefur said. "And now that we have a presence in all three major townships? After all these years, we feel like we've finally completed that mission."
Want to go?
Known as "The Warehouse," the newest BearWaters Brewing location will officially open to the public on Tuesday, May 23, at 1940 South Main Street in Waynesville.
Featuring a full arcade/game room, pickleball/cornhole courts and axe-throwing cages, the vast space also houses a taproom with several handcrafted ales ready to pour.
For more information, go to bearwatersbrewing.com.