A&E Columns
This must be the place: 'Pack up all your dishes, make note of all good wishes'
Wednesday, April 26, 2023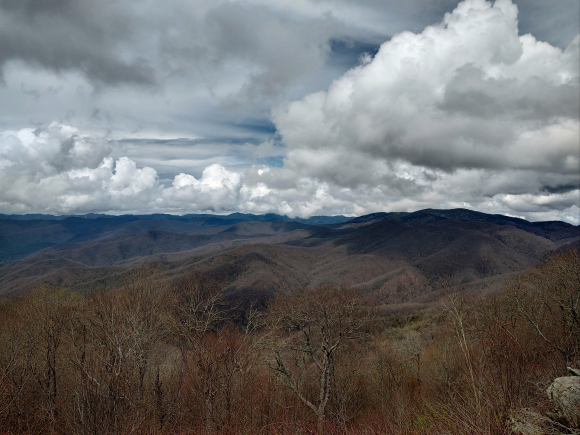 A lazy afternoon along the Blue Ridge Parkway.
Garret K. Woodward photo.
Last Friday afternoon marked the first "Downtown After 5" on Lexington Avenue in the heart of Asheville. The unofficial kickoff to the summer and all of its impending shenanigans in the name of irresponsible enlightenment. A hot sun hung high above the city as the multitudes rolled in from seemingly every direction.
Heading into the crowd, it was a whirlwind of familiar faces and new ones, too. Rock music echoing from the massive stage underneath the I-240 overpass. Plastic cups of local craft beer and food trucks. Smiles and laughter. A scene of camaraderie and connectivity after the solitude and buckle down nature of winter and early spring.
And it was in that moment at-hand when I started to take inventory of what was unfolding before me. That every-so-often sense of self where, suddenly, you're struck with the realities of time itself, its perpetual motion and onward ethos of "you're either on the bus or off the bus."

Especially when you live and work in the journalism world, where time is measured by deadlines and kicking this newspaper out the door every Tuesday afternoon.
Everything done by us reporters seems to get compartmentalized, each week a shoebox of stories and interactions, actions and reactions, thoughts and words, all strung together in a feeling of urgency and social responsibility.
But, this recent moment of clarity, of another inventory of the heart and soul within, was met with a wave of gratitude and sentimentality. The older you get, the more you are in tune with the cosmic universe swirling around you, at least hopefully that's the case. Some folks just wander down the road of life oblivious to any and all things, regardless of outcome. More power to them, I suppose.
Me? I prefer to have a sharply honed antenna of my spirit open and vulnerable to the possibilities of all that surrounds my current place of body and mind. Whatever the case, I found myself gazing around "Downtown After 5," at the large throng of faces known and unknown, all of those conversations and unique expressions.
What is everyone talking about? Are they happy? How was their winter? Any big plans this summer? Does anything actually matter when it comes down to life and death itself? The ebb and flow of humanity in constant motion.
Take a moment to collect your thoughts. Take a sip of that local craft beer and just let the music place. And remember to just be kind, that's all that really matters, eh? Well, that and the "golden rule" is the only true directional marker from the heavens above. Be kind, dammit.
Like clockwork, I snapped out of my rabbit hole mindset when my girlfriend squeezed my hand and smiled at me. I smiled back in solidarity and appreciation for her kind aura and sincerity. By the time the sun went down, it was decided to try and find some dinner in West Asheville before everything closed.
Grabbing a seat at the Westville Pub, she and I ordered the same meal we requested on one of our first dates a few months ago — hand-breaded chicken tenders dunked in coconut milk with a basket of sweet potato fries (extra ketchup). We ate the meal with gusto, the occasional smirk exchanged between the two of us in ode to how much our lives have changed.
Coming into 2023, each of us entered the New Year with a fresh, empty calendar of obligations and social engagements, the fast, undulating rollercoaster of whatever gets thrown at a human being just tryin' to hold steady, my brothers and sisters.
Scanning 'round the pub, a flood of memories appeared across my field-of-vision of long-gone days spent in that exact establishment. It was the summer of 2009 when I first crossed the threshold of the Westville. I was 24 and determined to make it as a writer — one with financial stability and enough money in the bank to order the filet mignon off the menu whenever I damn well please.
That day was also the first time I visited Asheville and greater Western North Carolina. En route back to my native Upstate New York following a cross-country trip to Burning Man in the desolate Nevada desert, Asheville was just another stop on an elaborate quest around America — in search of truth and passion within humanity through written word and that of my trusty photographer's lens.
And I do remember who I was and how I was feeling back in those days. Frustrated, but persistent. Optimistic and ready to tackle any obstacles in the way, for "obstacles are opportunities." I was, and remain, a hopeless romantic. Chasing down the written word was the name of the game at 24, and it is more so now at age 38.
Some 14 years later, there I was in that booth at the Westville, mere feet from the barstools my photographer and I inhabited during the Obama Administration. It's been 11 years since I relocated from the North Country to Haywood County.
At 24, I had no clue that, three years later, I would be offered this gig at The Smoky Mountain News. And that I'd circle back to Westville that first week living in a new place, with no friends or connections in the area. Completely alone with $33 in my bank account, and with hopes of putting down deep roots in the mountains of Southern Appalachia.
"Whatcha thinkin' 'bout?" my girlfriend said to me from across the booth, her signature radiant smile once again directed solely at me.
"Nothing much, just about the first time I came in here, and the first time we were here together," I replied. "You know, we should hit up that steakhouse next weekend and order the filet — my treat."

Life is beautiful, grasp for it, y'all.