Archived Arts & Entertainment
Slice of the dream: New Sylva pizzeria comes full circle
Wednesday, April 19, 2023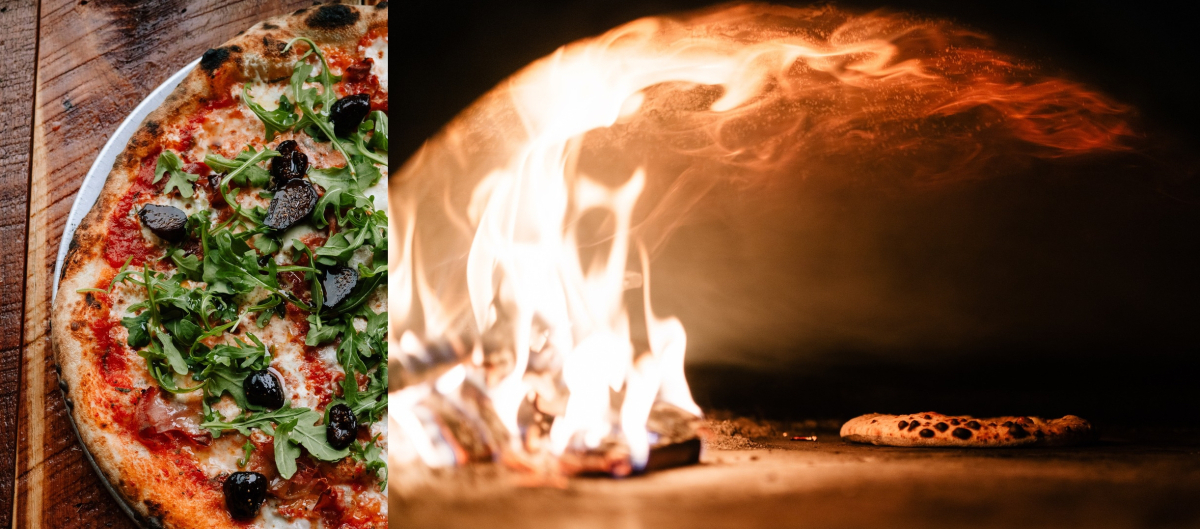 Recently opened in downtown Sylva, Meatballs Pizzeria specializes in artisan Neapolitan and Roman styles.
Donated photos.
Sliding into a booth at Meatballs Pizzeria in downtown Sylva, Crystal Pace and Santiago Guzzetti gaze out onto a bustling Main Street rushing by the front windows. It's been a longtime dream of Pace's to do just this — to simply sit down and eat pizza in Meatballs.
"I just remember being a little kid and helping out at Meatballs," Pace said. "And that was my first experience [in the culinary industry]. From there, I went on to do catering and all kinds of things."

"All kinds of things" seems to be an understatement for Pace and her husband, Guzzetti, nowadays. Aside from launching Meatballs last month, the young couple runs Ilda, an Italian fine dining spot just a stone's throw away, and Santé, a cozy wine bar next door to Ilda. They also run a catering business with a full calendar of upcoming weddings.
But, for Pace, Meatballs was the true full circle moment. Originally located where Ilda currently stands, Meatballs was a beloved culinary fixture in the small mountain community from 1983 to 2000.
Meatballs was owned and operated by Karen Martar, who was Pace's stepmother. Hailing from New York, Martar found herself in Sylva with her family's sacred meatball recipe in hand. In 2007, Martar passed away from pancreatic cancer.
"Karen had such a big character and was so loving," Pace said. "She really touched me and everyone in this town — not everybody you talk about 40 years later."

As a kid, Pace remembers spending her summers and holidays bouncing around Meatballs, downtown Sylva and greater Western North Carolina. Skip ahead to adulthood, with Pace working in fine dining in New York City where she meets Guzzetti, an executive chef from Argentina with an extensive background in Italian cuisine.
"My first job as a chef was to run a pizza place — I know my way around pizza," Guzzetti chuckled. "And, when you're a chef in New York, you sometimes can't afford to eat in the places that you work. So, you stop somewhere and get a good slice — grab some pizza and keep moving."

When Pace returned to Jackson County to raise a family with Guzzetti, the duo opened Ilda in April 2021. Although she now owned the former Meatballs building, there was always a thought to someday resurrect the pizzeria. And that's when the opportunity arose to take over the space next door to Innovation Brewing.

What used to be Pie Times pizzeria, the room already had a wood fire oven and was turn-key ready for its next chapter. With the building owned by Nicole Dexter and Chip Owen of Innovation, the two couples partnered up to open Meatballs.
"I think it's serendipitous — everything just seemed to work out," Guzzetti said.
With its artisan approach, Guzzetti noted Meatballs offers the choice between Neapolitan and Roman styles of pizza. Martar's signature meatballs are also on the menu. And with the help of Ilda bar director and acclaimed mixologist Antoine Maurice Hodge, Meatballs now has craft cocktails on tap.
"Neapolitan is sourdough. It requires more fermentation and a longer period of time [to make], where it's cooked from start to finish in the wood fire," Guzzetti said. "Our Roman is thicker and super crispy, where the crust is more of a holder for all of the ingredients on top."

Grabbing herself a fresh slice from the warm pizza pan, Pace consumes the meal with gusto. There's a surreal sense of gratitude running through her thoughts while sitting in the booth at Meatballs, with the memory of Martar and her ethos always intact in Pace's daily actions.

"[From Karen], I know that nothing is that serious, and to always have a good time — enjoy the moment, the people, the company," Pace said. "[Karen] was always lighthearted and never seemed stressed — that's not easy to do in this environment."

Want to go?
Meatballs Pizzeria is located at 414B West Main St. in Sylva. Hours of operation are noon to 9 p.m. Friday through Monday and 4-9 p.m. Tuesday through Thursday.
For more information, call 828.354.0248 or visit meatballspizzeria.com.