Archived Arts & Entertainment
This must be the place: 'Either way I wonder sometimes about the outcome of a still verdictless life'
Wednesday, February 01, 2023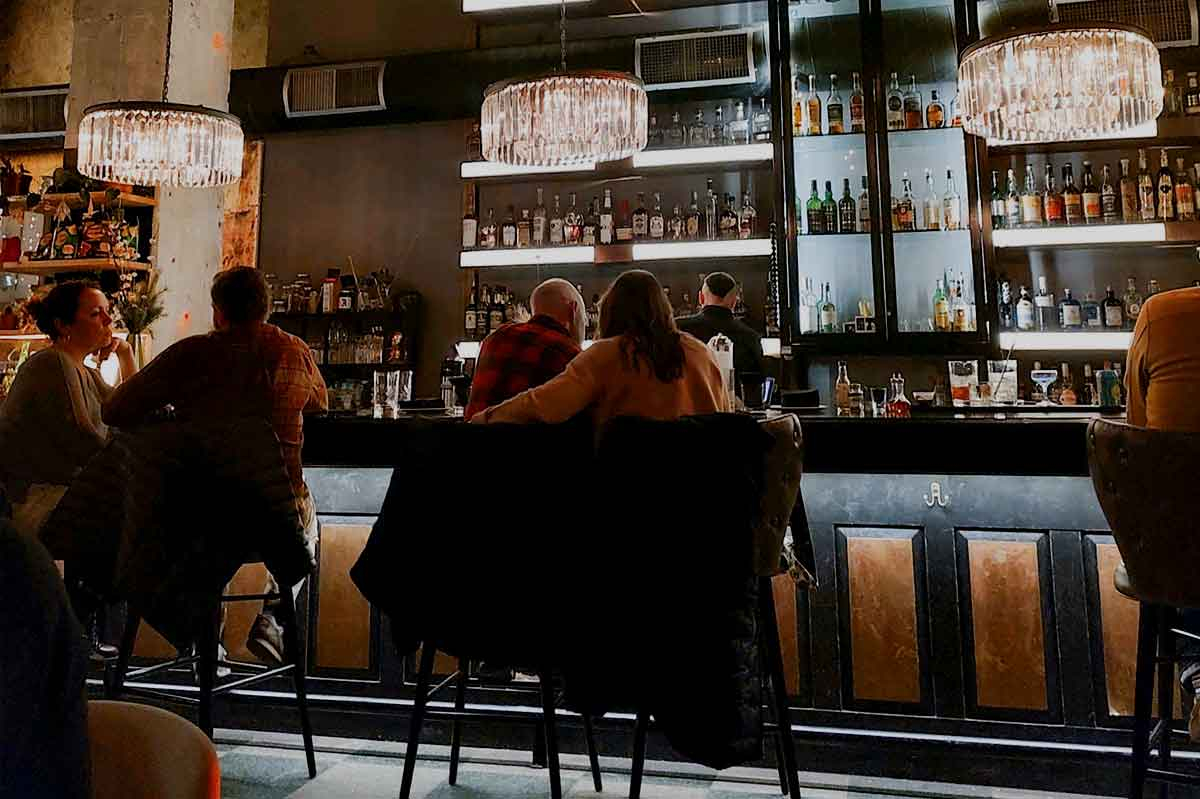 The Times Bar in Asheville. (Garret K. Woodward photo)
With my 38th birthday right around the corner, I went on a first date last week. It seemed to go well enough that we met back up the very next night to continue our enjoyable conversation from the previous rendezvous.
Who knows what will come of this? It is what it is, you know? But, what I do know is that it felt nice to be on a date, where that side of me is still, well, there, and can be summoned to sit and immerse oneself in the presence of another, of a femme fatale at a corner bar nearing midnight.
The juncture of turning 38 and the first date kind of got the gears rolling along in my mind as to taking inventory of where I currently stand, more so personally than professionally. I get so involved with writing and wandering, with relentless interviews and interactions, where I forget how much time has passed, especially in taking a moment to dedicate to things not work, play, or friend-related.
So, yeah, 38 on Sunday, Feb. 5. Once again, my birthday caught me off-guard. I barely take time these days to notice or acknowledge the holiday season due to work and travel, so blowing out the candles is the last thing on my mind. Shit, I can't even remember the last time I even did blow out the candles.
Maybe it was my 30th with that Mexican chocolate cake made for me by my publisher's wife and presented to me during trivia night at the now-defunct Tipping Point Brewing in downtown Waynesville? Sounds about right. Regardless, it's been awhile, the same goes for a first date, too.
Hot damn, I used to be such a hopeless romantic back in the day. It's not like it disappeared, it's just lying dormant somewhere in that beating muscle in my chest. I used to buy cute girls flowers, jewelry, plan dates in the depths of Mother Nature, surprise road trips, and handwritten letters of gratitude for the budding romance.
It's not that I'm jaded in my late 30s. I just think one's existence, of fate and females, can slowly chisel away at the emotional energy needed to conjure that hopeless romantic side of me. Now, don't get me wrong, it's all a two-way street, and by all means, I won't be the first to cast a stone saying I was a saint. That said, I aim to be the best partner I can, and sometimes I miss the mark. We all do. It's life. Try and be better.
When I was 18 and dating my high school sweetheart, I figured we'd stay together through college, get married in graduate school, have a house and kids by our mid-to-late 20s. Oh, and two Labradors to boot, one yellow and one black. But, we broke up by Christmas our freshman year in college. Tossed to the wolves of chance and circumstance. Pass me a cold one from the dorm room fridge, I need to forget what just happened.
But, you don't forget. Never. You add that whirlwind experience and eventual outcome, whether desired or not, to your toolbox of how to handle the universe and what it throws at you. Since college, there's been numerous girlfriends and eventual outcomes. Some for a short time, others years. None of which were permanent as I type this column from my humble abode with just enough room for a bachelor rolling along towards the 40th marker in just a couple years.
You see, when you're younger you might find a chip on your shoulder when things don't go your way. Why didn't it work out? What did I do wrong? Was I good enough? What could have been done differently? You knock yourself down trying to make sense of it all. You replay everything in your head a million times, and to no result to remedy the situation.
But, the beauty of getting older, or least what I've found rounding the corner to age 38, is that you realize it, truly, is what it is. Each one of us is a vibrating dot bouncing through the world, running into other dots, to stick to those dots or ricochet in any direction towards the next dot.
That, and all you can really ask for in this life is to be a better person today than you were yesterday. Easier said than done, I know. But, making a mental note in doing so is the first step in positive, tangible change. Being self-defeating is never the answer, and this goes for anything worthwhile in life, any aspirations you may have with a career or matters of the heart.
Who knows what will come of that recent first date? I had an absolute blast. And, by all accounts, it seemed like she did, too. Only time will tell. What I do know is that, at 38, my mind is at ease with how the cards have fallen. The restlessness of the past few years, of the pandemic and whatever was bothering us before that era in our respective lives, is slowly fading into the background.
Remember, time doesn't exist. Only memories do, so make good ones, new ones to hold and cherish. We aren't all zombies going back and forth between our homes and whatever responsibilities we adhere to. Go on that first date and rekindle that spark within. We ain't here for a long time, just a good time, or whatever that country song said.
Happy birthday to me, I suppose. But, my thoughts on Sunday, Feb. 5, will mostly be about the work done within in my mid-30s onward to circle back to my true self, that wild-eyed teenager who would do anything to make a woman smile, who ran towards the unknown horizon of dreams with a reckless abandon. He's still there. I know that to be true in my heart-of-hearts.
Life is beautiful, grasp for it, y'all.
Leave a comment
2

comments
Happy birthday. From the perspective of 73 years, you're on the right track. Pairing is one way of making the future work but not everyone gets to pair. I know and love a significant number of people who never paired for long if at all. In my own family marriages for my generation in the 20s 2 are still wed; 1 didn't marry until age 60; 3 were divorced or widowed. Life must be lived as it is given regardless of our situation. Enjoy.

Saturday, 02/04/2023

Happy birthday, Garrett!

Saturday, 02/04/2023