Archived Arts & Entertainment
Time machines, remembered scenes: Dave Schools of Widespread Panic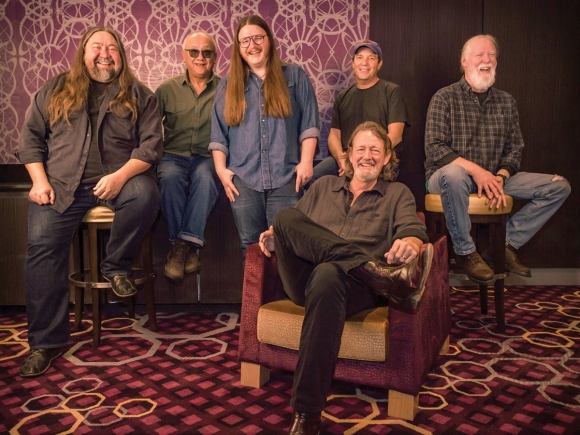 Widespread Panic. Bassist Dave Schools is far left. (photo: Joshua Timmermans).
What started out 35 years ago as a handful of students at the University of Georgia getting together for the sake of playing music at college bars and fraternity parties has transformed itself into a bonafide American institution of rock-n-roll some four decades later.
Widespread Panic is a pillar of the jam-band community, torchbearers of a genre pioneered by the likes of The Grateful Dead and The Allman Brothers Band.
The Athens, Georgia-based ensemble finds itself at the intersection of rock, blues, jazz and folk music — this heady blend of melodic fire and soul seated at the foundation of the rich, vibrant tapestry that is Southeast culture and history.
Co-founder of Widespread Panic, bassist Dave Schools is front and center in an ongoing musical conversation from both sides of the microphone, this whirlwind of intricate sound and intrinsic purpose. It's something as timeless and familiar as it is spontaneous and fleeting — this shooting star of "you had to be there" moments only felt at a Panic show.
Smoky Mountain News: Panic is now back on the road. Has it been kind of surreal to be back onstage and get back into the rhythm again?
Dave Schools: Yeah. We did a [pre-tour] rehearsal back in Athens, Georgia. We set up in a circle onstage at the Georgia Theatre, which is one of the venues where kind of got our sea legs playing back in the 1990s.
And, you know, I have nothing but gratitude, and it's been that way for a really long time. COVID-19 withstanding, with the year and a half [of not performing], I feel gratitude every time I get onstage together. The rhythm of getting back onstage — it feels great.
SMN: Do you think performing means more to you now?
DS: Well, you know, I mean it's a tough [industry] to work in. Back in 2004, I think we took a year and a half off. But, I was really busy most of the time with other projects, and then just actually learning how to be still for a while.
And that was kind of the big challenge over this last year and a half, you know? Just stopping was difficult. So, I noticed during rehearsals after the first day, maybe we sounded like a pretty decent cover band. And by the third day, we sounded like a tribute band. And then by the time we got around the full-purpose production rehearsals, it felt great.
The explosion of shared love for what it is we're doing, it was an incredible feeling. And it's something that's unforgettable.
SMN: So, it's definitely not lost on you about what you get to do and how you are impacting the people around you?
DS: Definitely not lost, and certainly felt in spades. I mean, it was a physical thing.
SMN: With Panic celebrating 35 years together in 2021, what really sticks out about those early years in Athens, that kind of not knowing where this thing was going to go?
DS: We were those counterculture hippies that hated Reagan, Bush, and trickledown economics. And I'd say a lot of that is coming home to roost. But, really, we were still in college.
[Guitarist] Mikey [Houser] was desperately trying to finish. He's the only one of us that graduated. He had a chemistry degree. I was trying to be a journalism person. And [lead singer John Bell], I think he was [an] English [major].
And we had these part-time jobs. I delivered flowers. Houser delivered pizza. JB worked at a nursery. [Drummer] Todd [Nance] painted houses. We all lived in a house and the best thing that could happen was that we were able to keep the electricity on — to keep our beer cold and keep our turntable running. It was fun. And we were able to live decently.
Athens was an inexpensive and super cool town. It still is to a certain degree. It's definitely still super cool. [But, back then], things were different. Maybe they're just different because I felt they were at the time. Maybe they're the same from a person who's in their 20s trying to play music now.
[In the mid-1980s], a lot of the bands were coming through [Athens] and playing at the 40 Watt Club and the Uptown Lounge. Red Hot Chili Peppers. Jane's Addiction. You could see all kinds of great music.
It was a time where we were able to experiment. We were able to put a band together and the artistic mentality in the town of Athens, Georgia, was such that you were encouraged to do anything you wanted — to try to be as unique and original as possible, even if that meant catching holy hell from all the established artists in town.
SMN: What has the culmination of your experiences thus far, onstage and off, taught you about what it means to be a human being?
DS: Well, I tell a lot of young people that being in the music industry is the business of relationships. So, being a human being is respecting relationships and understanding that situations change. You don't burn bridges. You look for the best in people. And you really want to raise their potential.
And to just be open, you know? And this is coming from someone that was really uptight and not very open and super judgmental when I was younger. And it cost me — it's just a lesson that I've personally learned.
So, I think it's best to just expect the best and the most out of people. And if they're struggling, you help them if you can. Seems pretty human. And I've had to learn that of my brothers, too.
It's definitely something that's improved in me onstage and in life. Being able to listen. Being able to collaborate. Understanding what collaboration really is, which is accepting someone else's opinion.
And I think the world could use a lot more of that, in all ways — music has definitely cracked me open in understanding that concept steps far beyond music.
Want to go?
Rock legends Widespread Panic will perform Aug. 6-8 at the ExploreAsheville.com Arena in the Harrah's Cherokee Center Asheville.
Though the three-night run is sold out, other upcoming performances by the group still have tickets available. For more information on the band, its current tour and/or to purchase tickets, click on www.widespreadpanic.com.
Leave a comment
2

comments
Maybe Dave didn't want to collaborate with you anymore

Friday, 08/06/2021

Where is the rest of the interview... Looks like you just fell off

Friday, 08/06/2021