Archived News
Canton logs eighth recent earthquake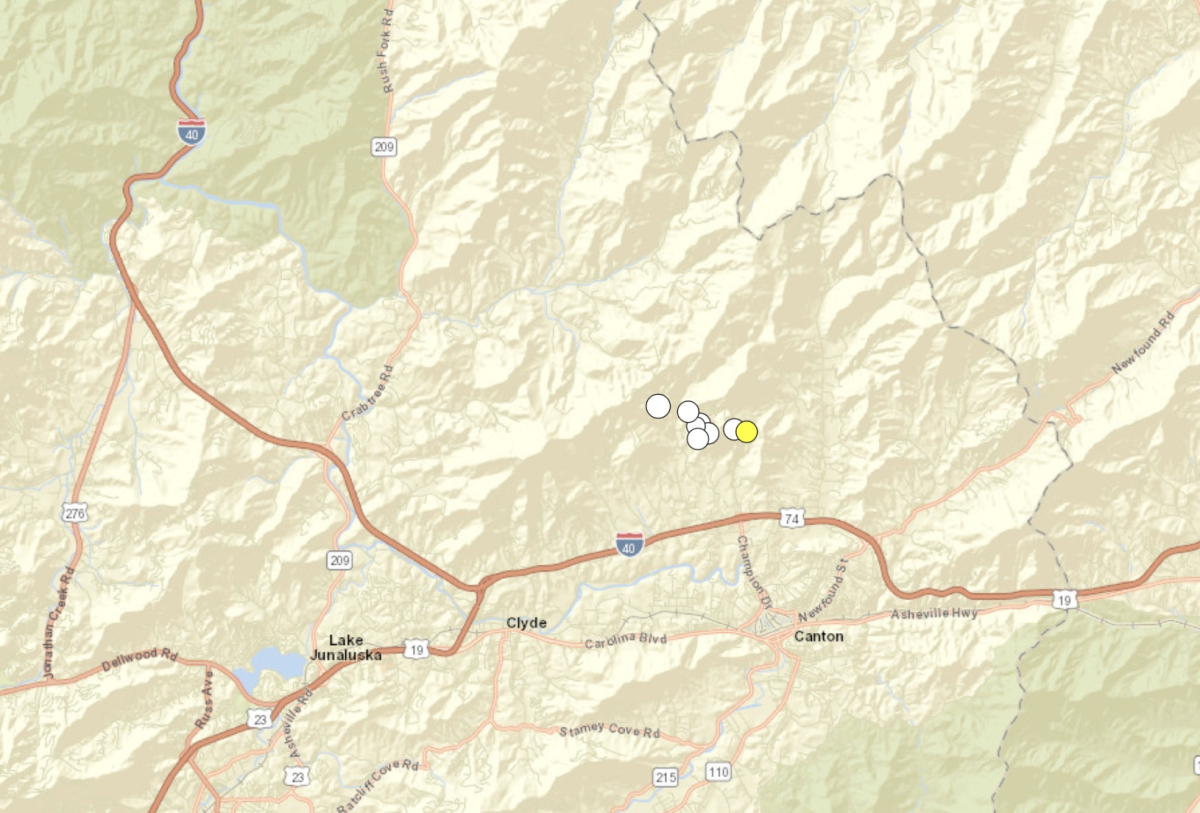 Eight earthquakes have been recorded north of Canton since May 23. USGS map
That may feel alarming to a community that's faced tremendous change since Pactiv Evergreen's March 6 announcement that the town's 115-year-old mill would close for good, but geologically speaking nothing has shifted, said David Korte, senior geologist for the N.C. Geological Survey. The earthquakes stem from geologic stress from the long-ago formation of the Appalachian Mountains that's still working itself out. Canton doesn't sit on an active plate boundary, however.
"You have layers of rock that are essentially folded and stressed, and some wanted to fold easily and some didn't," he said. "And it just takes a while for them to equalize. Usually a crack forms, and then the stress equalizes, and that's what's happening here. And it's not infrequent in this part of North Carolina. It's just it's rarely felt."

In the last three years, 19 earthquakes have been recorded in North Carolina from Asheville west, including the eight recent ones in Canton, but that number rises to 75 when including the portion of Eastern Tennessee ringing the Great Smoky Mountains National Park. Of the 75, 42 had a magnitude of 2 or lower; of the eight recent quakes in Canton, only one fell into that category. The remaining seven ranged in magnitude from 2.1 to 3.2.
Around 2.5 or so is "when you start to feel it," Korte said.
The latest earthquake, which occurred at 12:52 a.m. Friday, June 16, about 3 miles north of Canton, was the second-weakest of the eight recent quakes, with a magnitude of 2.1. Only two people reported feeling it. By contrast, 740 people reported feeling the 3.2 magnitude quake that occurred June 4.
Korte said that there's no history of earthquake swarms like this one leading to any more intense type of geologic activity. There's also no typical timetable for them to finish. The June 16 quake could be the last in the series, or there could be more to come. Either way, though, it's nothing unusual or troubling from a geologic point of view.
"It's a natural thing that happens around here, and most of the time it's not felt, which is why this time, as most of them are in the mid twos, people have felt them and they're concerned," he said. "They aren't necessarily any indication of anything bigger coming along."

Part of the community concern stemmed from the timing. The first quake in the swarm occurred the day before Pactiv Evergreen's last day of production, with subsequent earthquakes peppering the weeks since. Mayor Zeb Smathers had expressed concern that the two could be related.
Korte said he understands the psychology behind such a concern, given that within less than two years the community has weathered a devastating flood and faced the exit of its mainstay employer. But neither tragedy is responsible for the earthquakes.
"Scientifically, they're not connected," he said.