Archived News
For whom the bell tolls: As local leaders look to heal, Canton mourns its mill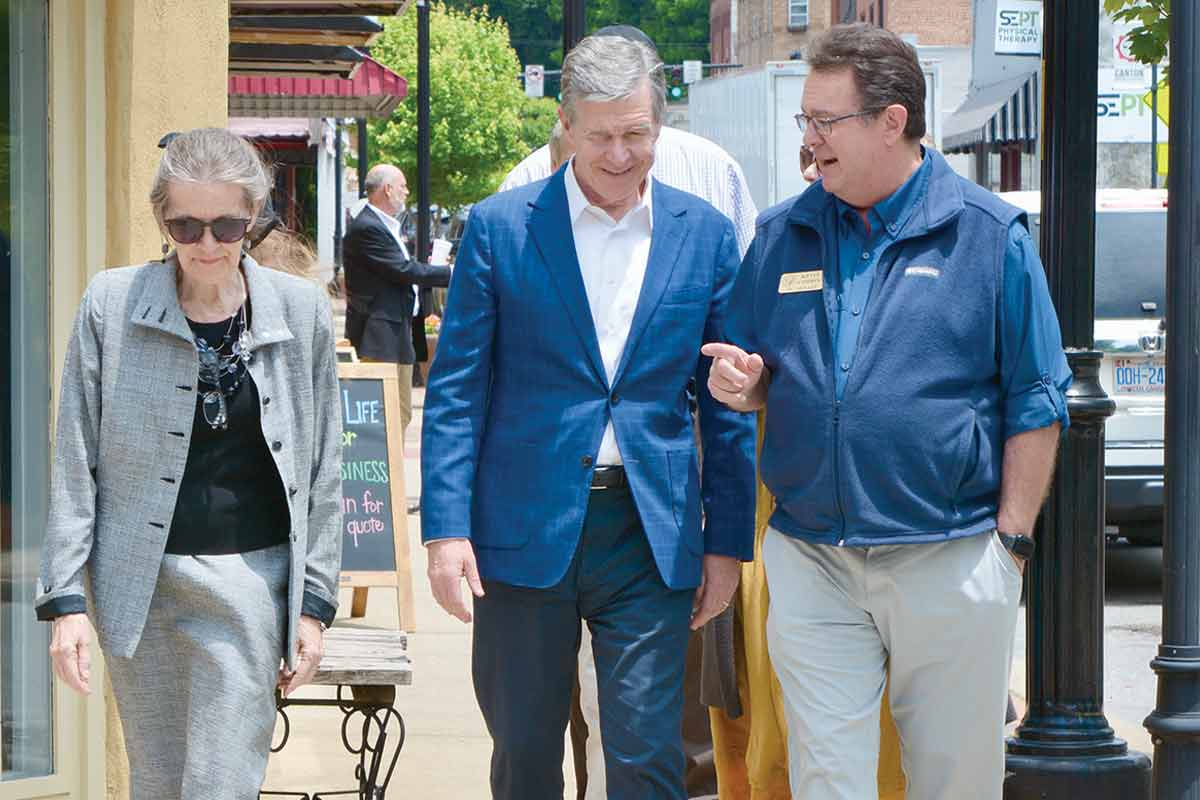 Gov. Roy Cooper (center) walks down Canton's Main Street with Mayor Pro Tem Gail Mull and Sen. Kevin Corbin on May 26.
Cory Vaillancourt photo
Nearly three months ago, Pactiv Evergreen unceremoniously announced that after more than a century in operation, the paper mill at the heart of Canton would close. Since then, Canton Mayor Zeb Smathers has repeated an analogy comparing the community's reaction to that of a death in the family.
First it was shock, and the cold comfort of denial. Then, raging red anger, followed by indistinct grey hues of bargaining, finally giving way to the darkness of depression.
All along, Smathers insisted, what the community really needed to move forward with acceptance, and with hope, was the finality of a funeral.
Canton got its funeral on May 24, when the final blow of the mill's whistle pierced the warm spring air at noon sharp. Over the course of five minutes, the whistle gathered enough steam to reaffirm its once-mighty authority — the power to call workers to the massive 185-acre complex, or to send them to lunch, or to send them home.
"Maybe it was just my imagination," said Gail Mull, a mill retiree, union secretary and mayor pro tem of Canton. "But today, it didn't sound as robust as it has in the past."

At least they still had the steam, Mull said, and someone to blow it.
Workers, retirees and members of the public had gathered outside the mill, on rooftops, in parks or on bridges. Some cried. Some clapped and cheered. Others just stood silent, taking in the whistle's last testament to a community that since 1908 had grown up around it.
Mull, now in her mid-seventies, said she'd heard that whistle blow nearly every day of her life.
After five minutes of silence, the town's faith community joined in with a tribute of its own — church bells chimed a hundred fifteen times, for each year the mill had been open.
Now, local leaders continue to look for a way forward as a community mourns, but tying up the final affairs of the dearly departed will be a complicated, prolonged and messy ordeal.
In Canton's Sorrells Street Park, dozens of television cameras chased hundreds of people who'd gathered to share the sound of the whistle with each other, one last time — their life stories often inseparable from that of the paper mill itself.
Through its many seasons, the mill had been known by several names — Evergreen, Blue Ridge Paper and Champion. One can tell with a great amount of certainty during which era a person worked in the mill by what they call it today.
"If there had not been Champion, there would not have been me," said Mike Green, a fourth-generation mill employee who's now retired.

Green's great-grandfather came down from West Virginia to work at Sunburst, one of the many regional logging operations that kept the mill going. Another great-grandfather left Biltmore to work in the mill. Green's grandparents owned land at what is now Sunburst Trout Farms. His father was born at Lake Logan, Champion's exclusive executive retreat located deep in the Haywood County wilderness, 9 miles up the Pigeon River.
Green was 4 months old when he made his first visit to the mill, cradled in the arms of his grandfather. When Green was 8 years old, the number 19 paper machine came online.
"Growing up, I went to a library built by Champion. I swam in a [YMCA] built by Champion," he said. "That's gone. That culture and history has gone."

After graduating from college, Green became a salesman for Champion.
"I sold milk cartons made from the paper on that machine I first saw when I was 8," said Green, now 66. "That machine, yesterday was its last day."

Asked about the whistle, Green became emotional like others in the park, many of whom had their phones out to record the historic moment.
"I wanted to cry, actually," he said.
That final blow may have been heart-wrenching for some, but the greatest sorrows will likely come the first few times that whistle doesn't sound.
"I think people that are not here don't really understand that visceral connection to it," Green said. "It's a comforting sound. I live about 2 miles away. Seven o'clock in the morning, you hear the mill whistle. Sometimes, in summertime, you got a window open and you could hear the machines making the rumbling sounds. You could hear the train going back and forth. And now it's going to be silent."

Change, Green said, isn't necessarily something that he enjoys, but it is constant — whether good or bad.
"Once there's no smell and no smoke, and I think Asheville is going to come this way," he said. "You already know that. I expect property values to go up. It depends on what they do with the site."

What happens to the 185-acre parcel will ultimately determine how, and how quickly, Canton and Haywood County rebound from the closing of the mill. The entire site is flood-prone, and mill facilities have been damaged by the Pigeon River's raging wrath at least twice in the last 19 years.
For decades, the mill has treated the Town of Canton's wastewater.
Various environmental issues still likely loom at the site, although the mill's periodic air and water quality violations may now be a thing of the past.
Gov. Roy Cooper has demonstrated success in drawing major employers to North Carolina, which has been recognized as one of the best states in which to do business.
Most recently, Apple and Toyota have joined what CNBC called "the nation's strongest economy," but aside from a Pratt & Whitney facility in Asheville, none of those economic development wins have manifested in the rural west, where good-paying blue-collar jobs like those at the mill are scant.
"We would hope that some type of business would come there," Cooper told a gaggle of reporters in a Canton bookstore on May 26. "I know there's a real hope that something will come immediately. Realistically, that's probably not going to happen immediately, but we were talking today to the local economic developers here, our state Department of Commerce, our Economic Development Partnership. We're all working with this area to bring good paying jobs here."

Cooper responded quickly to the March 6 closing announcement, despite getting no formal notice from Pactiv Evergreen. Along with Attorney General Josh Stein, Cooper thinks that by terminating its workers, Pactiv has violated the terms of a $12 million economic development grant authorized by his predecessor, Pat McCrory.
"They've broken that contract," Cooper said. "And so the state believes that they owe the money back."

The lack of notice — not even Smathers was given a heads-up about the closing — may have contributed to a health care coverage crisis at the mill, where workers are now scrambling to ensure they don't end up uninsured come Aug. 1.
Pactiv also wants a tax break for the parcel and on June 2 will argue to the Haywood County Board of Equalization and Review that the $19.7 million parcel is actually worth $5.8 million.
"It's like knocking you down and then stepping on you before you leave," Cooper said. "It is shameful to be making that kind of request right now."

If that reassessment is granted, Pactiv, a global corporation with net revenues of more than $6 billion in 2022, would save around $70,000 in tax payments to the county and another $70,000 in tax payments to the town of Canton. That's the equivalent of a person with an annual income of $150,000 trying to save $3.25 on a cup of coffee.
When he learned of the reappraisal request, Smathers said he was disgusted.
"We cannot fill the budget holes left by the closing of this company overnight. It will take years if not longer. Sacrifices will have to be made," he said. "I tell people that in some regards, the tough times have yet to happen."

The March 6 closing announcement came as Canton was in the middle of its annual budgeting process. Town Manager Nick Scheuer put the brakes on an ambitious budget in anticipation of an immediate revenue hit — the town sells massive amounts of water to Pactiv, and at least some of the mill's $100 million annual payroll comes back to the town in the form of sales tax collections — but the real budgetary impact won't be felt until next year.
Sen. Kevin Corbin (R-Franklin) told The Smoky Mountain News that he's asking the general Assembly for $40 million in a comprehensive assistance package that will help displaced workers, municipal governments and schools.
Rep. Mark Pless (R-Haywood) has multiple initiatives in the works, including trying to find the money for a new wastewater treatment plant before Pactiv's two-year agreement to continue operating the existing plant ends.
"As sad as we are now about losing the mill," Smathers said, "trying to maintain a level of services and sophistication without at least $3 million in our budget is going to be extremely challenging."

Canton's annual general fund budget is on the order of about $11 million. Scheuer said there was no way he could work around a $3 million hole.
Bipartisan cooperation — Cooper, Smathers and Stein are Democrats, while the majority of county officials and state legislators are Republicans — has thus far been a hallmark of relief efforts, just as it was when flooding killed six and caused tens of millions in damages to town facilities in August 2021.
"This is not a partisan situation," said Corbin, appearing in Canton with Cooper last week. "This is not a situation where politics has anything to do with it. This is about helping people."

This is also not simply a Canton crisis.
Given the regional nature of Western North Carolina's economy, the fiscal implications associated with the closing of Pactiv Evergreen's Canton mill will create what Smathers has called "a Carolina crisis," reverberating across space and time into the homes and businesses of people across the southeast who mistakenly believe that they are somehow insulated from the consequences of the mill's demise.
"No man is an island, entire to itself. Each is a piece of the continent, a part of the main," wrote 17th-century English poet John Donne, in explaining the interconnectedness of all things. "Therefore, send not to know for whom the bell tolls. It tolls for thee."