Archived News
Sneed calls for forensic audit on cannabis LLC; Qualla Enterprises defends its record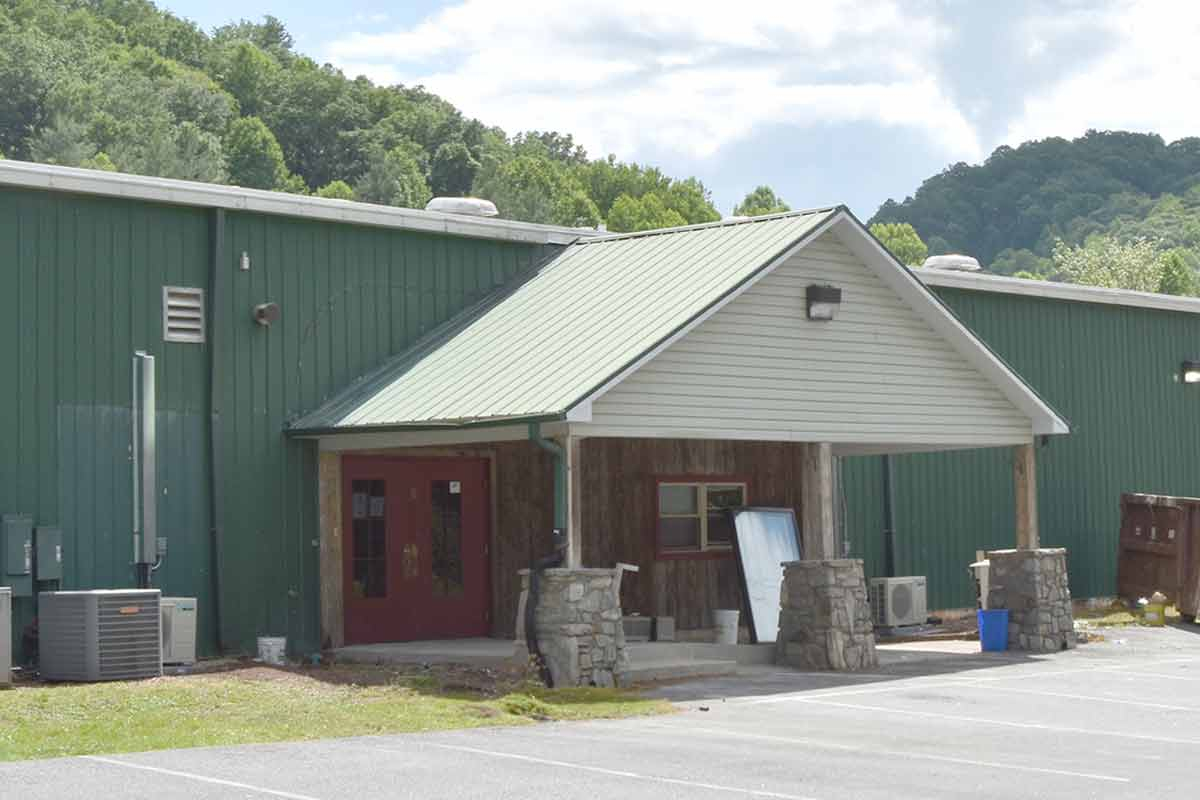 The old bingo hall, currently under renovation, serves as the headquarters for Qualla Enterprises LLC. Holly Kays photo
Principal Chief Richard Sneed renewed his concerns about the tribe's medical cannabis company Qualla Enterprises LLC before Tribal Council this month when he presented a resolution requesting a forensic audit of the company's finances.
"This resolution being presented for your consideration has one purpose, and that's financial accountability," he said during the June 1 meeting. "It's not personal. It's not political. It's math. And in the case of this project the numbers just do not add up."

The initial request for proposals to launch the medical cannabis business put the price tag at $50 million, and now the total ask is $95 million with "no explanation for dramatic cost overruns," Sneed said.
Since the company was created in 2022, Tribal Council has allocated $31 million to get Qualla Enterprises up and running — a huge sum, but far less than the $95 million total requested. Tribal Council approved the additional $64 million during a divided vote in April, but Sneed vetoed the decision. He worried the funding could jeopardize the tribe's casino business due to federal restrictions on how tribes can spend gambling revenues, and he called for a "full accounting" of how the enterprise had spent the funds received thus far.
In a May 5 document defending its business practices, Qualla Enterprises said it has spent only $21.6 million of the $31 million appropriated thus far and offered a breakdown of how that money has been used. The biggest ticket items were $3.4 million for a 20,000-square-foot drying facility, $3.1 million for 75 hoop houses, $2.7 million for a 20,000-square-foot extraction and processing building, $1.7 million for a 57,000-square-foot indoor grow facility, $1.4 million for machinery and equipment and $1.4 million for a retail building. The $64 million was needed to finish the indoor grow facility and hire enough people to fully staff the operation, it said. The document was released to The Cherokee One Feather, but Qualla Enterprises has thus far ignored requests from The Smoky Mountain News to be sent a copy.
Reasons for concern
During the June 1 meeting, Sneed ran through a laundry list of concerns about the LLC's finances and an alleged lack of transparency by its governing board. The company is seeing incredible cost overruns, he said, with the $95 million ask to launch the business nearly double the $50 million originally presented in 2021.
The original plan called for glass greenhouses, but instead plastic-covered hoop houses were installed at a cost of $66,000 apiece. Sneed said that in a meeting with the Qualla Enterprises Board he was told the hoop houses cost only $16,000 each and had "no explanation" for the additional $50,000. Later in the meeting, Vice Chair Albert Rose pointed to installation and siting costs as responsible for the difference.
When he requested documents from the board to help answer his questions, Sneed said, he was told he was not entitled to view that information.
"In dealing with the board, I've gotten zero documents that I've requested," he said. "If that's not a problem for you, we should probably have a talk after this, because that's a problem for me. It certainly would be a problem for me if I was an investor in a business or a project — and we are investors in this project."

Another issue, Sneed said, is that Qualla Enterprises has hired a lobbyist to represent it in Raleigh. That's a "direct violation" of tribal law, he said. Cherokee Code states that any lobbyist hired by a tribal government, entity or organization must be approved through a resolution presented to Council, as must any legislation presented at the state or federal level.

"On this issue alone, there needs to be an investigation as to who initiated and approved this action on behalf of Qualla LLC," he said.
Sneed had questions about payroll, too. A document shared during a work session with Qualla Enterprises showed monthly payroll costs of $3.3 million for July and August, he said, which seems like a high number given that payroll for the tribe's 1,200 employees totals just above that at about $4 million per month.
According to the document provided to The Cherokee One Feather, Qualla Enterprises currently employs 54 people. When fully staffed at 477 employees, the document says, payroll is expected to cost $15.8 million per year, or $1.3 million per month.
Response from Qualla Enterprises
Attorney Darian Stanford of Sovereign Solutions Carolina, who works under contract for Qualla Enterprises, was swift to refute Sneed's claims.
"There was, respectfully, so much misinformation in what was just presented to you all, and half-truths," he told Tribal Council. "And I don't even know where to start in trying to dispel all of them."

First, he said, there have been no cost overruns. The $50 million Sneed referred to came from a budget prepared in November 2021 to cover one year of operations.
"As we stand before you, it's June 1 of 2023," he said. "We are almost two years later. And we have received $31 million, barely over half of what we requested almost two years ago. I'm not certain in what universe that represents a cost overrun in, but not any one I'm familiar with."

As to the hoop houses, he said, due to slow funding from Tribal Council, the company couldn't have afforded the state-of-the-art greenhouses it had planned on using even if it wanted to. Additionally, Qualla Enterprises had expected to be operating at the old high school site, which was flat, paved and with access to water. The property on Cooper's Creek didn't have the infrastructure to support the glass greenhouses without significant upgrades.
However, the hoop houses turned out to be a blessing in disguise, as they work better in the high humidity environment of the Great Smoky Mountains. For $5 million, Qualla Enterprises will have 75 hoop houses capable of producing 121,500 pounds of cannabis per year, the company's response document states. The system was designed under the guidance of Dr. Ryan Cox, who the United Nations employs to help impoverished countries grow food in inhospitable environments.
"The fact that these hoop houses keep getting criticized now blows me away," Stanford said.
As to transparency, Stanford said Sneed's claim that all he's gotten is a one-page budget is "not remotely true." He held up a brown binder before Council, saying he had given each of them a similar binder full of documentation. Stanford said he has reached out to Sneed seeking to meet and answer any additional questions but has not received a response.
Sneed replied to Stanford's "impassioned response," by saying none of his statements change the fact that the board itself has not yet provided any of the documents he's asked for.
"While everything that Mr. Stanford has said may be 100% accurate, I don't know," he said. "We don't work for him. We work for the people."

Tribal Council's reaction
Qualla Enterprises is not the only LLC drawing questions from Tribal Council. Qualla Enterprises, EBCI Holdings LLC and Kituwah LLC have all received a letter from Tribal Council with a list of information to be provided during an upcoming meeting with Tribal Council June 27.
Stanford said this is an "excellent" plan. If Tribal Council still has concerns following the meeting, he said, "then by all means take a look at this information and forensic audit away."

Members of Tribal Council seemed to have mixed opinions about Sneed's focus on Qualla Enterprises but seemed to favor the idea of performing an audit on all three LLCs — though not necessarily a forensic audit. They voted unanimously to table the resolution for a decision after the June 27 meeting.
"If you guys want to do an audit, let's do it," said Vice Chairman Albert Rose. "But if we're going to do it, I'd like to see one on Kituwah LLC. They've been in business for five years. I'd like to see one on them. EBCI Holdings."

Birdtown Rep. Boyd Owle agreed, expressing support for both the project and the audit.
"Let's do it, let's get it over with and move along," he said.

Snowbird/Cherokee County Rep. Adam Wachacha said performing an audit would "clear the air," and suggested performing one on all three companies. He also suggested amending the resolution to require a financial audit, not a forensic audit. There's a big difference between those two types of audits.
"If it's the goal of Council to ensure there is not fraud occurring or illegal activities, then it should be a forensic audit," said Finance Director Brandi Claxton. "A financial audit is unlikely to uncover those things."

If the financial audit raises any questions, Wachacha said, a forensic audit could follow.
Big Cove Rep. Teresa McCoy also voiced support for an audit — and objection to Sneed's attitude toward Qualla Enterprises.
"I have no problem with an audit," she said. "No problem at all, and I don't think anyone in the room has said they have a problem with an audit, but for him [Sneed] to stand here and say that he's not picked at this program is ridiculous, because he has been the main obstacle for the last year on this issue."

The other two LLCs should be included, McCoy said, and while they're at it, Tribal Council should make "a nice long list out of things around here that should be audited."

She also suggested striking the word "forensic" from the resolution.
"I'm very concerned that I along with other elected officials who have asked questions about the project have been vilified and been accused of trying to stall or halt the project," Sneed said. "Nothing could be further from the truth. Those of us who are asking questions about the business side and finances of the project are doing our duty as elected officials to ensure that tribal resources are being prop erly protected."