Archived Outdoors
HCC opens new Dahlia Ridge Trail System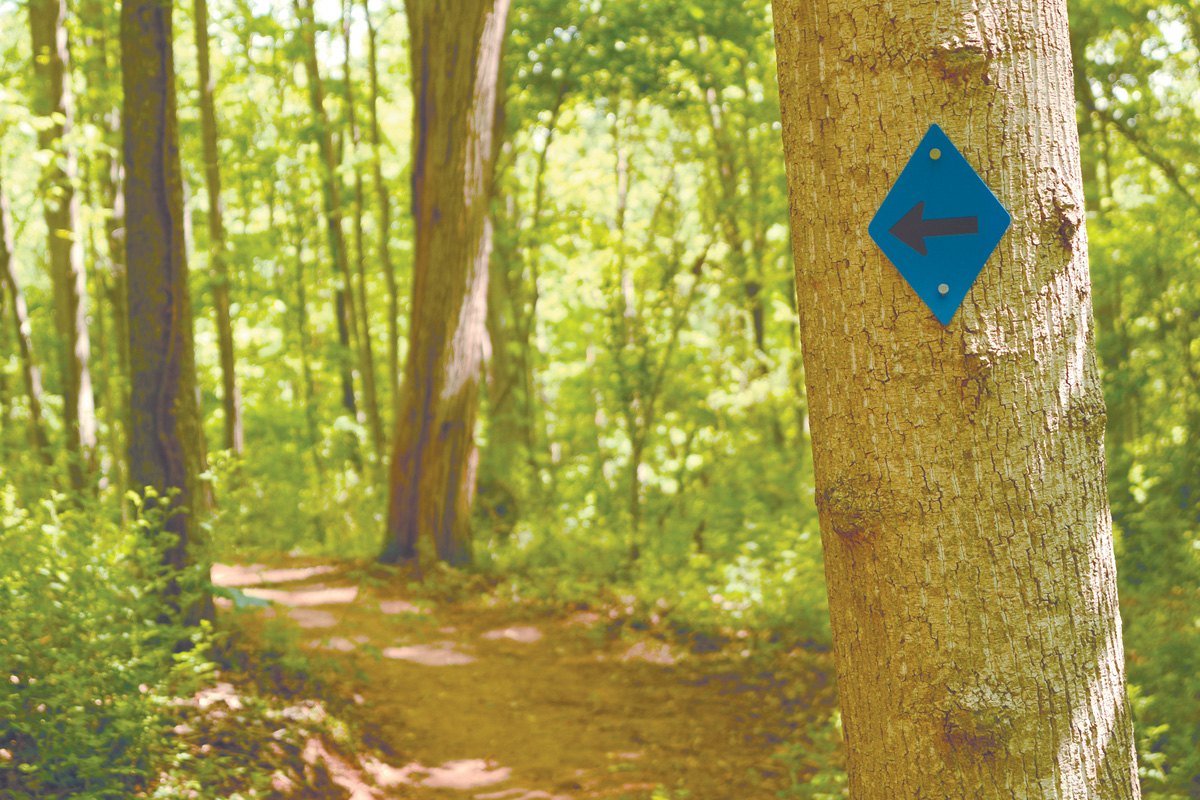 A blue arrow signals a bend in the path on Kingfisher Trail. Holly Kays photo
When A.L. Freedlander issued the 1966 fundraising challenge that birthed the Haywood Community College campus in Clyde, he envisioned a space dedicated not only to learning, but also to natural beauty. Freedlander gave $250,000 in seed money to the project, but with conditions attached: that the campus become "the most beautifully landscaped area in Haywood County" and that its grounds should contain "a good collection of dahlias," Freedlander's favorite flower.
Nearly 60 years later, a new trail system on HCC's campus pays homage to Freedlander's vision. The Dahlia Ridge Trail System is named for the carefully tended flower garden along its route and shows off the natural beauty of the forest surrounding the landscaped central campus.
"Mr. Freedlander wanted people to come on campus and enjoy the beauty of nature and the outdoors," said HCC Foundation Executive Director Hylah Birenbaum. "We are an anchor for Haywood County, and we just want to bring people on campus, to add another avenue to enjoy."
Of the trail system's 3.5 miles, 2.5 miles are new or redesigned. Todd Branham of Transylvania County-based Long Cane Trails designed the system and built much of it, with HCC's maintenance staff also doing construction work.
The 1-mile Bobcat Trail circling the main campus has been around for a while, using a combination of walking paths and sidewalks to loop around Mill Pond, Sawmill Drive, College Drive and behind the Hemlock and Silverbell buildings near the campus entrance. Now, the new 1.4-mile Kingfisher Trail meets Bobcat at College Drive and ducks behind the Balsam building to enter the forest. A smooth dirt trail carries hikers under a green woodland canopy before eventually depositing them back on the sidewalk along Vocational Drive.
Those who aren't yet ready to return to civilization can wander down one of the trails connecting to Kingfisher at the southern edge of HCC's property line. The new 0.6-mile Copperhead Trail takes a series of switchbacks to descend toward its terminus behind the Public Service Training Facility, while the 0.2-mile Wildflower Way — previously just an unnamed fire road — merges into the 0.14-mile Millpond Connector to meet the Bobcat Trail just east of the Mill Pond. Additionally, the 0.12-mile Moon Tree Way has been extended and rerouted. It cuts off a corner of Bobcat Way for walkers looking to avoid sidewalks and take in a pair of campus landmarks — the dahlia garden and the trail's namesake moon tree, a sycamore grown from seeds sent up to the moon in 1971.
The trails are all relatively easy compared to other hikes available in Western North Carolina, with a net elevation gain between the system's highest and lowest points of about 100 feet.
Ferns grow alongside the Kingfisher Trail. Holly Kays photo
There had been "rumblings" about building such a trail system before she joined HCC in October 2021, Birenbaum said, but things got rolling in 2022 when the Town of Clyde applied for and received a $66,000 grant from the Haywood County Tourism Development Authority to go toward the project. The HCC Foundation matched that grant with another $66,000 and raised an additional $11,000 in donations, for a total project cost of $143,000.
The new trail system is meant not only to honor Freedlander's vision for the community college he helped found but also to invite more Haywood County residents to campus, showing off the array of opportunities HCC offers.
Hylah Birenbaum. File photo
"It's just another reason to bring people on campus," Birenbaum said. "And then maybe if they're on campus, they'll see our new nursing building. Or they'll ask about something or be like, 'Hey, maybe my grandson wants to take a class or maybe I want to take a quilting class.' Because so many new people don't know that we're here. And it's just like that branding of, we're such a big part of the county. Let's just bring people here."
The college's disc golf course, which held a grand reopening in September 2021, also supports that goal. A TDA grant and partnership with the Kids in Parks program allowed for the course to be redesigned to offer enjoyable challenge to both novice and advanced players. The course has remained enormously popular, Birenbaum said.
The Dahlia Ridge Trail System opens just in time for summer, and just in time to fit into a statewide celebration of trails — the North Carolina Year of the Trail. In 2021, the N.C. General Assembly overwhelmingly approved legislation setting 2023 aside as a year encouraging residents to explore local trails, build new ones and pay tribute to those responsible for maintaining and constructing them.
A grand opening celebration scheduled for 10 a.m. to noon Friday, June 2, will further point to the Dahlia Ridge Trail System's place within this larger context, taking place just before National Trails Day Saturday, June 3. The message, said Birenbaum, is simple.
"Use it," she said. "Spread the word. Come out and visit."
Rules of the trail
The Dahlia Ridge Trail System is free to use, with maps posted at trailheads around campus and available for download using the Avenza Maps app or website at avenza.com. Hikers should follow posted rules while exploring.
• Dogs on leash are allowed, but hikers must clean up after them using disposal bags and trash cans located at trailheads.
• Trails are for hiking only, not mountain biking.
• Trails are open daily from dawn to dusk and closed overnight. Limit use when the trail surface is wet and stay away during high winds.
• No camping, fires or littering is allowed on the Dahlia Ridge Trail System.
• Use trails at your own risk and be aware of danger from falling limbs or trees.
• In case of emergency, call 911. Numbered emergency signs are located throughout the trail system — tell emergency personnel the closest number to assist their response.
• Do not approach or attempt to feed wildlife.
• Abide by all college policies and procedures while using the trails.
To report trail obstructions or other concerns, contact HCC Security at 828.734.5410.
Support the trail
The Dahlia Ridge Trail System is complete, but the Haywood Community College Foundation is still accepting donations for the project. Money may be used for maintenance, dog stations, benches and other trail improvements. Learn more at haywood.edu/foundation/index.php.