Archived News
HCS budgets for a changing school system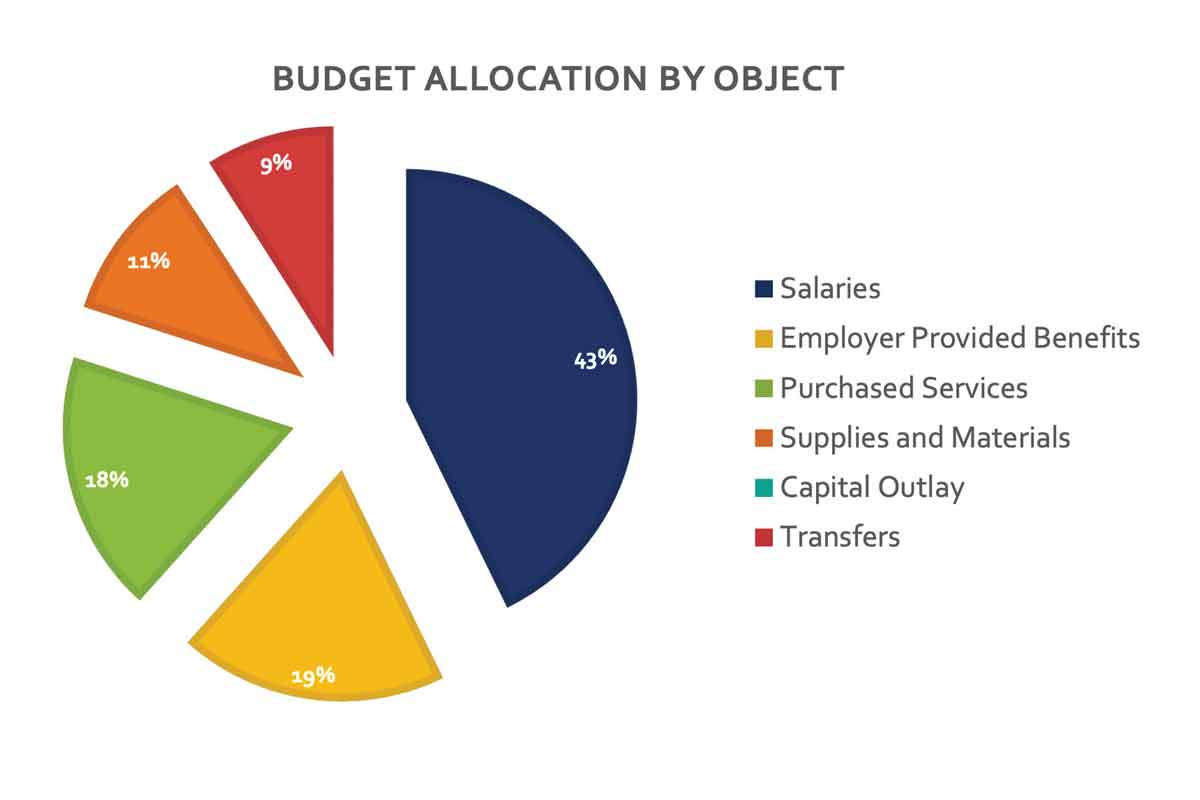 The majority of local current expense funds pay for salaries and benefits.
HCS photo
As Haywood County Schools hammered out its 2023-24 budget, administrators faced declining student population and the imminent end of COVID-era relief funds, both of which will diminish the amount of money available for the public school system.
"Our primary focus points for the 2023-24 budget are one, to recruit, maintain and support employees in their passionate and productive work; two, limit expansion items in the local current expense budget; and three, adjust the budget as needed to account for declining enrollment and associated issues with the Canton Mill closure," said Superintendent Trevor Putnam during a budget presentation to the Haywood County School Board April 20.
During his last budget presentation to the board of education, previous Superintendent Bill Nolte warned that declining student enrollment would have a major impact on future budgets. Public schools are funded a certain amount for every student in the system, and HCS enrollment has declined by more than 600 students since early 2019.
During the 2019-20 school year, there were 7,100 students enrolled in the system; in the 2021-22 school year there were 6,557 students enrolled; this year the average daily membership was calculated at 6,498 students and that is the ADM that funding will be based on for the 2023-24 fiscal year.
Throughout the COVID pandemic, school systems in the state were not held accountable for drops in student population. Schools were funded based on the ADM prior to the pandemic. However, with the COVID-era restrictions drawing to a close, those safeguards are also coming to an end.
In April, the Haywood County Commission approved a request from Putnam to send a letter of support to the North Carolina General Assembly and the Department of Public Instruction asking for a hold harmless provision that would allow the school system to be funded according to its current ADM for the next three years.
While Haywood County Schools is not unique in having to face the COVID Pandemic, it is unique in the other the obstacles it faced in recent years — a cyber-attack in 2020, severe flooding in 2021 and the impending shutdown of the Canton paper mill, a major Haywood County employer, in 2023.
In addition to a declining student population, the school system is facing the end of the COVID-era Elementary and Secondary School Emergency Relief (ESSER) funding. The upcoming 2023-24 school year will be the last year these funds are disseminated, and all the money must be used by September 2024 or it will be lost.
"As a part of making sure we are solvent for the coming year, we've employed some strategies to make sure we're solvent for upcoming years beyond next year," said Putnam. "Those ESSER dollars, we're going to try to put every available position into ESSER, as far as funding goes, to allow us to try and generate our local at a greater rate and hopefully contribute to a greater savings there that will give us a better fund balance. That's a funding source we would not have in any other year. We've had it the last two years, and the third and final year is coming up. So we're going to make full use of that and try to bank or save as many of the local dollars as we can because our fund balance has reached a critical low and so we want to regenerate that as much as possible."

At the same time as it is preparing for the possibility of lower funding in upcoming years, the school system has also planned for pay increases in the coming year. While the increases have not yet been mandated by the state, they are being looked at in the current state budget and the school system has to plan for them in case they become official. The state is looking at a 7% salary increase for certified personnel and a 5% increase for non-certified personnel.
"That's what we're hearing out of the General Assembly that is proposed, so we've already adjusted or considered that," said Putnam. "Whether that will happen, who knows."

The largest funding source for the school system is money from the state. While the school system has no preliminary planning budget date from the state, the current fiscal year allocation is $50,698,052.50, which is just over $7,000 per pupil. The next largest funding source is federal grant funding. The school system does not have numbers for this funding source yet and these funds are restricted for use in federally regulated areas. The current year allocation in federal grant funds is $22,683,404.34.
The anticipated local per pupil appropriation for the 2023-24 school year is $2,430.86 for 6,498 Haywood County students, plus 636 brick and mortar charter school students. The total anticipated county revenue for the upcoming year is $17,732,085, down from over $18 million allocated in the 2022-23 fiscal year.
Most of this money is used for salaries and employee benefits for locally paid staff. About 11% is used for supplies and materials, and 18% is used for contracted services.
Total capital expenditures proposed for the 2023-24 school year come to $1,250,000. This money will go toward a list of 11 necessary capital improvements, and $350,000 of it will be used for device replacement.
"We have a little over 10,000 devices in our school system," said Putnam. "This will ensure that we have adequate chrome books, laptops, smartboards and other things to support instruction for our kids as well as a device for kids to take home and use on remote instructional days and other things. So it is a necessary and recurring cost but it can be funded out of capital outlay."

The child nutrition budget is operated independently of the rest of the school system's budget. Revenues include cash from meals and supplemental items sold, USDA cash reimbursements and USDA donated commodities.
The 2023-24 child nutrition budget is $5,314,920, a decrease of 2.9% from the current fiscal year. About 55% of the budget will go toward labor and benefits, 39% toward food and supplies and 6% toward overhead. This budget includes $150,000 of appropriated fund balance.
"The main reason for the decrease in the budget is because we were trying to spend down some of our fund balance that was required by the state this year," said the School Nutrition Director. Alison Francis. "We had a lot of money in our equipment line last year that we decreased there. That's the biggest area of decrease."

All schools will be participating in the Community Eligibility Program for the 2023-24 school year. This program provides breakfast and lunch to all students free of cost.
"Student participation is critical to the success of our program," said Francis.
For a school to qualify for the Community Eligibility Provision, at least 40% of the school's enrollment must qualify for free meals through direct certification. Categories for direct certification include SNAP/ TANF, Medicaid, homeless, migrant, runaway and foster children. Seven schools qualified for the provision during the 2022-23 school year. In the coming year, all schools except Haywood Early College have at least 40% of the population qualifying for free meals. According to Francis, Haywood Early College can be grouped with a school that has a higher percentage of qualifying students to allow it to qualify as well. At the April 4 school board meeting the board unanimously approved the Community Eligibility Provision for all Haywood County schools. The provision is approved for a four-year cycle.
Leave a comment
1

comment
All this while the school board is planning to buy property and build new support facilities, with most of that spending to replace the existing and perfectly acceptable maintenance facility/bus garage at the Francis Farm landfill.

Thursday, 05/04/2023