Archived News
The show must go on: NC bill would ban drag in public
Wednesday, April 26, 2023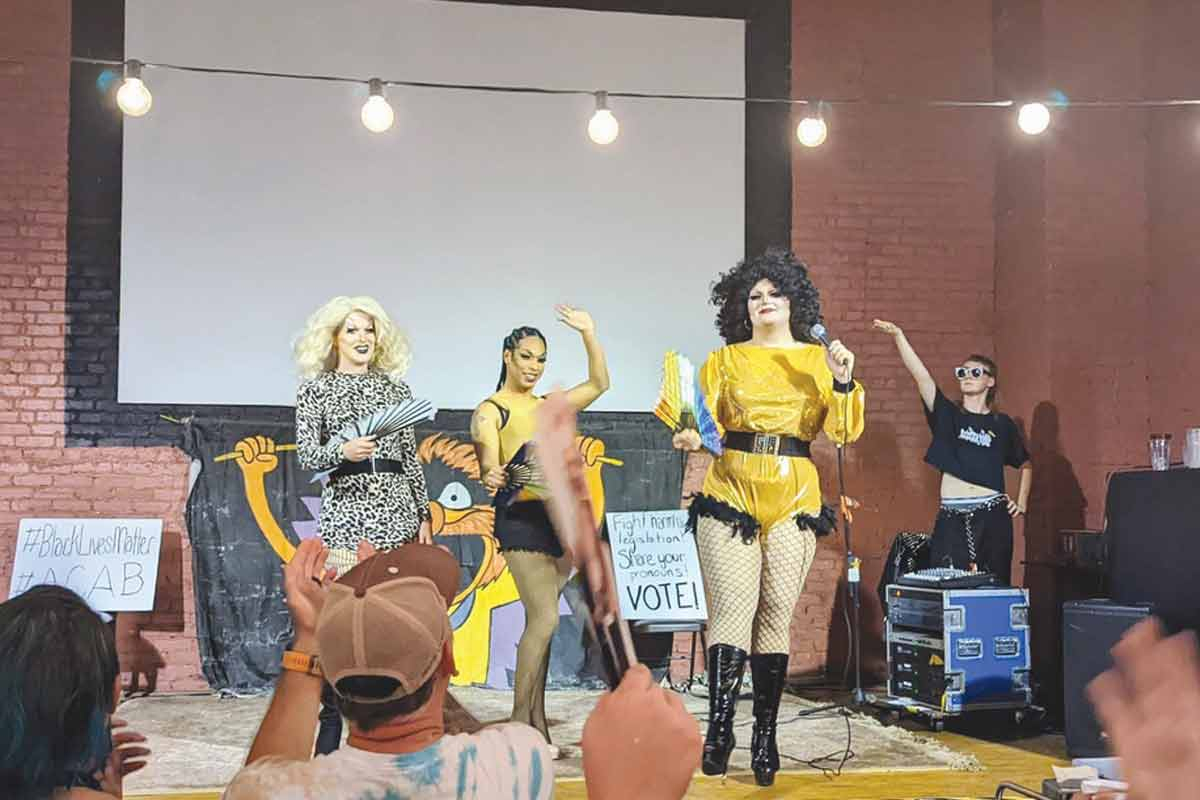 Marigold Showers (left) alongside Alexis Black and Beulah Land on stage at Lazy Hiker. Sylva Belles Drag photo
"I'd like to add one more thing," Marigold Showers said.
She is sitting with her back to the garage-style window in Santé Wine Bar that looks out onto Sylva's Main Street. It is a cool, cloudy day and the sun hasn't made an appearance since early morning. But inside the cavernous bar, there is a bright, palpable energy.
Showers just wrapped up hosting "What the Cat Dragged In," a bi-monthly drag show that packed out the small establishment. Performers and residents alike linger to chat, compliment and admire. Their faces are lit up, their voices abuzz with the energy that a good drag show demands from its audience. But today, among the excited chatter and lingering feel-good energy, there is an undercurrent of fear and anticipation.
"There has never been a world without trans people; there never will be a world without trans people," Showers said.
Lawmakers in the North Carolina General Assembly introduced a bill this month titled "an act to clarify the regulations on adult live entertainment." The legislation as currently written expands the definition of adult live entertainment to include "male or female impersonators who provide entertainment that appeals to a prurient interest, regardless of whether or not performed for consideration."

The bill would make it unlawful to engage in adult live entertainment on public property or in a location where the entertainment is in the presence of an individual under the age of 18.
According to the legislation, a person who violates the law is guilty of a Class A1 misdemeanor for the first offense and is guilty of a Class I felony on subsequent offenses.
One of the primary sponsors of the bill is Rep. Mark Pless, (R-Haywood), and Rep. Mike Clampitt, (R-Swain), is a secondary sponsor.
While drag performances and drag culture tend to flourish in more population-dense, metropolitan areas like Asheville or Charlotte, Sylva has become its own center of LGBTQ+ culture in Western North Carolina. In 2021, the town hosted its first annual gay pride parade, a celebration common across large American cities. It was made possible by grassroots groups like Sylva Pride, Sylva Queer Support and Education and Sylva Belles Drag, as well as several supportive local businesses. These groups not only foster community for ­LGBTQ+ people in Western North Carolina today, but also work alongside Blue Ridge Pride to uncover and record LGBTQ+ stories and histories through its oral history project and LGBTQ+ archive.
Sylva Belles Drag organizes and coordinates among drag performers in Sylva and the greater WNC to put on drag shows in the area.
"Drag culture is able to flourish [in Sylva] because we have so many new entertainers who wouldn't have had a chance to do drag in surrounding towns," said Showers. "They see the chance to do it here and there's a lot of new entertainers, a lot of college kids, with interesting, bright and fresh ideas, and also there's a great queer community in Sylva that are really passionate about drag and that's what allows it to flourish."

Between downtown Sylva and Western Carolina University, drag shows are a mainstay of entertainment in Jackson County. Innovation Station in Dillsboro is home to the monthly Divas on Tap show, Lazy Hiker Brewery in Sylva regularly hosts the Mad for Drag show, and Dark Moon Cocktail Bar is the setting for Drag Karaoke every other Wednesday evening. Not only do these shows provide opportunities for entertainment, work for drag performers, visibility of and connection for the LGBTQ+ community, but they also provide opportunities for local businesses.
On this otherwise sleepy, dreary Sunday afternoon when Showers is speaking with The Smoky Mountain News, Santé Wine Bar is standing room only. After the show, a majority of patrons filter over to The Cut, another locally owned business, to get a cocktail and mingle.
Showers and her fellow drag queens are concerned about how this legislation will affect their ability to perform and draw income from drag shows, but more so, what other implications could come from the bill's passage.
"It's specifically dangerous because of how vaguely worded the legislation is," said Showers. "It could literally endanger trans folks who are just out shopping at the grocery store who are doing anything wrong whatsoever. It could cause trans people who are out and about, living their lives, it could cause them to get a felony just for who they are, just because someone doesn't understand when they see a trans person in public."

This is a common complaint about the North Carolina legislation, as well as similar bills introduced in other states that aim to limit drag performance. LGBTQ+ rights activists are concerned that because of the way the legislation is worded, it could be used to target trans people for expressing their gender identity in public.
"I think there might be an overreaction to that," said Clampitt. "We could 'what if' anything to death."

Then there is the economic concern for entertainers whose options for work would be limited.
"It can put trans and drag entertainers at financial risk by prohibiting them from this source of finances. It cuts off their bill money, their food money. There are many drag entertainers who do drag for a living and to take that away from them is completely ruthless," said Showers.
Sponsors of the bill say the aim is to protect children. Rep. Jeff Zenger, (R-Forsyth), said the bill was filed in response to a video that went viral showing a drag queen performing at a community college in his district that enrolls students as young as 14.
"It's just inappropriate for younger children," said Clampitt. "It might be adult entertainment, but children should not have to be exposed to that type of thing and should not be modeled into that arena."

When asked whether that argument holds standing, that drag entertainment is only appropriate for people over the age of 18, Showers compared drag to other types of entertainment that have a range of content.
"I would let them know that it's just like cinema, or it's just like music. There are movies and songs out there that are not appropriate for kids and there are movies and songs out there that are, and they are branded as such," said Showers. "Movies have a rating, CDs and music will have an explicit content advisory, and our drag shows do the same. Our drag shows will say if there is a family-friendly show or if it's a 21 and up show. It's blatantly obvious on our promotional. There is no reason to fear that a child would be led into a 21-and-up show because we would not let them."

While there is debate about the origins of the word drag, the concept has ancient roots. For hundreds of years, from ancient Greek civilizations throughout the 20th Century, women were often barred from performing in theater. Men regularly took the parts upon themselves and performed replete with dresses, makeup and exaggerated feminine characteristics.
Often referred to as female impersonators, the performance took on a new, more dynamic meaning in the context of vaudeville shows of the late 19th and early 20th centuries.
However, the first person known to refer to themselves as a drag queen, or more specifically the "queen of drag" was a man by the name of William Dorsey Swann. Born into slavery in 1860, Swann organized a series of drag balls in Washington, D.C. throughout the 1880s and 1890s. He was arrested several times when police raided the events and is the first person on record to be arrested for female impersonation in the United States on April 12, 1888.
Today, drag is a form of entertainment that involves music, lip syncing, dancing, comedy and storytelling.

During Sunday's show, Showers took her opportunity as host to speak about HB 673, to loud boos of agreement from the crowd, shouts of 'no hate in my state' and 'no hate in the holler.'

"There's a little thing called House Bill 673. It is among a laundry list of bills they have introduced that are against the transgender community," Showers told the crowd. "Drag is not a crime, but they are trying to make it a crime. They could slap these people with a felony, and that's pure evil."

Showers implored her crowd to support the LGBTQ+ community by calling their legislator and voicing opposition to the bill.

"It is a violation of freedom of speech and freedom of expression," said Showers.
While the bill is troubling for many in the LGBTQ+ community, it is not unique. Several states across the nation have introduced similar bills intended to limit drag performance, including the law in Tennessee that banned drag performance in public places or in the presence of minors.

In the North Carolina General Assembly this year there are several bills that aim to regulate freedoms of transgender people including the bill that addresses trans athlete participation, and three bills that restrict or ban gender-affirming care to trans youth — SB 560, SB 639 and SB 641.
All are sponsored by Republican lawmakers who recently achieved a supermajority in the house after Rep. Tricia Cotham switched her party affiliation from Democrat to Republican.
"They have this idea that children don't know themselves and that their parents are putting them in harm's way," said Showers. "Just using myself as an example, I knew that I was a girl from a young age. I lived in a very conservative community, I still turned out to be a girl. They have this idea that they're protecting the children, but kids know themselves. The government saying that parents can't help their kids be who they are is absolutely wrong. That's what I see. I see the government trying to regulate trans youth, making it hard for them to be themselves. If you don't have access to yourself from such a young age you might do something terrible."

For Showers, drag is a creative outlet. She feels connected to building a character, getting creative with makeup and costume, and as a musician herself, the music is always a central piece of her performance.
But beyond all of that, there is something deeper.
"It's important to know that you're not alone," said Showers. "That's really all there is to it."
Leave a comment
12

comments
Children are the least judgemental people on this planet and nothing bothers them unless it's taught to them. Drag and dance performances are not corrupting anyone...each individual's interpretation of any activity is what causes corruption. Generations of children grew up watching Looney Toons and saw Bugs Bunny, Elmer Fudd, Daffy Duck and others dressed as a female and it didn't impact them negatively. You can't and shouldn't legislate behavior, it doesn't work. There are consequences attached to behavioral choices, but the freedom to make those choices is left to the individual.
For those who believe, God will pass his judgment when he's ready, and he will do it himself in his own good time. Even God didn't control peoples' choices so why does anyone thing they have the right to impose thier beliefs on others. If you allow that with one group, it will spread to all groups eventually and then we're living in a nanny state with Big Brother dictating every move and no one will be allowed to make their own decisions on how to live their own lives.
Thou hypocrite, first cast out the beam out of thine own eye; and then shalt thou see clearly to cast out the mote out of thy brother's eye. - Matthew 7:5
When they kept on questioning him, he straightened up and said to them, "Let any one of you who is without sin be the first to throw a stone - John 8:7

Wednesday, 05/03/2023

When a society condones and promotes this kind of aberrant behavior, we invite judgement from God. Hmmm... look at what has been happening to our country in very recent years - perhaps it has begun?
Sad.

Monday, 05/01/2023

Folks, it's not so much what I think or what you think, really. Most important is what God thinks and Has clearly said in HIs Word. "In the beginning.. God created man in His own image; in the image of God He created him, male and female He created them." (Genesis 1:27). Note there are only TWO sexes. Most people here in western NC would profess to believe in God and many would claim to follow Him. God is very specific about what is good for us and His rules and commandments are based upon His love for mankind. He strictly forrbids sexulal activity among the same sex or sex with animals. God doesn't change with the times - He is the same yesterday, today, and forever. He destroyed two cities (Sodom & Gomorrah) completely for homosexuality. Rome fell from within because of immorality.
Yes, trans people and homosexuals have always been with us but they used to be "In the closet" for the most part. Now this still very small part of society is pushing hard "in your face" constantly trying to deceive us into accepting this as 'normal'. It will never be normal. God is not mocked; we continue along this path of destruction to our peril...

Monday, 05/01/2023

Just another Republican legislators' grab for power. It's all about control, control, control. It's up to the parents to decide what their children will and will not see, read, eat, or where they will or will not go for entertainment or to just enjoy a time with friends. Once the voters understand that the NC Legislators could not care less about them and are simply flexing their control over others, then those same legislators may find themselves out of a job. It cannot happen soon enough. Why today's parents are even tolerating this type of "law making" from elected officials is a mystery to me.

Monday, 05/01/2023

I like that Sylva is open minded and allows folks to be themselves and if they like watching drag it's not hurting anyone. Jesus says love they neighbor and don't let a few that create fear and decisiveness impede the few freedoms we still have.

Monday, 05/01/2023

It took me a minute to realize that they are literally trying to ban dancing. This is Footloose. We need a Kevin Bacon impersonator

Monday, 05/01/2023

Thank you for sharing the truth about drag. It is entertainment, and allows people to be fully themselves. All of the drag queens I've met have been way more concerned about protecting children than those who make overreaching laws like this. If people are worried about sexualizing or indoctrinating kids, take a look at beauty pageants where young girls wear tons of make up, bikinis, gowns, etc. That is way more upsetting than a man wearing a dress reading to kids. Drag queens aren't grooming anyone for anything. This is about straight men feeling uncomfortable, period.

Monday, 05/01/2023

I will bet that these so called 'performers' are not residents of Sylva. And plenty of those customers who show up to see this bawdy display of trash are also not from Sylva. Just another venue for the immoral white trash of society.

Monday, 05/01/2023

Watch the movie 'Cabaret' and you will see where this country is heading. The Weimer Republic of Germany after World War 1 and what followed. Nobody wants to learn from history.

Monday, 05/01/2023

The next move by NC Republicans will be to ban women from wearing men's clothing, so get out your dresses and skirts, ladies, and take those jeans, shorts, slacks, and leggins to a consignment shop because soon you'll not be able to wear them in public. I'm old enough to remember my friend Susan getting kicked off the campus of a Baptist college in summer 1968 for wearing tailored slacks to class.

I've attended only one event where men were in drag, the 1976 Bicentennial Bisexual Drag Contest at the Chukker Bar, Tuscaloosa, Alabama. We single women and men were as safe there as anywhere on Earth. I was in my mid-20s. Seeing it didn't change me or any of my several friends attending into a bisexual or a homosexual.

Heck, the owner who put the show on is now a happily married father and grandfather, a pillar of his community in south Alabama. And one of the prize options for the winner was "a night on the town with Callahan" (the owner). And that was what the winner chose!

The parents and elected men who are so worried about drag shows are fearful people--they fear anyone who doesn't look like, dress like, sound like them. They must know deep inside that they have modeled some behaviors at home that put their children at risk. More than sad.

Thursday, 04/27/2023

There are already laws against performing sexual acts or nudity in front of minors. The have to put forward this new law because drag shows don't have that. They have to limit it to "impersonators" because otherwise "prurient interests" would cover Hooters and Miss America.

There is nothing in this bill to protect children. It's sole purpose is to hurt the kind of people that certain voters want to see hurt.

The people who accuse drag performers of being "groomers" will support pedophiles every single time that they are straight pedophiles. They will support child marriages. They will endorse the casual sexualization of children as long as it's straight cisgendered sexualization.

They don't want to protect children. No matter what they tell you. They don't want to protect children.

Wednesday, 04/26/2023

I'm glad someone wants to keep these groomers away from our kids. The woke college kids don't speak for the majority of the citizens here. I don't oppose adults doing/attending drag shows. It's just not appropriate for children(i.e. those under 18 years old). I would also say this should apply to places such as strip clubs(which already has similar restrictions in place universally everywhere).

Wednesday, 04/26/2023