Archived News
Ground breaks on Exit 407 entertainment district
Wednesday, April 12, 2023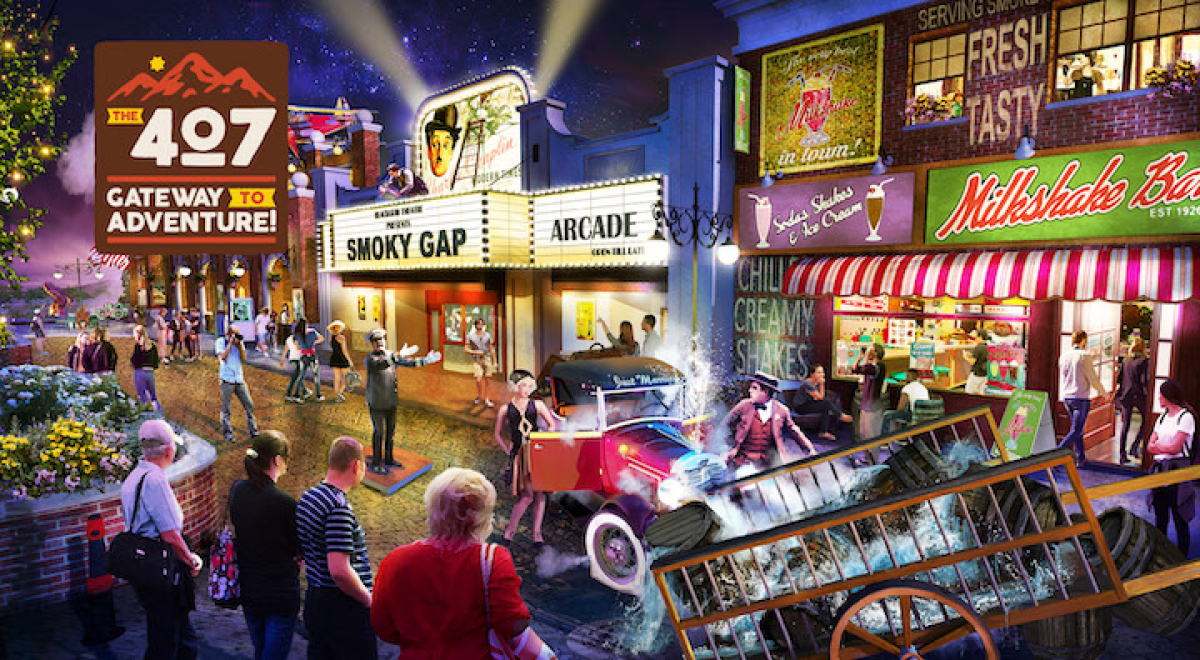 Smoky Gap will resemble an early 1900s Main Street. Donated photo
KK Kituwah LLC broke ground Tuesday, April 11, on a new entertainment district within its 200-acre property off Interstate 40 in Sevier County.

Dubbed Smoky Gap, the 20-acre district will be home to "major international attractions, restaurants, retail stores and much more," according to a press release. It will be built to resemble an early 1900s Main Street with Americana-themed storefronts and a large clocktower. A future attraction will anchor Smoky Gap with a world-class "experiential facility."

The press release did not name the facility, but it is likely The Cherokee Rose , an immersive walk-through show featuring the story of Cherokee heroism during World War II. The attraction is to be managed and designed by French theme park company Puy Du Fou. In May 2022, Tribal Council appropriated $75 million for the project, and in a January interview Kituwah LLC CEO Mark Hubble said the project was in the final design phase.
Hubble said that Smoky Gap is "a platform for partnership," where the tribe is establishing, "longterm, mutually rewarding partnerships" with brands and companies that will make the entire property — called The 407: Gateway to Adventure — a destination.
"Our tenants will operate alongside tribally owned businesses that will contribute to an overall destination guests must experience at the start of their Smoky Mountain vacation," he said.
"This will be an experience for the ages," added Chris McCoy, president of Kituwah Marketing. "We are committed to delivering unparalleled entertainment, breathtaking experiences, fine dining and the best shopping in the Smokies. People will be able to stop for a few hours or stay for a few days."

According to the press release, the anchor attraction for Smoky Gap will open in 2025, but it will not be the first ribbon-cutting on the property. A Buc-ee's convenience store will open this summer and will be the world's largest for a short time until a slightly larger facility, now under construction, opens in Luling, Texas.
Additionally, 2025 will see the opening of a Marriott Courtyard on The 407 property. That's also when the new Smoky Gap district will be ready to welcome customers. In phase 2 of the property's development, Kituwah plans to open a destination resort that will aim to turn The 407 into an "overnight world-class destination," according to a press release.
The EBCI is funding the project through Kituwah LLC, which is its business arm. The tribe bought the property for $13.5 million in July 2019 and since then has allocated $60 million to develop it in addition to the $75 million appropriated for the Puy du Fou project. It broke ground on the property in November 2020.
The project's construction manager is Joseph Construction, and Knoxville-based OE Experiences is a co-development partner with Kituwah LLC.
Leave a comment
1

comment
Yuck.

Wednesday, 04/26/2023