Archived News
A Carolina crisis: state, local leaders work to lessen impact of mill closing
Wednesday, April 12, 2023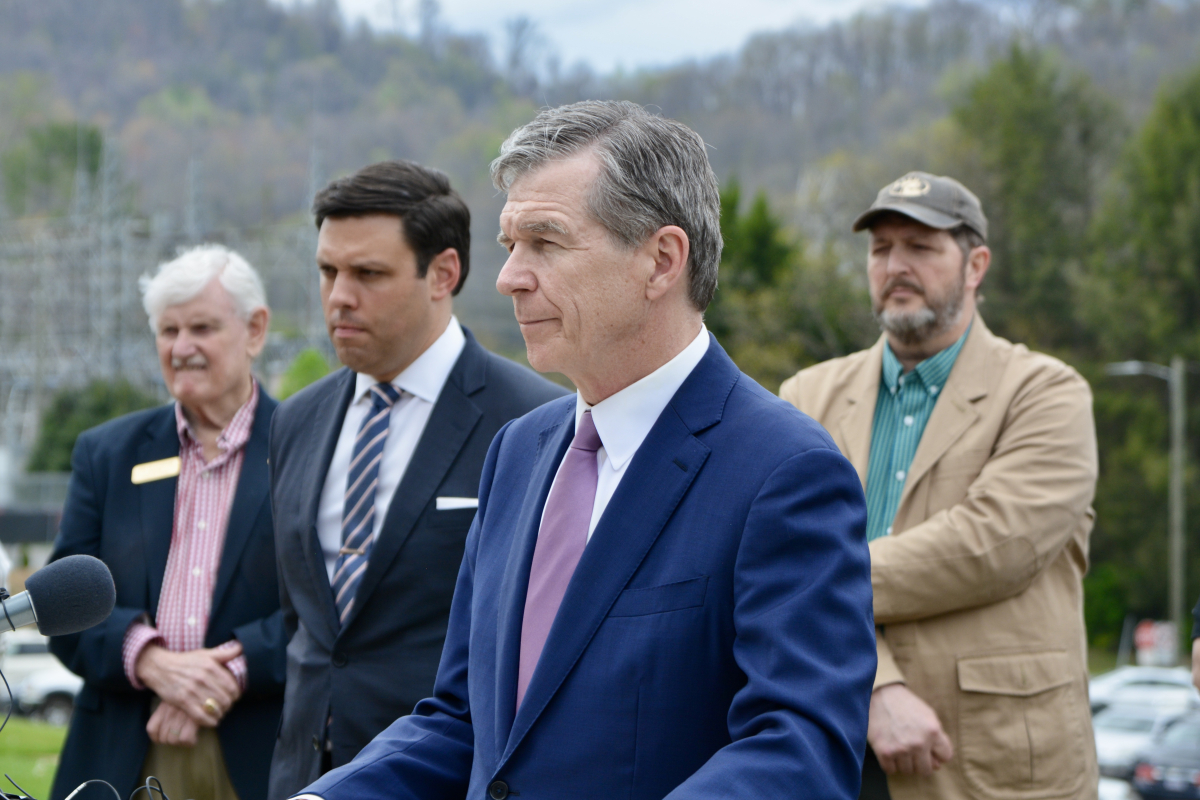 North Carolina Gov. Roy Cooper (center) speaks to reporters in Canton on April 6 as (left to right) Clyde Mayor Jim Trantham, Canton Mayor Zeb Smathers and Haywood County Commission Chair Kevin Ensley look on from behind.
Cory Vaillancourt photo
Last week, Canton Mayor Zeb Smathers hosted Gov. Roy Cooper and a panel of elected Democrat and Republican leaders along with economic development officials, workforce analysts and environmental policy officials, all trying to prepare for the inevitable closing of the venerable old mill at the center of town.
"This is not a situation of partisanship back and forth," Smathers said. "This is a focused effort to provide help, support and love to these mill workers, their families, their children — not just now, not just two months from now — as we find our way, moving into our new future, without Evergreen Packaging."

First called Champion and then Blue Ridge Paper and now Pactiv Evergreen, the mill dates back more than a century and sits at the geographic and cultural center of the small mountain town. Over that time, it's remained one of the county's largest employers and boasts an average annual wage of more than $84,000.
The mill's March 6 announcement that it would close its doors in June took many by surprise, especially workers. Despite a great number of unknowns, county and municipal governments were quick to react, as was the Cooper administration.
"I did call the mayor and ask how the people were and told him that we were going to mobilize local, state, federal [governments], businesses, nonprofits and that we were going to have an all-of-government approach to recovery for this area," Cooper told media gathered at Canton's Pisgah High School on April 6. "I just spent a very powerful hour with these local leaders."

On March 16, Cooper penned a letter to Pactiv Evergreen CEO Mike King asking the company to reconsider the closing and warning that $12 million in state grants given to the company in 2015 would have to be repaid if Pactiv Evergreen moved forward with its stated plans.
Pactiv Evergreen CEO Mike King wrote Cooper back on March 21 but made no mention of the $12 million.
"We want that money back," Cooper said at the press conference. "We want that money to go to this area, to make sure that you recover."

House leadership in the North Carolina General Assembly also inserted a $5 million direct appropriation for Canton into the proposed budget, but it's hard to say if it will end up in the final budget right now.
Whatever the case, it's clear that the region will need every cent, as the ripple effect of the mill's closing begins to manifest. As Smathers said during Cooper's press conference, this isn't a Canton crisis — it's a Carolina crisis.
Tom Tveidt, of Waynesville-based Syneva Economics, has gathered some sobering statistics that speak to the scope of the impact. Tveidt projects that manufacturing employment in Haywood County will drop from nearly 2,600 jobs to just under 1,700.
That cut will take the county from having 14.8% of its workforce involved in manufacturing down to 9.6%. North Carolina's average is 10.1%, while the national average is 8.5%, meaning that Haywood County is more dependent on manufacturing jobs than the state or the country.
The average monthly earnings in Haywood County are about $3,900 for all industries. Manufacturing jobs average $5,346 while manufacturing jobs at the Pactiv Evergreen mill average more than $7,000.
The loss of employment at the mill will have far-ranging implications on household spending, and therefore sales tax revenues that end up in local government coffers. Then there's the people who work "for" the mill, but don't actually punch a clock there. Suppliers, like loggers, will also be affected.
Waynesville Mayor Gary Caldwell brought up another critically important mill supplier that will be hit hard, and could take other businesses as far as Jackson County with it.
"The biggest concern we have in Waynesville right now is, you know we have Giles Chemical, and the railroad feeds the mill down there, that's their largest customer. We are concerned about will they still keep feeding what Giles Chemical needs," Caldwell said.
Estimates put Blue Ridge Southern Railroad's mill business at around 70% of all operations, including Pactiv Evergreen's Waynesville facility.
Earlier this month, it was erroneously reported in the Waynesville Mountaineer that the facility would close. Although that's not the case as of now, job cuts were announced there which could also affect the railroad's business. Jackson Paper, in nearby Sylva, relies on the railroad as well.
"We're hoping that they will come still, and take care of those folks," Caldwell said.
Cooper said the state would apply for federal dislocated worker grants that will help with retraining. Haywood Community College has also offered scholarships to workers who will be affected.
Getting the mill's 185-acre parcel back into productive use after the shutdown is also top-of-mind for many, however, the site is riddled with challenges. Foremost among them is the wastewater treatment facility, which also handles Canton's municipal and residential water.
There's an agreement dating back to the 1960s that says Pactiv Evergreen must continue to operate the facility for at least two years if the mill were ever to close. Now, for the first time in history, the issue is a ticking time bomb.
"We were talking with the local economic development people here on trying to get this property back on the market and trying to bring a business here that could provide similar support for this community," Cooper said. "Obviously, it's going to be up to this company what they do [with the site], but as part of the conversations that we have with the company about this $12 million that they owe the state, and about this wastewater treatment plant, we want to keep in mind that we want something there that can help move this area forward."

Permitting and construction of a new facility will take far longer than two years once financing is in place.
Then, there's the potential for environmental contamination. Although there are several active permits at the site, nobody really knows what, if any, environmental hazards may be lurking in the ground, or the groundwater.
Tim Watkins, deputy secretary of North Carolina's Department of Environmental Quality, said his agency was working closely with the mill's owners to ensure there's no environmental damage resulting from the closure of the plant.
"We also have enlisted and requested help from the U.S. Environmental Protection Agency to do an evaluation of potential contamination from the plant," Watkins said. "We're expecting to get some initial reports from the plant in the mid- to late April timeframe, based on sampling that was done in the groundwater."

David Francis, the county's economic development guru, said that despite the potential shortcomings with the sprawling site — it's also in the flood plain and sustained damage from Tropical Storm Fred in August 2021 — there's been lots of interest. Francis said six entities have already reached out to him, but there's more to be done before anything can move forward.
"We don't know if the mill's on a timetable. We don't know what that will be. Somebody asked earlier about environmental cleanup. So we have to go through each of those steps, before the mill's ready for sale. They've got to have a clean product. There is interest there," Francis said. "We can hopefully find somebody in the near future."

Economic development discussions usually take place in private, so there probably won't be anything to announce until all parties, including the mill, local governments and any involved state agencies, officially put pen to paper and strike a deal.
The first layoffs at Pactiv Evergreen's Canton mill aren't supposed to take place until June 9, and mill shutdown operations by the remaining workforce will likely continue well past that date, delaying any conversion of the site into something new.
"I'm confident that this area will bounce back," Cooper said. "But there's going to be a lot of pain between now and then."