Archived News
Tuscola High School announces new coach
Wednesday, March 29, 2023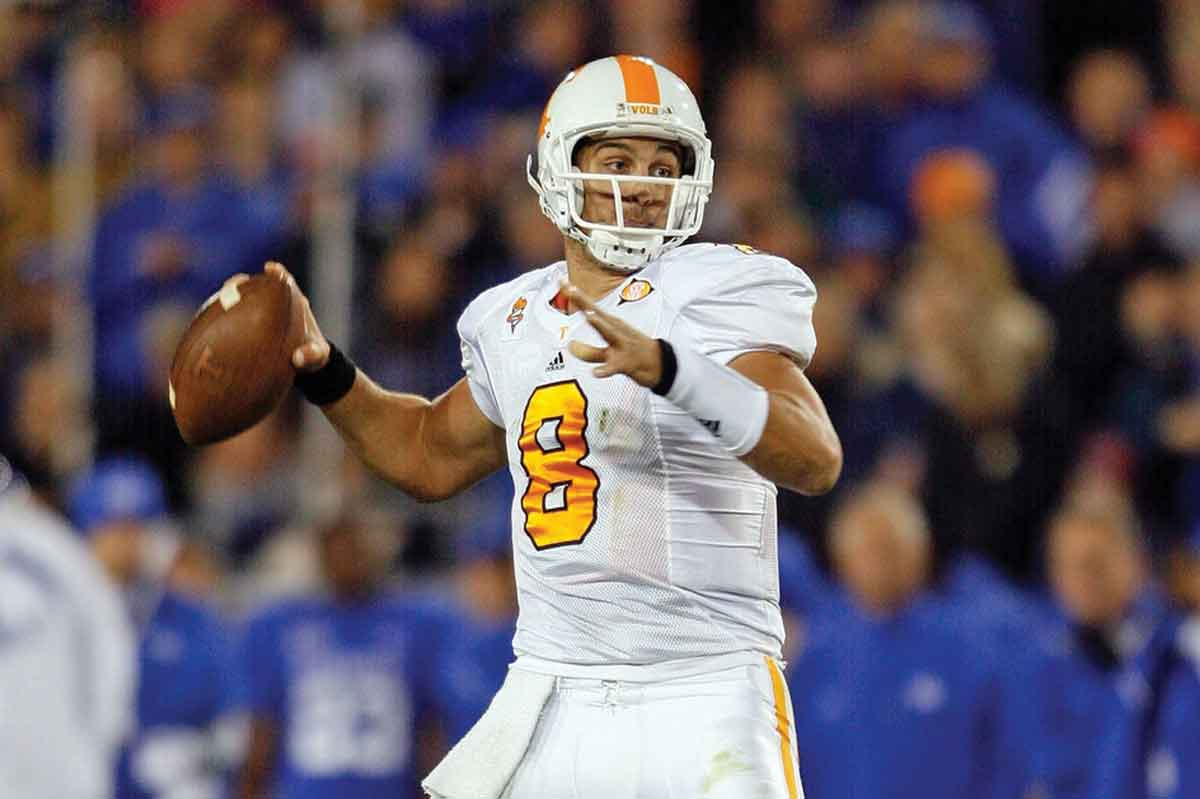 Jonathan Crompton. File photo
Tuscola High School has found a new head football coach in former NFL quarterback Jonathan Crompton.
"Throughout this process, I've spoken with staff members, I've talked to students and I've talked to community members, and all have asked for similar qualities in the next football coach," said Tuscola Principal Casey Conard. "These include a coach who will love and build strong relationships with the players, someone who can develop and provide opportunities for students post-graduation, and most importantly, someone who loves and is committed to building a program that does come with a high school."
The hiring decision was approved unanimously by the Haywood County School Board of March 27, and comes in the wake of the resignation of previous head coach Chris Brookshire following allegations of sexual harassment by co-workers. Tuscola's principal resigned shortly thereafter in a related incident.
The school board hired Casey Conard as Tuscola Principal in February, at which point he became responsible for the search for a new coach.
"Coach Crompton has my full support and will do great things for our student athletes in the years to come," said Conard.
Crompton graduated from Tuscola High School, where he played quarterback for the Mountaineers, in 2005, after which he went on to play football at the University of Tennessee. In 2010, Crompton was drafted by the San Diego Chargers in the fifth round with the 168th overall pick. He was signed onto several different NFL teams and practice squads before signing and playing for the Edmonton Eskimos and the Montreal Alouettes in the CFL. Crompton retired in 2017 and began his career as a coach.
"Mr. Crompton's knowledge is elite," said Conard. "His experiences as an SEC, CFL and NFL quarterback are unmatched. Along with his knowledge, coach Crompton, brings the commitment to Tuscola High School and the drive to build a program our students and community can take pride in for many years. He exceeds my expectations for what we need as a coach. Coach Crompton has my full support and will do great things for our student athletes in the years to come."
After the school board approved the personnel recommendation, Crompton took the opportunity to thank the school board.
"How grateful I am for the opportunity to be the next head coach at Tuscola High School, that is my alma mater," said Crompton. "It's not gonna be easy, it's gonna be fun, I promise you. These kids are going to have a great time, we're gonna play hard. But the biggest thing is they're gonna be great members of the community, on and off the field, in the classroom, great young men of character held to a high standard because I hold myself to a very high standard."
"Congratulations Coach Crompton and we look forward to a long legacy of excellence at Tuscola under your leadership," said Chairman Chuch Francis. "Thank you so much for agreeing to work with us."