Archived News
Unfinished business: Hal Weatherman steps out from behind the curtain
Wednesday, March 22, 2023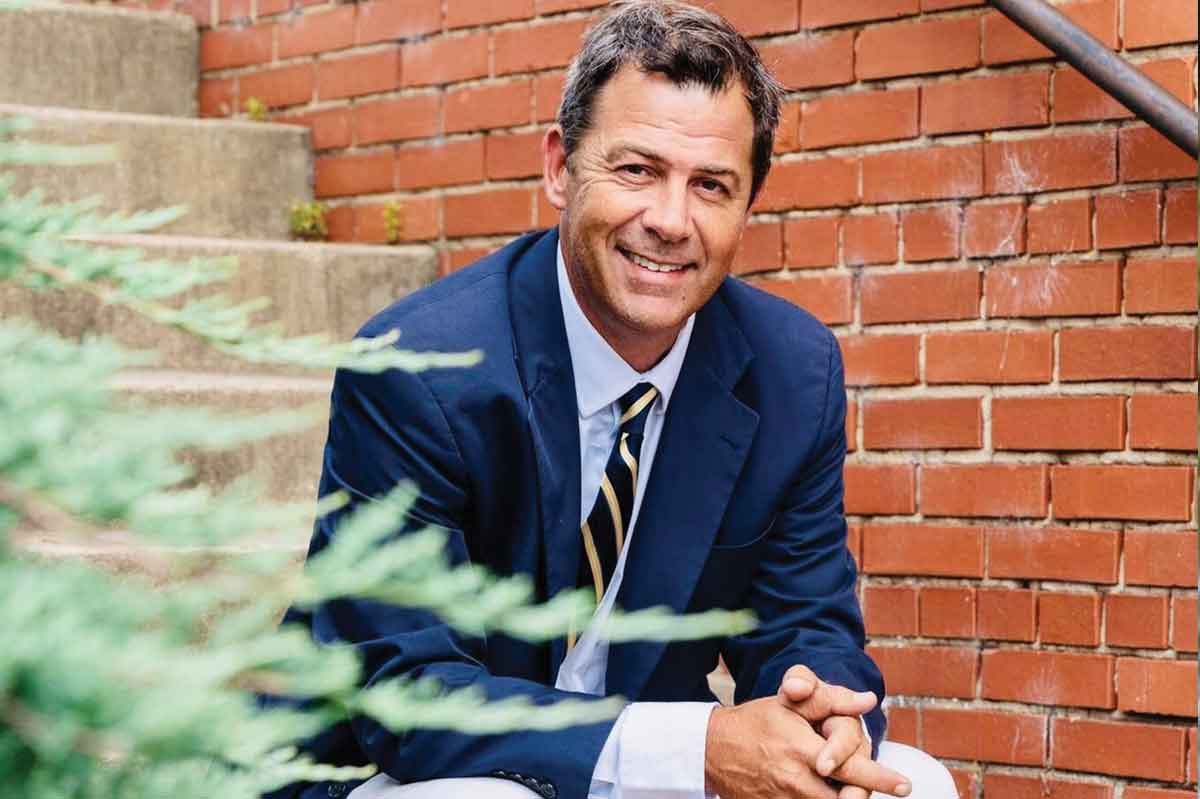 Hal Weatherman is seeking the Republican nomination for lieutenant governor. Hal Weatherman photo
For the first time since 2008, North Carolina's governor is termed out, meaning Democrats and Republicans will both have a pretty fair shot at what will be an open seat come 2024.
The political maneuvering around that opportunity has been closely watched with Democrats like Attorney General Josh Stein and Republicans like State Treasurer Dale Folwell and former Congressman Mark Walker at the center of the conversation.
Another Republican, Lt. Gov. Mark Robinson, has made his gubernatorial candidacy all but official, telling WFMY News more than a month ago that he's been gearing up and "the possibility is great that we are going to take that next step."
If that happens, it would open up the lieutenant governorship and have ramifications up and down the entire Republican ticket.
Although the job of lieutenant governor doesn't exactly offer broad powers, it is important in a number of ways.
Now, lifelong North Carolina politico Hal Weatherman, best known for his backstage roles with some of the state's most visible conservatives of the past three decades, wants to make sure that seat stays in Republican hands.
"To be clear, I'm not running against Mark Robinson. As Mark Robinson goes and does what we all think and know he is going to do, I am attempting to take his place as lieutenant governor," Weatherman told The Smoky Mountain News. "If for whatever reason Mark were to not run [for another office], I would withdraw. Mark was the first phone call I made. Actually, the second."
Weatherman's no stranger to important phone calls with North Carolina's lieutenant governor. His first call was to Dan Forest, who served in the role from 2013 through 2021.
"If you see how Dan governed as lieutenant governor, I was his chief of staff during that whole time," Weatherman said. "I was intimately involved in everything that we did. To me, it's not really a question of how would Hal govern. You've kind of already seen it. And I feel like I have some unfinished business."
But Weatherman says his relationship with Forest, who lost his 2020 gubernatorial bid to Rocky Mount Democrat Roy Cooper by more than four points, is more of a brotherly one. And there's some sense to that.
Sue Myrick, Forest's mother, hired Weatherman in 1995 after she went from being Charlotte's first female mayor to being Charlotte's member in Congress.
"I told her I would give her two years and instead did 18 years with her, worked my way up to chief of staff, ran all of her campaigns," Weatherman said. "Sue was like my second mom."
Myrick, now 81, remains something of a pioneering figure in conservative circles.
She came into Congress during the 1994 "Gingrich revolution" and was probably ahead of her time, serving as one of the most conservative members of the body at that moment.
An early supporter of the Tea Party caucus when it was formed in 2010 by Minnesota Congresswoman Michele Bachmann, Myrick also chaired the influential Republican Study Commission, another fiscally and socially conservative caucus, from 2003 to 2005 — right before then-Congressman Mike Pence of Indiana.
Since then, the list of RSC chairs has read like a who's who of conservative superstars, including Jim Jordan (R-OH), Steve Scalise (R-FL) and North Carolina's Mark Walker.
Presiding over a boom that transformed Charlotte from a sleepy southern town of around 400,000 people to a world leader in finance and insurance with a population of 1.5 million wasn't easy and there was plenty of division, according to Weatherman, who learned a lot from Myrick and her leadership style.
"She would bring people together," Weatherman said. "If there were five different groups that couldn't agree she'd bring them in and lock the door and say, 'We're not leaving.' I always respected that. She was fearless. She stood on principle. She would not back down."
When Myrick retired from Congress in 2012, Weatherman went to work for Forest, first under Republican Gov. Pat McCrory and then under Democrat Cooper. During that time, North Carolina's GDP grew from $462 billion in 2013 to $662 billion in 2021.
But Forest's electoral defeat was the beginning of a rough patch for Weatherman and his allies.
After Hendersonville native Madison Cawthorn won a seat in Congress in 2020, Weatherman signed on as Cawthorn's district director. It was a tumultuous 18 months for Cawthorn, who finally succumbed to a tawdry and incessant drip campaign that resulted in his defeat in the 2022 Republican Primary Election, albeit by a slim margin.
Many of Cawthorn's electoral wounds were self-inflicted, but the biggest complaint about his service in Congress centered on his constituent services.
Elected officials in Western North Carolina routinely grumbled about having to go to Republican Sen. Thom Tillis for help when their constituents couldn't get anywhere with Cawthorn, and Cawthorn's replacement, Rep. Chuck Edwards (R-Henderson) started working on a backlog of constituent service requests before he was even sworn into office earlier this year.
"I believe in life, that you have to be held accountable for your actions. That's true in business, that's true in politics," Weatherman said. "I served the people of the 11th District with integrity, and took pride in my work, took pride in my interactions with the constituents that I encountered. That's what I'm responsible for. I'm not passing the buck, but I'm responsible for Hal Weatherman. My name is not Madison. My name is not Dan."
Weatherman wasn't involved in the transition from Cawthorn to Edwards, but did point out that Cawthorn was the first freshman to open his district offices that cycle and thinks they did around 6,000 constituent service requests while he was there.
"That's good constituent service. A lot of that, I think, got caught up in the political windmill, and people started piling on," Weatherman said. "I ran constituent services for 18 years in Sue Myrick's office, with a much higher volume because it's an urban area and it's Charlotte, and I never had any complaints about the job that I did."
After Cawthorn, Weatherman went on to work on the 2022 congressional campaign of Bo Hines — basically a Cawthorn clone. Hines lost to Democrat Wiley Nickel by 2.6 points in a tossup district.
A few months later, Weatherman announced his candidacy for lieutenant governor.
One of the few ways a lieutenant governor in North Carolina can have an impact on the fortunes of America's ninth — soon to be eighth — largest state is in the field of education.
The lieutenant governor serves on the state Board of Education and has considerable influence there. Indeed, Robinson just backed calls from the Board to increase teacher pay by at least 10%.
That role has a lot to do with Weatherman's unfinished business.
"I have a very strong belief, and Dan did as well, that people were put on this earth to work," he said. "When we work, that's when we as people find our dignity, our self-respect. It's where we learn self-sufficiency. It's where we train the next generation."
Attempts to remove the stigma surrounding technical and vocational education aren't new. One could argue that stigma doesn't even really exist as it once did, but when Weatherman is asked for life advice from young people, he in turn asks them a series of questions to which the responses are often self-evident.
Do you want to learn a skill? Earn six figures? Be an entrepreneur? Start a business? Sell that business for seven or eight figures? Then go be a plumber, or an HVAC technician or a welder.
"I see the office of lieutenant governor taking over the apprenticeship program," he said. "We have one, it's clunky, it's not well-utilized, it's not well publicized and other states do it better. Texas, Georgia, South Carolina — they do a far better job than we do."
The lieutenant governor also sits on the State Board of Community Colleges. Many of them have been attempting to pick up the slack in workforce development, and still can't meet the demand.
"I want our four-year universities to partner with the community college system in the same way that the community college system is currently partnering with the K-12 system to start offering 'two and two' degrees, where you get two years in the trades and then you get two years to take your pick, where you get graphic design, marketing, finance, business," he said. "Then you have all the tools to be an entrepreneur but also a marketable skill set."
One of the biggest workforce demands in Western North Carolina right now, aside from those of its burgeoning aerospace industry, is medical professionals. With Medicaid expansion imminent, providers will need to ramp up support staff to accommodate what's expected to be several hundred thousand new patients.
The problem is so critical that Haywood Rep. Mark Pless recently offered an amendment to the House's Medicaid expansion bill, offering a $14 million package of tuition reimbursement for roughly 200 doctors and nurses who will commit to working in rural North Carolina.
Late last year, Haywood Community College opened a new health sciences building, doubling the amount of floor space dedicated to training the next generation of nursing professionals. At that very moment, there were around 100 job postings seeking certified nursing assistants, nurse practitioners, licensed practical nurses and registered nurses in Haywood County alone.
"I think the apprenticeship could help with that. We need to pay people to get the training that they need to get. I'm all in favor of paying people to do it. Most employers I know are willing to pay people to be trained," Weatherman said.
With 1,100 people in Haywood County soon to be out of work due to the imminent closing of the Pactiv Evergreen paper mill in Canton, Weatherman not only talked of creating a "financial bridge" for employees by utilizing resources — federal, state and local, public and private — he also recommended pushing the community college system to take an active role.
"Through the North Carolina Department of Commerce, I would literally market to the world the availability of a physical plant and over 800 skilled workers available to any company in the world that is looking to relocate, and make the N.C. Community College system available to them to retrain the entire workforce if needed at no expense to the company," he said.
Like many Republicans including Robinson, Weatherman is vocal on hot-button social issues surrounding North Carolina's public school system, including critical race theory. On LGBT issues, he wants teachers to tell students who have questions, "Go ask your parents."
He'd like to see the U.S. Department of Education abolished, with its budget being sent back into local schools, and is a proponent of school choice — although he doesn't want to see the state start to allow the infrastructure portion of school funding extended to public charter schools.
"They actually save the public school system money," Weatherman said, adding that he served on the founding board of Wake Preparatory Academy, a public charter school. "I was a private citizen on a private board of directors running the school and we had to go out and find somebody to build a building, and we had to go raise the money and pay for it. And I'm fine with that."
Obviously, Weatherman won't have any influence on education if he doesn't win his race; the 2024 Primary Election is still a ways off, but he has no shortage of opponents, even this early.
His declared Republican opponents, ex-Greensboro City Councilman Jim McKee and podcaster Allen Mashburn, don't seem to have the experience or connections that Weatherman has, but if he makes it through the 2024 Republican Primary Elections, his toughest fight may be against Democrat Rachel Hunt.
Hunt is the daughter of former Gov. Jim Hunt, who served from 1977 to 1985. His name still carries considerable weight, as does hers — Rachel served two terms in the House, and is just starting her first term representing Mecklenburg County in the Senate.
But now that Weatherman's stepped out on stage, running his own show instead of working behind the scenes for others, his fate lies squarely in his own hands.
Weatherman's "brother" and former boss, Dan Forest, thinks Weatherman is probably the most qualified person on the planet for the job.
"There's no doubt. He's got more experience than most people running for office because of the background he has," Forest told SMN on March 6. "He has the state level background in policy and politics, so he's really good at both sides, and obviously he has the federal background in policy and politics, so he knows how to navigate that. Most people come into office and it takes them a few months to get the lay of the land. Hal won't have that problem. Hal will have a solid agenda."
Forest said that Weatherman hasn't yet asked him for a formal endorsement, but when that time does come, he'll "absolutely" endorse Weatherman.
Michele Woodhouse, former GOP chair of North Carolina's 11th Congressional District, hasn't yet formally backed anyone for lieutenant governor thus far, but offered a similar assessment of Weatherman's credentials.
"I don't believe there is or will be any candidate that understands the lieutenant governor position better than Hal," Woodhouse said.
Learn more about Hal Weatherman at halweathermanfornc.com, and check out the list of his current and potential opponents — Democrat and Republican — at politics1.com/nc.htm.