Archived News
Town of Waynesville will pursue staggered terms for aldermen
Tuesday, February 28, 2023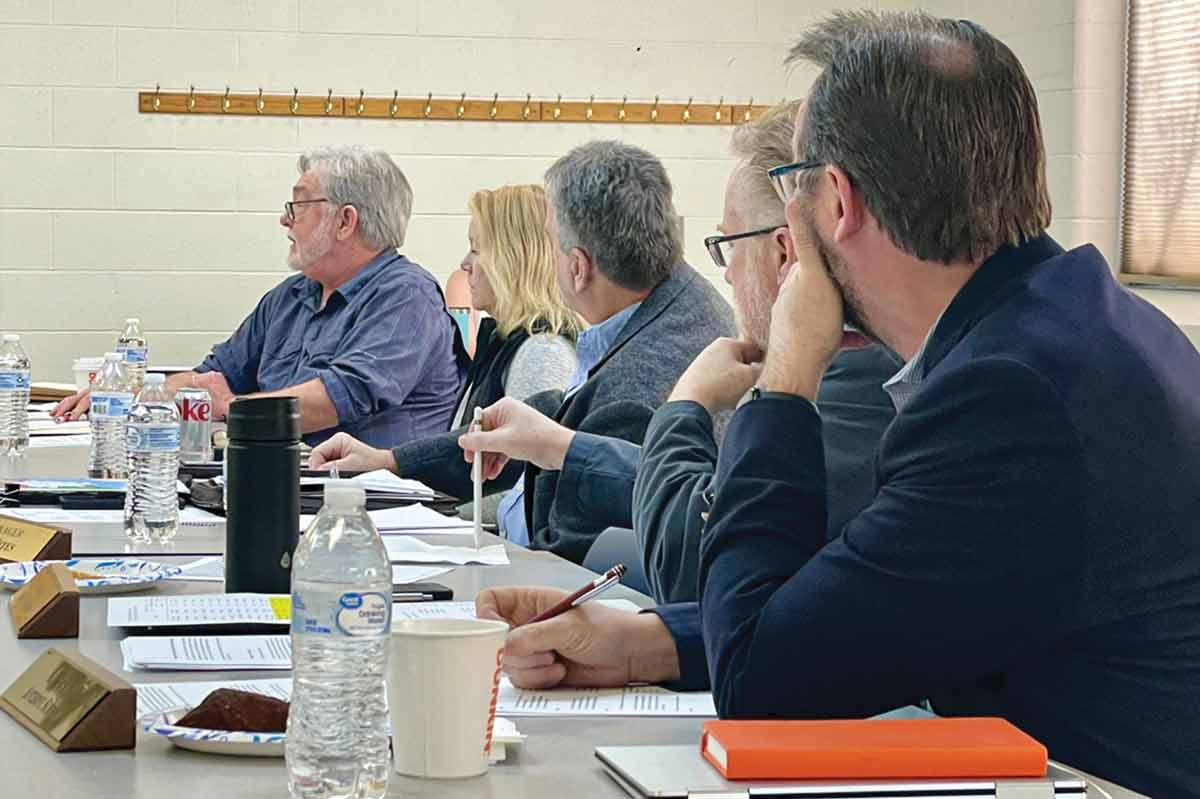 Waynesville's elected officials (left to right) aldermen Chuck Dickson and Julia Freeman, Mayor Gary Caldwell and aldermen Jon Feichter and Anthony Sutton, will change the way they're elected. Cory Vaillancourt photo
Waynesville is Haywood County's only municipal government that elects all of its members at once, but that will likely change — just in time for this year's election.
"I think there are couple reasons this is good idea," said Alderman Chuck Dickson. "One is board continuity. A complete turnover of the board could destabilize things quite a bit, possibly even throw things into turmoil."
Dickson said that mass turnover on the Board of Aldermen could result in staff turnover and the loss of institutional knowledge, something Mayor Gary Caldwell acknowledged by saying it would "devastate" the town's operations.
The issue of staggered terms has come up a number of times over the years, including at last year's retreat.
"In 11 years, we've addressed this 11 years," said Alderman Julia Freeman. "It's time to make a move."
Town Manager Rob Hites said that in previous years, the town was under the mistaken impression that such a change could only be made through a local bill presented in the General Assembly, but former Town Attorney Bill Cannon discovered last year that the assumption simply wasn't true.
Per NCGS 160A-102, governing boards may amend the city charter by ordinance to make the change by following a specific process for doing so.
Aldermen voted unanimously to direct the town attorney to draft a "resolution of intent to consider an ordinance" amending the town's charter during the town's annual retreat on Feb. 24.
During the vote, aldermen also agreed that this year the top two vote-getters would serve four-year terms, with the next two top vote-getters serving two-year terms.
Once the town attorney's resolution is adopted, the board must call for a public hearing on the matter within 45 days. Then, within 60 days after the public hearing, the board must adopt an ordinance stating the method by which the staggered terms will be implemented. All of these steps, according to statutes, must be completed at least 90 days before the next election.
An alternative method, drawing straws to see who would serve four-year terms, was rejected.
Should the change be implemented, the town would hold elections every two years instead of every four years. In the past, Hites has said running an additional election would cost the town about $13,000.
After this year's election sets up the staggered terms, all terms for aldermen would return to being four years.
The office of the mayor is elected separately from aldermen. The term length and timing of the mayor's election will not change.
Leave a comment
1

comment
Moore forWayne sville!

Saturday, 03/04/2023