Archived News
Medicaid expansion passes house
Wednesday, February 22, 2023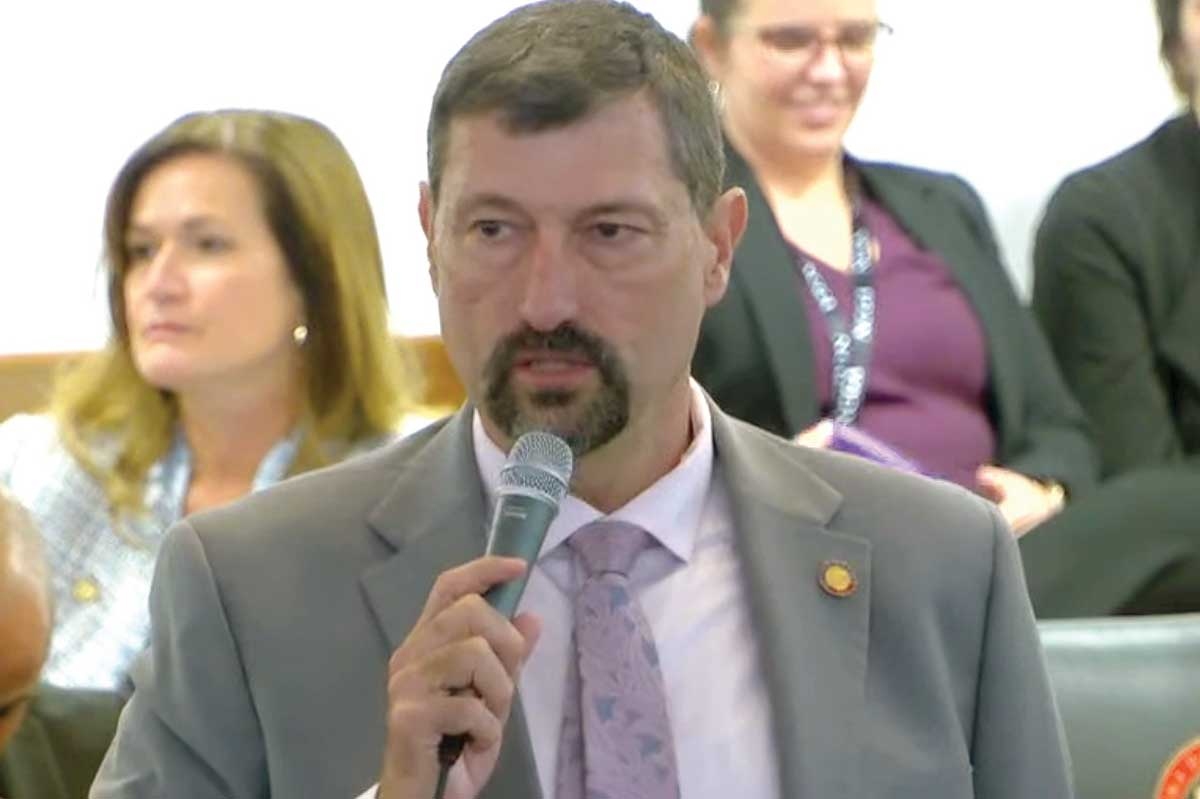 Rep. Mark Pless (R-Haywood) offers a tuition reimbursement amendment to the Medicaid expansion bill on Feb. 15. North Carolina General Assembly photo
After years of infighting and obstruction, the North Carolina General Assembly is closer than ever to expanding Medicaid after the Republican-controlled House gave its final approval on Feb. 15.
Medicaid expansion became mandatory for states in 2010 as a result of President Barack Obama's Affordable Care Act, but the "mandatory" provision was ruled unconstitutional in 2012. By 2014, almost half of U.S. states, plus the District of Columbia, had taken advantage of the opportunity.
North Carolina was not among them. Senate President Pro Tempore Phil Berger (R-Rockingham) was among the plan's biggest opponents, and had legitimate concerns about possible effects on the state's health care industry — chief among them, what would happen if the federal government ever departed from its pledge to cover the cost of 90% of the expansion population.
The Senate passed an expansion bill in 2022, but the House wouldn't budge and was seen as the last hurdle for expansion until late last week.
Titled "Access to Healthcare Options," H76 was introduced by three Republicans and a Democrat on Feb. 8. Just a week later, the bill had passed its third and final reading by a 96-22 vote.
As filed, H76 would begin providing Medicaid coverage on Jan. 1, 2024 to people aged 18 to 64 who earn 133% or less of the federal poverty level. The federal poverty level, which changes each year, is currently set to $13,950 for an individual, so those making up to $18,553.50 would be eligible. Enrollment would begin on Dec. 1.
On Jan. 18, Asheville-area Democratic representatives Eric Ager, Lindsey Prather and Caleb Rudow told The Smoky Mountain News in a story previewing the current General Assembly session that they'd follow through on campaign pledges to support expansion. Every House Democrat present voted yes on H76.
Western House reps Mike Clampitt (R-Swain), Karl Gillespie (R-Macon) and Mark Pless (R-Haywood) all said they were inclined to support expansion — albeit with reservations — and seem to have gotten what they wanted to earn their support.
Gillespie told SMN he wanted to hear committee recommendations; health and finance committees reported favorably on the bill on Feb. 14, before the first reading.
Clampitt said he, like Berger previously, wanted to be sure the federal government wouldn't leave the state on the hook for the costs of the expansion population.
Berger told NC Health News early in January that he couldn't see that happening since it hadn't happened under either Republican or Democratic presidential administrations over the past decade.
The bill also contains a clause that would discontinue expansion if the federal government ever drops below 90%.
Pless told SMN that he was concerned about a shortage of medical care providers in the state, saying that if patients couldn't get in to see physicians, expanding Medicaid wouldn't do much good. When the bill came up, Pless offered an amendment meant to address that shortage in rural areas.
"There's a lot of places that we need physicians, we need nurses, in these hospitals," Pless said on the floor of the House on Feb. 15. "What this is going to do is, it's going to help with tuition reimbursements if someone chooses they're going to go into one of those professions."
As written, the amendment would appropriate $14 million in non-recurring funding towards loan repayment, an amount Pless said would probably be enough for 200 people.
Students earning a doctorate in medicine or nursing would be eligible for $28,000 in repayment for each year they practice on a fill-time basis in a rural area. Nursing students would qualify for $20,000 a year with a master's degree, $14,000 with a bachelor's degree and $6,000 with an associate's degree.
Pless' amendment passed by a measure of 119-0, but it wasn't the only amendment offered from the floor.
Deputy Majority Whip Jeffrey McNeely (R-Iredell) also saw unanimous support for a $50 million, one-time appropriation that would be spread across all counties to help with implementation as well as inmate medical costs.
Rep. Keith Kidwell (R-Beaufort), leader of the influential House Freedom Caucus, introduced a work requirement amendment, even though such requirements aren't currently authorized by the Centers for Medicare and Medicaid Services. Kidwell's amendment would take effect if that ever changes and was passed 77-41, with six Democrats joining him.
Macon County Republican Senator Kevin Corbin has supported expansion since he was in the House — a rare position for a conservative western Republican. Now entering his second Senate term, Corbin co-chairs the Senate's Health Care committee and the Health and Human Services appropriations committee, meaning he'll see the bill on its way in and guide it to the floor, if possible.
"I feel sure that we'll work out a solution," Corbin told SMN on Feb. 19.
Corbin added that he was supportive of Pless' amendment, and that he'd spoken to Pless about it before Pless introduced it.
"Part of this thing is making sure our folks in rural areas have access to medical providers," Corbin said.
But there are other parts of the House bill the Senate is expected to address. Corbin mentioned there might be some provisions dealing with the state's stance on certificates of need, as well as on nurses operating without the direct supervision of physicians.
As of press time on Feb. 21, the bill had passed its first reading in the Senate, and will likely head to Corbin's Health Care committee soon. Corbin said that he would expect the full process to take a couple of weeks before Gov. Roy Cooper gets his chance to sign or reject the full proposal.