Archived News
The 'strong right arm' of the Republican Party flexes its muscles in Maggie Valley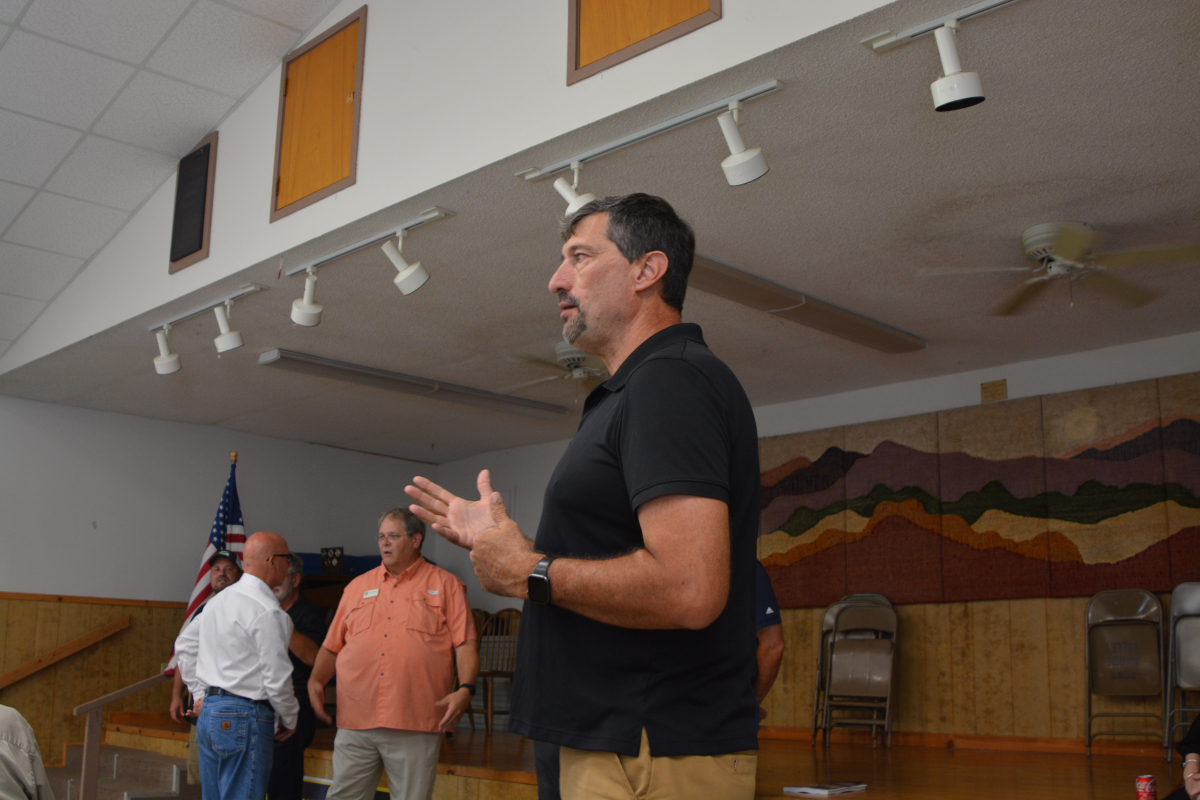 Rep. Mark Pless (R-Haywood) speaks at an NC House Freedom Caucus rally on July 6.
Cory Vaillancourt photo
Energized by recent Supreme Court rulings and eager to remake North Carolina in their own image, members of the N.C. House Freedom Caucus held a "rally in the Valley" last week, issuing local endorsements and looking to gain support for their forthcoming legislative agenda.
"The thing I hear from everybody is they want us to stand up," Rep. Mark Pless (R-Haywood) told The Smoky Mountain News on July 6. "They are looking for representatives that are not out to make a name for themselves, they want somebody that's willing to stand when it's not popular, to stand behind the Constitution and stand behind the people and what they want to see done."
Pless, along with fellow Haywood Rep. Mike Clampitt, hosted six other members of the Freedom Caucus, including Appropriations Chair George Cleveland (R-Onslow), Veterans Affairs Chair Ed Goodwin (R-Chowan), Local Government Chair Bobby Hanig (R-Currituck), Wildlife Resources Co-chair Karl Gillespie (R-Macon), Local Government Vice Chair Ben Moss (R-Richmond) and Banking Chair Keith Kidwell (R-Beaufort).
Kidwell also serves as chair of the HFC. He explained that the group got its start several years back, but fizzled out for a time until he took over two years ago. Since then, the group has grown from five members to nearly 30.
"Our mission is to review legislation with a concentration on how each bill impacts the rights, freedoms and liberties of the people of North Carolina. This will include the appropriate use of taxpayer money, [and] to be sure all legislation is in accordance with the North Carolina and U.S. Constitution," Kidwell told an audience of about 50 people in the Maggie Valley pavilion. "Our objectives — to assist leadership in how legislation may infringe upon the rights and liberties of our citizens, and to offer suggestions and alternatives for improvement."
The group shares more than just a name with the better-known U.S. House Freedom Caucus, formerly chaired by former NC-11 Republican Congressman Mark Meadows.
In 2017, members of the congressional caucus blocked a bill from Republican leadership to repeal Obamacare because it didn't meet their standards. Acting as a bloc, they exerted outsized power by withholding their votes, killing the bill on the floor of the Republican-controlled House. It was one of many instances where the outsized impact of the caucus made a difference.
Kidwell offered a similar example of his caucus' capacity for asymmetrical warfare.
"They wanted to put cameras all up and down the highway, license plate readers, so that they could track where you move, so the Freedom Caucus called an impromptu meeting, literally in the chamber where we vote," Kidwell said. "We all said with that one [camera] section in there, the bill dies on the floor."
Hanig, who serves as vice chair of the Freedom Caucus, accompanied Kidwell to the speaker's office and threatened to kill the commerce bill if the camera provision remained in it.
"They sat there and talked about it and couple minutes later, that piece of the bill came out and we passed good legislation," he said. "So will we sacrifice good legislation for that piece that infringes on your liberties? Yes, because it's the right thing to do."
According to Kidwell, the Freedom Caucus isn't just hoping to influence legislation, it's also hoping to influence upcoming elections. State Board of Elections records show the House Freedom Caucus PAC was registered last August and raised $200 by the end of the year.
Through the end of the second quarter of 2022, HFCPAC had raised more than $5,400, including $1,200 contributions from Kidwell, Hanig and Cabarrus Republican Rep. Larry Pittman. As of June 30, the PAC reported $2,954 in cash on hand.
They'll likely need every cent, and more, if their "3-2-1" plan for the November General Elections is to succeed. Right now, Republicans hold comfortable majorities in both the N.C. House and Senate, but they don't quite have enough votes to command a supermajority.
A supermajority would allow each chamber enough votes to override vetoes by Democratic Gov. Roy Cooper, who has just two years left until he's termed out. The 3-2-1 plan represents Republican efforts to secure three more seats in the House, two in the Senate and one on the state Supreme Court.
If successful, Republicans would totally control a state that then-President Donald Trump won by just 1.34% in 2020 and therefore could advance legislation — as well as new congressional maps — without any barriers.
A two-term House representative, Hanig will give up his seat this November to run for Senate in a newly-drawn district. If he gets there, he said he'd start a Freedom Caucus in the Senate as well.
"I'm kind of surprised they don't have one already," Hanig told SMN. Of course, Hanig will count on the support of the HFC in his race against Democrat Valerie Jordan, who knocked off incumbent Sen. Ernestine Bazemore (D-Bertie) in the May primary.
But House Freedom Caucus members don't have to wait on Hanig's outcome to point to a victory.
After the legislative redraw, freshman Rep. Ben Moss found himself double-bunked with fellow Republican Rep. Jamie Boles.
"So when we looked at Rep. Moss, he was the most conservative candidate. He was also a current member of the North Carolina House Freedom Caucus, so clearly we're going to support our members before anybody else in a race," Kidwell said. "We know who they are. We know their track record, so that was really an easy call."
Boles, who'd served seven terms and was the senior chair of Appropriations, lost to Moss in the May 17 Republican Primary Election by almost 7 points.
"I was a severe underdog," Moss said. "I mean, everybody had wrote me off, said there was no way I could win. The district really favored my opponent."
Moss acknowledged the impact HFC members had on his victory. Kidwell said that "according to [Moss'] campaign manager, it put him across the line."
Swain County Republican Rep. Mike Clampitt will also look forward to assistance from the HFC. Currently, Clampitt represents a portion of Haywood County, but after the redraw will run in a district that includes the whole of Swain and Jackson counties as well as some brand-new turf, Transylvania County.
Clampitt had traded the 119th District seat back and forth with Waynesville Democrat Joe Sam Queen for a decade until Queen opted not to run against Clampitt for the sixth time this year.
Clampitt will face Transylvania County Democrat Al Platt in November.
"My competition in Brevard is a pea in a pod with Joe Queen," Clampitt said. "It's the same rhetoric, the same talk. I don't think it'll be any different than when I've run with Joe Queen in the past. I'm very hopeful that people will recognize my accomplishments in Swain and Jackson. I know the voters in Haywood will not be participating in my election, but hopefully the reputation will carry into Transylvania County. I'll be working Transylvania County very hard this year."
During the rally Kidwell commended Maggie Valley aldermen Phillip and Tammy Wight as demonstrative of HFC principles locally, before issuing a slate of endorsements on the federal, state and county level.
Judicial candidates Trey Allen and Richard Dietz (state Supreme Court) as well as Michael Stadig (N.C. Court of Appeals) earned nods from Kidwell, as did Rep. Ted Budd (U.S. Senate) and Sen. Chuck Edwards (NC-11).
Kidwell asked the audience not only to donate to the HFC and to the individual campaigns, but also to work for their election.
"[In 2020], we lost the governor's mansion," he said. "I say this with all due respect, but if all you did was vote, that's why we lost. If you didn't pick up the phone and call a friend and say 'go vote for Dan Forest' … if you didn't write 'em a check for $10 or $15 or $20 or more, if you didn't put a sign in your yard, if you didn't put a sticker on your car — that's part of the problem. We must push these candidates across the line."
Haywood County voters will soon go to the polls to choose from among a slate of three Republicans and two Democrats to fill three seats on the Board of Commissioners. Currently, Republicans enjoy a 4-to-1 majority on the commission.
Longtime Democratic Commissioner Kirk Kirkpatrick seeks to retain his seat while fellow Democrat, Haywood County Sheriff's Office Chief Deputy Jeff Haynes, hopes to join him.
On the Republican side, incumbent Commissioner Jennifer Best led the five-way Primary Election ticket with 29% of the vote, followed closely by fellow Republican incumbent Tommy Long with 26%. Retired wrecker operator Terry Ramey, who's run unsuccessfully for commission several times, finished a distant third but with just enough votes to advance to November.
Kidwell announced that the HFC would endorse Best and Ramey.
"If y'all feel like it's gonna help you," Kidwell said, "you can now say that you're endorsed by the North Carolina House Freedom Caucus."
Ramey thinks it will help him gain one of the three seats on commission.
"They check you out really good before they endorse you," Ramey said. "And you heard what they said — they follow up, to hold your feet to the fire."
Best told SMN July 8 that she was pleased and excited to receive the endorsement.
"My perception of what they believe is they want to safeguard constitutional rights, so it's nice to be recognized for the work that we do as elected officials," Best said. "Not all endorsements are good endorsements, but I think their agenda is similar to mine, for sure."
Not mentioned by Kidwell was Tommy Long.
Pless, who served on the Haywood County Board of Commissioners for two years with Long before winning election to the House in 2020, said it wasn't about anything Long had or hadn't done, but rather that he hadn't been able to speak with him.
"Nothing's wrong with Tommy," Pless said. "I hadn't had a chance to talk to him. These folks [Best and Ramey] had told me that they were okay with being endorsed. There's no way I would throw Tommy out there until I had a chance to talk to him."
Long was at a church function during the event.
"I don't take it personally," he said. "I don't know those folks and they don't know me."