Archived News
'Native Renaissance': Cherokee filmmakers seek to tell Native stories with Native voices
Wednesday, February 01, 2023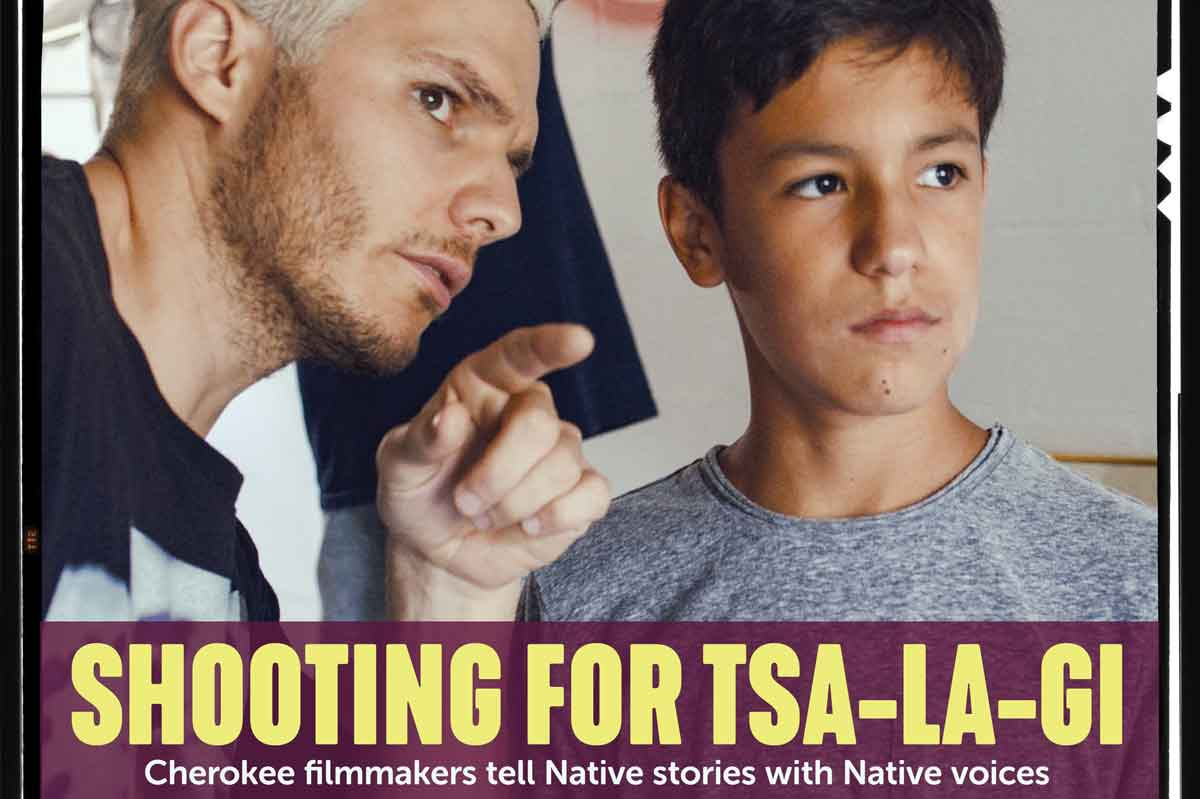 When Cherokee Nation member Brit Hensel got hired for the camera department of FX's Reservation Dogs, her resume was short and her list of film industry connections even shorter. She'd never worked on a show of that caliber before, but its creator Sterlin Harjo took a chance on her.
And not just on her.
"I'd go to work and I'd see Native faces in every single department," she said.
For many of them, this show was their big break, the leg up they needed to make it in the wider world of filmmaking.
"It's such a celebration of Native people and indigenous joy," she said of the experience. "It's so cool to see our ways up on the screen like that and have it be something that's actually real."
Now anticipating its third season, Reservation Dogs follows four teenagers living on Muscogee Nation lands in Oklahoma. It's about Native people, written and directed by Native people, and, to the extent possible, acted, filmed and produced by Native people.
An opportunity to work on the FX show Reservation Dogs launched a filmmaking career for Cherokee Nation member Brit Hensel, 28.
That level of representation is rare in Hollywood — unheard of, even. Only 0.3% of Directors Guild of America members are Native American, and Zippia estimates that 0.6% of actors are American Indian or Alaskan Native. An analysis by researcher Stephanie Fryberg of 2,300 on-screen television characters between 1987 and 2007, turned up only three Native characters. Meanwhile, the 2020 U.S. Census found that 1.3% of Americans are Native American or Alaskan Native.
Hensel — and a growing number of Native filmmakers — are seeking to amplify Native representation in the industry, both behind the camera and in front of it.
A worldview without 'I'
In the past, Native communities found themselves on film mostly as a result of outside documentarians coming in with cameras, recording what they could, and leaving to tell the story they wanted to tell. Now, a new generation of Native filmmakers is seeking to tell their own stories, on their own terms.
"Maybe just my participation in this medium, I can help take something back for our people, help take something back for our communities and be a vehicle to help give communities the right to tell their own stories," Hensel said.
Hensel, 28, said she'd always been a creative person who enjoyed writing and telling stories. But she didn't try her hand at film until she started working with her sister, who was then pursuing a master's degree at the University of Missouri. That experience began a breadcrumb trail of opportunities that led her to Reservation Dogs and, most recently, to create her own short film. The film is part of the Reciprocity Project: Season 1, a collection of seven indigenous-made documentary short films intended to inspire conservation and action on climate.
Titled "What They've Been Taught," the film was shot on the Qualla Boundary using an all-Cherokee cast. Scenes feature Kituwah, the Oconaluftee River and the home of John Henry Gloyne. Narrated by Tom Belt, a Cherokee Nation member and retired coordinator of the Western Carolina University Cherokee Language Program, the nine-minute film explores expressions of reciprocity within Cherokee communities. Belt's narration overlays scenes depicting the process of making a traditional wooden mask, from cutting down the tree that will supply the wood to carving out each intricate detail. Despite the artistry of the process, Belt says, the Cherokee language has no word for art.
"You are making it into a thing. Not making a thing, but making it into that," he says. "It's just little things like that in the language that make you understand the way we look at the world is different."
This still is from "What They've Been Taught," which explores expressions of reciprocity within Native communities. Reciprocity Project photo
Collaboration was key to the project, Hensel said. She's only one person — making the team as big as possible, and bouncing ideas off them as much as possible, was essential to producing a final product that represents Cherokee people as authentically as possible. From working with Belt, Hensel began to appreciate the worldview cultivated by a verb-based language that "completely removes 'I' from everything." Instead, it's all about the action or the group, reminding the speaker that they are not the center. Hensel hopes her work will help share that way of looking at the world with a wider audience.
"Our actions affect a greater whole," she said. "And I think if we saw the world that way — and luckily I come from people who do see the world that way — we would be doing better by one another. Our earth would be in a better state. People would be less hurting."
"What They've Been Taught" was nominated for the 2022 IDA Documentary Awards and selected for the 2022 Sundance Film Festival — making Hensel the first female citizen of the Cherokee Nation to have a film screened at Sundance. She hopes that her success will bode well not only for her own career but also for the future of Native representative in film.
"I think we're coming into this this sort of Native Renaissance with film," she said. "It's reminding us we are valuable. Our stories matter. We can be the people who tell those stories. We should be proud of who we are as Cherokee people, and we don't have to keep our heads down anymore."
The path back home
For Daniel Walker, film is a medium not only for showcasing Cherokee identity to the world, but also for building his own understanding about what that means.
Walker, 42, grew up just outside Atlanta with a tribal enrollment card in his wallet but no idea about tribal identity in his head. He and his family traveled to North Carolina multiple times a year to visit the family homeplace in Snowbird or stop by the tourist shops in Cherokee, but they never attended cultural events like the Cherokee Indian Fair or visited extended family.
"It's a weird feeling being a tourist in your own culture, and not understanding what truly is your heritage," Walker said. "For the longest time I thought Cherokees lived in teepees. That's what I was sold as a kid."
Now, Walker lives half a world away but is closer than he's ever been to understanding where he comes from. For the past decade, Walker has lived in South Korea with his wife of 20 years and their sons, ages 12 and 7. The boys are U.S. citizens and EBCI members, and they're getting old enough to start asking what that means.
Daniel Walker and his sons smile for a selfie outside the Museum of the Cherokee Indian during their trip to the Qualla Boundary this fall. Daniel Walker photo
"I don't have answers for them, unfortunately. Which is kind of disappointing to them because Dad should have all the answers to all the questions in the world, right?" Walker said.
When Walker first moved to Korea, he found work writing scripts for product videos. Over time, he got involved with video production, "fell in love with" the process and began pursuing a career in filmmaking, going in with two business partners to found the video production company Flix Oven. So far, Flix Oven has worked on three different Netflix shows — Midnight Asia, Human Playground and Heart of Invictus.
Flix Oven's long-term goal is to make movies, but in the nearer term it's looking for solid documentary ideas. Sometime last year, that professional aspiration collided with Walker's ongoing angst about his ignorance on tribal identity and his inability to answer his sons' questions. What if, he asked his business partners, he flew to North Carolina to try and figure it all out? What if he made a documentary about his own people, and his own journey toward understanding his place among them?
"Before I started this process, I did not know anybody outside of my family that was an Eastern Band Cherokee," he said. "No one."
It took months to start making the connections and having the conversations he needed to have before booking a plane ticket. The 14-hour time difference and spam filter-prone Korean IP address didn't help matters. Finally, he made some contacts and started planning the trip. Walker and his two sons spent a month in Cherokee last fall, timing the trip to coincide with the Cherokee Indian Fair in October.
A month is a long time to travel, but it still felt like a whirlwind.
"I really wish I had more time," Walker said. "Somebody told me a month isn't enough. They were right. It wasn't enough."
Simultaneously filling the roles of father, documentarian, producer, director and employer — all while embarking on the self-discovery journey of a lifetime — was a lot to handle. Yet somehow, while he was in Cherokee, he felt calm. He felt at home.
"Now I'm back in Korea, I feel a lot of these emotions coming back," he said. "I feel a disconnect, and it hurts in a lot of ways. Once thing that I've learned, the distance is not good."
Asked what he learned from his time in Cherokee, Walker hesitated. He's still unpacking it all in his mind, he said, but he knows that on this end of his homecoming, he feels a greater acceptance — and a greater purpose — than he did before. In thinking about his Cherokee heritage, Walker had always been hung up on blood. Only one-quarter of his is Cherokee. Is that enough, he'd wondered? Did he really have a right to claim the heritage he had been born into?
Daniel Walker and his sons conduct an interview for Walker's documentary exploring his Cherokee heritage. Daniel Walker photo
His trip to Cherokee has calmed those fears.
"I feel more now like I'm accepted, and it's okay to be Cherokee," he said. "It's okay to say that I am."
The flip side of that is responsibility. He came home with a treasure trove of books, and he intends to read them, to learn all he can about his people, their history, their language. He also intends to honor what he now understands to be a core Cherokee value: giving back whatever you take.
"I have to figure out how to give back, not only to the tribal members there in Cherokee, but any others like myself," he said. "Half of the tribe lives off-boundary. Most of my family lives off-boundary. There's a lot like me, who want connection, who don't know where to start. And one of the things I hope to do with this documentary is at least show them a path, a way forward."
Diversity without exoticism
While Daniel Walker and his sons were exploring Cherokee, Anthony Sneed was playing stickball — and, like Walker, making a documentary about the experience. The documentary, "Bastards of the Boundary: Indian Stickball," chronicles a year in the lives of The Hummingbirds stickball team.
"When I stepped on the field for the first time, my bare feet connecting, there was a spiritual feeling that washed over me that I had never really experienced before," Sneed said. "I'm really not that kind of person, to be honest with you. I'm not really a religious person, but I had this electricity flowing through me that was kind of crazy."
Blood covers Anthony Sneed's face after his first stickball practice. Nicholas Vera photo
On its face, the project, which centers on a uniquely Cherokee tradition, seems at odds with Sneed's stated goal for his filmmaking career.
"It was important to me to show Native, indigenous faces on screen not doing stereotypical indigenous things," he said. "That's important for me. That's kind of like my MO as a filmmaker, is to just normalize us as human beings."
Despite the apparent disparity, Sneed said, the goal and the project meld together seamlessly. Like Walker, Sneed grew up away from the Qualla Boundary. Unlike Walker, he remained connected to the Cherokee community and his place in it, often leaving New Jersey to spend summers with his uncle Richard Sneed, who is now the tribe's principal chief. His film career started in 2008 when he landed the lead role in Frank Henlenlotter's horror-comedy "Bad Biology." Since then, he and Henelotter have collaborated on two films. Sneed spent six years studying comedy at New York's Upright Citizens Brigade and Magnet Theaters and graduated from the director program at the American Film Institute in Los Angeles. He made his directorial debut in 2018 with the dark-comedy short " SUCK."
"I always wanted to shoot something Cherokee-based when I was in school, but when you're in LA you can't," he said. "How are you going to find Cherokee actors? You can't. Not possible." Sneed's filmmaking first wandered onto the Qualla Boundary in 2021, when he came to Cherokee to shoot the short film "Stripper." Over the course of 14 minutes, the movie follows a group of four preteen boys who spend their time hanging out at the skate park and wandering around town. One night, they see the mother of the lead character, Cricket, walk into the strip club. The moment loses him the social currency he had among his friends, even as he protests that his mom is not a stripper. But he doesn't even convince himself. Cricket tries to ask his mom outright, but he can't. So he sneaks into the strip club and finds out.
It's based on a true story, Sneed said — when he was in sixth grade, one of his friend's fathers told him he'd seen Sneed's mother walk into a club.
"I was like, completely embarrassed and mortified, and I could never ask my mom if that was true," he said. "So I wrote a movie about it."
In a coda scene at the end of the movie, Sneed joins his mother on camera and finally asks her the question that had nagged at him since was 11. She gives him an exasperated, you've-got-to-be-kidding-me headshake-sigh, and the credits roll.
Completing the film "changed my life," Sneed said. The four boys who played the lead roles — Fenix Taylor, Tayvin Bark, Noah Rossett and Kale Walkingstick — had never acted before, and Sneed had to fly people in to use Native Americans in the camera crew. It was incredibly special to film on his homeland, the Qualla Boundary, with a Native camera crew and showcasing the talent of four 11-to-13-year-old boys who might not otherwise have gotten such an opportunity. It was special, but also difficult.
"Having that diversity behind the camera, it's tough," Sneed said. "You have to pay for it. It's kind of like eating organic in a way. Sometimes you've got to drive to the furthest store, and it costs a little bit more money, a little bit more effort. But in the end, it was worth it."
It was the best on-set experience he'd ever had, Sneed said — he wouldn't change a thing.
"It was super rewarding in a way that was unexpected," he said. "We just premiered in LA at the Chinese Theater at the LA Skins Fest and I flew all the boys out, again, killing my credit cards, but it was incredibly beautiful to see them all on stage up there doing a Q&A with me, just representing Cherokee in Hollywood."
"Stripper" takes place on Native lands and uses Native characters, but it's not about uniquely Native issues and experiences. And that's important, Sneed said.
"For me it's to present us in a normal, human day-to-day life," he said. "And that's what it's like being Cherokee. The culture is there, don't get me wrong. But the kids are still on Tik Tok. You know what I mean? They're still going to the skate park. They're behaving like a normal human. It's not this outsider idea of what being Native is about."
In all his work, Sneed aims to show Native people as they are, not as the cultural stereotypes often seen on screen. Given that direction, Sneed's choice to pursue a documentary on stickball might seem an odd one. A notoriously violent sport played by barefoot, shirtless Cherokee men, stickball is not part of "normal human day-to-day life" for people who aren't Cherokee.
Cinematographer Robert Hunter interviews Hummingbirds player Robert Martens for Anthony Sneed's stickball documentary in a shot overlooking Kituwah Mound. Anthony Sneed photo
It wasn't part of life for Sneed, either, until he started playing while filming the documentary last year. Since then, he's gotten stitches on his face, sprained his ankle and broken his back while on the stickball field. But he plans to keep playing.
"I completely get why these men go out and play this insanely brutal game," he said. "I totally understand it. It changed my perception of pain. It changed my perception of culture. It changed my perception of brotherhood."
Underneath the uniquely Cherokee surface of the stickball game lies the universal humanity that Sneed hopes to show through his documentary.
"From afar you would think we're all cultural, we're all warriors. We don't say much. You have this exoticism around it," he said. "But actually, we're dudes that are talking about whatever, chewing tobacco and spitting out, talking about random, normal stuff. So there's that component within this package, which is interesting to me, that contrast, and I think it keeps things interesting. Because I don't want to see the obvious. I want that juxtaposition that is crucial for all good art."
Culture is a multidimensional thing, and each person within a culture — whether Cherokee or something else — has their own story to tell. The more people telling those stories, the more complete they will be. Hensel, Walker and Sneed all realize this, and all hope their work in the studio will help wedge the door open so that more Native artists can walk through.
"Now my purpose is to tell the stories that I want to tell, but always make sure that I'm helping indigenous people if I can in some way or another," Sneed said, "whether it's putting them behind the camera or in front of the camera."