Archived News
Property values on the rise in Macon
Wednesday, January 18, 2023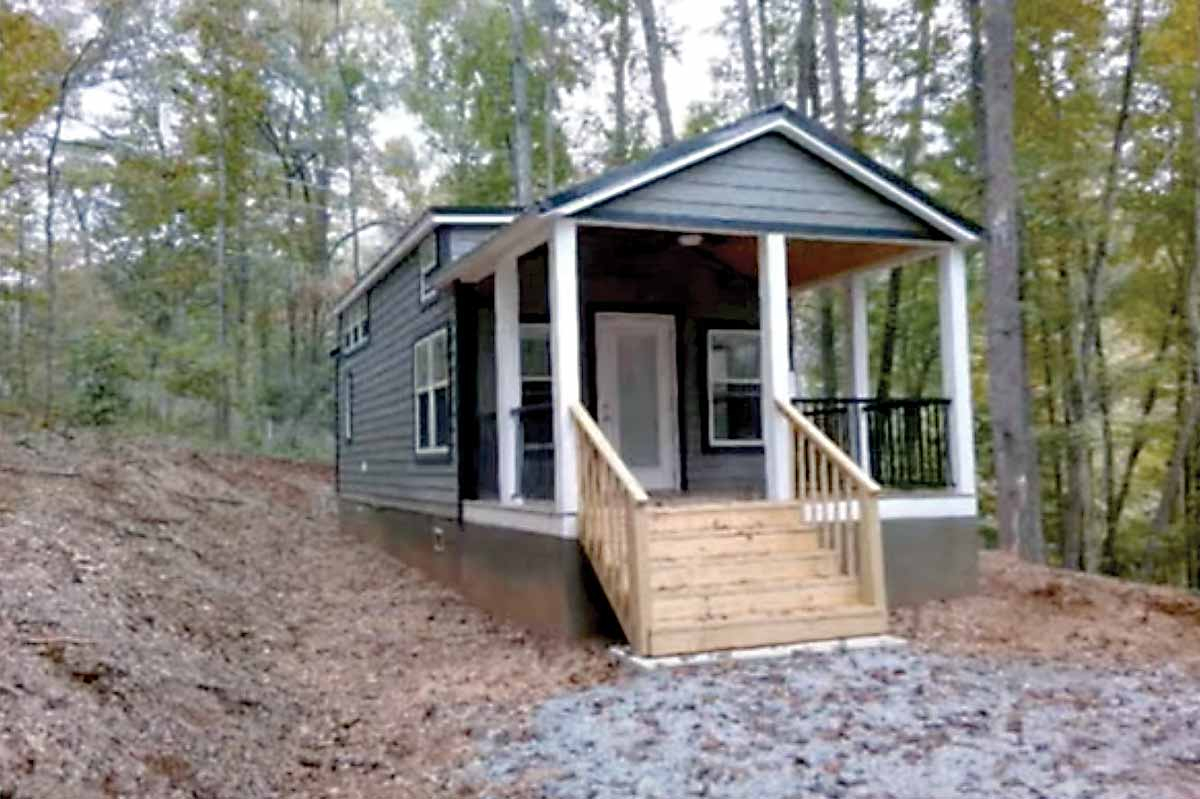 This tiny home, located in Franklin, sold for $182,500 in 2021 increasing the property value by 73%. Donated photo
Macon County is undergoing a tax reappraisal this year, and while the numbers are jarring, they won't be a surprise to anyone who has borne witness to the rising prices of the crowded housing market in Western North Carolina since the start of the pandemic.
"The pandemic is when all of this started, July of 2020 I believe is when all this kind of flipped out of control," said Abby Braswell, Macon County tax administrator, during a presentation to county commissioners Jan. 10. "That is when all the sales started and all the values went up, as you can see there's still people moving here."
Sales for 2022 are done, and now the tax office has a lot of work to do until it sends out revaluation notices in February. While the number won't be final for several months, the estimated 2023 reappraisal real property taxable value for Macon County is $12.6 billion.
"This is not the final number, there's a lot of adjustments that go into this number," said Braswell.
That is a 58.8% increase in taxable property value since the last reappraisal in 2019. This does not mean that every Macon County property increased by 58.8%, but rather that the average of all increases came out to 58.8%. Supply and demand, stability of the local economy, building costs and interest rates all affect the outcome of mass appraisal.
The North Carolina Department of Revenue requires counties to conduct a reappraisal at least every eight years in order to adjust properties to 100% market value. North Carolina General Statute requires that taxable value is within 10% of 100% market value. The last reappraisal done in the county took place in 2019, after which there was a 2% drop in property value. The last reappraisal that saw a bigger increase than the one estimated for 2023 took place in 2007, when property values increased by more than 69%.
"I've heard comments that it's going to be like 2008 again," said Braswell. "Well unfortunately, most of the people that are buying property here are using cash. In 2008 they were financing. There's not a lot of financing right now, everything is cash. And if you have the cash and you want it badly enough, you'll pay whatever."
Braswell noted that not all properties will increase in value by 58.8%. Some properties will go up more than the average and some less. She also pointed out that the tax rate will be decided by commissioners later this year during the regular budget season.
"The millage rate, not tax assessment, is what determines what the taxes will be for the year," said Braswell. "Taxpayers need to understand that the assessment is going up on that average, not the taxes. The millage rate will not be set until June of 2023."
Additionally, once Macon residents receive their revaluation notice, there is the opportunity for appeal.
In 2021, there were 1,857 qualified property sales in Macon County, up from 1,794 in 2020, compared with 1,479 qualified sales in 2022.
"From last year to this year every township had a decrease, except for two, Ellijay and Flats, they actually increased in the number of sales," said Braswell. "So, there was an overall 20 percent decrease in the number of qualified sales. But if you look at the values, they're still holding as far as high and low."
In her presentation to the board, Braswell gave several examples of properties that had dramatically increased in value over the last couple of years.
One tiny home in Franklin on a .48-acre lot assessed at $103,310 sold in December 2021 for $182,500. Partly because of this purchase price, the 2023 assessment for the property will be $179,150, an increase of over $75,000 or 73%.
"If we don't follow the sales, our sales ratio can't hit the [market value], and if that happens the state comes in and says there's something wrong with your reappraisal, it's not good," said Braswell. "There's a base rate for every building, and it's based on the market. That's how we got to this number. It increased because somebody had the money and wanted that property and paid it."
Another home in Burningtown, built in 1976 and set on 3.9 acres, was appraised for $121,870 in 2022. In December 2022 the home sold for $245,000. That's an increase of $122,060 or 100%. The 2023 appraisal for the home will be $243,930.
"This house has not been redone, it has had no renovation whatsoever," said Braswell. "It looks like it was built in the seventies if you look at the inside of it. So, what these people are buying is the land where they're at."
One home in Highlands that sold for $485,000 in May 2020 sold for $1,275,000 in December of 2022, increasing its value for the 2023 appraisal by over 162%. Also in Highlands, a commercial building on a .07-acre corner lot built in 1912 assessed at $889,270 in 2022 and then sold for $2 million in December 2022.
"These are December sales, these are not last year sales, these are right now," said Braswell.
Reappraisal notices will be sent out in early February. Between February and March residents can go through an informal review process to request adjustments to their assessed property value. Then, notices will be sent out informing property owners whether their adjustments were granted. If adjustments are not granted, those people can appeal to the Board of Equalization and Review. Review hearings will begin in April.
"The purpose of a revaluation is to equal out everybody's tax burden so that everybody is paying the same based on their market value," said Braswell.