Archived News
Macon commission asks MCS to prioritize hefty capital outlay requests
Wednesday, January 11, 2023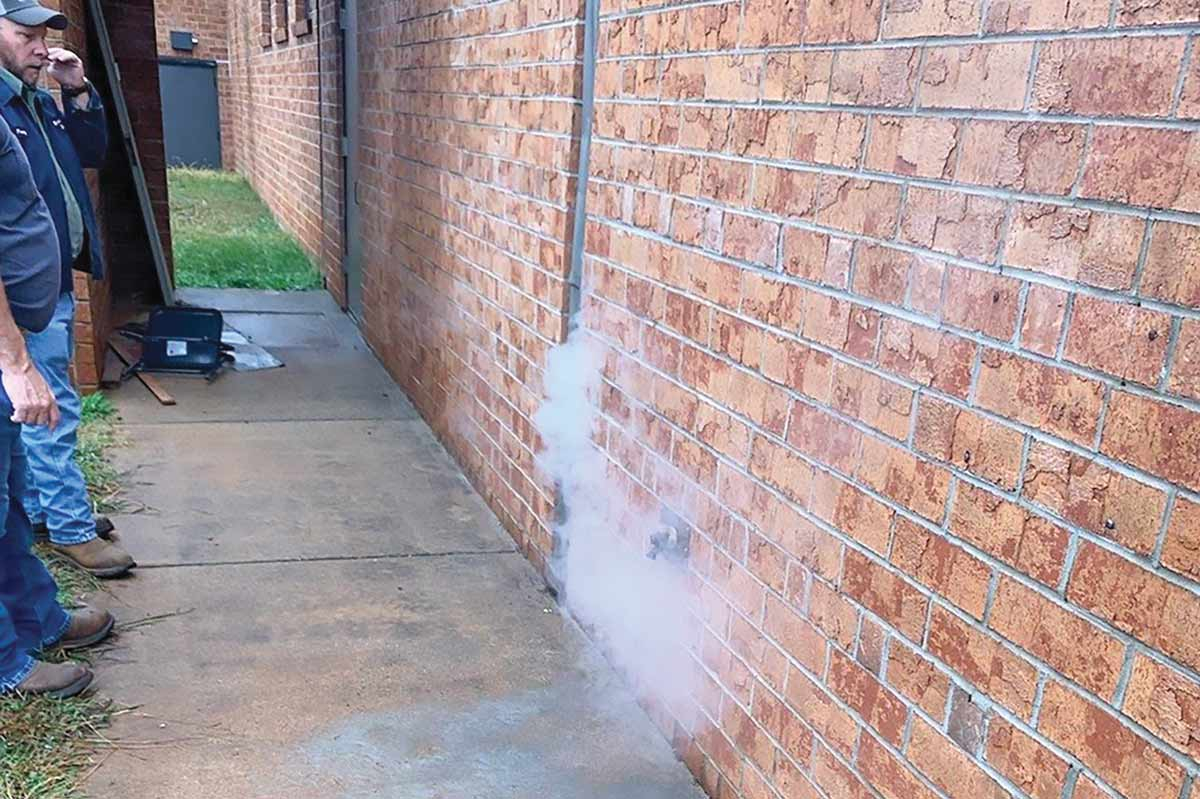 A smoke test revealed where sewer gas is leaking through pipe gaps at Macon Middle School. MCS photo
Following direction from the Macon County Board of Commissioners, the Macon County Board of Education met last week to prioritize its numerous capital outlay requests.
Commissioners asked the school board to undertake this process to get a clearer picture of what projects need the most immediate attention. However, the school board had a difficult time ranking needs, several of which are vital for basic school function, and all of which warrant improvement.
"My understanding was that [the commission] would like us to look at these projects and prioritize those for them. This is the first time we've ever been asked to do it this way," said Macon County Schools Chairman Jim Breedlove. "Obviously we could do this, but I will throw back out that it comes down to the commissioners themselves and their determination of what should be number one, number two, whatever, in terms of their funding. Hopefully this will be of some assistance to them."
The call for prioritization came during a joint meeting between the school board and board of commissioners in which newly elected commissioners expressed some hesitancy about the Franklin High School project as planned, in addition to the slew of capital outlay requests from the school system.
After discussing each of the capital improvement projects needed in the school system, School Board members were extremely hesitant to prioritize them because they felt that almost all the projects were vitally important to school function. Board members worried that prioritizing the projects would give commissioners an out to only fund one or two of those needs.
The school board looked at six projects: Nantahala School sewer treatment plant; Franklin High School; Macon Middle School sewer vent pipes; Cartoogechaye six-classroom addition; Macon Middle School track; and the Highlands School project.
The Nantahala School sewer treatment plant has been on the capital outlay list for almost 15 years. The school's maintenance department has had to conduct regular and intensive repairs to keep the plant from leaking, but because it is not yet leaking, the county has not yet funded a repair project. Current cost estimates for the project are over $300,000.
"That system is nearing failure, and the longer we wait, the more expensive it becomes," said Superintendent Dr. Chris Baldwin.
The school system has had shovel-ready plans in years past, but because so many years have passed, codes have changed and the statute of limitations on that set of plans ran out.
There is the possibility of funding this project with the Repair and Renovation Fund available through the North Carolina Department of Public Instruction. The criteria for the grant does involve plumbing.
"If [the sewer plant] fails, we have to shut the school down, so I think we need to put a priority on that," said Breedlove.
The sewer vent pipe issue at Macon Middle School is equally important for school function. Due to problems with the sewer pipes in the walls of the buildings when the school was constructed, sewer gas, carrying an atrocious odor, leaks into the gymnasium and cafeteria. The pipes were not included in the scope of work for the Macon Middle School renovation.
Cartoogechaye Elementary is in need of a six-classroom addition. In 2017 the General Assembly passed legislation that reduced class size in grades K-3. In order to accommodate, most school systems had to hire more classroom teachers and expand the number of classrooms needed to teach the same number of students.
Since that time, Cartoogechaye Elementary has incrementally lost its ability to have classrooms for a computer lab and music class, as well as several office spaces. Next year, the school will lose its art classroom and that teacher will begin rotating between classrooms and delivering a mobile art class.
Having rotating special classes eliminates a teacher's ability for a normal planning period because during that planning time, their room is filled with young students taking music, art or computer classes.
Itinerant teachers no longer have classrooms but have to use converted closets and other nooks and crannies in the school building as instruction space — a practice that is not unique to Macon County Schools. The school has no conference room, computer lab and has had to convert much of its media center space for instruction space.
Both South Macon and East Franklin Elementary schools have also had to undergo expansion for the same issue. Ideally construction would begin this summer; it would not interrupt operation of the school and could continue throughout the school year.
The Macon Middle School track needs new infrastructure and a new surface. The track will have to be demolished and reconstructed. The school system has known about this issue for a couple of years but has not been pursuing it vigorously because of work on the high school track and overall high school project.
"We're at the point now where we don't have a usable track in Macon County for track events," said Baldwin. "If phase one moves forward, the high school won't have anywhere to practice, let alone participate in high school track meets in Macon County. We've known about the middle school track issue for some time, we haven't been pursuing it as a capital outlay request because we've been focusing on the high school track, but at this point we'll be without a track in Macon County if we don't do something with the middle school track."
The school system has $109,000 that it received from DPI and the General Assembly that can only be used for athletic facilities. Baldwin and County Manager Derek Roland have discussed using this money, combined with the contingency leftover from the middle school renovation for the track project.
The new Franklin High School project was a hot topic last year. The county has spent over $1 million on plans for the school, the total cost of which is estimated at over $100 million. While school security and ADA compliance are among the most pressing issues, the old school buildings also require extensive maintenance to keep them dry and safe for students. According to Principal Mickey Noe, "the roof leaks like a sieve."
The Highlands project involves renovating high school classrooms to function as pre-K classrooms, renovating and expanding the media center and building additional high school classrooms to make up for those renovated into pre-K rooms. The project is estimated at around $4.8 million.
Highlands school is facing some of the same space issues as Cartoogechaye and East Franklin. Additionally, it currently has no preschool classrooms. The county serves about 90 preschool students annually, though it has 300 students in kindergarten each year. According to school board member Hillary Wilkes, private early childhood care and education centers in Highlands have years-long waiting lists.
A separate project, though also at Highlands School, is the Highlands School soccer field. The field was installed about 14 years ago and faces major drainage issues that inhibit students' ability to use the field for the majority of months in the school year. Because of excess water, the field is often frozen during the winter and early spring months and can be too muddy to play on safely during spring and fall.
In her conversations with administration, Wilkes feels that the best option is to turf the field because it would solve most of the issues.
Commissioner Josh Young, one of the county's representatives for the liaison board with the school system, was present at the school board's Jan. 6 meeting.
"I have anxiety about pledging tax dollars to items that I feel like are aesthetics or wants, only because I see the desperate needs we have up there," said Young. "I do have anxiety because I do want to send you everything you asked, I feel like it's my obligation to work with you. But when you see the first four or five items on that list, it's hard for me to put turf on any field when I understand what kind of situation the high school is in, or the vent pipes at Macon Middle School. To me that's a safety issue. Turf and grass, that's a want. Vent gas at MMS, that's a must."
Franklin High School Principal Mickey Noe was also at the meeting and gave his input on project prioritization.
"A sewer system breaking and kids not being able to go to school for four months, to me that's got to be first on the list. Shutting down a cafeteria during a lunch shift so kids can't eat in there because of sewer smell and everything, that's got to be a tie for number one in my opinion. You got to take care of the factors that are going to shut down school first, and then the rest just kind of goes along the way," said Noe.
Still, board members worried that by ranking these projects, commissioners would fund only the top priorities and let the rest sit on the back burners.
"There has to be a commitment to pay for these things, not just one thing, not just the low-hanging fruit," said Wilkes. "The problem I have with the ranking is because of the sheer dollars involved with the Franklin High School, it is extremely important, it has to keep going, it cannot stop, the phases have to continue but we cannot wait on, [for example] the highlands project, until the Franklin High School project is done. Because then we're several years down the road."
"Several points have been made about the dangers of prioritizing this list," said Baldwin. "We identified Nantahala Sewer treatment plant as number one, Macon middle sewer pipes as number two, and I certainly agree with that. But let's say there's an ADA lawsuit with Franklin High School tomorrow, and we've prioritized that as third. Or, even worse, a catastrophic breach of security at Franklin High School. So there are dangers in us prioritizing the list."
In the end, school board members decided to extract the two sewer projects from its list of capital outlay requests, placing them in an "emergency" category. Next on the list, Franklin High School is the top priority. The school board lumped the Macon Middle School Track project in with FHS, seeing as how the county would be without a working track while the high school athletics complex is under construction if the middle school track isn't fixed. The second priority on the list is the Highlands project and third is Cartoogechaye. While the board did not feel that one was less important than the other, the Highlands project is further along in the planning process and could therefore benefit from funding the quickest.
Commissioner Young assured the school board of his commitment to continuing the high school project, though he is only one vote among a board of five commissioners that seem to be approaching the project with more reservations than the last county commission.
"Do I think we can do phase one [of the high school] and Highlands project right now with fund balance? No, I don't think so," said Young. "That's where I struggle, because I think there has to be a funding mechanism for all of these items."
The County Commission was set to meet after press time Tuesday, Jan. 10; the board was scheduled to consider a contract for Highlands Middle School renovations.