Archived News
New boards could mean new 
plans for Franklin High School
Wednesday, January 04, 2023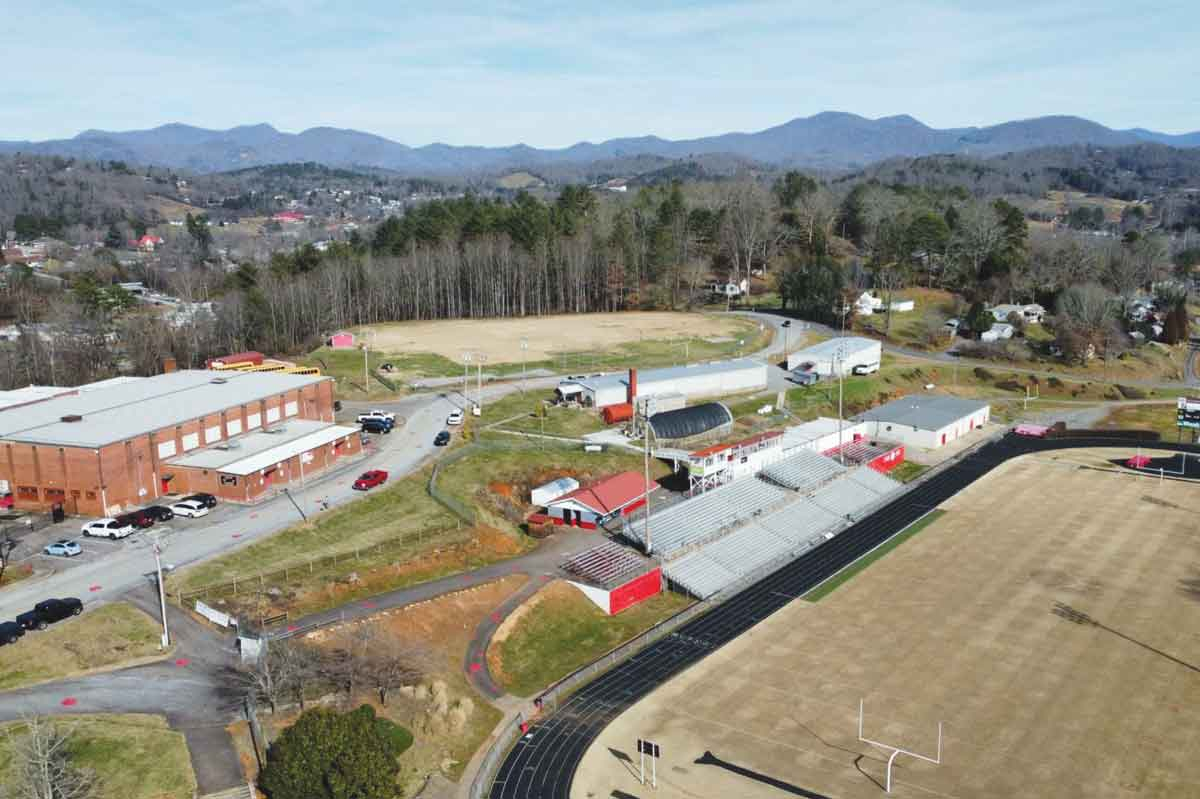 Franklin High School.
When Macon County Commissioners authorized LS3P Architectural Design Services to submit plans for the new Franklin High School to local and state agencies for review in October, the project seemed like an ambitious, albeit realistic dream.
Now, with several new commissioners and school board members in office following November's elections, the urgency of that dream appears to be fading.
"Everybody is concerned about the high school," said Paul Higdon, recently appointed chairman of the county commission. "I can tell you unequivocally, the improvements to Franklin High School are not off the table. What is off the table is a $120 million tax increase to fund it."
At a joint meeting on Dec. 21, Macon County Commission and Macon County Board of Education discussed the future of the Franklin High School project, as well as several other capital projects the school board outlined at a meeting in October. While the meeting was intended for introductions of new board members and updates on capital projects in the school system, it devolved into a lengthy discussion about the future of these capital projects and how to fund them.
At this point in time, Macon County has allocated $1.1 million toward the new high school project. Most of that money has gone to LS3P for its work designing the new school on the current Franklin High School property. The last action taken on the project came in October when the county commission authorized LS3P to submit plans for the school to local and state agencies for review.
As designed, the project is estimated to cost the county $118 million, including contingency funds and measures for cost escalation.
Findings presented by LS3P at a meeting in August demonstrated the impracticalities of renovation. The makeup of the Franklin High School campus presented several problems. The campus has seven main buildings. Even with full renovations, a campus made up of many separate parts, each with their own entrances and exits, is inherently less safe for students and staff in the case of an intruder.
The number of buildings also creates ADA accessibility issues that are compounded by the differing levels on which the buildings are situated. Additionally, several buildings have different plumbing, electrical and even emergency alarm systems that would need to be consolidated.
According to designs presented by LS3P, a full renovation of Franklin High School's campus would fall short by 89,000 square feet for the target space needed for a 1,200-student school. Another important factor in deciding between renovation and building a new school was student instruction throughout the process. If buildings were renovated, MCS would have to find alternative instruction space during the renovation; if the school system builds a new high school, there are adequate plans to continue instruction as is throughout the whole process.
With this information in hand, both the board of commissioners and education voted unanimously in favor of accepting the recommendation of the architectural firm to build a new school at the site of the current Franklin High School during the August meeting.
Although the previous board of commissioners approved LS3P to move forward with designing a new school, no decisions have been made about how to fund the project. A referendum on the ballot in November would have increased the sales tax from 6.75 to 7 cents per dollar, impacting out-of-towners and locals alike. All additional revenue from the increase would have stayed in Macon County for use on the school system's capital projects. It was estimated to generate over $2 million in annual revenues. Macon County residents voted no with about 55% voting against and 45% voting for.
Without this additional funding, the county would likely have to raise property taxes to fund the new high school. Another possible avenue for funding is the Needs-Based Public School Capital Fund available through the North Carolina Department of Public Instruction. The school system can apply for $50 million that would require a 5% local match. Macon County Schools applied last year and was not awarded funds but is applying again this fiscal year.
"We've got [plans] on paper, what do we do next?" asked Higdon. "We can either shelve it — we have the option of doing nothing, we're not forced to do this, our kids are not falling through the floors, there's no emergency that I recognize in the school system — we don't want to do that. Y'all have put a lot of time into this, we've identified the need of either a new high school or some serious improvements. I think everybody is leaning toward a new high school. I think we can make that happen, but we all need to be working together on it."
At the joint meeting in December, there was considerable debate over whether the new high school is an emergency. Both new Commissioners, John Shearl and Danny Antoine, aligned closer with Higdon that the project is not an emergency, while Gary Shields and several members of the public felt the opposite. Among other issues at the school, several people have testified to the difficulty students with physical disabilities face when trying to navigate the campus.
"I think it certainly is an emergency," said Macon Middle Principal Mark Sutton during public comment. "I mentioned this before, my wife had cancer and now she walks and functions differently. It's a shame that she can't go to a ballgame and walk up the bleachers by herself. That's a crying shame, that's an emergency… There aren't walls crumbling, we could last another 30 years there but I don't know that that's right for our kids."
At the October joint meeting of the County Commission and the Board of Education, Shields tried to answer the question he was getting regularly at the time, "what's wrong with the old Franklin High School?" During that meeting, commissioners streamed a video that showed some of the difficulties students with physical disabilities face daily.
At the Dec. 21 meeting, after other commissioners said the project wasn't an emergency, Shields again argued that ADA issues at Franklin High School are bad enough that the county urgently needs to take action.
"There are no emergencies; the only emergency I see in the school system is the track down there, that's a liability waiting to happen," said Higdon.
"I agree with what you're saying, but another liability that you have there is Franklin High School," said Shields. "With the ADA, IDEA problems, we have to reckon with that. Something will have to be done, a decision will have to be made. Franklin High School, in my opinion, cannot be as it is now. With the ADA and IDEA, Franklin High School, I don't think it can ever be delivered to the point that those buildings would be renovated where a person in a wheelchair can go from point A to point B without being in harm's way."
Shields said that someone could go to court over the issues if things aren't fixed and because the board knows what is wrong, it is obligated to fix it.
Melissa Faetz is a parent of two sons at Franklin High School. She spoke to the ADA issues at the school that severely impact her son Patrick, who has Cerebral Palsy. She described one of the complex routes her son must take between classes in detail.
"There are buildings on this campus he cannot access," said Faetz during public comment. "That walk alone takes him 15 minutes; the break between classes is only five. That means he has to miss instructional time. It's also not safe for him to go alone, so a faculty member, another student, or a staff member has to walk with him. Which also makes those people have to miss instructional time… How many kids like Patrick have to deal with this day in and day out before it becomes important enough to take care of and fund?"
Antoine expressed his support for the new high school.
"I am for a new high school, I'm just not for wasteful spending, I'm not for reckless spending," said Antoine. "No doubt about it, tons of issues [at Franklin High School]. But these issues are not new issues, these are not issues that just appeared a couple of days ago. These are things that we've known about for a very long time. So, I can understand everyone's frustration, not wanting to kick the can down the road, but we do need to understand some of this will take some time to get to."
New commissioners and board of education members recently took a tour of Franklin High School to see the state of things up close. While most school board members are strongly in favor of the new high school, Commissioner Shearl expressed more hesitancy.
"I'm not saying that that school don't need some major renovations, but what I am saying is, I didn't see any walls there that were crumbling, I didn't see any floors that you were gonna trip over. I did see the need for ADA compliance, our special needs people, I saw that," said Shearl. "But it's not my job to tell you what I want and need, it's my job to represent you and do the best we can for everybody that's involved."
No decisions were made regarding the high school project at the Dec. 21 meeting of the Macon County Commissioners and Board of Education. The next meeting of the Macon County Commission will take place at 6 p.m. Tuesday, Jan. 10, in the Commission Board Room. During this meeting the board will schedule its budget meetings.