Archived Outdoors
Building a better Christmas tree: Research station aims to provide world's best firs
Wednesday, December 21, 2022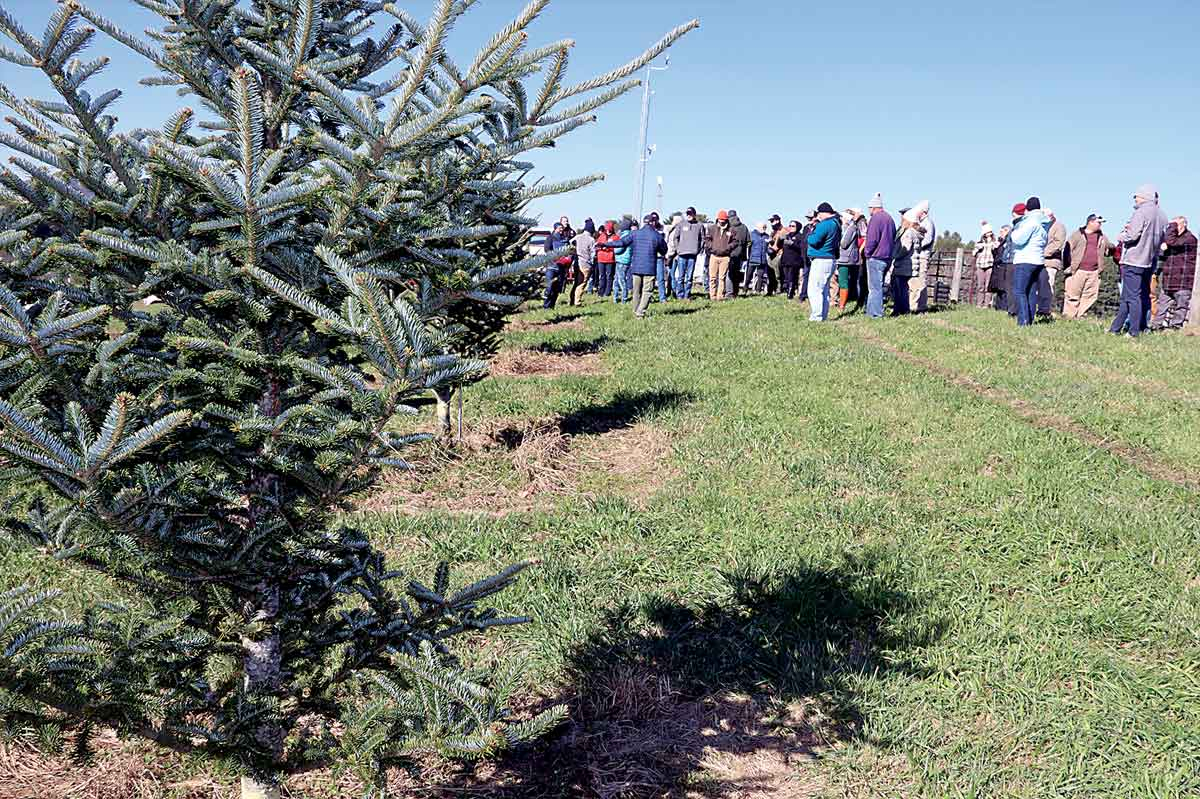 Groundbreaking attendees gather at the Fraser fir seed orchard before the nearby groundbreaking on Nov. 18. NCDACS photo
Like any other farmers, Christmas trees growers in Western North Carolina are always looking for ways to grow more and better product.
For decades now, researchers have been working on a not-so-secret weapon — improving Fraser fir genetics. Those improvements can bring more characteristics that Christmas tree buyers like and more characteristics that growers like too.
Thanks to those efforts with genetics, plans are in the works to create a Fraser fir seed bank at the Upper Mountain Research Station in southeastern Ashe County. It would be the nation's only source of certified Fraser fir seeds — seeds that have been tightly controlled by sourcing only from "parents" and "grandparents" with the most desirable features for both consumers and growers.
An April workshop teaches tree growers how to use grafting to prevent root rot in Fraser firs. NCDACS photo
Taking Christmas trees to the next level
Teresa Lambert, the director of the Research Stations Division for the N.C. Department of Agriculture and Consumer Services, explained the hope is to create a source of seeds that's so refined that Christmas tree growers can pick seeds with the characteristics they want most. For example, they could order seeds from the seed bank to grow trees that have the best needle retention or the best uniformity, a shorter growth cycle or a later "break-bud" time. Lambert envisions it being much like corn seed these days (or many other crops and plants for that matter). Corn growers have entire catalogues where they can pick from corn varieties that are resistant to certain diseases or that have a certain germination and growth schedule. She wants to see those types of options provided by the bank, which she's tentatively calling the "Fraser Fir Center of Excellence."
Much of the ongoing Fraser fir breeding program would be based at the center, and it's safe to say it would provide seeds with the best Fraser fir genetics in the world.
"We want to be a turnkey Fraser fir operation from start to finish, which means we want to collect the pollen. We want to make the hand crosses. We want to collect the seed. We want to extract the seed. We want to grow the seed in our nursery. We want to put those seeds into field trials. We want to harvest those trees and do the post-harvest research," said station superintendent Tracy Taylor.
The station has secured a $383,685 grant from the N.C. Tobacco Trust Fund Commission to kickstart construction of the seed bank building, and on Nov. 18 ground broke on the N.C. Tobacco Trust Fund Christmas Tree Center of Excellence. In addition to housing a seed bank of the world's most elite Fraser fir seeds, the building will hold a lab and office space to fully support N.C. State's Fraser fir breeding program, the Whitehill Lab Christmas Tree Genetics Program.
The new building will help Christmas tree farming remain a viable agricultural business even as challenges remain or evolve. With less tobacco being grown, the center could help make Christmas trees a more profitable option for farmers.
North Carolina's largest Fraser fir stands in the front lawn of the High Hampton Inn and Country Club in Cashiers. NCDACS photo
In the weeds of getting good seeds
The effort to get the finest Fraser fir seeds possible began mostly with professor John Frampton of N.C. State University. He retired in 2019, but his work began many years ago. He set out to create a genetic "bloodline" of Fraser firs that would have the ultimate in characteristics such as uniformity, needle retention, disease or insect resistance or even faster growth rate. Because it takes several years to grow a Christmas tree, increasing the speed of "rotation" or "turnover" time could increase a grower's income over several years.
"It's hard to explain that — a career's worth of work. He retired, and six or eight years from now we'll start to see the benefits," Taylor said. "It's hard to wrap your mind around that and how long it takes."
Taylor said Frampton went to all sorts of areas where Fraser firs grow naturally and got seeds from more than 28,000 trees, which meant he had a lot of genetic diversity from areas near and far. By the early 2000's, he was growing those "offspring" into transplants and evaluating them in the nursery and in field trials across Western North Carolina. He then identified the best Christmas trees, ultimately picking only 305 (slightly more than 1%) to graft and plant in a clone bank field at the Upper Mountain Research Station in 2008. His testing for good traits continued by taking seed from those 305 premium trees in the orchard. From those seeds, he grew and tested more transplants and trees.
By 2015, Frampton told Taylor that the research station should start a seed orchard because growers couldn't easily find great Fraser fir seeds like what he was growing in his 305-tree plot. Few seed orchards existed for various reasons, so seed stock often came from the wild where each tree's genetics were hit or miss.
The Christmas tree seed orchard (lower right) on the Upper Mountain Research station will produce Fraser fir seeds with refined genetics. NCDACS photo
Changing the industry
To create the new seed orchard, Frampton identified the best 25 trees in his 305-tree plot —roughly the best tenth of 1% of the original 28,000. He then took 45 clippings from each of those "best-of-the-best" 25 trees. Those clippings were then grafted and put in a plot in a different area, creating a seed orchard of 1,125 trees. Even the placement of those grafted trees got scientific with the help of mapping guidance from the Czech Republic, which has the most sophisticated seed orchard software available. Once the time comes, the seed cones will be clipped from the trees so their seeds can be harvested and planted in a nursery. Which tree the seed cones came from will be documented so the seed genetics and tree characteristics can be tracked.
"These trees, we know through our research they hold about 99% of their needles after they're harvested," Taylor said to provide an example of the benefit. "When you take a Christmas tree out of your house and you see all those needles on the floor, that's the last impression a consumer has."
That's an impression that could be changed once commercial nurseries and growers start getting the seed stock for their operations from the station's seed bank. Improvements like that have the potential to make Fraser firs even more desirable to consumers and make Christmas tree growing more profitable.
Taylor said he hopes the new seed orchard will have meaningful seed production in 2028. Those seeds would go to a nursery to grow seedlings for about two or three years. In 2030 or 2031, those seedlings will be ready to transplant. Once planted in a field, the Fraser firs will take about seven years to mature to traditional Christmas tree size. So in about 2037 or 2038, consumers could take home a Christmas tree that can be traced back to Frampton's research that began more than 40 years earlier.
In the years between now and then, Taylor hopes to have success in fully identifying the male "parents" that pollinate the trees in the seed orchard. He knows they're dealing with the best of the best, but being able to fully identify both "parent" trees means the seeds' characteristics can be better known, and growers can get really specific about which seeds they want. The more specific information that can be shared about the seeds, the better growers will be able to make management decisions about their growing operations.
"There's a lot at stake for the Christmas tree industry," Taylor said. "I guess I feel the weight of that. John Frampton did his job through his career, and he left it with us. I realize what we have, and I don't want to mess that up."
Brandon Herring is a public information officer for the N.C. Department of Agriculture and Consumer Services. This piece first appeared on the department's "In the Field" blog at blog.ncagr.gov.