Archived News
Fire destroys Kituwah LLC building
Wednesday, December 21, 2022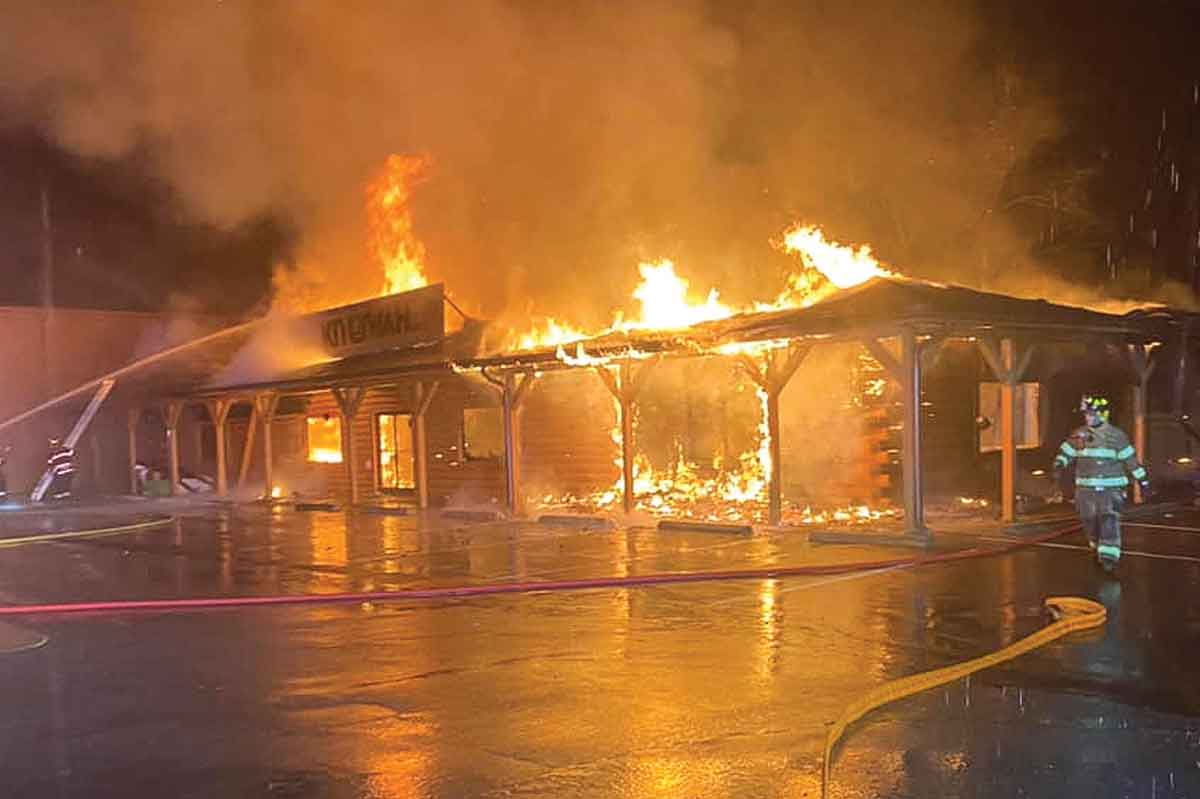 A firefighter walks away from the burning Kituwah LLC building. EBCI Cherokee Fire and Rescue photo
Update: According to Interim Fire Chief Thomas Simmons, the fire's cause has been deterimined to be accidental, due to an appliance left on in the building. The appliance is not yet being named, as the department is waiting for engineers to make a final determination.
Kituwah LLC CEO Mark Hubble was just going back to sleep after a night in the emergency room when his phone rang. The headquarters for the Eastern Band of Cherokee Indians' multi-million-dollar business arm was on fire.
The Cherokee Fire Department was dispatched to the scene at 1:55 a.m. and joined by crews from Bryson City, Qualla, Maggie Valley and Savannah. The adjacent Kituwah Global Government Group LLC building, which finished construction earlier this year, received slight fire and water damage.
"Our Cherokee firefighters did an outstanding job handling this fire and keeping it from spreading to the second structure," reads a Facebook post from CFD.
When Hubble arrived on the scene, 100 first responders were already at work extinguishing the fire.
"It was amazing to watch," he said. There wasn't much he could do to help, but Hubble stayed the night, watching as the fire crews worked.
Hubble quickly learned that nobody had been hurt in the fire and that there would be no material damage to Kituwah LLC's finances or records. Insurance is expected to cover the damage, with plans to replace the one-story remodeled building with a new two-story, energy efficient facility. The company's files are automatically backed up to both redundant servers and to the cloud.
"We're confident there is no data loss," Hubble said. "We're confident to the extent that there is any monetary loss it's really minor. We're still hiring people. We're still adding positions."
"Thank you to our Cherokee Fire and Rescue, as well as fire crews from Bryson City, Qualla, Maggie Valley, Savanna, and all who helped, for working tirelessly to fight the fire at Kituwah LLC," said Principal Chief Richard Sneed in a Facebook post Dec. 15. "This is an incredibly unfortunate event and an investigation is forthcoming."
When reached for comment Dec. 20, Hubble said either an "accidental chain of events, a products liability issue or a combination of both" is now "a virtually certain scenario" in causing the fire, and that insurance adjustors were on scene. The Cherokee Fire Department has not responded to requests for comment or information on the status of the investigation.
Hubble said the outpouring of support, encouragement and offers of help from other tribal organizations and programs has been immense.
"A fair amount of my time yesterday (Dec. 15) was to write thank you notes to people," he said.
Created in 2018 to diversify the tribe's revenue streams, Kituwah LLC is wholly owned by the Eastern Band of Cherokee Indians and has invested hundreds of millions of dollars in a broad range of projects during its five years of existence. This includes $110 million in efforts to develop a 200-acre property off Interstate 40 in Sevier County and $324 million to gain control of a brand with worldwide recognition — its name has not yet been announced publicly — and invest in multiple resorts to be developed across the country. In 2020 it bought the modular home company Cardinal Homes and established Kituwah Builders to provide on-site services for modular homes.
According to its 2021 annual report, Kituwah LLC turned a profit of $1.2 million last year with profits expected to grow 250% by the end of fiscal year 2022. Hubble expects profits to increase by more than 100% for the third year in a row with distributions to the tribe increasing by 500% in the coming year.
Kituwah Global Government Group LLC, also known as KG3, is a sister company of Kituwah LLC and the tribe's government contracting arm. It provides goods and services for its federal customers such as program management, information technology, construction services, logistics, manufacturing and administrative support services.