Archived News
Tribal LLC buys modular home company
Wednesday, February 26, 2020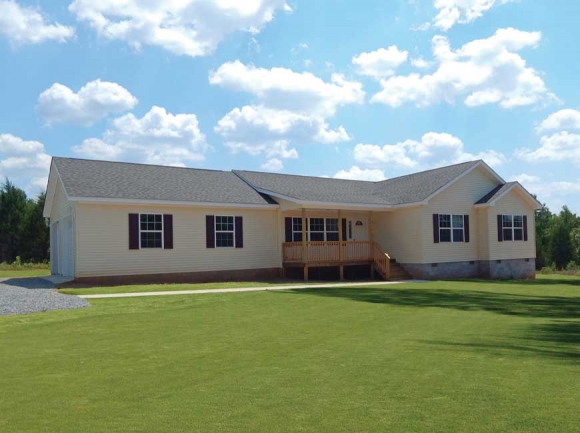 Cardinal Homes produces a variety of sizes, styles and types of homes. Cardinal Homes photo
The Eastern Band of Cherokee Indians hopes to see a recent $5.8 million purchase by Kituwah LLC generate revenue for the tribe while simultaneously improving tribal members' access to quality, affordable housing.
Kituwah LLC acquired the assets of Cardinal Homes, a bankrupt modular home company that's based in Wyliesburg, Virginia, and employs 40 people. During the Feb. 6 Tribal Council meeting, which occurred prior to the sale's closing, members voted 11-1 to approve a resolution allowing Principal Chief Richard Sneed to sign an agreement guaranteeing Cardinal $5 million worth of business per year for three years.
"This acquisition was a good fit for our portfolio," Mark Hubble, CEO of Kituwah LLC, said in a press release. "This will allow us to provide housing to tribal members at a significant savings, while rapidly growing the manufacturing and retail sales of Cardinal Homes in the hotel and apartment sectors. We feel that with our financial backing and the strong leadership team at Cardinal, we can take Cardinal Homes to a new level."
On Feb. 6, Hubble told council members that he expects the company to reach profitability within 12 to 18 months. The tribe's agreement to purchase $15 million worth of inventory in the next three years will make that road a little smoother, and Cardinal will seek out other customers as well to achieve the roughly $11 million worth of annual business required to stay in the black.
"It's a high fixed overhead cost, but then it becomes pretty profitable when you move above that," said Hubble.
The tribe could use the homes it purchases for a variety of purposes — senior, veteran or workforce housing, perhaps. If it can't absorb all those new homes as quickly as they're built, Hubble said, the company will store them at the factory until the tribe is ready to take delivery. Tribal members, meanwhile, will benefit from the LLC's purchase of the company by gaining access to discounted housing.
"We can sell these homes, whether it's on the boundary or off boundary, for as long as we own that asset at our cost," said Hubble. "On average-size homes, that will save about $20,000."
Council members were receptive to the ask, recognizing the acute need for increased housing options and the purchase's potential to provide tribal members access to inexpensive housing while also decreasing the tribe's reliance on gaming revenues. Wolfetown Representative Bo Crowe was the sole opposing voice in the 11-1 vote to approve the resolution.
Bankruptcy notwithstanding, Cardinal makes a quality product with a huge variation in options available, said Hubble.
"They placed an $800,000 home in Asheville about a year ago," he told council. "Some of the beach houses are half a million, million-dollar homes and up. So they can go from that all the way to starter homes. I think it's a good asset if we can get it squared away."
Yellowhill Representative Tom Wahnetah said that the modulars could be used to replace the outdated structures that Qualla Housing Authority is constantly spending money to rehabilitate, decreasing the ongoing maintenance cost while improving tribal members' standard of living.
"The infrastructure's already in there," he said. "All we got to do is demo and rebuild without having to sink more money into remodeling these old two-bedroom apartments."
The modulars can be easily stacked to form apartment buildings up to three stories high, and with some additional effort four-story buildings are possible too. Cardinal products could also be used when developing the tribe's Dumplin Creek property in Sevier County, Tennessee, Hubble said.
Overall, he said, it's a strategically sound purchase.
"I've had a lot of conversations with their builders' network, and those have all been very positive," he said. "They're very impressed with the quality that Cardinal does, and they're very willing to work with us to move forward outside of here."
Additionally, he said, the plant's location in southern Virginia about 50 miles northeast of Danville should be good for business.
"The location of this particular plant puts it within a day's drive — which is the ideal drive for a modular — of a lot of big metros," he said. "It's kind of the ideal plant, and we're picking it up at a very low price."
According to a press release from Kituwah LLC, operations will be transferred to a subsidiary of Kituwah LLC, and all 40 employees currently on staff with Cardinal will be offered positions within the new company.
"My administration created Kituwah, LLC to move at the speed of business to identify revenue and profit opportunities to ensure the economic prosperity of the tribe," Principal Chief Richard Sneed said in the release. "This is an example of that plan in action. In just 12 weeks, the company identified the opportunity and put the necessary planning and strategic resources together to save dozens of Virginia manufacturing jobs, and create additional local housing opportunities for tribal members and tribal contractors."
Kituwah LLC was created in March 2018 in an effort to diversify tribal revenues using an entity that's set up to more swiftly seize business opportunities than a governmental body would be able to. The LLC is overseen by a five-member board, whose members receive a base salary of $25,000 per year with additional bonuses as they meet revenue benchmarks. It received $25 million in seed money when it was initially created, with Tribal Council approving an additional $50 million in August 2019. While Sneed vetoed the appropriation, writing that the LLC had not provided "necessary justification" or "a plan discerning what the money will be dedicated to," Council overrode the veto by unanimous vote Sept. 12.
"We are focused on developing revenue streams for the Tribe, and this acquisition will provide not only that diversification of revenues, but also provides a very tangible benefit to Eastern Band of Cherokee tribal members," said Board Chair Chrissy Arch.
Leave a comment
1

comment
I am interested in looking at the model homes on Casino Trail, Cherokee NC. I have been unable to locate a phone number to call. Can you help me with this?

Thursday, 01/27/2022