Archived News
Healthy home for the holidays
Wednesday, December 21, 2022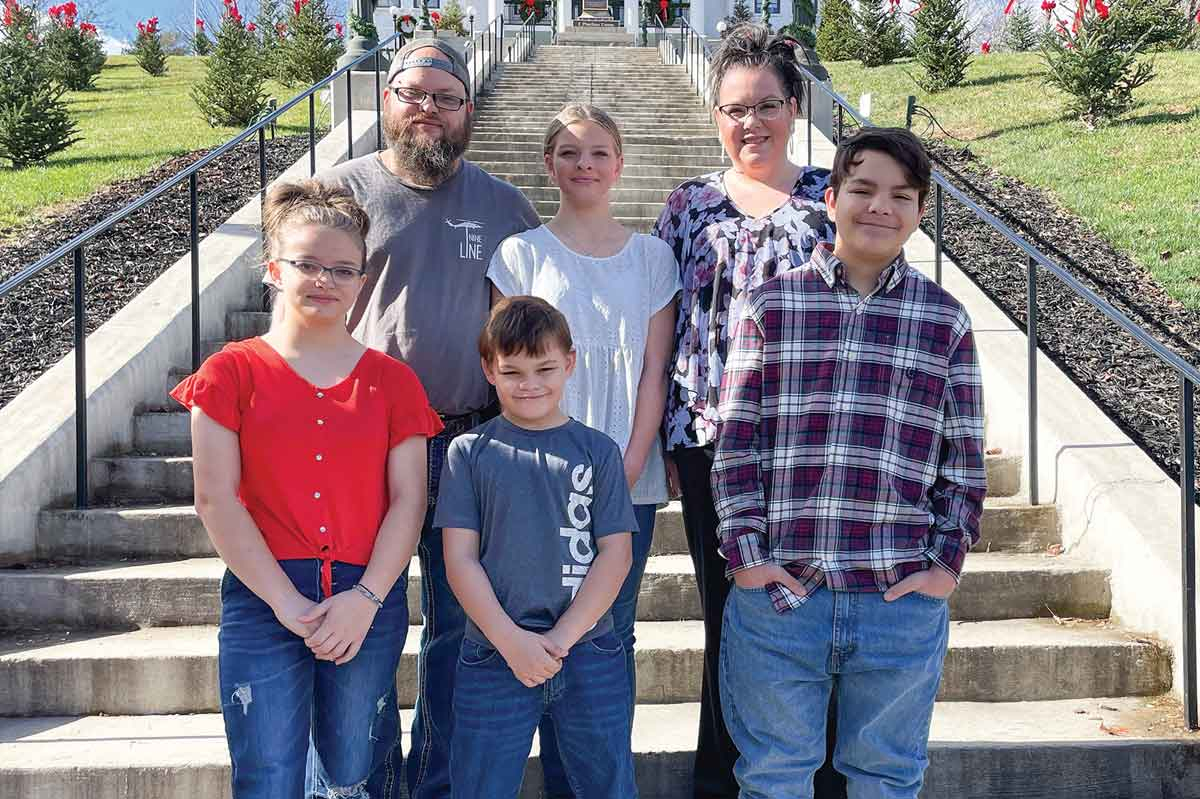 The Tollie family was helped out by the new Healthy Opportunities Pilots Program through Mountain Projects. Donated photo
Stuck in an undersized house in Sylva with a serious mold problem, Marilyn Tollie, her husband and four kids felt their hands were tied. Chronic lung problems for two of the kids made the situation untenable, and the local rental market was a mess.
But then, by chance, Tollie met Amanda Gentry. They worked in different parts of the same building, crossed paths, and that meeting helped Tollie and her family change the course of their lives.
"We were in a tough spot," said Tollie. "It felt like a state of emergency."
It wasn't a situation she was familiar with. A Smoky Mountain High School graduate, she earned degrees from Southwestern Community College and Western Carolina University while working and raising a family, including children with health challenges. There had been big bumps in the road along the way, but never a roadblock.
"There was no other way to move somewhere else quickly," said Tollie. "We needed help from an outside source."
And that's where Gentry came in. She's the coordinator of the new Healthy Opportunities Pilots (HOP) Program in Haywood and Jackson County. Administered locally by Mountain Projects and regionally by Impact Health, HOP is a statewide initiative for North Carolina managed Medicaid recipients. It's the nation's first comprehensive program to test and evaluate the impact of non-medical interventions on health.
In short, the state has recognized that there are other factors that affect health besides conventional healthcare, among them housing, food, transportation, personal safety and toxic stress – together known as the "social determinants of health."
Gentry, a Haywood County native and Tuscola graduate, arrived with broad experience serving the people of her mountain community. She's worked in the criminal justice system and as a Medicaid caseworker. She's been in the school system as a teacher's assistant. And now she's applying that breadth of experience to the HOP program.
When she heard Tollie's story and discovered the family received managed Medicaid, she was off and running. Since Tollie and her husband were gainfully employed, they had assumed they wouldn't qualify for further assistance. "You don't qualify for anything if you work," they thought.
But Gentry knew different. She determined the family qualified for Section 8 vouchers, helped locate suitable housing, and smoothed the way for the family's relocation.
Luckily, Tollie's employment status and good references and vouchers helped them move into the house right away.
"Even people with a good education and good jobs need help sometimes," said Tollie. "Having the help has been monumental – like a miracle. A little breathing room from the struggle. We were beyond stressed, and we felt grateful to have assistance."
It's a scenario Gentry wants to see play out again and again.
"There are always people that need help that don't ask for it," she says. "We're a proud community. But while they may not ask for food stamps, they will ask for healthcare. HOP considers the entire person. When you think of Medicare or Medicaid you think of medical, but if you can't pay your light bill, that's affecting your health and well-being."
Patsy Davis, Executive Director of Mountain Projects, agrees and has high hopes for the program.
"Poverty has a whole host of symptoms that keep people from being at their best and can affect their health," she said. "The more of those symptoms we can address, the better."
Since her family's September move, Tollie has taken work as a translator at Mountain Projects, working for the Get Covered WNC program and the HOP program that helped her family. She's happy to be able to pass her good fortune along to others.
"There are always people in a struggle," she says. "They could be my mom or sister or daughter. How do I want them treated?"
"I've been on both sides of the desk on this journey," she adds. "I will be a better Mountain Projects employee because I have something in common with the people I'll serve."
A day in the life of the HOP Program
Food Boxes: Each Thursday, just as the sun comes up, Amanda and her assistants make an early morning trip to the grocery store. They take their big haul to Mountain Projects' centralized kitchen in Sylva where it's combined with more items from food wholesalers. The kitchen staff and Amanda's crew assemble rows and rows of food boxes, which are then delivered or held for pickup.
Each qualified recipient receives two boxes of food and 14 pre-prepared meals each week. The two boxes are bankers' boxes, and they include 10 lbs. of fresh produce along with milk, breads, eggs and canned non-perishable items.
"Some households have individuals with issues like severe arthritis," Gentry said. "One person can't use her hands to grip, for example, so we find options for that family that require less preparation. We have two families that are living at Pathways and those families don't have access to stoves. They have to cook in a toaster oven and can't accept as many refrigerated items. We personalize the boxes."
Transportation: HOP works with Haywood Public Transit to provide nonmedical transportation in Haywood County to Managed Medicaid recipients.
"Whether the participant needs to go to the grocery store or to see a friend or make a visit to the local park, we can help with that," said Gentry.
Transportation referrals are also made for medical transportation.
Housing Support: The HOP program offers an array of assistance in navigating the complexities of housing. First, HOP staff makes sure participants can sustain a home. Then staffers help set up utilities and can even pay the first month's rent and security deposit in many cases. HOP provides healthy home goods as needed, such as curtains, rugs and laundry detergent for participants with asthma, and can also make housing modifications that improve the health of participants, including repairs. The program frequently helps with utility costs as well.
HOP is a program for Managed Medicaid recipients hosted by Mountain Projects in both Haywood and Jackson Counties.
Over the holidays, Mountain Projects is asking the community for support in replenishing their Emergency Fund, which allows the agency to respond to emergencies for other community members who are not eligible for grant-funded programs, like HOP. To make an online end-of-year donation to help care for vulnerable individuals in our community, visit MountainProjects.org. Contributions can be made by mail and sent courtesy of Emergency Fund, Mountain Projects, 2177 Asheville Road, Waynesville, NC 28786.
Do you qualify for HOP?
"Call the number on the back of your Medicaid card or call me, Amanda Gentry at Mountain Projects if you have limited cell phone minutes," said Gentry. "I can help with the call at the offices in Waynesville or Sylva."
Gentry can be reached in Sylva, 828.492.4092, or Waynesville, 828.452.1447.
Leave a comment
1

comment
We are so grateful to have Mountain Projects participating in our Healthy Opportunities Pilot! We want to be sure to recognize the other wonderful human service organizations who are also a part of our HOP network and supporting pilot participants in Haywood, Jackson, Macon, and Swain counties and the Qualla Boundary. These include:

• First United Methodist Church of Waynesville
• Giving Spoon
• Haywood Christian Ministry
• Haywood Pathways Center
• HIGHTS
• Macon Program for Progress
• Mountain Projects
• REACH of Macon County

Regional organizations who are also providing support to local residents include:

• Appalachian Sustainable Agriculture Project
• C2Life Foundation
• Eleanor Health Foundation
• Haywood Street Congregation
• Land of Sky Regional Council
• MANNA Foodbank
• Pisgah Legal Services
• Working Wheels
• Williams YMCA of Avery County
• YMCA of Western North Carolina

and Legal Aid of NC and Reinvestments Partners.

It takes all of us, working together, in addition to the hundreds of local community-based organizations to improve health and well-being in our region. Something to be grateful for during the holidays and beyond!

Friday, 12/23/2022