Archived News
Stamper, Oocumma win Tribal Council seats
Friday, December 16, 2022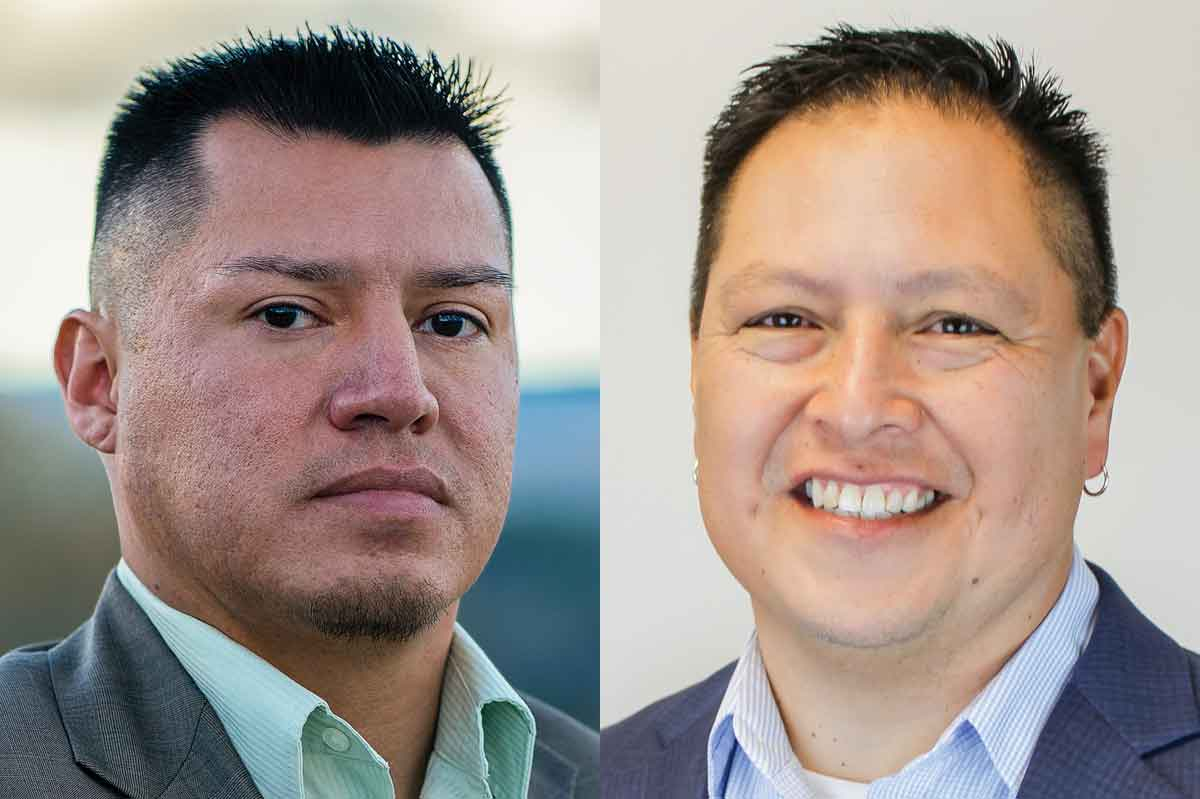 Sean "Michael" Stamper (left) and Andrew W. Oocumma were the winners in yesterday's special election, according to unofficial results.
In the Dec. 15 special election filling two vacant Tribal Council seats, Cherokee voters favored candidates with careers in business and finance rather than those with legislative experience.
The election filled seats representing Painttown and Wolfetown/Big Y. Sean "Michael" Stamper won the Painttown vote, while Andrew W. Oocumma commanded the lead in Wolfetown. Of the 17 candidates, five had previously been elected to Tribal Council — Marie Junaluska, Lisa Taylor, Mike Parker, Chelsea Taylor and Susan Coleen Toineeta. However, only two of these former Council members finished in the top half of their races.
"We're evolving into a large financial power," Oocumma said. "I feel like our communities are realizing that they want people in there that may have that past experience in making big decisions, or maybe it's the company they worked for like myself, or maybe they ran their own business, that kind of thing. I think even the younger generation within the tribe that are voters are realizing the same thing. They're not their parents' voters anymore."
Both Stamper and Oocumma applauded tribal members for turning out in large numbers despite no early voting or absentee voting opportunities and less than two months between the day the election was held and the day it was scheduled — during the busy holiday season, no less. The Board of Elections did not respond to requests for voter turnout data, but using voter registration numbers from 2019 puts turnout at 38.5% in Painttown and 48.4% in Wolfetown/Big Y.
"To get that turnout, it really showed that the community cared and the community was ready," Stamper said. "And my community was wonderful for me. They allowed me to come into their homes during this time and speak to them, and that really allowed me to put it over the edge."
Stamper and Oocumma both attributed their wins to their efforts to visit with as many voters in their communities as possible, lending a listening ear to their issues and concerns.
"I tried to let them know that I'm here to listen, as well," Stamper said. "I'm not just trying to earn your support — I'm also trying to make a difference here. So tell me what your issues are, because this isn't a one-way street."
Stamper was the decisive winner in Painttown, commanding 32.9% of the 319 votes despite a crowded field of eight candidates. Runner-up Jeff Thompson was a distant second, pulling 16% of the vote. Behind him were Marie Junaluska with 13.8%, Bentley Tahquette with 12.2%, Lisa Taylor with 9.4%, Stephanie Maney with 7.5%, Lou Jackson with 4.4% and David "Andre" Brown with 3.8%.
Stamper, 31, is a regulatory and appeals officer for the Eastern Band of Cherokee Indians Public Health and Human Services Division and holds a bachelor's degree in business administration. He has worked for the tribe for 10 years, with roles spanning finance, higher education and public health and human services. He's been a member of the Sequoyah National Golf Course Board of Directors since 2014.
Prior to the election, Stamper told The Smoky Mountain News that his top three priorities for the office were community involvement and participation; transparency in all matters, including finance, legislation and day-to-day issues; and listening to the community and being the voice of the people.
In Wolfetown, Oocumma took first place with 22.5% of 583 votes, edging out second-place Mike Parker, who drew 20.1%. Trailing were Frank Dunn with 14.8%, Amy Sequoyah Anders with 12.5%, Chelsea Taylor with 9.6%, Jesse Sneed with 7.5%, Sam "Frell" Reed with 5.7%, Theodore "Teddy" Michael Bird with 5% and Susan Coleen Toineeta with 2.4%.
Oocumma, 49, is the regional advertising manager for Harrah's Cherokee Casinos and holds a bachelor's degree in marketing. He has worked as a banker and a workforce development manager in the Ohio College system, developing customized training and education for major companies statewide as well as grant projects to put people back in the workforce.
Before the election, Oocumma told SMN that he wants to better inform tribal members of the risks and rewards of out-of-state business dealings before voting on such projects, ensure that committee and commission members recuse themselves when voting on matters to which they are personally connected, and support local economic development.
"There's a need-to-know feeling out there in our community, and I feel like I can bring that to the folks, and bring a business sense, business acumen to the Council that's there, but limited," he said.
Oocumma and Stamper will take an oath of office in the first week of January to fill the unexpired terms of former Wolfetown Rep. Bill Taylor and former Painttown Rep. Tommye Saunooke. Taylor resigned after facing criminal charges in connection with an alleged domestic violence incident. A trial is scheduled to begin Monday, Jan. 9. Saunooke passed away while serving her 12th consecutive term.
The terms expire Oct. 2, at which time the winners of the 2023 Tribal Council election will be seated.