Archived News
Count for Christmas: In 123rd year, annual bird count yields critical conservation data
Wednesday, December 14, 2022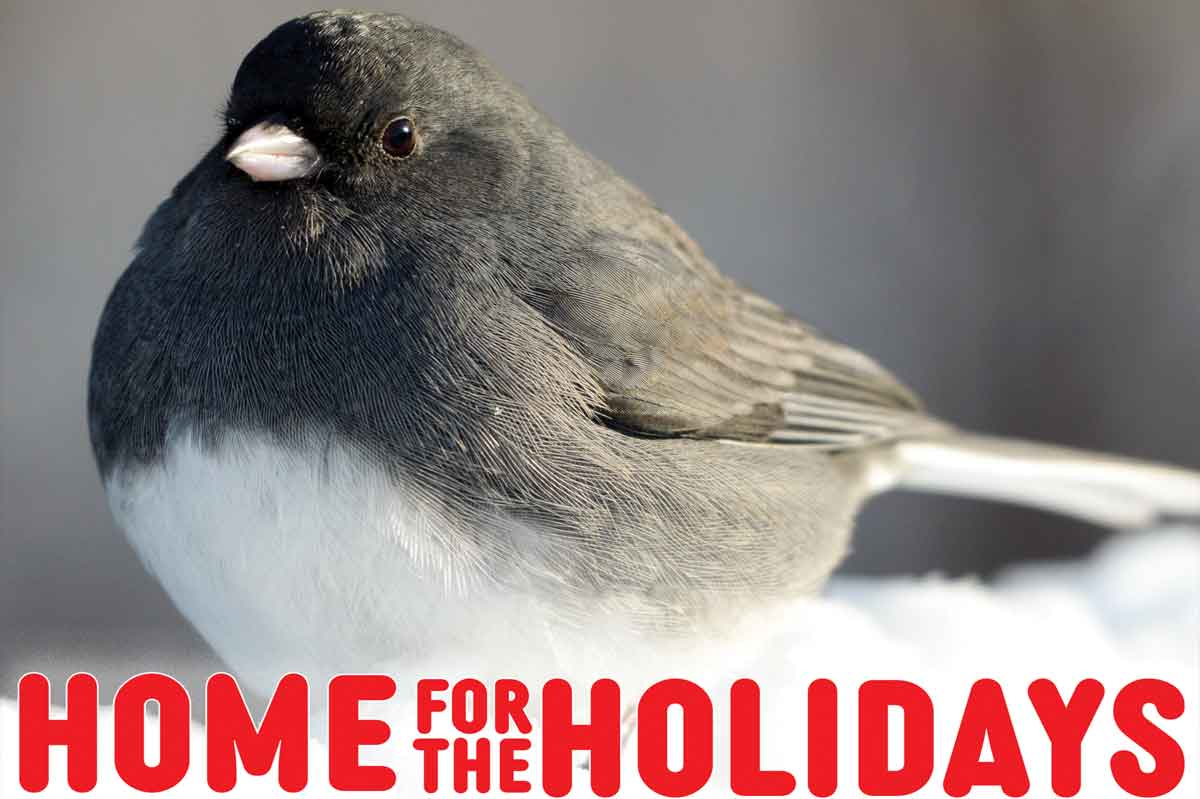 As Christmas 1900 approached, ornithologist Frank Chapman hatched an idea.
Chapman, like other observers and scientists in the blossoming conservation movement, was concerned about declining bird populations, and about how one of the era's favorite holiday traditions contributed. In the Christmas Side Hunt, hunters would choose sides, head outdoors with their guns, and compete to see which team could bring back the biggest pile of feathered and furred quarry. Chapman proposed that the Audubon Society, in which he was an officer, start a new holiday tradition, the Christmas Bird Census. Participants would count birds rather than hunting them.
Documenting decline
This month, the 123rd annual Christmas Bird Count will commence in circles across the globe. A far cry from the 27 people who counted 25 areas in 1900, the event has grown to include more than 2,600 count circles and 76,000 observers conducting counts between Dec. 14 and Jan. 5. Last year, participants tallied more than 42 million birds representing about 2,500 species. Counts are held across North and Central America and sprinkled throughout South America. Even far-flung places like the Northern Mariana Islands, Bermuda and Drake Passage off the tip of Argentina have a Christmas Bird Count.
It is one of the world's longest-running wildlife censuses, welcoming expert and novice birders alike — and gathering data that has proven instrumental to understanding long-term trends in bird populations.
"It's a great way for folks to feel like a part of something a little bit bigger and know that the data gets used for some really important monitoring and predictions about where we're going," said Curtis Smalling, director of conservation for Audubon North Carolina. "And it becomes increasingly important as these risks aren't going away. Urbanization and climate change and weather changes, all those things are not going away anytime soon."
Unfortunately, the data shows, the birds aren't doing well. And that's an extreme understatement.
Perhaps the most dramatic finding that the Christmas Bird Count has informed is a 2019 research article in the journal Science showing that since 1970, the number of birds in the United States and Canada had declined by nearly 3 billion — a 29% drop. The study drew from a variety of datasets to reach that conclusion, including the Christmas Bird Count.
The northern cardinal is the state bird for seven states, including North Carolina. Michele Black/Audubon Society photo
Known in conservation circles as the "3 billion bird report," the finding marked a turning point in understanding the magnitude and urgency of the problems birds are facing. The study evaluated population changes in 529 bird species and found that 57% saw "steep declines" over the 48-year period the study examined. More than 90% of the loss came from 12 bird families, including familiar ones like sparrows, warblers, blackbirds and finches. Many widespread and common species declined, and because even invasive species and birds adapted to a wide variety of habitats were among them, the study authors said it's likely that declining species are not being replaced by those that do well in human-altered landscapes.
Grassland species were the hardest hit, with 74% declining and a population loss of 53% since 1970, but forested habitats are also seeing huge losses, with an estimated reduction of more than 1 billion birds since 1970. In North Carolina, one-quarter of bird species are declining.
Over the years, CBC data have been used in more than 300 peer-reviewed articles, including a January 2022 Audubon study that used 90 years of Christmas Bird Count data to show how bird ranges have shifted amid a century of major environmental changes. The study, published in Global Change Biology, concluded that changes in climate are driving when and where birds spend the winter, while changes in land use and land cover are driving distributions of species with limited or declining habitat.
Changes in climate and changes in habitat both impact birds, but it's often difficult to separate their effects into two separate pots, Smalling said.
"It is kind of hard to tease out because everything's related," he said. "Changes in climate also affects vegetation and tree species distribution, and all the rest of it. Certain bird species are more specifically tied to a particular food source or a particular vegetation type or whatever. And so those then are going to show some pretty strong correlations between what climate is actually driving."
Making a difference
It's a grim picture, but Smalling said it's not too late to make a difference. He points to the example of wetland birds, the only group in the 2019 study posting an increase in populations. Since 1970, their populations have grown by 56%.
"They're actually just recovering to pre-1950 numbers, but a lot of that is thanks to conservation of where they nest in the prairie potholes and really increased efforts for overwinter survival, mostly at our refuge system," he said.
That shows conservation works, and that it is possible to stem the tide of decline. Even in the midst of climate change, it's possible for local action to mitigate effects.
"Because the shifts in distribution seem to be tied pretty closely to the ability of an individual bird to be productive, (with) the things you can do to make those birds in your neighborhood or your yard or your state or whatever as productive as possible, you can mitigate the effects," he said.
Many people may believe that when it gets a little too warm or a little too developed or otherwise inhospitable in a bird's home, it will fly off in search of a place that's cooler, wilder or just a better fit for its needs. But that's not true, Smalling said.
"People often assume that the birds just fly to where the conditions are optimal," he said, "and for some birds that may be true. Some of the shorebirds and waterbirds might do some of that, but for a lot of our songbirds especially that people are most familiar with, they're going to go and live their lives where they live their lives."
Distributions change over time as birds living in more stressful environments have fewer chicks, while birds living in more optimal conditions reproduce at higher rates. Because the birds aren't fleeing, the people who live alongside them can slow the pace of the forces reducing their success — by protecting undeveloped habitat, by planting the trees and shrubs birds need to thrive and taking other measures to reduce threats the birds face.
That's important everywhere, but especially in Western North Carolina, which projections expect to become a climate refuge for species coming from lower elevations seeking relief. At the same time, species like saw-whet owls and brown creepers that specialize in high-elevation habitats will face increasing pressure.
"They only have so far upslope they can go before they run out of room," Smalling said.
A species that specializes in mountain environments, the saw-whet owl is considered to be at risk from climate change impacts. Gary Zeng/Audubon Society photo
The bigger picture
The CBC is far from being the only annual census of bird populations, but it's unique in its longevity and in the time of year it occurs. It shows where various species are choosing to spend the winter, and it gives a snapshot of bird populations that spend much of the year further north, where there are fewer people around to count them.
"When they come south to where lots more people are and lots more people are counting, it gives us a chance to monitor how they're doing," Smalling said.
Similarly, waterfowl like geese and ducks are easier to count in the winter, when they hang out together in big groups, than in the summer when they're dispersed to their various nesting sites.
The relative ease of the count is key to its importance, and to why there are so many citizen science efforts to tally the birds. Unlike many other types of wildlife, birds are vocal, active and often easily visible. They don't live under rocks and leaf piles like salamanders or flee out of sight like bobcats and foxes, but the resources they depend on are critical to the success of countless other animal species as well.
By going out year after year to tally the birds of the Western Hemisphere, the tens of thousands of people who participate in the Christmas Bird Count help paint a picture not only of what's going on with birds, but of what's happening with the planet.
"Keeping track of how the birds are doing is a good proxy for how we're doing with the environment in general," he said.
Join the Christmas Bird Count
From Dec. 14 to Jan. 5, birders across the hemisphere will gather to tally the birds in their communities.
Each count takes place in a circle that is 15 miles wide and led by a compiler who is responsible for organizing volunteers and submitting observations to the Audubon Society. In each circle, participants tally all birds seen or heard that day, logging both species and total numbers to provide a clear idea of the health of that particular population.
Circles still accepting volunteers include:
• Thursday, Dec. 15, in Hot Springs. This circle is centered on N.C. 209 about 6 miles south of Hot Springs. Sign up with Mark Hopey at This email address is being protected from spambots. You need JavaScript enabled to view it..
• Friday, Dec. 16, in Highlands. The group will meet at Kelsey Hutchinson Park at 7:30 a.m. The count lasts until 1 p.m. for most participants. To sign up, contact Brock Hutchins at 404.295.0663.
• Sunday, Dec. 18, in Gatlinburg. This circle is centered in Gatlinburg and includes parts of the Great Smoky Mountains National Park. To discuss areas that still need coverage, contact Keith Watson at 865.314.3197.
• Tuesday, Dec. 20, in Etowah. This Henderson County circle is led by Kevin Burke. To sign up, contact him at 240.422.9483 or This email address is being protected from spambots. You need JavaScript enabled to view it..
• TBD in Swannanoa. A limited number of slots are available for this circle. All sections require significant driving time through neighborhoods, so teams are limited to four people. For more information, contact Tom Tribble at This email address is being protected from spambots. You need JavaScript enabled to view it..
Anybody who lives in one of the circle areas can participate by counting birds in their backyard and submitting results to the compiler. For a map showing all Christmas Bird Count circles, click on "Join the Christmas Bird Count" at christmasbirdcount.org.
Help your backyard birds
Bird populations are facing enormous challenges, but small individual actions can help. Here are some suggestions from the Cornell Lab of Ornithology:
1. Drink shade-grown coffee, which has a lower impact on North American songbirds that spend their winters on coffee plantations in Central and South America.
2. Keep birds from colliding with your windows by turning lights out at night and exploring options like window tape and "zen curtains" to keep birds away during the day.
3. Keep cats indoors. An estimated 2.6 billion birds in the U.S. and Canada are killed by cats each year.
4. Participate in citizen science efforts — like the Christmas Bird Count!
5. Pass a love of birds on to the next generation. Resources and ideas from Celebrate Urban Birds and Bird Academy can help.
6. Garden with native plants, which are better at feeding birds than introduced species. Reduce the amount of grass and nonnative species in your yard while increasing the variety and coverage of native plants.
7. Make any patch of land over which you have influence hospitable for birds. In addition to summer and winter habitat, migratory birds need a thread of green connecting the two, giving them a place to find food and shelter.
8. Buy a Duck Stamp. Fully 98% of its $25 face value goes toward protecting and maintaining land in the National Wildlife Refuge system, and it gets you into those refuges free all year.
9. Use less plastic, which often winds up in the ocean, accumulating toxins and disrupting food chains.
10. Support organizations that work to help birds.