Archived News
Untangling the web: Leading Native journalist says ignorance on Native issues poses danger for tribes
Wednesday, November 23, 2022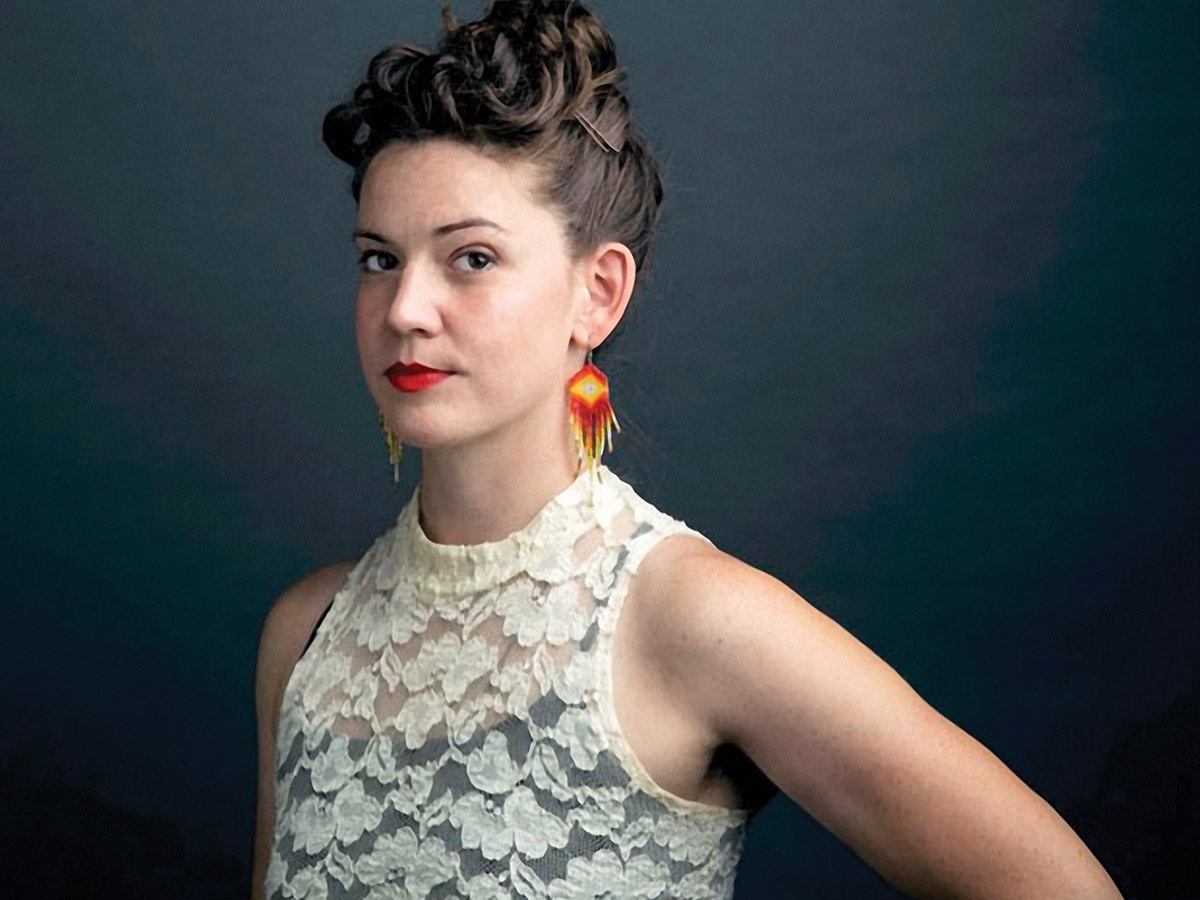 Rebecca Nagle, a citizen of the Cherokee Nation, is a journalist and podcast host examining Native American issues. Donated photo
As voting hours ended on Election Day 2020, talking heads waiting for results to roll in filled the TV airwaves with speculation based on the exit polling data before them. What might it mean for the final results, and for the future of the American presidency?
During the melee, CNN displayed a graphic showing the racial demographics of presidential election voters in Arizona — and for many Americans this shifted the conversation to something else entirely.
Because, according to the graphic, "something else" was synonymous with "Native American." The poll showed the percentage of voters classified as white, black, Latino or Asian but lumped the remaining 6% of exit poll respondents into the catchall "something else" category — according to the U.S. Census Bureau, Native Americans constitute 5.3% of Arizona's population.
"What CNN erased with that phrase, 'something else,' is actually very serious. And that's the power of Native voters in Arizona," Rebecca Nagle, an award-winning journalist and citizen of the Cherokee Nation of Oklahoma, told a crowd of nearly 50 people during a Nov. 17 lecture at the Museum of the Cherokee Indian in Cherokee.
Arizona went blue in 2020, an unexpected outcome that was pivotal to President Joe Biden's victory. As it turns out, the blue areas of Arizona overlay almost perfectly with its tribal lands.
Nagle wasn't in North Carolina to talk about the 2020 election results, however. Invited to deliver Western Carolina University's annual James A. Cooper Memorial Lecture in Cherokee Studies on campus and in Cherokee, she was there to talk about the reality of indigenous erasure in the media — and the serious consequences it has for Indian tribes.
Changing the conversation
Nagle grew up in Joplin, Missouri, less than an hour from the boundary of Cherokee Nation tribal lands in Oklahoma. Her culture was always important to her, and she always loved writing, but at first she refrained from pursuing a writing career — she knew it would be a difficult path.
Then, while working as a community organizer in Baltimore, Maryland, Nagle started learning how to navigate labyrinthine government bureaucracies and translate what she found into simple language community members could understand.
"I became very passionate about how these systems that govern people's lives and have huge impacts on people's lives are really opaque and are kind of meant to be opaque, I think, and meant to be inaccessible," she said in an interview. "And so, as an organizer, I was passionate about making the law and making policy more accessible to folks."
Later, she penned some opinion pieces related to her work on sexual assault and domestic violence. Some of those pieces reached a surprisingly large audience.
"After seeing that impact I was like, 'Oh, this is a thing that can really change the conversation,'" she said.
Since then, Nagle has established herself as a respected journalist on Native American issues and is one of a small number of journalists who are Native American. According to a 2018 survey from the News Leaders Association, only 0.38% of American journalists are Native, despite Native Americans making up 1.3% of the American population according to the most recent census.
Nagle has won a bevy of prizes, including the American Mosaic Journalism Prize, Women's Media Center's Exceptional Journalism Award and a Peabody nomination. Her writing has appeared in publications such as the Atlantic, the Washington Post, The Guardian, USA Today and Indian Country Today, and her podcast "This Land" offers groundbreaking reporting on issues of critical importance to tribes and tribal sovereignty. The most recent season examines a lawsuit seeking to strike down the Indian Child Welfare Act, and all the dominos that could fall should the suit prevail.
"These are not small topics," Museum Director Shana Bushyhead Condill said as she introduced Nagle Nov. 17. "I admire Rebecca's bravery and tenacity as she tackles these huge cases, and unravels the tangled web of case law, history, motivation and unexpected stakeholders. Spoiler, it's never about the surface conversation."
As Nagle outlined in her talk, Native underrepresentation in media goes far beyond CNN's unfortunate Election Night graphic. She cited research from Dr. Stephanie Fryberg showing that in an analysis of 2,300 television characters on screen between 1987 and 2007, only three were Native; in a 2015 study looking at the top 100 Google Image search results for "Native American," 95% were historical images. Early reporting on racial disparities in COVID impacts often left out indigenous people, and in many cases state data did not record Native Americans as a separate demographic category, meaning the pandemic's true toll on Native communities will likely remain unknown.
"Because people are not seeing real, alive, breathing Native people, it makes us less real," Nagle said in her talk. "I feel like we've all had that moment. I've had people say really weird things to me, like, 'I didn't realize Native people still existed.'"
Such ignorance leads to uncomfortable moments for individuals, and dangerous ones for tribes.
"If you're not real, you don't need laws," said Nagle. "If you're not real, you don't need treaty rights. If you're not real, you don't need those things that we are still having to fight for."
Nagle addresses her audience at Western Carolina University's A.K Hinds University Center Nov. 16. WCU photo
ICWA and tribal sovereignty
In the most recent season of "This Land," which concluded in October 2021, Nagle examined a federal court case out of Texas that challenges the constitutionality of a 1978 law, the Indian Child Welfare Act. ICWA sought to end the epidemic of Native children being removed from their homes and communities, and the lawsuit's outcome could have detrimental consequences for tribal sovereignty.
ICWA contains various provisions governing child custody cases involving Native American children, including an order of preference for adoptions. First preference goes to a member of the child's extended family, second to an adoptive family within the child's tribe and third to members of other Indian tribes — non-Native families can adopt only once these avenues have been exhausted. The law was passed shortly after the end of the boarding school era and during a time when 25-35% of Native children were being removed from their homes. Of those, 85% were placed outside their tribal communities, even when relatives were willing to take them in.
But in a 2018 ruling, U.S. District Court Judge Reed O'Conner determined that ICWA codifies unconstitutional race-based discrimination, throwing the whole law into jeopardy. The case went all the way to the Supreme Court, which heard oral arguments Nov. 9 and is expected to publish a ruling in late spring or early summer.
In ruling that ICWA's adoption preferences are racially discriminatory, O'Conner overturned centuries of precedent establishing Native Americans as a political group — not a racial one. When Europeans colonized North America, they encountered existing sovereign nations of indigenous people. Though they pushed them out through physical violence and manipulation, the relationship was that of adversarial nations. Many tribes signed treaties with the United States, binding documents indicative of a government-to-government relationship.
Native lands are not like city neighborhoods populated by a certain ethnic group. They are like countries ruled by a distinct government structure.
"The fear is, if they can overturn ICWA using this argument, that literally all of federal Indian law could be next," Nagle said in her talk. "So if ICWA is unconstitutional discrimination, what about the clinic where I go and get my health care? If ICWA discriminates against non-Native foster parents, what about laws that allow tribes to operate casinos where non-Native casino operators can't operate casinos?"
'A journalism problem'
There is, as Condill said, a "tangled web" of motivations spurring ICWA's opponents, but if tribal sovereignty is at risk, the general public's ignorance of tribal issues — underscored and exacerbated by underrepresentation and misrepresentation in the media — is part of the problem.
"We're not going to have federal judges and members of Congress and U.S. presidents who understand and uphold tribal sovereignty until we have a voting citizenry that does," Nagle said Nov. 17.
That will require effort from the news media — a commitment to reaching out to Native communities, spending time building relationships with them and becoming students of Native history and perspective.
"We have to stop looking at it like it's the diversity problem and start looking at it like it's a journalism problem," Nagle said in an interview. "Our indigenous communities deserve the same level and the same rigor of journalism as any other community, and I think because of ignorance, because of the lack of resources, because of there not being enough Native people newsrooms, because of all of those things, we don't get it."
There have been some glimmers of promise in recent years. In her talk, Nagle pointed to the Standing Rock Sioux's protest of the Dakota Access Pipeline as a turning point, saying that, for the first time in her life, her Native friends and her non-Native friends were talking about the same thing on social media.
But there's still a long way to go, and the stakes are high.
"What's at stake is law and policies that impact people's lives and impacts the sovereignty of our tribe," Nagle said. "I think that journalists recognize that in other areas. There's been this big question about how important press is in our democracy in this moment where it's felt like it's under attack. I would hope that people would think that continued existence and the sovereignty of indigenous nations is also an important part of our democracy."
Catch the podcast
Rebecca Nagle's award-winning podcast "This Land," distributed by Crooked Media, is available on various podcasting platforms.
Over the course of two seasons, "This Land," has thus far explored the Oklahoma v. Castro-Huerta case and its implications for tribal land restoration, and how a case challenging the Indian Child Welfare Act threatens the entire legal structure surrounding Native American rights.
Learn more at crooked.com/podcast-series/this-land.
Leave a comment
1

comment
Arizona did not "go blue." there was a mountain of vote fraud and they used the "Roll and run" tactic we saw again this year. The Maricopa "leadership" is doing all they can to hide their machinations and get away with the fraud again this time.

Saturday, 11/26/2022