Archived News
At gathering of tribal nations, Dakota Pipeline discussed as catalyst for advocacy
Wednesday, October 26, 2016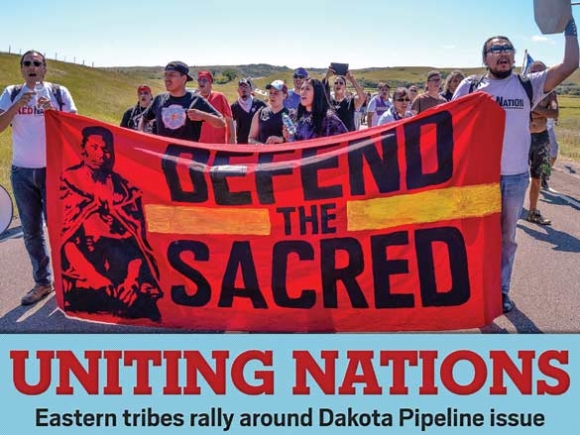 Strength in unity. Identity in culture. Power in the past. Momentum toward the future.
Despite the diversity of traditions and histories and origins populating the event center at Harrah's Cherokee Casino Resort this week, common ground was easy to spot among the 26 tribes represented at the annual meeting of the United South and Eastern Tribes. The three-day event drew 355 people to learn, discuss and strategize about everything from health to federal agency rulemaking to international advocacy. But before any of that began, the gathering affirmed its unity through a series of prayers, dances and ceremonies.
"We are all different groups, we are all different governments, we all grew up in different ways and have different customs and cultures, but the one thing we have in common is that we're minority governments in this country," said Chris McCoy, communications director for the Eastern Band of Cherokee Indians. "We can utilize each others' legal analyses, we can partner with each other on business and health care and we can stand unified in some of these efforts from different parts of the country to really impact the country for Indian people."
That idea is nothing new, but it's seeing a spark of renewed enthusiasm as Native American opposition to construction of the Dakota Access Pipeline in North Dakota has grown in volume and longevity. That reality led USET to invite David Archambault II, Tribal Council Chairman for the Standing Rock Sioux, to speak at the gathering's opening assembly Monday morning. Archambault spoke slowly, thoughtfully, delivering his perspective on the past few months in a deliberate and lightly accented voice.
"We always felt that there was nothing that we could do," Archambault said of his tribe's history of wrongs by the federal government, "but this experience that has taken place at Standing Rock, the unity there, helped me learn that there is something we can do."
The planned route of the Dakota Pipeline, a 1,172-mile, $3.78 billion project by Energy Transfer Partners, passes by the Standing Rock Sioux Reservation and plunges beneath the Missouri River, which supplies the tribe's water. The pipeline would connect the thriving oil fields of North Dakota to an existing pipeline in Illinois, but the Standing Rock Sioux say the route, as planned, puts the cleanliness of its water in too precarious a position to be allowed. One break or spill, they say, and the tribe's only water source would be polluted.
Meanwhile, Energy Transfer Partners contends that the pipeline will be a state-of-the-art construction, providing the safest way possible to transport crude oil, simultaneously increasing America's energy independence and reducing environmental disasters resulting from more risky forms of transport.
"It will reduce crude oil shipped by truck and by rail and increase the amount shipped by pipeline," the company's website says of the Dakota Pipeline. "Pipelines are the safest and most efficient means to transport crude oil, according statistics compiled by the U.S. Department of Transportation."
But the tribe's concern stems just as much from the process for approval as from the project itself. The Standing Rock Sioux say the Army Corps of Engineers, which issued permits for the project, didn't consult the tribe as the law requires. A decision that could have massive implications for their tribe's environmental and cultural resources was made without any meaningful input from the tribe, they say. A lawsuit on the matter is currently working its way through the courts, but in the meantime a growing bevy of protestors from across the nation and world has flocked to North Dakota, camping out near the Missouri River.
"Somebody will come up to me and they'll say, 'I've been watching what's been going on in social media and I don't know what happened, something just took over. I took my kids and I said pack your bags and that was two days ago and now I'm standing here with you,'" Archambault said. "There's something special awakening. It just tells me we have to continue with this in a prayerful way, in a meaningful way."
Hundreds of tribes have passed resolutions supporting the Standing Rock Sioux. Celebrities and public figures have advocated for the cause. The EBCI cut a $50,000 check to support the court battle.
"These are historic times," said Brian Patterson, USET president. "The great Sioux nations have gathered themselves for the first time, as I understand, since the Battle of Greasy Grass (Sioux name for the Battle of Little Bighorn). Leaders from the most northern reaches of Turtle Island and the Inuit have come. Guatemala, Peru — leaders have come from abroad to stand in solidarity for unity and for clean water."
It hasn't been easy, Archambault said. Things are heating up, with arrests made and police blockades on the roads and pipeline construction getting ever nearer. The Standing Rock Sioux have thus far been unsuccessful in getting a judge to issue a preliminary injunction, which would halt construction until the suit is settled.
"There's cop cars from all over. I don't even recognize the county names. There's blockades going up, there's low-flying aircraft. It feels like we're at war with somebody. I've always maintained that we keep it prayerful, that we keep it peaceful. When we have the law enforcement heightening their presence and aggression it's hard for us, the protectors, to remain calm, to remain peaceful," Archambault said.
"The construction company continues to operate, so there's going to be a time when we're too close," he added. "I'm fearful somebody could get hurt, so I've asked that we pray about that, that we don't lose anybody or nobody gets seriously injured."
However, in Archambault's view, that worry and even the entire pipeline issue itself is a short-term issue. He's encouraging tribal leaders to look to the long-term. How can Indian nations influence federal agencies to truly listen to them and incorporate their feedback when making decisions? How can tribes use their financial influence to reflect their values?
For instance, Archambault said, a little research showed that Standing Rock's bank had invested in the company that was responsible for the pipeline project. They'd been banking there for decades, close to half a century, but decided to act.
"We called them up and we said, 'If you're going to continue to keep your investments with this project, we're going to go to another bank,'" Archambault said.
The tribe is in the process of migrating its finances.
Archambault has also been doing his homework on federal rulemaking and how tribes are — or are not — involved in those decisions. There's often a lack of meaningful consultation, he said, when it comes to infrastructure projects. He has a vision for how that should change.
"We listen and then we expect them to listen. In the end there should be a reflection of that consultation," he said. "Today what we see is a federal agency say they're going to be including us, expect us to shake our head and then they check the box off."
By joining together, he said, the voices of the 26 member tribes of USET — and the 562 federally recognized tribes in the nation as a whole — can be quite loud.
"Let's look at the long-term," he said. "This short-term pipeline battle, I think things will work out the way they're supposed to, but let's start thinking about what we can do for the future generations, for the children who are not even born yet."
More than 40 years ago, tribal leaders signed the unity document that formed USET while sitting around a little seven-sided table in Cherokee, a table that the EBCI still possesses today, EBCI Principal Chief Patrick Lambert said. And there is power in that unity.
"We've come a long ways from that seven-sided table. Just look at the facility that we're sitting in today," he said, gesturing around the posh event center at Harrah's Cherokee. "But our heart and our will remains just as strong."
In strength of will, Archambault sees hope.
"As long as that pipe is not under the river," he said, "there is always a possibility."