Archived News
Beasley, Budd battle for U.S. Senate
Wednesday, October 19, 2022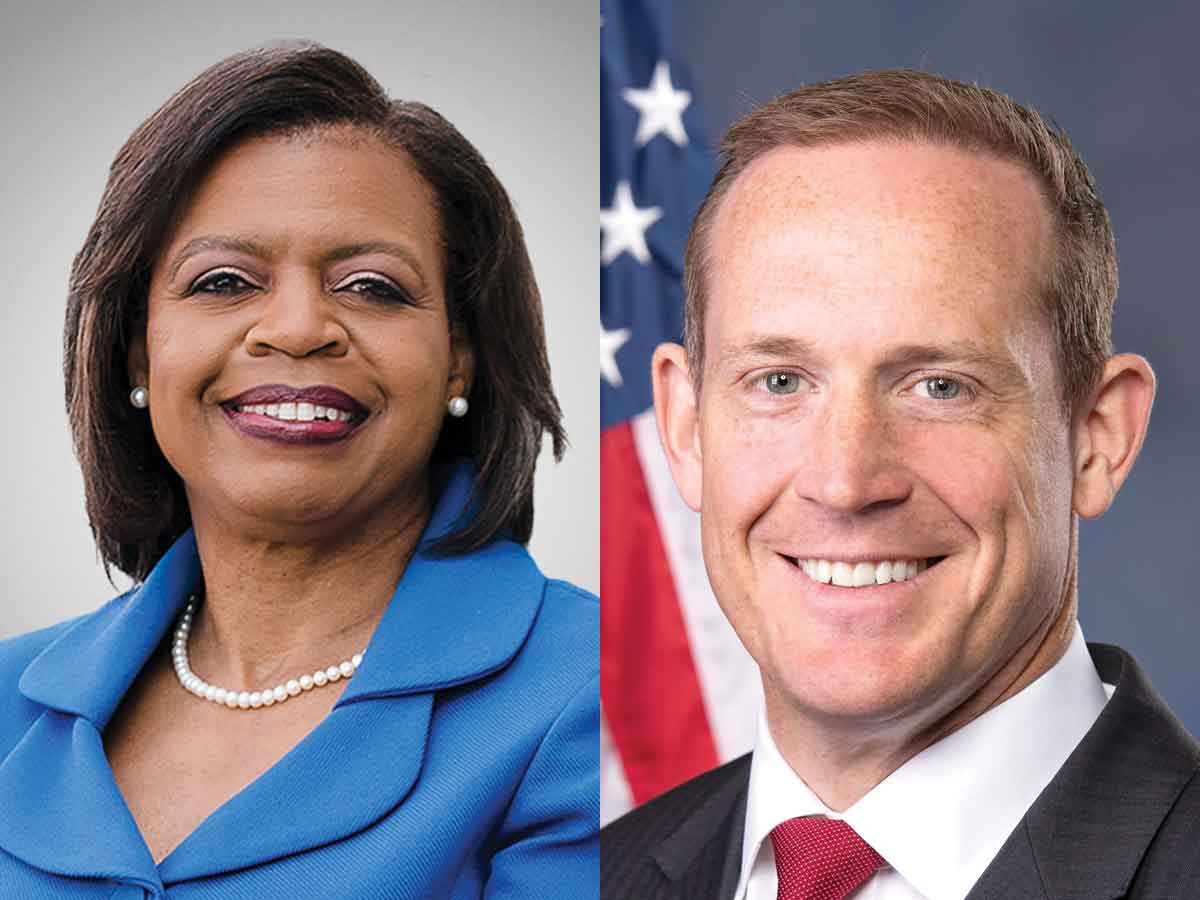 Cheri Beasley and Ted Budd.
The race for United States Senate in North Carolina has been dubbed a sleepy one, but with Election Day now just three weeks away, things are heating up and both candidates are ramping up the attacks.
The United States Senate is currently made up of 50 Republicans, 48 Democrats and 2 Independents who tend to vote with the Democrats. Because the Vice President breaks ties in the Senate, Democrats hold a slim margin of control.
There are 35 seats up for election this fall. Twenty-one of those seats are currently held by Republicans, as is the case in North Carolina where, having held the seat since 2005, Richard Burr is not seeking reelection. Fighting to take his place are Democrat Cheri Beasley and Republican Ted Budd, as well as a slew of independent and write-in candidates.
Beasley has worked as a public defender and a judge, serving for four years on the Court of Appeals before being appointed to the North Carolina Supreme Court. She was elected to serve a full eight-year term in 2014 and was appointed Chief Justice by Gov. Roy Cooper in 2019. In 2020 Beasley narrowly lost the election for Chief Justice to Republican Paul Newby.
Ted Budd has been serving as a United States Representative for North Carolina's 13th congressional district since 2017. He is also the owner of a shooting range and gun store and worked as an investment analyst prior to running for elected office.
Both Beasley and Budd told The Smoky Mountain News that the number one issue they are hearing from voters on the campaign trail is inflation. As gas and grocery bills rise, North Carolina families are fighting to keep up.
"People are struggling," Beasley told SMN. "People are feeling everything from pain at the pump to the cost of prescription drugs and everything in between, and people are working two or three jobs to take care of their families. They want to know that the next senator is going to fight hard for a strong economy, that she's going to fight hard to lower costs and that she's going to stand strong for North Carolina. That's exactly what I plan to do."
"I've got parents, six weeks ago back to school and they don't know how they're gonna put gas in their car, groceries on their table and buy back-to-school clothes," said Budd. "So it's hitting home. We're seeing 40-year inflation that's outpacing wages for about 18 months now."
Budd has blamed the Biden administration for rising inflation.
"Starting with the so-called American Rescue Plan, he pumped $1.9 trillion of unnecessary spending into the economy, which we're paying for in inflation now and then this so-called Inflation Reduction Act, which hires 87,000 more IRS agents to scrape money out of individuals' and families' wallets," Budd said. "I think that's completely unfair, and it's inflationary in itself."
Beasley has accused Budd of not doing enough to stem inflation as a member of Congress.
"Congressman Ted Budd hasn't stopped [inflation] and in fact he's actually helping it. He voted against lowering drug prices and gas prices while taking corporate PAC money from oil and drug companies," Beasley said at the October debate. "It is important that we fight hard to lower costs because that is exactly what everybody in North Carolina wants. Congressman Budd has not been doing that; he's not working for us."
Earlier this year, in Dobbs v. Jackson, the United States Supreme Court overruled the right to an abortion for people more than 15 weeks into their pregnancy. Writing for the majority, Justice Samuel Alito argued that the right to an abortion was not a fundamental constitutional right. The power to determine abortion restrictions returned to the states and several have already enacted bans or have plans to do so. A recent story from the Asheville Watchdog reported that since the Dobbs decision, the proportion of out of-state patients seeking abortion at the Asheville Planned Parenthood clinic has risen to more than half.
At the October debate, Budd called Beaseley extreme in her stance on abortion and women's reproductive healthcare. Budd cosponsored a bill that would create a national ban on abortion in most cases after 15 weeks.
"I've always been pro-life, long before I was even in Congress, and I've been consistently there. But at the same time, I've always been about protecting the life of the mother, and I want to save as many unborn lives as possible," Budd said during the debate. "My opponent is up for abortion; she's a supporter of abortion at any time, for any reason, all the way up to the moment of birth, and she wants to do that at taxpayer expense."
"The fundamental question really is, who makes the decision for a woman and her family? Is it you and your doctor, or politicians up in Washington? I know, having been a former judge and chief justice, that women have a constitutionally protected right to make this decision for themselves, with their physician, free from government interference. Congressman Budd has been very clear and has said that he supports and is leading the charge on absolute ban on abortion without exceptions for rape, incest or risk to a mother's health," Beasley said during the debate. "I will support the parameters outlined in Roe v. Wade, which provide for protections and restrictions later in pregnancy and allow them only in the most severe cases, for instance when a woman's life is at risk. It is the right thing to do, and women deserve that kind of freedom and protection."
Following the debate, when asked what they were hearing from women on the campaign trail about their hopes for the future of reproductive healthcare, Budd said he was not hearing from women on the issue.
"They're not talking about it," Budd told SMN. "The women that come up to me, they're worried about their children, they're worried about inflation, they're worried about woke socialist agendas."
Beasley has been hearing another story from voters.
"The majority of folks in North Carolina believe Roe vs. Wade should dictate reproductive freedom," she said in her interview with SMN. "For nearly 50 years, women have had reproductive freedom to make the choice to have an abortion with their doctor and without government interference. I support Roe v. Wade, which provides for protections and restrictions to address abortion later in pregnancy, so that it only happens in the case where there are very serious problems like the risk of mother's health."
An important issue for both candidates is education. Teachers in North Carolina are paid well below the national average, even when accounting for local supplements. Several school districts in WNC continue to apply for needs-based grants from the state to supplement funding for much-needed capital improvements. Additionally, schools are still trying to make up for learning loss incurred during the COVID pandemic.
"We are coming out of a pandemic and so many children in these rural communities did not have access to broadband or to technology and a lot of the teachers didn't either. So it meant that a lot of children unfortunately fell behind. We know that last year, about a third of our third graders were retained, that's a lot of kids," Beasley told SMN. "The Senate has an obligation to spend our values and to vote our values. I look forward to making sure that schools, teachers, parents and students have the support that we need to catch our students up, to make sure that teachers have access to not just better pay, but also opportunities for advanced training, and schools have the resources that they need, regardless of zip code."
Beasley is keen on supporting vocational and apprenticeship programs as well, which she accused Budd of voting against during his time in Congress.
Budd told the Smoky Mountain News that education is another one of the top issues he is hearing about from voters on the campaign trail.
"For the first time in history that I know of, we're seeing 9-year-olds, as measured by reading and math, going backwards. We can't have that. You push a social, aggressive, progressive agenda on these kids and you're crowding out reading and math and things it takes to make them great citizens," Budd said. "One of the things we're seeing is that bureaucrats in Washington, D.C., Department of Education folks are paid twice the amount, on average, or more than twice the amount of our teachers. Let's take money from the Department of Education in Washington's bureaucracy, and let's send it to the teachers here in North Carolina. That's one of the things you can do to bring them in parity."
While issues like inflation, reproductive healthcare and education are time-sensitive and tend to dominate the news cycle, climate change remains a top concern for young voters. In Haywood County, natural disaster struck with force just over a year ago when the remnants of Tropical Storm Fred caused severe flooding in the Cruso, Canton and Bethel communities.
When Canton Mayor Zeb Smathers, who has endorsed Beasley, was introducing her at an event with Haywood County Democrats last week, he spoke about how she was one of the first people to call after last year's disaster.
"She made a phone call not as a candidate, not as a judge, she called because she cared about what we were going through," said Smathers. "Because if you're going to be a U.S. Senator from the great state of North Carolina, especially in these times, you better know how to deal with floods and hurricanes. Cheri's here because she made that call when others didn't, and that call will be answered not just for towns like Canton, but other towns and cities in the state when disaster hits, and it will during the next several years, there's no doubt."
Beasley and Budd both addressed the issue in their interviews with SMN.
"The climate crisis really is important, and yes we've had very difficult issues here on flooding, which resulted in loss of life," Beasley said. "We're seeing the sea level rising at the coast; we are experiencing drought and floods all over the state. It is a central issue to this campaign; it has to be. We know that as we're rebuilding places like Haywood County and other areas that have been impacted by hurricanes and storms, we have to do that in a way that makes us climate resilient. The more we build our grids, the more climate responsible we are, the more we can incentivize farmers for being climate resilient in their work. All of us have a responsibility to do that, but it is important that the next senator really fight for policy to do that, and I'm really excited about that opportunity."
"Supporting clean air and water doesn't mean you have to hurt the economy and put people out of jobs and offshore those jobs to China," Budd said. "We can't unilaterally disarm compared to China. We talked about doing environmental clean air, clean water things now, but China talks about doing it in 2035 at the soonest. So when you produce energy here in the US, we're safer and we're cleaner than anywhere else in the world. If we want to talk about other ways to make sure that we can produce more energy with less emissions, I'm all for that discussion, but we can't offshore our economy to China, because if we do that, that's twice the unit of pollution per unit of economic output."
Leave a comment
2

comments
We were never meant to be a democracy. Do a little research. We were originally a Constitutional Republic. Pure Democracies historically never last. We are seeing it with our own eyes in America today.

Monday, 10/24/2022

If we lose democracy, inflation will be the least of our problems.

Thursday, 10/20/2022