Archived News
Three newcomers, three incumbents on the ballot for Haywood Schools
Wednesday, October 05, 2022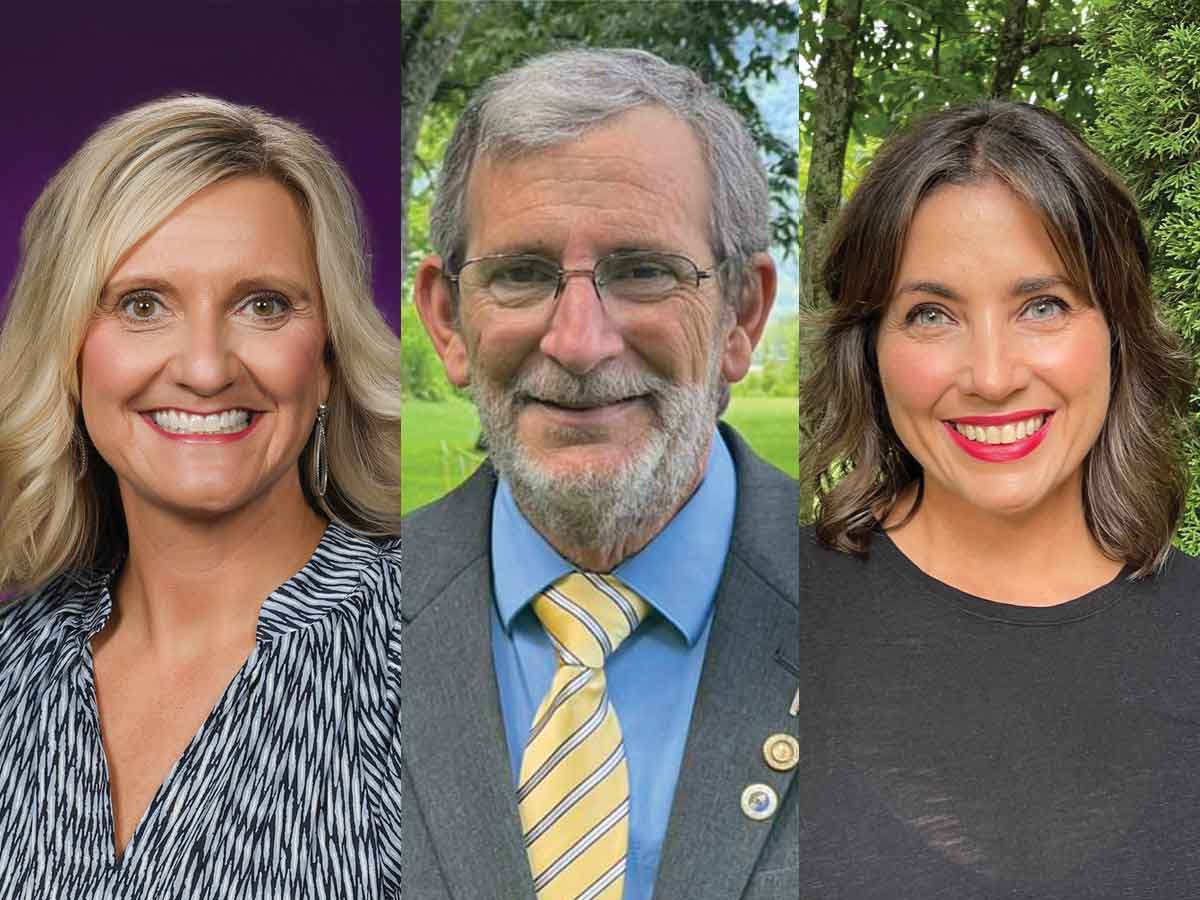 From left: Marla Morris, Mike Graham, Brooke Haynes.
The Haywood County School Board is made up of nine members serving staggered four-year terms. Seats representing the Bethel, Clyde, Crabtree and Fines Creek districts are up for election this year. Of those, both Jimmy Rogers in Clyde and Steven Kirkpatrick in Fines Creek are long-time incumbents running unopposed. Rogers has served on the board of education for 22 years, Kirkpatrick for 20 years.
In Bethel, Mike Graham is taking on another long-time incumbent, Larry Henson. Graham has been interested in running for school board for a while now. This year, when he saw that Henson might be running unopposed, he decided the time was right.
"I just think that regardless of how well somebody is doing that they should have an opponent," said Graham. "You can get complacent in your job if you don't have somebody at your heels sometimes."
Graham owns the Jukebox Junction in Bethel. He has worked in both education and hospitality throughout his career, marrying the two when he worked as a Career and Technical Education teacher. His experience in high-level restaurant management was an asset for the CTE programs he worked in and helped him to build a curriculum that would prepare students for the real world.
One of Graham's goals for Haywood County Schools is to turn one of the high schools' Home Economics Departments into a Culinary Hospitality Program. He would also like to see some of the growing tourism income from room-tax dollars spent on bolstering such a program.
"Tourism is one of the big drivers in our region," said Graham. "There are a lot of job opportunities there and a lot of companies are struggling to fill those positions."
Graham considers his experience within the school system, teaching in CTE programs, coaching football and basketball, combined with his managerial hospitality experience as the right kind of background and set of skills to help lead the Haywood County School system.
Larry Henson has been on the school board for 12 years and currently serves on the finance committee. He owns and operates his business Henson Tree Services. Henson was unable to find the time to speak to the Smoky Mountain News regarding his race for school board.
While most members of the Haywood County School Board are long-time incumbents, the board is guaranteed a new member from the Crabtree District. Brooke Haynes and Marla Morris are competing for the seat, ensuring that next year there will be one female representative on what is currently an all-male board.
Haynes graduated from Tuscola High School and holds a bachelor's degree in Human Ecology. She previously worked in health education at the Buncombe County Health Department doing fitness and nutrition programming. After her first child was born, she worked for several years as a fitness instructor and personal trainer at the Haywood Regional Fitness Center. She is currently in her fourth year coaching Waynesville Middle School Cheerleading, and has been involved in both the Lake Junaluska Warrior and Waynesville Mountaineer Youth Football and Cheerleading programs.
"Over the past four years I've coached, I've subbed and I spent the last six weeks of school last year being a permanent substitute at Waynesville Middle," said Haynes. "That gave me an insider's view of our school system. It showed me some things that need to be worked on. We have a great school system, but there's always room for improvement. I feel burdened to help and I feel called to fight for those that just can't fight for themselves."
Marla Morris is also a native of Haywood County, raised on a dairy farm in Crabtree. She is a graduate of Tuscola and holds a bachelor's degree in parks and recreation management from Western Carolina University. She has volunteered in the school system for over 20 years as part of the Riverbend and Waynesville Middle Parent Teacher Organizations, school improvement teams at Waynesville Middle and Tuscola and the Fellowship of Christian Athletes, of which she is currently on the board of directors for North Carolina. She has also worked as a substitute teacher in the school system.
"I have always believed in living a life of service and investing in meaningful work every day," said Morris. "The youth of Haywood County have been my passion and purpose for the last 20 years. Serving on the school board would be a new opportunity for me to work in service for the students, teachers and staff of Haywood County."
If elected to the board, Morris would like to see the county establish a trade high school, continue to grow the schools, maintain a positive retention rate and ensure students have the environment and tools needed for success in and out of the classroom.
"An innovative trade high school would allow students the opportunity for careers that could reinvest back into our county," said Morris.
In her campaign for the board of education, Haynes has promised to do what she can to support teachers, promote policies of impartiality throughout the school system and fill the gap in the school nutrition program.
"There are so many families that do not qualify for free or reduced meals but can't afford to pay the $3.75 a day cost for school lunches," said Haynes. "We were able to figure out how to feed children during COVID when our economy was shut down; I don't see why we can't figure out ways to fill that gap and pay for those lunches when our economy is up and running, especially at a time when we're dealing with inflation and price increases."
Haynes would also like to see as much transparency as possible in the board's decision-making process, with thorough research and vetting of the recommendations brought to them by the central office or the county. The school board recently hired a new superintendent after a brief internal search in which one candidate was considered.
"I am disappointed that the board failed to open the position to both internal and external applicants," Haynes told the Smoky Mountain News at the time. "These gentlemen had the opportunity and responsibility to both students and teachers to ensure the best candidate was placed in this position. By failing to form a search committee, they failed to ensure their decision reflects the best interest of every student."
Morris did not say whether she would have advocated for a different process; however, she did note that there were several superintendent positions open in the region, and 50 statewide at the time that HCS was looking for a new superintendent.
"Haywood County is fortunate to have highly qualified candidates from within our system," said Morris. "Our school board members, with a unanimous vote, chose a qualified, dedicated and proven leader in Haywood County Schools."
Morris says she is a strong supporter of parental rights in education and wants to see Haywood County Schools make a strong recovery from the recent difficulties caused by COVID and the flooding that hit the community.
"I would like to see our county start putting education first and making our students a priority for funding," said Morris. "We need to revisit the funding formula our county has in place. I am willing to work with county leaders to find additional funding for the school system and to move forward with a vocational high school."
Haynes says she wants to see a fresh perspective on the board of education, one she thinks she can bring.
"I will work tirelessly for our students and teachers," said Haynes. "Currently I have two children and two nephews in school. I have a niece in the North Carolina Pre-K program, and a niece in the intensive intervention program at Clyde. Through them, I'm reminded daily of the important role that school plays in the lives of all our children. We have amazing teachers in Haywood County, and not only do I want to keep them, but I want to attract competent and caring professionals for our school system. I would dedicate my work to teachers and students and stand up for what is right. equitable and fair."