Archived News
Threats force Waynesville to consider meeting security measures
Wednesday, September 21, 2022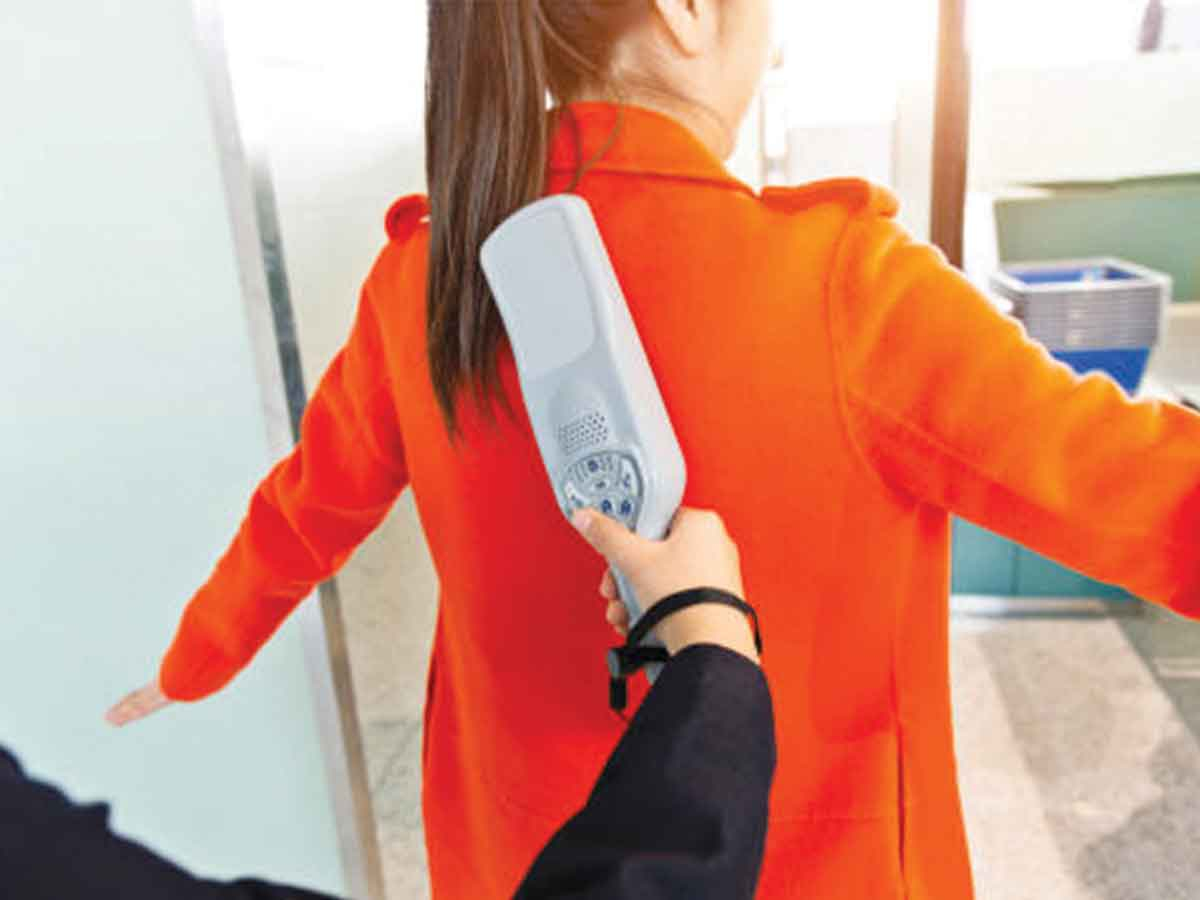 Handheld wands offer more flexibility and lower cost than large, walk-through detectors. File photo
The Town of Waynesville may soon start subjecting public meeting attendees to metal detectors in some form or fashion, Town Manager Rob Hites announced during a meeting on Sept. 13, saying that the town was aware of what they deemed credible threats to elected officials.
The beefed-up security comes in response to a series of threats first reported in The Smoky Mountain News more than a month ago.
"A couple of aldermen expressed concerns," said David Adams, Waynesville's police chief. "The lady was arrested last week, I've seen the paper, but there were some concerns maybe there's some other people out there making threats against more than one board member. You have to treat it seriously nowadays, you know, consider it credible from the top down."
On Sept. 7, agents from the Federal Bureau of investigation executed a search warrant at the Haywood County home of Darris Moody and arrested her later that day. Moody is free on bond but now faces federal charges related to "bounties" levied on elected officials, judges, municipal employees and healthcare workers.
These bounties came in the form of a series of phony "writs of execution" issued by a nonexistent court that call for, among other things, the payment of a fine and the surrender of the person "served" with the writ. The writs allege various environmental crimes and offer compensation of between $10,000 and $20,000 for the delivery of recipients who refuse to comply.
A website offers fill-in-the-blank versions of the writs for anyone who chooses to download them. Moody confessed to SMN on Sept. 2 that she was indeed responsible for some of the writs.
"I have to admit that I've served a few," Moody told SMN before her arrest, "because my name was on it and it wasn't supposed to be."
According to a database hosted on the website, more than 30 public figures with ties to Haywood County were "served" beginning in late June. Intended recipients included the entire Haywood County school board, Canton's mayor, members of the county commission and, supposedly, every member of the Waynesville Board of Aldermen.
While some aldermen said they weren't aware that they'd been served, others said they were and would assess their own personal security measures. Alderman Julia Boyd Freeman was among the most visible targets of the writs, after someone posted physical copies at the post office.
Adams said that implementation of metal detection capabilities — in the form of a handheld wand, most likely — isn't yet a certainty, but is under serious consideration.
"Of course, we have police officers at every board meeting too, so it's not 100% we will do it or won't do it," he said. "We're just kind of evaluating it."
The wands retail for just a few hundred dollars, far less than the doorframe-style scanners in use in other places.
Adams contacted police department attorneys, who advised him that if the town were to implement such protocols, it would be best to make an announcement prior to doing so.
Although Adams said he hadn't worked in any other jurisdictions that screen visitors to public meetings, he has worked shootings that occurred in public buildings, including one in Henderson County around 2004 that arose from a dispute at the county's unemployment office.
"This is about public safety for everybody, and that also affects the citizens who come to the board meetings and their safety," Adams said. "We don't want anyone injured and getting hurt or anything like that. There are a lot of considerations, but what it boils down to is public safety."
Leave a comment
1

comment
Do believe that announcing/advertising that metal detection is being considered as a possibility for future implementation is a mistake. Believe it's like waving a flag to potential perps who may be considering action in response to the writs of execution!
Such a shame that these bounties have been solicited, but, even worse that they've emanated from one or more of our own here in Haywood County! Just my two cents!

Wednesday, 09/21/2022