Archived News
Free on bond, Moody will face federal charges after FBI arrest
Wednesday, September 14, 2022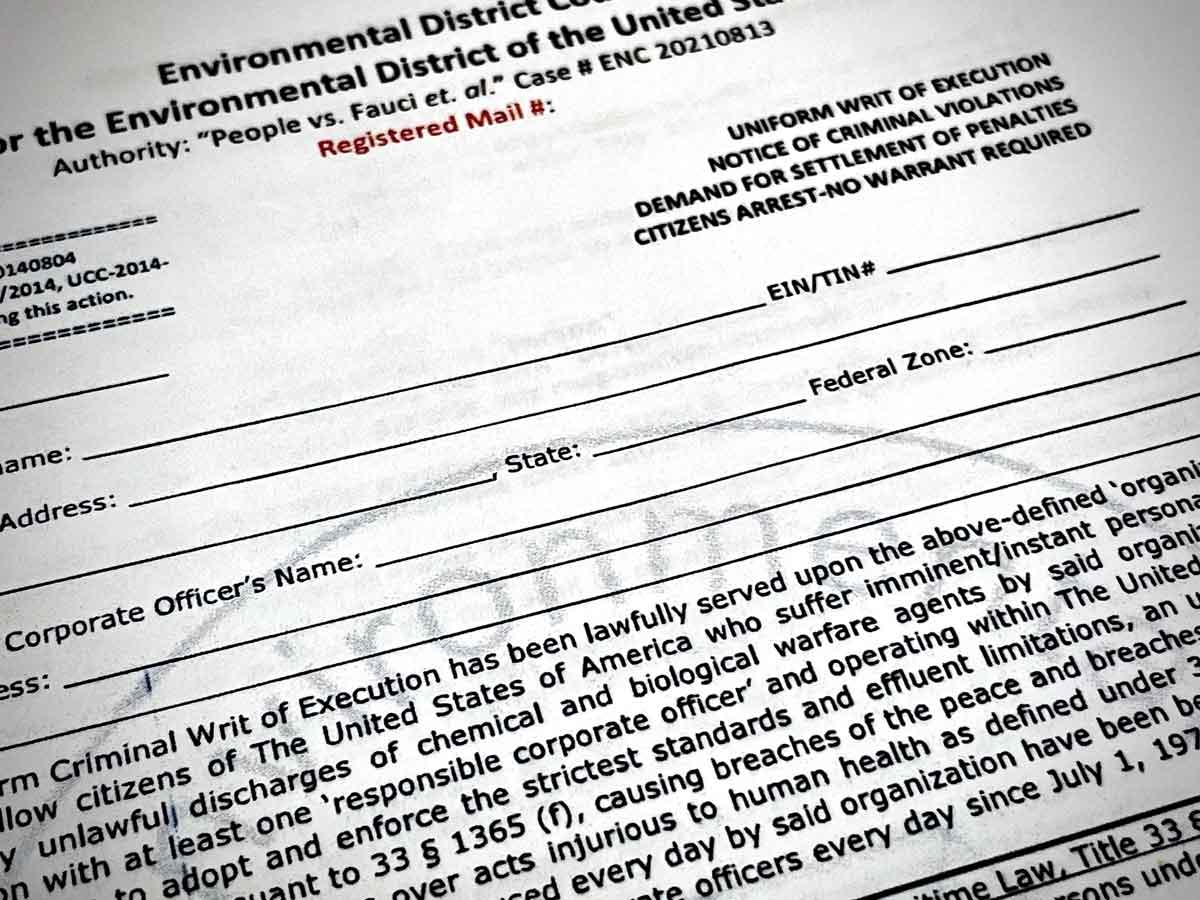 Haywood resident Darris Moody was arrested in conjunction with a series of threatening letters on Sept. 7. Cory Vaillancourt photo
A Haywood County woman who admitted to serving phony writs that offered bounties on public officials will face federal charges after her arrest by the FBI on Sept. 7 but will be confined to home detention for now.
The arrest came just hours after the publication of a story in The Smoky Mountain News that revealed the identity of the sender and contained her confession.
"I have to admit that I've served a few," Darris Moody told SMN by phone on Sept. 2, "because my name was on it and it wasn't supposed to be."
More than 30 elected officials, judges and municipal employees, along with prominent figures in the healthcare industry, were "served" the writs, which demanded the recipients surrender to a tribunal. The writs offered bounties of $10,000 to $20,000 for anyone who could deliver officials that refused to comply with the terms of the writs.
A listing of everyone who's been "served" appears on a self-reporting database hosted by a group called "The People's Bureau of investigation."
The PBI's website makes templates of the writs available, so anyone can download and "serve" them.
After being reached for comment on Aug. 15, the Illinois man behind the PBI website, Tim Dever, told The Smoky Mountain News that he believed the writs were lawful.
Upon Moody's arrest, Dever wouldn't give an opinion on the situation, but instead responded with a lengthy email repeating the same dubious jurisdictional assertions made on his website, and by Moody.
The phony writs, purportedly emanating from the bogus "U.S. Environmental District Court," were first brought to light during a mid-August investigation by The Smoky Mountain News after a number of local officials voiced concern over the language and tone of the documents.
On Sept. 2, Magistrate Judge W. Carleton Metcalf granted U.S. Attorney Dena King's motion to seal the criminal complaint application and other documents related to the case "to protect the secrecy of the ongoing nature of the investigation in this matter."
The criminal complaint sworn by FBI Special Agent Corey Zachman lists the offense as "transmission of threat in interstate or foreign commerce."
The charges listed on the docket sheet allege a violation of 18 U.S.C. 875, "Interstate communications – threat to kidnap."
Subsection (b) of 18 U.S.C. 875 states that "Whoever, with intent to extort from any person, firm, association, or corporation, any money or other thing of value, transmits in interstate or foreign commerce any communication containing any threat to kidnap any person or any threat to injure the person of another, shall be fined under this title or imprisoned not more than twenty years, or both."
Shortly after her arrest, Moody appeared at an initial hearing before Metcalf in Asheville, where she was advised of her rights and the charges against her. Moody, who told SMN she considers herself a "digital soldier," asked to represent herself, but upon advisement asked for appointment of counsel.
The court approved Moody's request for appointed counsel, and the U.S. Attorney's office moved for detention. Moody was detained pending preliminary and detention hearings scheduled for 10 a.m. on Sept. 12.
Some officials who received the writs through mid-July, expressed frustration that they hadn't seen or heard of any progress in the investigation into the threats until Moody's Sept. 7 arrest.
An. Aug. 31 public records request by SMN to the county for communications related to the writs was delivered by Haywood County Attorney Frank Queen on Sept. 8.
Those records show that the first Haywood-related writs were served well prior to July 11, when local officials began talking about them amongst themselves.
Around that time, someone had posted physical copies of some of the writs in the Waynesville Post Office.
A July 13 email shows that the FBI was scheduled to meet with Haywood officials on July 19. Subsequent texts from Chief Deputy Jeff Haynes to Board of Elections Chair Danny Davis place the FBI in Haywood County around the week of July 29.
When Moody again appeared in court before Judge Metcalf on Sept. 12, shackled and handcuffed in a grey striped jumpsuit, it was revealed that she'd retained her own attorney, Sean P. Devereux.
Devereux is known for representing Olympic Park bomber Eric Rudolph as a court-appointed defense attorney when Rudolph was first arrested.
Moody waived her preliminary hearing and proceeded to her detention hearing, the purpose of which was to consider whether to grant her pretrial release and whether she should be considered a flight risk or a danger to the community.
FBI Special Agent Bill Gang testified on behalf of the government during the detention hearing.
Along with six to eight other FBI agents, Gang executed the search warrant at Moody's Haywood County home. Darris Moody was not present at the time, but her husband Charles Elbert Moody was.
Assistant U.S. Attorney Don Gast introduced a photo of a notice posted to the door of the home claiming the U.S. government did not have jurisdiction over the home.
Gang testified that Charles Moody surrendered a pistol from his vehicle and was completely cooperative as the two conversed for around an hour, waiting for the search warrant to be signed. Once it was, Charles opened the door for FBI agents.
"We found at least one of the notices, similar to those posted in the post office," Gang told the court.
After her subsequent arrest elsewhere in Haywood County, Darris Moody was interviewed by Gang for about an hour.
Gang said Moody told him that she believes herself to be on common law, and that she did not recognize the legitimacy of the United States government or legal system.
Gang also testified that Moody claimed she'd sent letters to U.S. military bases asking for their help in overthrowing the government, and that Moody had neither disavowed her actions nor attempted to play them off as a joke. Gang's testimony is consistent with statements Moody made to The Smoky Mountain News on Sept. 2.
Moody was alert and attentive during the hearing, occasionally nodding along with comments from her attorney Devereaux, Judge Metcalf, Special Agent Gang and Assistant U.S. Attorney Gast.
Two voicemails left by Moody for Haywood County Register of Deeds Sherri Rogers, an elected official, were introduced as evidence by the prosecution.
While the voicemails don't contain any specific threats to Rogers, Moody did say she was cutting Rogers "a break" by not serving her and that she hoped to educate Rogers on her political philosophy.
Devereaux called Moody's actions generally "symbolic," and "theater," while Gast opined that the writs were indeed threats.
Gast told the judge that there was no piece of paper anyone could put in front of Moody that would compel her to appear as directed to a court she repeatedly claimed she didn't recognize.
Devereux countered by saying that over the weekend, he'd made clear to Moody that she was wasting her time — and his — if she didn't agree to play by the rules.
Sardonically, Gast opined that if Devereux had convinced Moody to "play by the rules" over a weekend, after she'd devoted years of study to her conspiracy theories, his considerable talents might be best utilized deprogramming similarly situated persons.
In weighing whether or not Moody should continue to be held before trial, Metcalf said he felt the notices posted on Moody's home were a little more significant than simple "no trespassing" signs and referenced Moody's admission that no one was supposed to know that she was the one serving the writs.
Judge Metcalf also mentioned the number of alleged victims, which the government puts at around 40.
Conversely, Metcalf said he'd considered Moody's complete lack of criminal history, as well as the absence of evidence that she'd actually committed any violent acts. Metcalf went on to cite the probation office's recommendation that Moody be released.
Although Metcalf said his decision could have gone either way, in the end he found that release was in order — albeit with a number of conditions to encourage Moody's participation in the forthcoming proceedings and to dissuade her from tendering to anyone anything that purports to be legal process, like the writs.
Moody whispered a "thank you" to Devereux and will now be confined to her home via electronic monitoring but for certain activities like worship or medical treatment.
She must surrender her passport, possess no firearms, provide a DNA sample and access to her electronic devices, avoid alcohol, illicit drugs, criminals or contact with anyone who could be a victim or witness in the case, among other things.
A trial date for Moody has not yet been set.
Leave a comment
1

comment
Sorry, no faith these days in the FBI.

Wednesday, 09/14/2022