Archived News
WNC residents pave a 'trail of truth' to Washington for drug deaths
Wednesday, September 14, 2022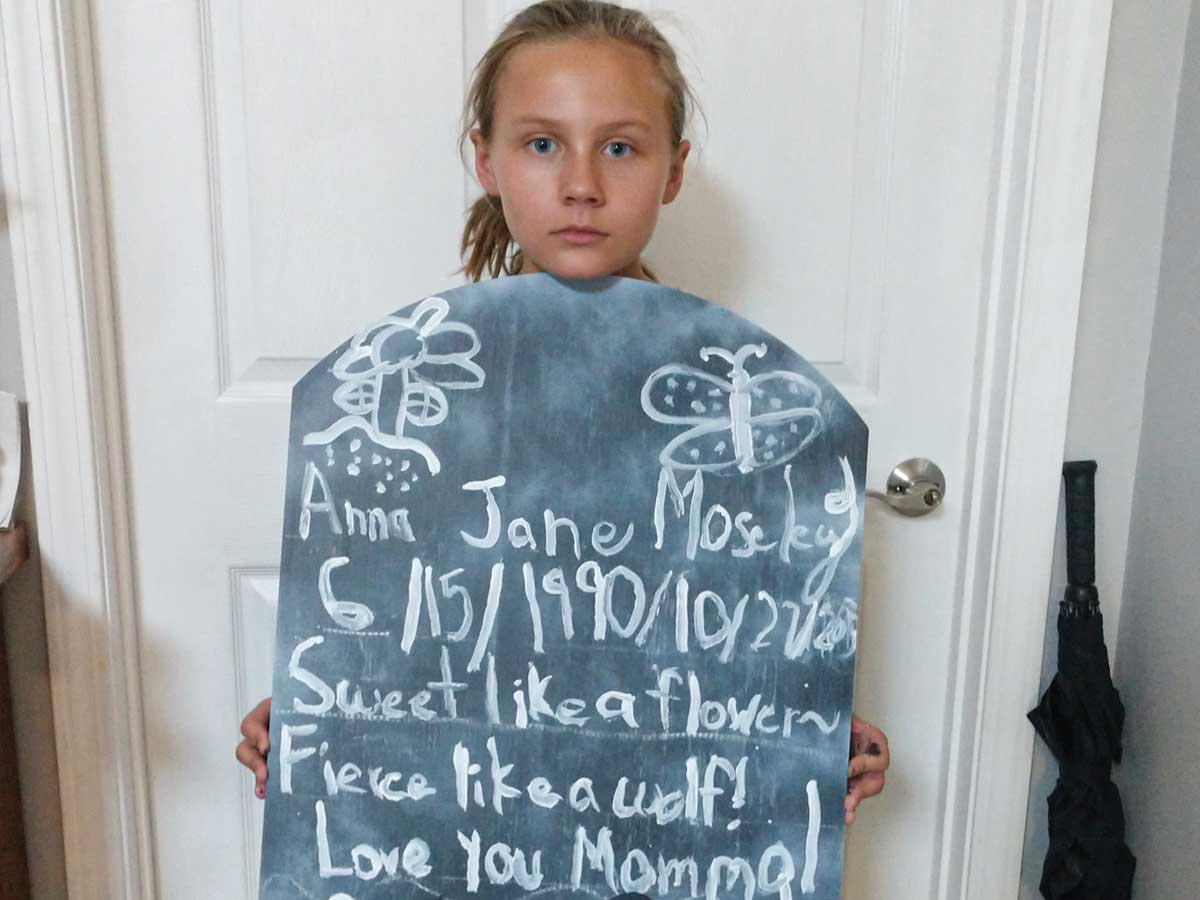 Gracie Parker, of Macon County, holds a tombstone memorializing her mother. Donated photo
As a stark reminder of the toll that substance abuse has taken on families across the country and across Western North Carolina, a small group of Macon County residents will travel to Washington, D.C., later this month to help erect a temporary cemetery made up of hundreds upon hundreds of hand-painted tombstones.
"We're going to Washington, D.C. with the Trail of Truth event to memorialize our loved ones, to demand change and to turn the tide of overdose deaths," said Stephanie Almeida, CEO and founder of Full Circle Recovery Center and Smoky Mountain Harm Reduction, both in Franklin. "This year we're really making it a focus to remember everyone we've lost to substance use."
Part performance art and part memorial, the Trail of Truth will take place on Sept. 24 when the tombstones will be placed along D.C. sidewalks.
Participants will then trace chalk outlines of their bodies near the markers, and fill the outlines with quotes, messages and sketches to honor the lives of those who have died as the result of substance abuse.
The D.C. trip came into being after a coalition of 60 partner organizations teamed up to take an annual Binghamton, New York event established in 2016 by advocacy nonprofit Truth Pharm national.
Smoky Mountain Harm Reduction is the event's planning partner for the entire state of North Carolina. Family members submit information on lost loved ones, and volunteers create the tombstones. Almeida said SMHR had already prepared 60 or so, with at least another 20 to go. Nationally, the event is approaching 1,000.
"It's a tiny sliver of the folks we've lost here in North Carolina," she said. "We should have the entire D.C. area covered in tombstones if we were to accurately convey the scale of the losses. The more folks that come, the more we can focus on policy changes that we want."
According to the CDC's Wonder database, drug-involved overdose deaths in the United States topped 90,000 in 2020, far above the 70,000 reported for 2019. The 2020 figure is more than double the rate in 2013 and more than quadruple the figure from 1999, when less than 20,000 drug-involved overdose deaths were reported.
During that timeframe, production of dangerous prescription painkillers surged to almost 13 billion pills a year, according to Drug Enforcement Administration data reviewed by The Washington Post.
Lawsuits over deceptive marketing of the pills have mostly been settled by larger pharmaceutical companies, resulting in forthcoming payments to state and local governments that will be used to combat the crisis.
But those settlements are too little, too late for families who have already lost loved ones to an addiction that in some cases resulted from medications legitimately prescribed for post-surgical pain management.
More recent data from the CDC shows 104,000 reported overdose deaths for the 12-month period ending in March of this year, and a 12.75% uptick in North Carolina alone.
"The losses aren't just here at home. We see our friends suffering, we see other organizations suffering, we see the loss that is escalating across the United States every single day," said Trail of Truth Executive Director Alexis Pleus. "We have an endless list of ways that people are losing their lives, and if we were able to build this power and create change at home, why not build this power across the nation?"
That's exactly what Almeida and about 50 others did on National Drug Awareness Day, Aug. 31, in Franklin, at an event she called both beautiful and sad as she described the messages inside the chalk outlines on the sidewalk.
"It was a place for people to connect with their loved ones," she said. "They said things like 'I love you and miss you,' and 'You're always on my mind.' Some people were writing things like, 'No more shame.'"
One of the speakers at the event, Gracie Parker, described the emotional roller coaster that has been her life.
"To everyone I look like a happy average young girl, but on the inside part of me is far from that," Parkes said. "I have parents but I don't live with them. I never knew my mom. She died from drugs when I was six months old. My dad is addicted to drugs and has been in and out of jail and rehab more times than I can count."
Parker is nine years old.
"Why did my parents choose drugs over me? Why couldn't I have a normal life with my parents instead of with my grandparents?" she asked. "I know that things are not that simple, but to me and other children like me, we have these questions and so many more."
Parker and her grandfather will accompany Almeida to D.C. later this month. Almeida said that they're still planning the trip, and that anybody is welcome to come.
"We would love to have a million people come for this," she said. "That's probably the number of families alone who are suffering related to those losses."
For more information on the Trail of Truth event, visit trailoftruth.org. To contact Almeida about memorializing a loved one or traveling to Washington, email This email address is being protected from spambots. You need JavaScript enabled to view it..