Archived News
Forced to Fight: Opioid data puts local addiction in context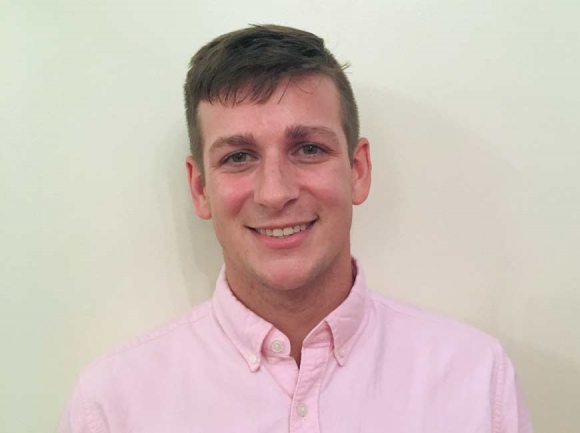 Clayton Suggs.
It was finally moving day, and that empty little Greensboro apartment must have seemed like a mansion to 29-year-old Clayton Suggs.
Fitting, the lack of furnishings; the whole thing was a blank slate, a new start.
It had taken Clay a while to work his way up to living on his own again, without any supervision, so he accordingly spent the day engaged in the mundane — folding clothes, shopping for groceries, figuring out where he was going to put the television his mom had placed on order for him to pick up at the Walmart the next day. He sent her a Snapchat of him and his girlfriend, who he met at church. The caption read, "My new life begins."
His old life had been a desperate struggle with the opioid addiction he'd developed after a routine surgery. He'd been in and out of rehab time and time again, but this time, this time it would be different. He'd been clean a year. He'd graduated a program. He'd found a job, found his faith, found his future.
Clay's story isn't much different from that of hundreds of thousands of others who, through no fault of their own, found themselves hooked on powerful prescription painkillers, most of which come in pill form.
Seven years is what it took for the star student to hit bottom and then fight his way back to moving day, the first day of his new life, unpacking boxes mindful of the furniture his grandparents would next week bring from storage. As his mom Michele Rogers traveled that road with him, she was left with just one question.
"Where are all these pills coming from?" she asked. "I don't know where these pill dealers get all these pills."
On a local level, answers to that question have been little more than supposition until the July 16 Washington Post publication of U.S. Drug Enforcement Administration data that tracks the distribution "of every single pain pill sold in the United States."
In stunning fashion, The Post's report maps the size and scope of prescription pill distribution fueling the ongoing opioid crisis that ensnared Clayton Suggs, and thousands like him.
While unpacking, Clay told his girlfriend he had to run an errand, and that he would be right back.
Greensboro, located just east of Winston-Salem, is in the north-central part of the state and more than 200 miles east of where he was raised in Haywood County, but he was there for good reason — another attempt at recovery. What it took to get Clay to that moment, his first alone in his new place, was impressive considering he probably should've never been there at all.
"Clay was born an adult, I always said. He was my first child, our family's first grandchild," said Rogers. "He was so easy I thought, 'Wow, I could have 10 of these. He's a breeze.'"
Smart. Athletic. Outdoorsy. Baseball and fishing were his thing. Trouble was not. After graduating from Tuscola High School in Waynesville, Clay was working full-time, going to community college and had actually purchased a home of his own, all by his early 20s. He transferred to Western Carolina University and pursued a business degree, and thought of becoming involved in the region's flourishing sport fishing industry before he instead found himself hooked.
"He was living the dream. He owned a home, he had a girlfriend of five or six years. They were talking about getting married and having a family," she said. "But he also had sinus infection after sinus infection."
Following a routine 2011 surgery during which his nose was intentionally broken and his sinuses were scraped Clay was sent home with a prescription of Percocet, an opioid analgesic necessary for the incredible pain he'd have to endure for a few days, or weeks.
Unbeknownst to anyone at the time, he quickly exhausted his supply and called in for a refill. And then for another.
"He became addicted," Rogers said. "He bought a house, he was going to school, he was making his mortgage payments, but he was what I now refer to as a functioning drug addict. His girlfriend didn't even know it."
Rogers didn't know it either, until one day about two years later Clay shot off a bright red flare into the clear blue sky.
"He came to me for money," she said. "I just thought, something's going on because he's always supported himself, he's always made really good money. He came to me for money. And then again. And then again."
Clay began buying pills on the street and the more he bought the more he needed to buy, just to get by.
"When it started affecting his finances, we — meaning his girlfriend, me, his dad, his stepdad, his stepmom — we said, 'Something is going on with Clay,'" Rogers remembered. "He asked me if we could go for ride, and talk."
The parking lot of a supermarket is where they ended up after he asked her to stop the car.
"I can't pay my mortgage, mom. I spend all my money on pills," he told her. "I'm a drug addict and I need help."
Rogers said she was gutted.
They sent him to rehab on the coast, in Wilmington. He came back. Then he went again. Then he came back again. Six months of sobriety was about the limit. In. Out. Sick. Straight.
"And every time he relapsed," she said, "it got worse."
Asheville. Morganton. Greenville. Starting over, on one side of the cycle or the other. For years. He tried for years.
"He suffered," said Rogers. "I saw him break down and say, 'Mom why did this happen to me? I don't want this. I'm trying so hard.'"
Once, while in treatment, he sent his mom a link to a music video. It was American rapper Macklemore's 2016 song Drug Dealer, which is highly critical of the pharmaceutical industry's role in the opioid crisis.
My drug dealer was a doctor, doctor
Had the plug from Big Pharma, Pharma
He said that he would heal me, heal me
But he only gave me problems, problems
My drug dealer was a doctor, doctor
Had the plug from Big Pharma, Pharma
I think he trying to kill me, kill me
He tried to kill me for a dollar, dollar
"This has happened to so many people," he told her. "Not just me."
Over the course of seven short years, 2006 to 2012, more than 76 billion oxycodone and hydrocodone pills were manufactured and distributed in the United States — about 230 pills for every person in the country.
That's just one of the disturbing facts The Washington Post uncovered after a court battle with the DEA over ARCOS, the Automation of Reports and Consolidated Orders System. Waged in conjunction with HD Media, publisher of the West Virginia-based Charleston Gazette-Mail, The Post's litigation took a year, but eventually an Ohio federal court directed the DEA to release tracking data for nearly 380 million pill transactions over that time.
The Post filtered through those transactions and re-presented them in a fully searchable database that's available online for free with a trial account, or with a paid subscription.
"The Post is making this data available at the county and state levels in order to help the public understand the impact of years of prescription pill shipments on their communities," reads the story. "The Post believes this is a critically important set of data, which is why we are making it public and accessible to readers and other journalists. We think there are hundreds of stories within this data set and need your help to understand what it means to you and your community."
Clayton Suggs' story is just one of those stories, and although he really didn't start abusing prescription opiates until the tail end of The Post's data set, he was undoubtedly affected by the uptick in pill production. According to The Post, distribution "surged" 51 percent from 8.4 billion pills in 2006 to 12.6 billion in 2012. Almost 100,000 people died from prescription opiate abuse in the U.S. during that time frame.
The Post's analysis shows that nearly 88 percent of those pills were manufactured by three companies — SpecGx, Actavis Pharma and Par Pharmaceutical. From there, 75 percent of those pills were distributed by just six entities — McKesson Corp., Walgreens, Cardinal Health, AmerisourceBergen, CVS and Walmart.
Maps generated by The Post's data set show an "opioid belt" consisting of more than 90 counties spanning Appalachia, from central West Virginia through southeastern Kentucky.
The belt contains 12 of the top 20 counties for pills per capita, and 18 of the top 20 counties for prescription opioid deaths per capita. The buckle of that belt is the two-county Hatfield-McCoy feud region straddling the West Virginia-Kentucky line — Pike County in the latter, and Mingo County in the former.
More than 5.5 million pills were distributed each year in Mingo County from 2006 through 2012, to a county population of only 24,000 people. Likewise in Pike County, where 9.5 million pills a year were distributed to a population of 59,000 people.
As with all data, there are some important caveats. The Post only tracked hydrocodone and oxycodone, because they're the ones most likely to be abused and as such account for 75 percent of all opioids in the database — meaning there are many, many more pills not accounted for in their data set, each likely with their own sad set of stories.
Perhaps most importantly, all those pills don't always stay where they're distributed and instead end up being diverted from legitimate uses to abusers in other counties, states or regions. The Post's data set shows only pharmacies that received the pills. That methodology creates some outliers — Charleston, South Carolina and Leavenworth, Kansas, for example, show inflated numbers because they're home to regional distribution pharmacies for the U.S. Department of Veterans Affairs.
That being said, the quickest and easiest conclusion one might draw from The Post's prescription pill study is that there is almost nowhere in the United States one can go to escape them.
"We kept thinking, 'If we could just get him out of here. If we could just get him out of Haywood County,'" Rogers said of Clay. "You can't. You can't move away from addiction."
Millions of those illicit pills made their way to Western North Carolina, where Clayton Suggs would have little trouble finding them.
"I used to think, well, somebody wants to buy the drugs and somebody wants to sell the drugs," said Rogers. "But dealers really do prey on those afflicted with addiction. Here's how they operate."
Clay's dealers, Rogers said, would call him boasting of ample supply.
"I don't have any money," he'd tell them.
"I'll just front them to you, and you pay me Friday, when you get paid," they'd tell him.
When Friday came, Clay's bills competed with his habit, but violent threats from certain creditors guided his hand. He'd sell things dear to him. His bow. His laptop. Anything. When he'd show up to his dealer's house to settle his debt for pills he'd already consumed, the cycle began anew with another offer of an advance.
"Every time I drove over there," he told his mom, "I would sit in the driveway and say, 'Be strong. Be strong, Just pay him and leave.'"
Invariably, the offer would come.
"I don't have any money," he'd tell them.
"I'll just front them to you, and you pay me Friday, when you get paid," they'd tell him. "Just take them."
And he would. Around 2016, just five years after that sinus surgery, Clay was having an easy time finding but a hard time paying for the dozen or more pills he needed each day to avoid serious withdrawal symptoms.
"The number of pills that he was taking in a day, I thought my head was going to explode," said Rogers. "How can a person's body even handle that? Where are these pills coming from? Where are these drug dealers who are saying, 'Hey I've got 40 more and I'll front them to you,' where are they getting them from?"
While North Carolina skirts the underbelly of The Post's "opioid belt," this state of 10 million people has not by a long shot avoided the consequences of massive opioid distribution.
During the seven-year period examined by The Post, more than 2.5 billion pills were sent to North Carolina distributors, or about 35 pills per person, per year.
The greatest per-capita amounts went to Columbus County (113 pills per person, per year) and Surry County (80), followed closely by Cherokee (77), Mitchell (77), Richmond (75), Vance (71), Rockingham (69) and Burke (68) counties.
Western North Carolina counties weren't underrepresented either, including aforementioned Cherokee (note: data refers to Cherokee County, not the ancestral homeland of the Cherokee people, known as the Qualla Boundary). Most WNC counties saw 50 percent more pills per person per year than the state average.
Trailing Cherokee County by a wide margin was Haywood County (55 pills per person, per year), followed by Graham (53) Swain (51) and Clay (51) counties, in the far western portion of the state.
Buncombe County, locus of the Asheville metropolitan area, saw 45 pills per person, per year, just ahead of rural Macon (44) and Jackson (43) counties.
Those figures, in turn, are nearly double the average amount of pills per person per year found in the state's largest counties, Mecklenburg (22) and Wake (24), a testament to the rural character of the opioid epidemic.
The prescription opiate overdose statistics, though, only loosely correlate to the amount of pills sent to a particular county. In North Carolina, some of the highest rates of overdose aren't in Columbus or Surry counties, they're in Swain, Graham and Cherokee counties — further testimony to the impact felt from the Great Smoky Mountains in the west all the way down to the Atlantic Ocean lapping the Outer Banks in the east.
That's a big reason why some WNC towns, like tiny Canton in Haywood County, have recently joined lawsuits against the pharmaceutical industry, after legislators in Raleigh began taking significant steps across party lines and across county boundaries to address the oversupply issue with 2017's STOP Act.
The STOP (Strengthen Opioid Misuse Prevention) Act limits first-time prescriptions for acute pain to five days' supply, and surgery-related prescriptions like Clayton Suggs' to seven days. It also mandates more robust use of the N.C. Controlled Substances Reporting System.
One of the primary sponsors of the STOP Act was Sen. Jim Davis, R-Franklin, whose rural district contains relatively hard-hit Cherokee, Clay, Graham, Haywood, Jackson, Macon and Swain counties.
Earlier this month, Gov. Roy Cooper, D-Rocky Mount, signed a bill known as the Death by Distribution Act, which makes it easier for prosecutors to charge dealers with second-degree murder for selling a lethal dose. Previously, prosecutors had to prove malice. The Act also cites existing "good Samaritan" provisions in N.C. law that already provide limited protection from liability to people involved in overdoses who report them to first responders.
Earlier this week, Cooper signed another widely-supported Davis bill, the Opioid Epidemic Response Act. A statement from Cooper's office says that from 1999 through 2017, more than 13,000 North Carolinians died due to unintentional opioid overdoses.
This latest legislative effort increases access to office-based opioid treatments, decriminalizes paraphernalia used for testing drug purity and removes the ban on state funding of syringe exchange programs.
Syringe exchange or disposal programs remain somewhat controversial — including those spearheaded in Western North Carolina by the N.C. Harm Reduction Coalition — but they have become part and parcel to the prescription pill problem and are gaining begrudging acceptance because many pill users eventually "graduate" to intravenous heroin use, as Clayton Suggs did around 2016.
"It was actually a dealer here in Haywood County who said, 'You need to try heroin. It's cheaper,'" Rogers said.
That dealer taught Clay how to use heroin, which eventually prompted Clay's admittance to a faith-based recovery program in Greensboro in the fall of 2017.
When he returned from running his moving day errand, Clay rejoined his girlfriend in setting about their work, putting the groceries away, thinking about the TV and the furniture and the boxes and bags and the new beginnings. She left him around 9:30 that night.
He told his mom that during the chaos of packing and unpacking, he wasn't able to find his phone charger but still ended moving day with a text, telling her he loved her. When he didn't respond to her texts the next morning, she wasn't concerned. Finally, she saw a 336 number flash across her phone while she was out at a restaurant.
"I said to myself, 'This is Clay, he's borrowed somebody's phone,'" Rogers recalls. "I stepped outside to take the call and the voice on the other end said, 'Is this Michele Rogers?'"
It was the Greensboro Police Department.
"Is something wrong?" she asked, frozen. "Has my son been in an accident?"
"Ma'am, I found your son at 10:15 a.m. this morning in his apartment," they said.
"You're lying! You're lying to me!" Rogers screamed into the phone, as she fell to the ground. "You're lying!"
She gave the phone to her husband, Clay's stepdad Rick.
"Talk to him!" she yelled. "He's lying to me, he says Clay's gone and he's not! How do you know it's my son just because he was in my son's apartment? You don't understand, he's been clean and happy and …"
"Ma'am, his best friend identified him," they said. "It's your son."
For the first time in a long time, everything seemed to be going right for Clayton Suggs. God. Goals. Girlfriend. He'd cast aside his aspirations of opening an outfitter or working as a trout guide in his native mountains in favor of serving alongside those who'd helped him in Greensboro — as a full-time employee of the program from which he'd just graduated.
"This time was so different," Rogers said. "He had been clean for almost exactly a year. He was so embedded in his faith, and so happy. I have stacks of handwritten letters of how happy he was. I truly thought he beat it."
It's hard to beat. Recovery is a daily fight, even for those who have been clean for decades. It never truly goes away, the craving. Against all sense, against all logic, it remains, leaving abstinence the only tenable choice. Like thousands of others, Clay never had that choice, and after recovering from his surgery he found himself wading through a sea of millions upon millions of pills, wherever he went.
"I just want my son back," said Rogers. "I don't want the addiction. I want the son I raised back."
Alone in his apartment on moving day, the very first day of 29-year-old opioid addict Clayton Suggs' "new life," he lost the battle he'd been forced to fight when he overdosed on a sinister concoction of heroin and fentanyl.
"I feel like the opioids stole my son from me," she said. "He hadn't even put sheets on his bed."
Delve into the data
The Washington Post's searchable database of prescription pill distribution information is available online. Although it can be accessed with a free trial account, purchasing a subscription helps support ambitious journalistic endeavors like those of The Post, which led to a federal court's release of the data cited in this story.
https://www.washingtonpost.com/graphics/2019/investigations/dea-pain-pill-database/?fbclid=IwAR2tCGdadX_Rj6ZI43-nUjycpEb7Gvu7CsA1l6x5hfWkCDba6Wfzjqi17Qs&utm_term=.776fd0e2c4c1