Archived Arts & Entertainment
Because of you I'm seeing open doors: Chicago indie-soul act rolls into Sylva
Tuesday, September 06, 2022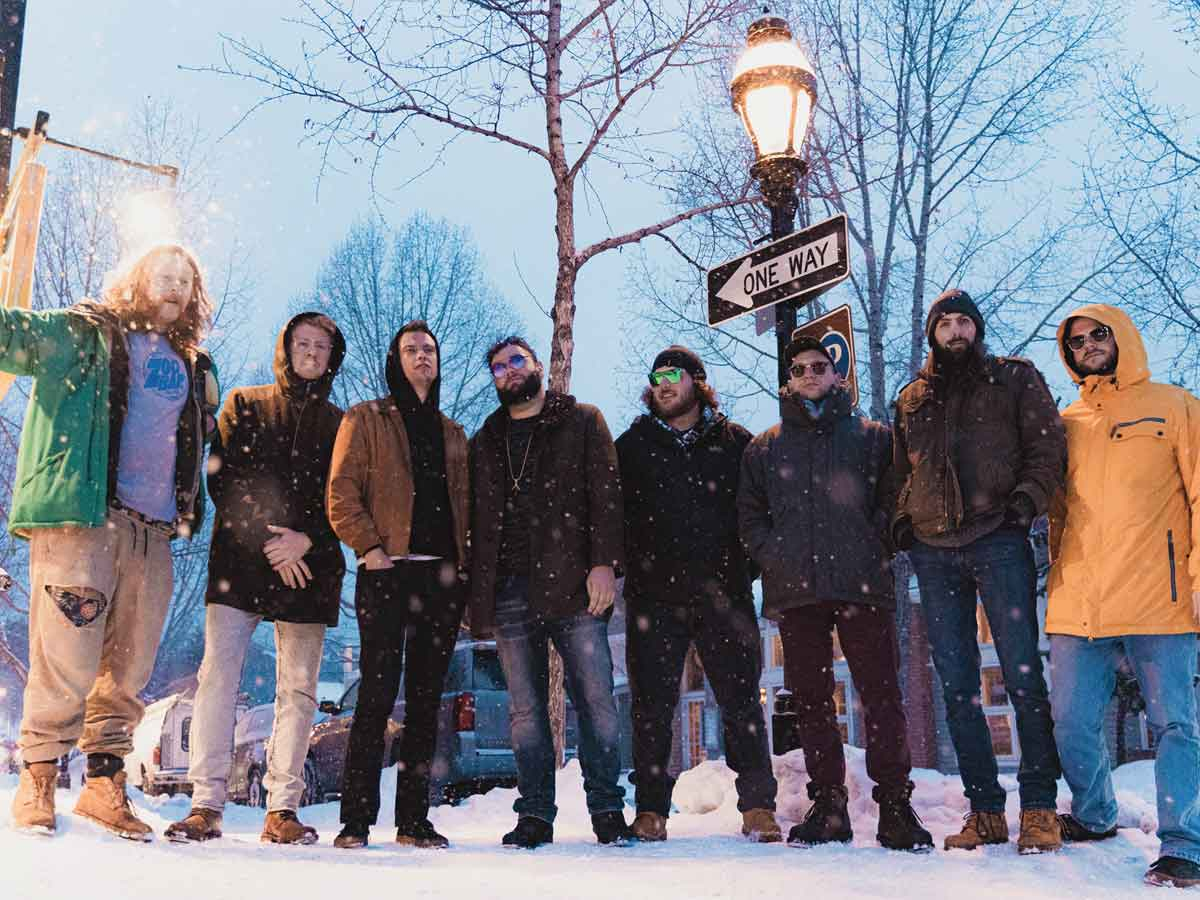 A popular Chicago-based ensemble, Sneezy, will bring its unique style of pop, soul and rock music to Nantahala Brewing in Sylva on Sept. 17.
Sliding into a booth at The One Stop, a storied basement music venue in the heart of downtown Asheville, lead singer Brett O'Connor readies himself to soon take the cavernous stage, standing before a microphone in front of a sea of anonymous faces — all eager to see just what he and his band, Sneezy, have to offer.
It's just about 700 miles from the ensemble's native Libertyville, Illinois, a northern suburb of Chicago. Now 32 years old, O'Connor got bit by the music bug in first grade alongside his best friend and classmate, multi-instrumentalist Jack Holland, who was up onstage doing final equipment checks in preparation for the Asheville gig.
Back then, the duo put together a rag tag unit (known as The Hound Dogs) to play the elementary school talent show. It was a rough-n-tumble initial outing, truth be told, but something deep and genuine emerged within the young boys — they were hooked, the creative spark of performance now lit for eternity.
By high school, Sneezy came to fruition, this wild-n-out band at the crossroads of pop, soul and rock. O'Connor and Holland soon recruited other neighborhood chums and high school cronies, everyone coming together as they were each learning the ropes of musicianship and collaboration along the way.
Now, this many years and miles later, Sneezy is bubbling out of Chicago and the greater Midwest as one of the most promising live acts in the current music scene and festival circuit — a stage presence of sheer energy, undying passion and pure, artistic beauty.
Smoky Mountain News: I've interviewed hundreds of bands over the years. And yet, I really can't think of a situation where the group started in elementary school.
Brett O'Connor: [Laughs]. I don't know, man. We started this band when we were six years old. We've always had fun. It was just our thing that we liked to do, and all of our friends loved to come to our shows.
We started as The Hound Dogs, then switched the name to Sneezy around sophomore year [of high school]. My initials are "BOC" and there was this one random kid at school that would yell out "BOC" in the hallway every time he saw me. So, one time, I sneezed when he did it and he goes, "BO-Sneezy."
We were kids and everyone kept calling me "BO-Sneezy." Jack and I were jamming one day and just decided then and there to name the band Sneezy.
SMN: You have a very unique voice. Where did you learn to sing?
BOC: Just from singing in front of people since I was little kid. I think it's just more about putting yourself out there. I have a different philosophy on what a good voice is. Because everyone can sing. I'm sure if I asked you to hold a pitch right now, you could do it.
I'm very curious in how other people perceive what a good voice is, compared to what a bad voice is or not a good voice. And I think it's just like the ability to be present and communicate with people through music, emotionally. I was never able to read music, but I've always been able to communicate what I'm feeling through the music I'm creating and performing.
SMN: Your music is all over the map. There's a lot going on in there.
BOC: So, Jack, for example, he's the music history guy. He loves The Grateful Dead, Allman Brothers and southern rock. And Austin Lutter, our lead guitarist, is a metal head, where his favorite genre is death metal. And the other guys in the band, they like funk, Red Hot Chili Peppers, hip-hop, James Brown and stuff like that. All of these musical influences are what makes our sound — everything feeds everything.
SMN: Being a touring band is tough. How do you overcome all of the obstacles of the music industry, especially in a modern world with a lot of white noise?
BOC: We've been making waves everywhere we've gone — the people in the room, the appreciation for the moment that we're able to share with an audience. In the music industry, you've got to know the people, and we've yet to meet the right people to help break us into the industry, to get us in front of an audience.
And that's what we're looking for — people who can actually get us in front of those larger audiences in those bigger touring markets. We just want to spread good vibes and make a positive impact.
[Since the pandemic and the shutdown in 2020], what we want to do with our music has been cemented. We have to do this now. During that down time, we needed to be there for each other, and we all were. We were brothers before, but we're inseparable now.
This band has always been about getting our friends together and having a good night. And, as long as we can make enough and can continue to do that? Well, that's what we're going to do.
Want to go?
Presented by Adamas Entertainment, the inaugural "Endless Summer Slam" music festival will be held from 4 to 11 p.m. Saturday, Sept. 17, at the Nantahala Brewing Outpost in downtown Sylva.
Taking the stage will be Sneezy (rock/soul), J.J. Hipps & The Hideaway (blues/rock) and Shane Meade & The Sound (rock/indie). Doors open at 4 p.m.
Tickets are $15 in advance, $20 at the door. For tickets, search "Endless Summer Slam" at eventbrite.com.
828.641.9797 or adamasentertainment.com.
Leave a comment
1

comment
Chicago is a crime infested jungle.

Wednesday, 09/07/2022