Archived News
When the next one comes: Emergency managers work toward flood preparedness
Wednesday, August 17, 2022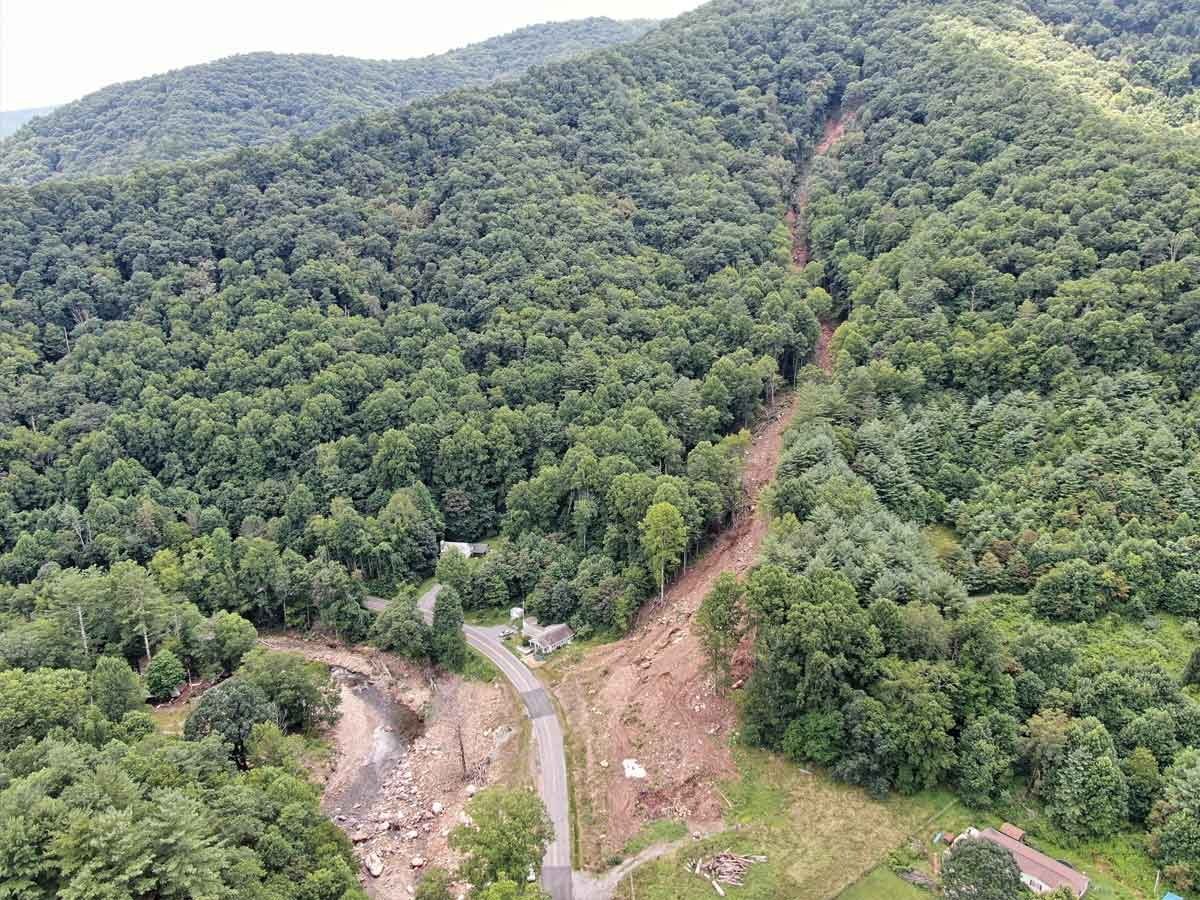 Tropical Storm Fred triggered a mudslide along U.S. 276 near the Cruso Fire Department. Allen Newland photo
In the year since Tropical Storm Fred ravaged Western North Carolina, emergency managers have been busy working to ensure that next time a wall of water tears through Haywood County, it will exact a much lower cost to life and property.
"It was a tremendous amount of rise in a rapid period of time, and the fall was just as quick," Haywood Emergency Management Officer Zack Koonce said of the flood that swept from Cruso to Canton Aug. 17, 2021. "So we're hoping that with the systems that will be in place we're able to develop a window and a timeframe to be able to give citizens an action point to make the steps to evacuate."
The county has secured a $175,000 grant from the N.C. Department of Public Safety to install four new rain gauges and seven new river gauges, as well as $1.525 million for three siren warning systems.
The rain gauges will go in near the headwaters of major streams at High Top, Twelve O'Clock Top and Dicks Creek, while the river gauges will go in at Cruso, above Canton and possibly in the Upper Hominy/Asheville Highway corridor just east of Canton. The siren warning systems will be installed in Cruso, Lake Logan and Bethel.
"We don't know what we don't know," said Koonce. "So we're hoping that once we get these systems put in place, we're able to start analyzing the data and working with the National Weather Service to develop timeframes and windows on the predictability of this much rainfall fell on the ridgetop and it took this long for the river to rise to a certain point of action."
The rain gauges will report live data — every time the bucket tips, it will send a signal and report accumulation down to hundredths of an inch. Meanwhile, the river gauges will use lasers to measure the water's height, taking a reading every five minutes and making a report to the N.C. Flood Inundation and Alert Mapping Network every 15 minutes. With upgrades coming to FIMAN, that frequency may increase, Koonce said.
"The state's also helping us with these projects, and so they're hoping to build FIMAN out to be more of a bigger system than what it is right now," he said.
Further in the future, Koonce wants to see livestreamed cameras installed at key sites. This would help emergency managers better correlate gauge data to stream conditions while also giving residents a visual understanding of upstream flooding. Koonce and his team have found some cameras that would be up to the task but are still working on how best to transmit data. Then they'll tackle funding.
Next time a big flood comes, Koonce wants Haywood County to have everything in place it needs to give residents time to escape. He thinks it's an achievable — albeit difficult — goal. But Rob Young, director of Western Carolina University's Program for the Study of Developed Shorelines, isn't so sure.
"That wall of water came down the drainage so quickly that you're almost never going to have much time to respond if you are in harm's way," he said. "I think it's great to try and do what you can to provide some warning to folks, but at the end of the day, the only real solution is to not have people in harm's way in a place where flash flooding can occur so rapidly and so dramatically."
In a mountainous region facing an acute housing shortage and a dearth of buildable land, keeping dwellings out of flooding-susceptible areas is difficult, especially since such events occur so infrequently in any given location. However, Koonce said, multiple programs are working to reduce residents' vulnerability to future flooding in the wake of Tropical Storm Fred. There are 32 households in process for flood mitigation buyouts of their land, and others are enrolled in programs through FEMA Hazard Mitigation and the N.C. Office of State Budget Management to elevate their homes above flood level.
"Of course we can't prevent flooding," said Koonce. "We can't prevent the amount of rainfall we get in the area and how fast it comes, but we can do everything we can to mitigate the hazard."
Unfortunately, said Young, the East Fork Pigeon is just one of hundreds of mountain streams in the Southern Appalachians that could swell to a deadly rage, given the right conditions. "It's hard to imagine" outfitting each of them with the extensive instrumentation planned for southern Haywood County. Grant funding tends to be available for places that have already experienced a disaster, he said, not those merely at risk of one.
A flood-impacted property undergoes debris cleanup. Allen Newland photo
"We tend to be reactive rather than proactive when we talk about flood hazards in general," he said. "Almost no buyouts happen in properties that have not been flooded. We tend to spend money putting instruments in places where we just had the big flood. We don't go to all the watersheds that have not had the big flood yet and spend money putting instruments in those."
Case in point, perhaps, is neighboring Jackson County. As Tropical Storm Fred passed through the mountains, the heaviest rainfall dumped on the Transylvania/Jackson County line, where multiple rain gauges recorded more than 20 inches over 72 hours. The only reason Jackson didn't see flooding on par with Cruso and Canton was that the rainclouds centered on the Eastern Continental Divide, splitting the deluge between two watersheds.
"If that storm would have been a little further east, it would have been Jackson County we were talking about instead of Haywood County," said Jackson County Emergency Management Director Todd Dillard. "When those storms stop on top of these mountains, we have such huge areas with such large runoff, it's really hard to predict."
Unlike Haywood, Jackson County did not have a deadly flood last year. And unlike Haywood, Jackson County has not secured any million-dollar grants to improve flood warnings. Dillard's current focus is on getting as many residents as possible signed up for the county's Code Red alert system, and on maintaining strong lines of communication with Duke Energy. The company operates five dams in the county, providing a barrier to downstream flooding. When heavy rain forces Duke to open the gates, it's able to warn county EMS before releasing the water.
"It's not a perfect plan, but I do feel as comfortable as we can right now about what we have," Dillard said.
That said, North Carolina has been "very aggressive" about adding gauges to vulnerable locations since well before Tropical Storm Fred, said Josh Palmer, senior hydrologist for the National Weather Service in Greenville. Ever since Hurricanes Frances and Ivan hit in 2004 , the state has prioritized adding gauges and building out FIMAN, the interactive webpage that displays readings and flood forecasts.
"As a result of that, the state has one of the best, if not the best, stream gauge networks in the country," said Palmer.
Still, there's more to be done.
"If somebody asked me what to do with an extra million bucks or something like that, I think what I would do is map the vulnerability of all the watersheds in each county," said Young.
"Vulnerability" should take into account not just FEMA flood maps, Young said, but other types of flood maps as well as information about the houses in those areas — their elevation, construction methods, who lives there, and the community's social vulnerability.
"This may sound a little bit crazy, but I would want to go door-to-door in the places we identify as being high vulnerability and just make sure people really understand," Young said. "There are tons of people buying in here from out of state over the last couple years. People need to understand that if there's a tropical system that parks over them and they're in one of those places, they might want to stay with friends for the night."
Young, Koonce and Dillard all stressed the importance of education and personal responsibility in preventing flood-related death and injury. No amount of preparation can stop a flash flood — so it's vital that people who live in vulnerable areas understand the risk and know when it's time to get out.
"Our goal is to do everything we absolutely can to get the messaging out to the people that need to get it in a timely fashion and as early as possible so they can take action to save their lives and their family's lives and protect their property," Palmer said.