Archived Arts & Entertainment
Go tell it from the mountain: Jackson County venue offers world-class music, food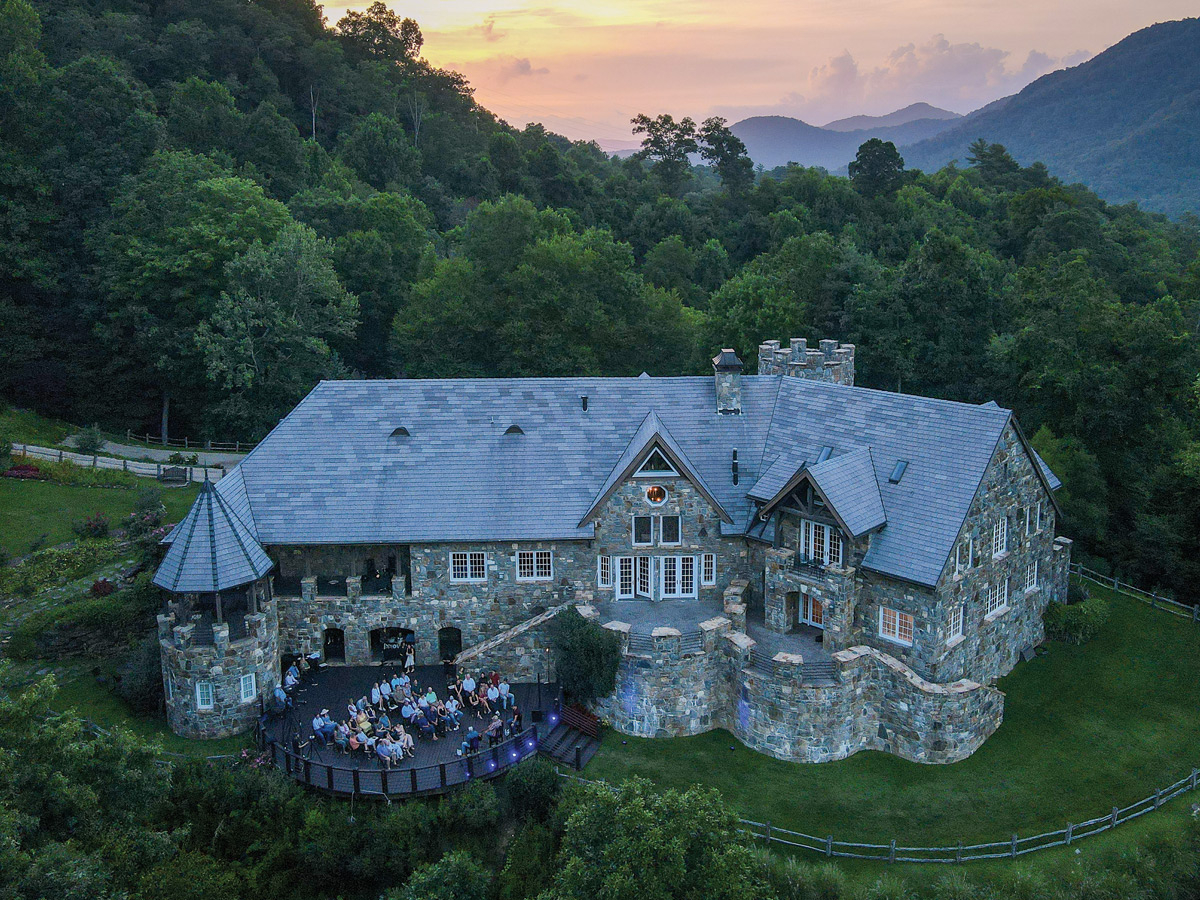 The "Castle Sessions" are an intimate showcase of renowned performers at the Castle Ladyhawke estate in Tuckasegee. (photo: Alanah Lucas, SilverWolf Studios)
Not far from the intersection of N.C. 107/281, just down Shook Cove Road in the heart of Tuckasegee, a large driveway soon appears to the right. On a recent evening, the massive entry gate is wide open to the public, all in anticipation of the evening's impending performance.
"With Castle Ladyhawke, we're able to bring in incredible musical artists right here to our backyard in Jackson County — this place is so unique," said Craig Smith, president and CEO of Tembo Hospitality Group. "When you come here, you're celebrating the arts and culture of this area, whether it's music, food, drink or simply the beauty of the mountains surrounding us."
Dubbed the "Castle Sessions," the performances are held once-a-month on the back patio of the massive 11,000-square-foot structure amid the 64-acre property. Capped at around 50 tickets, attendees are treated to an evening of fine dining and world-class entertainment, all with a serene backdrop of the ancient mountains of Western North Carolina.
Last week's showcase featured acclaimed singer-songwriters Gary J. Hannan and John Wiggins (who hails from Waynesville), with the session hosted by Nashville artist and Sylva native Matt Stillwell. The round robin style concert offered up several radio smashes, including Wiggins' #1 hits "Tequila Makes Her Clothes Fall Off" and "Who Are You When I'm Not Looking."
"This is, by far, one of the nicest places I've ever done a show — first class all the way," Wiggins said backstage after the concert. "I don't care where you go, I've never been treated any better than this, and that's the truth. But, to be able to do it in Western North Carolina, in these mountains where I'm from? It's a great experience."
"The biggest thing for me is being able to bring what I love about Nashville back to my hometown," Stillwell added. "And where you're up here at the castle or in these mountains, you're continually inspired, whether you're a songwriter or chef or simply visiting the area."
Initially, Castle Ladyhawke was a private residence, this dream home modeled after a Scottish fortress, one filled with authentic European antiques and architecture, where old wood and stained glass was actually reclaimed from across the Atlantic Ocean. With the owner having to leave the area several years ago due to health issues, the property sat somewhat dormant, only really being used for a handful of weddings and special events.
But, it was during the pandemic and shutdown of 2020 when the gears began to shift on the potential and future outlook of the castle. Smith, who lives in Bear Lake Reserve next door, got a spark of an idea when he saw Castle Ladyhawke come onto the real estate market a couple years ago.
Gathering a handful of investors who also call Bear Lake home, Smith and his group purchased the property and decided to turn it into a full-on wedding and event venue. To note, aside from the numerous "Castle Sessions" already on the calendar, some 88 weddings have been booked to take place at Castle Ladyhawke for 2022.
Singer-songwriters Matt Stillwell, Gary J. Hannan and John Wiggins. (photo: Alanah Lucas, SilverWolf Studios)
A lifelong live music aficionado, Smith wanted to put highly-talented artists onstage in the castle, something to complement the surreal and intricate aesthetic of the building. Atop the musicians standing in front of the microphone, Smith also tapped the shoulders of Santiago Guzzetti, executive chef/co-owner of Ilda; Nicole Dexter, co-owner of Innovation Brewing; and Don Panicko, co-owner of White Moon café/Dark Moon speakeasy.
"Everyone is so well-executed in their craft and art, and we're all championing each other," Guzzetti said. "For me, I really like the creativity of what's seasonal right now. Normally, I'll decide the day of or the day before on what I'm going to present for food at the sessions — what's fresh right now, what can we find an abundance of and see what we can put together?"
"These sessions are drawing attention to our community, to the eclectic talent and artists we have to offer here in Sylva and in greater Jackson County," Panicko added.
With Hannan, Wiggins and Stillwell taking the stage, Smith steps to the side and leans against the stone walls of Castle Ladyhawke. The sun is falling behind the Great Smoky Mountains as drinks are sipped with gusto. Another installment of the Castle Sessions is now underway, the seamless magic of natural beauty and melodic brilliance once again crossing paths.
"I literally get goosebumps when I'm here at one of these events. We're pinching ourselves. We can't believe we're even part of this," Smith said. "To see this stunning building — that once sat here empty — come back to life? It's something we're excited about and proud of."
Want to go?
The next installment of the "Castle Sessions" will feature country duo Thompson Square on Aug. 25 and singer-songwriter Ray Wylie Hubbard Sept. 22, with another showcase on Oct. 13 (artist to be announced).
Held at Castle Ladyhawke, all sessions will begin with a cocktail hour alongside heavy hors d'oeuvres at 6 p.m. with the concert to follow thereafter. Tickets are $200 per person, which includes an array of food and beverage options, atop the concert admission.
For more information on the performances and/or to purchase tickets, click on castlesessions.com or email This email address is being protected from spambots. You need JavaScript enabled to view it.. To learn about Castle Ladyhawke at Bear Lake Reserve, go to castleladyhawke.com.