Archived News
Blue Ridge Books celebrates 15 years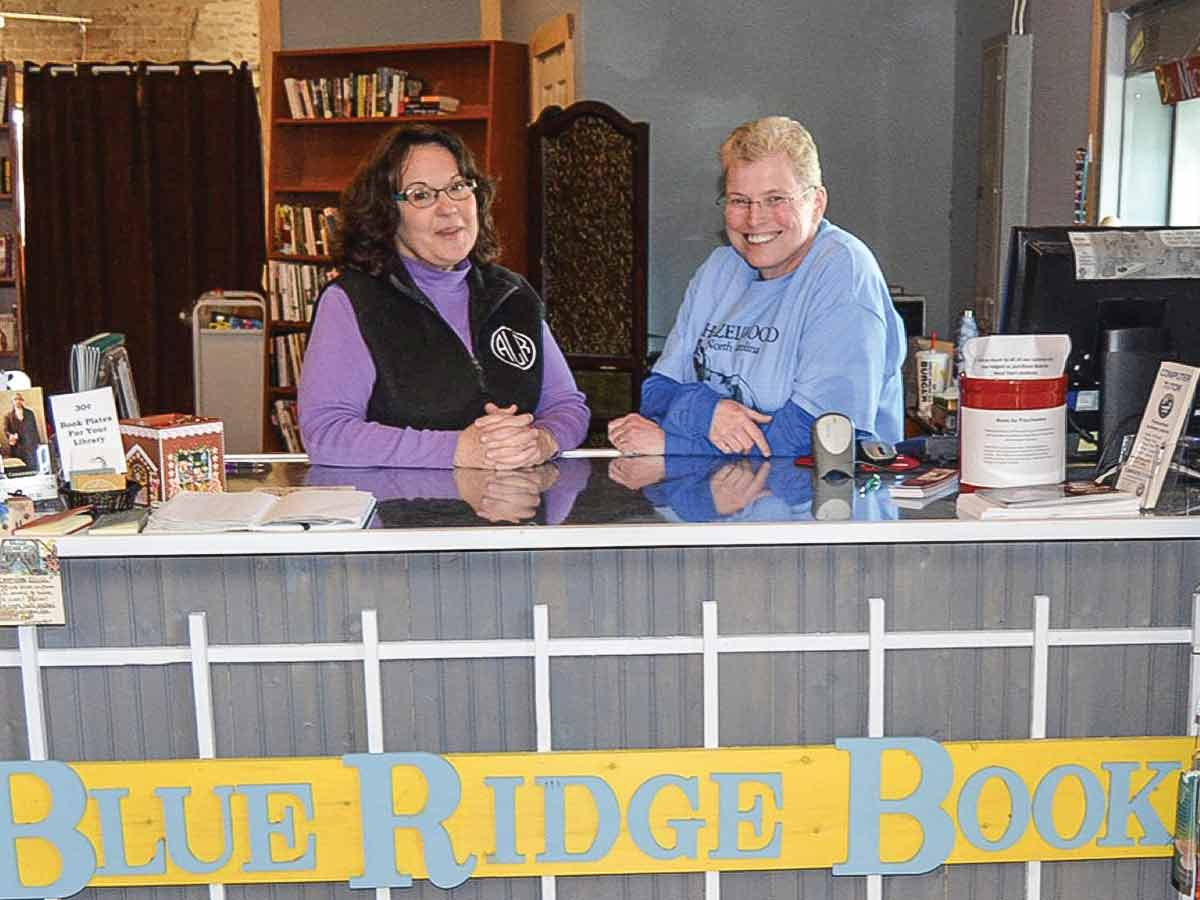 Co-owners of Blue Ridge Books, Allison Lee (left) and Jo Gilley (right) are celebrating 15 years in business. Hannah McLeod photo
In this day and age of Amazon, Kindles, big box bookstores, streaming services and social media that fight for more of our attention everyday, local, independent bookstores are in constant competition with these heavy hitters. And yet, those like Blue Ridge Books seem to weather it all. So what's the secret?
For Jo Gilley and Allison Lee, the secret lies in the community they serve, which in turn has sustained Blue Ridge Books through thick and thin for 15 years.
"The best thing we have is knowing our customers, loving our customers and loving the books," said Lee.
Lee and Gilley aren't your typical business partners. They had known each other and worked together for about six months when they decided to take on ownership and management of Blue Ridge Books from its previous owners Robert and Betsy Baggett. But 12 and a half years later, they are relishing in the community support as they celebrate the business's 15th anniversary.
Perhaps the most valuable part of this business for the co-owners is the cultivation of community. It has shown up with great force several times throughout the bookstore's history.
In 2017 Gilley and Lee relocated to the spot in Hazelwood they still inhabit. In doing so they have been a big part of the area's renaissance. The move was going to be a huge undertaking, and the two women had planned a whole month of in-between to get it all done. However, Manager Mary Skelton balked at that notion. An entire month? She said they could get it done in two days. Sure enough, Skelton employed the help of the Blue Ridge Books community and so many people showed up to help that many volunteers didn't even have work to do.
During the shutdown induced by the COVID-19 pandemic, people from around the region, and across the country that had visited the store at some point, did what they could to help the bookstore stay in business. Some people prepaid on their account to help with cash flow, and then picked up books as needed throughout the pandemic.
"Some of them are still buying things now, from what they paid back then," said Gilley. "During COVID we really saw how much community we had."
Local authors also played an important role in helping get through covid. David Joy posted on social media asking people to order his new book " When These Mountains Burn ," from independent bookstores in the region.
"People ordered from all over the country, it was amazing. It helped a lot," said Gilley.
For Gilley and Lee, books and reading have always been a core piece of their lives. However, that doesn't mean you'll find them reading the same books.
"For a long time 'Green Eggs and Ham' was the one book we had in common," said Lee.
For two avid readers, that's saying a lot. But they understood this as a strength. Their knowledge and interest in literature spanned as wide as it could for two people.
"There were so many times when books changed what I had always thought or what I had always known," said Lee.
"I think everybody feels safe and comfortable in a bookstore," said Gilley. "They come in here and, I mean, I kid, I tell everybody we're like a bar, you know, we listen to your problems as we're cleaning off the bar. It's just a safe place. We don't have to agree with everything they say, but they know they can say it."
This type of customer care is central to cultivating the community that sustains a local bookstore. There is a rule among book sellers, a universal one that will garner knowing nods and sly smiles from those in the business. The rule is no pointing. And while you may have been pointed in the direction of the biography or mystery/thriller section at a big-box store, you'll likely never experience that in an independent bookstore. These booksellers know that you stick with a customer, walk them over to a shelf or a section of the store and help them find exactly what they're looking for, or even better, the answer to "what do I read next?"
"It's all about matching the book to the person, trying to help them, that relationship," said Lee.
Those relationships don't only extend to the readers. Gilley and Lee have built some pretty impactful relationships with authors throughout their years in the business.
"We have a number of those authors, who when we ask them to do things, when we've collaborated with other organizations, they are always on board," said Lee.
Events and book signings help to get people through the door, connect, move merchandise and generally get people excited about a book. And while Gilley and Lee have done readings and events with a wide variety of authors, they are particularly invested in local authors. They always take the chance to point visitors toward the local section, a large shelf near the front of the store.
Navigating the constantly shifting environment of the book world is a challenge that Gilley and Lee are more than willing to face. They know that if they keep up with their customers, and the going on of the literary beat, they will succeed in bringing people what they need.
Do these two booksellers have a favorite book? Hardly. It shifts as often as they consume new material and delve into exciting new worlds, priming them for new suggestions every day. But there are those titles that have stuck with them ever since they closed the cover.
What are their hopes for the business over the next 15 years?
"I hope it's surviving and to see another generation come up that we've watched grow," said Gilley. "I want to be relevant to the community."
"Being able to be supportive of our schools is very important to us," said Lee. "We're always trying to figure out things to do, to be supportive of the schools, and I'd really like to continue to do that. Because I think there is a population of kids in school that are not reading and they're not reading books that reflect who they are and those are important things. Whoever you are and whatever your situation is, there is a book that can speak to you."