Archived News
Waynesville Housing Authority's new director searches for solutions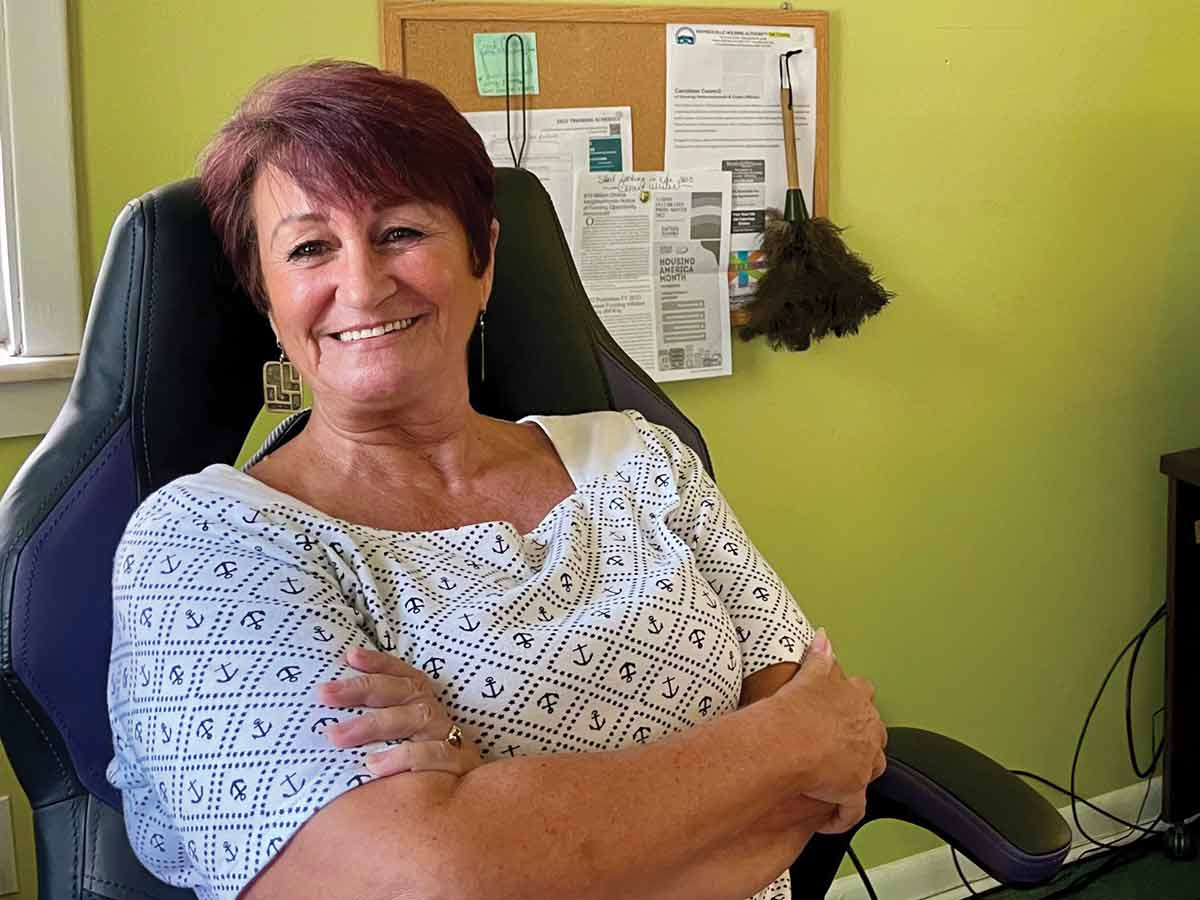 Tina Okenfuss brings a wealth of experience to the Waynesville Housing Authority. Cory Vaillancourt photo
She's only been here for three months, but Missouri native Tina Okenfuss is already looking to make a big impact on Western North Carolina's affordable housing crisis as the new executive director of the Waynesville Housing Authority.
"I've seen six- and seven-figure income people end up having to apply for housing," Okenfuss said. "One hit with the stock market and they lose everything. One severe medical issue can wipe a person's financials to nothing, and I've seen that happen. Having a housing authority and having it run to where it's decent and it's safe for your people is a benefit."
Founded in 1962, the Waynesville Housing Authority manages 100 units in four separate locations. Usually brick, single-story duplexes, there are eight in Chestnut Park, 12 near Pigeon Street, 20 off Boyd Avenue and 60 in Ninevah. Currently, 20 are studios, 24 are one-bedrooms, 25 are two-bedrooms, 23 are three-bedrooms and 7 are four-bedrooms.
Rents for the units are in line with the 30% rule — renters who spend more than 30% of their adjusted income on housing costs are considered burdened by those housing costs , according to the U.S. Department of Housing and Urban Development.
Affordability has been a persistent issue in Haywood County. Driven by a red-hot real estate market, skyrocketing prices for new and existing homes drive rents higher.
Finding available rentals in Haywood County is a challenge unto itself. According to Zillow , there were only 14 as of press time and the cheapest was still 25% higher than fair market.
The median income for an individual in Haywood County is less than $31,000.
Minimum rents for WHA properties start at $50 a month but can go up to 80% of the HUD fair market rent figure for the county.
At the Waynesville Tower, a 62-unit facility on Church Street, there are 52 one-bedroom units and 10 two-bedroom units. Occupancy, generally for the elderly, is consistently near 100%, but when a unit does become available it's quickly snatched up, as there is a waiting list.
The tower's maximum rent is set by HUD, and can vary greatly after considerations not only for income but also for childcare costs and medical expenses.
The WHA operates on an annual budget of around $1.5 million, of which around $550,000 comes as income from rent, $515,000 comes from HUD and another $500,000 or so comes from HUD for capital improvements and projects.
The local governments of Waynesville and Haywood County don't contribute anything.
All told, in this growing county of 60,000 people there are only 162 public housing units that can truly be called "affordable housing."
Although it does ensure some semblance of security for the county's most vulnerable residents, the public housing supply does not nearly meet the demand from other vulnerable individuals or make it any easier for working families to put a roof over their heads. If the WHA is to have an impact on the affordable housing crisis in Haywood County, Okenfuss will have to work within a siloed affordable housing ecosystem to address the supply issue.
But first, she'll focus on the WHA itself, to ensure those 162 units remain available.
Each year, physical property inspections are conducted across the nation by HUD's Real Estate Assessment Center for each property insured, owned or subsidized by HUD.
According to HUD, around 20,000 inspections are conducted every year to verify the units are sanitary, safe and generally in good repair. The inspections are then scored on a 0-100 scale.
The lowest scores, all in the single-digits, belong mainly to housing authorities in Brooklyn, New York, and Hoboken, New Jersey.
The highest scores were recorded in Tuscaloosa, Alabama, and Stamford, Connecticut, along with 19 others cities that all notched a perfect 100. Representing North Carolina, New Hanover also earned a perfect score.
The Waynesville Housing Authority scored a 79 . Out of 6,524 scores recorded, Waynesville ranked 4,366th, placing it near the top of the bottom third.
"There's a financial end of that, and a management and occupancy [section], and all of that works together just like a report card for a final score," Okenfuss said. "Right now, [the WHA is] a standard performer. It's kind of stale at the moment because as with every housing authority, we've been through the COVID thing, where they could not get into the units for two years."
Waynesville's last inspections were last conducted on Nov. 6, 2019 — just before the start of the Coronavirus Pandemic.
"When I came here and I looked at these units, I thought that for the age of it, it's in very good shape," Okenfuss said.
Okenfuss credited Beth Kahl, interim executive director for the past two years, with leading the maintenance team through a difficult time.
"If you can imagine not being able to get into those units for two years, now housing authority staff is having to go in and go, 'You know, we really gotta get this kicked up and get going and get it back to where it should be,'" Okenfuss said. "So that's kind of where everybody's at right now. We haven't had [a new HUD inspection] yet, but it will be Aug. 4."
With the inspection looming, Okenfuss doesn't plan on being caught flat-footed.
"What I've always done is, I've had an independent contractor come in and go in every unit to make sure that we're ready for that official HUD score. We just had that done and we had a couple problem areas, but not bad," she said. "We're keeping our fingers crossed that we do very well, or at least somewhere in the middle. I don't want those lower scores, you know?"
Although far from failing, the WHA can certainly stand some improvement. Okenfuss' experience makes her a solid candidate to do just that.
Okenfuss grew up in southeast Missouri and began her housing career at the housing authority in Jefferson City, the state's capital. From there, it was on to St. Louis, and then to a small housing authority in St. Genevieve, where she served as executive director.
"It was actually designated as one of the worst housing authorities in the United States," she said. "I had come from Jeff City, which was a big housing authority with real problems, and I thought, 'What's the problem? You don't have really bad stuff here.' When I got there, they would score between like the 30s and 40s. The management just wasn't there."
Within two years, Okenfuss led the authority to become a high performer with perfect scores. She stayed for 15 years. During that time, she earned a master's degree in clinical counselling. After a few more moves and another master's degree, this one in professional counselling, she worked briefly in the corrections industry in South Carolina but wanted to return to housing. She's about to receive her third master's degree, this one in criminal justice.
"So I'm highly educated," she said, "but I also have common sense."
Okenfuss says that Waynesville has one of the better housing authorities she's seen in her 25-year career.
"Housing authorities, there's a lot of problems with them — mental health issues, drugs, violence. All of that goes with low income, no income and poverty. That's a breeding ground for criminal activity and the larger it is, usually the worse it is," she said. "So these smaller housing authorities are able to focus a little bit more on the residents and on keeping our housing authorities safe."
Okenfuss isn't just concerned with maintaining WHA's supply of public affordable housing — she's also keen to do what she can to increase the supply, be it public, private or public-private partnerships.
"The board that I work under right now, one of the things that they want to bring to the area is affordable, moderate and low-income housing," she said. "Whatever we need to do in order to do that, I mean, I'm willing and I know my board will support partnering with whoever to get that moderate to lower-income housing here, because there definitely is a need."
Patsy Davis, longtime director of local social services agency Mountain Projects, said she'd love to pull together a project with multiple partners.
"United we're stronger," Davis said. "I like to work with nonprofits with the same mission."
Much of the recent development in Waynesville and outlying areas doesn't include affordable housing units, but rather consists mostly of workforce housing or market rate housing.
Although there's a theory that building any new housing allows some people to "move up" thus creating vacancies in cheaper housing units, Davis doesn't totally buy it.
"As new units come on the market, I haven't seen it lessen the burden on those we serve," she said. "I haven't seen that as much as I would like to. I think that's because we lose a lot to short term rentals."
Right now, Davis said she's working with the Givens Estate, an Asheville-based senior living community that developed the Great Laurels of Junaluska.
"They focus a lot on senior housing," she said. "They bring so much knowledge and expertise. I've been partnering with them and trying to find some property."
When she does, she'll have the operating capital to help with construction costs. In January, an anonymous donor gifted Mountain Projects with a 137-acre tract in Panther Creek worth roughly $2 million.
Although the land isn't exactly suitable for the higher-density type of development affordable housing developers need — it lacks sewer and water connections — the staggering act of generosity will still have a substantial impact on Davis' work.
Two weeks ago, the land was sold. Davis didn't disclose the arrangements, but did say that some of the purchase price would be owner-financed to ensure a steady stream of operating capital in the future.
Additionally, Davis said there are currently two pending applications in at the North Carolina Housing Finance Agency — the same entity that helped fund redevelopment of the historic Haywood Hospital into senior living apartments through tax credits.
Davis said she was encouraged by the progress being made to provide affordable housing in Haywood County, and that she'd welcome more cooperation between all the players in the affordable housing ecosystem to help move things along.
"There's a lot happening," she said. "It's just not happening very fast."