Archived Arts & Entertainment
Obstacles are opportunities: Franklin community market bridges food, music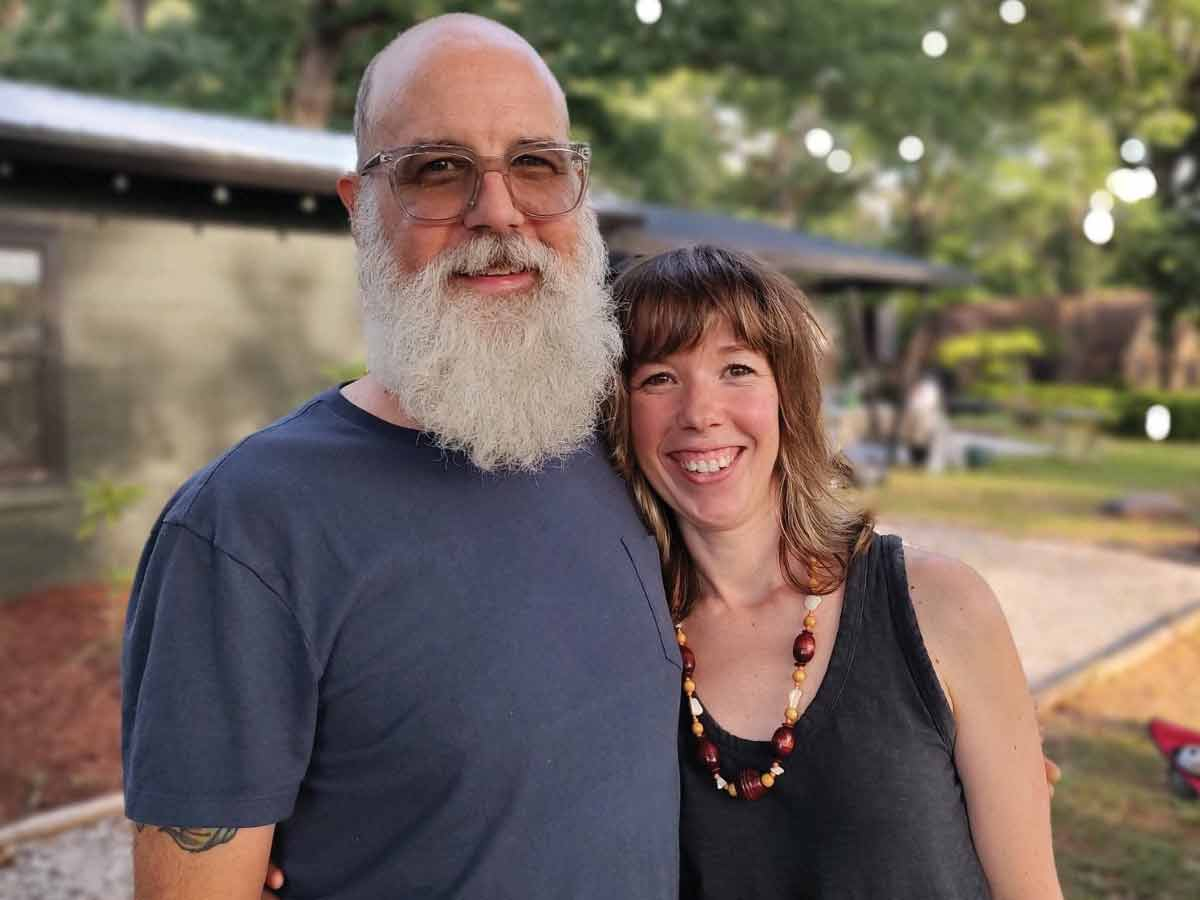 Alan and Hannah Edwards.
With a hot mid-July sun falling behind the mountains last Thursday evening, rock legend Tommy Stinson strapped on his Gibson acoustic guitar and stood behind a microphone on the side lawn of Yonder Community Market in Franklin.
Facing Stinson were a few dozen concertgoers sitting in lawn chairs and at small wooden tables, each there to witness a rare, intimate solo gig by a founding member of alt-rock icons The Replacements, who also had a 16-year run as part of Guns N' Roses.
"We want to create a place of good vibes, and to be good hosts to whoever plays here, to whoever finds themselves here to listen to the music," said Hannah Edwards, co-owner of Yonder. "We're always looking at different ways to expand our vision and to find new ways to bring the community together."
Alongside her husband, Alan, the couple is at the helm of Yonder, a multifaceted property of local food, live music, cozy lodging and genuine connectivity just outside of downtown Franklin on the corner of Georgia Road and Hillcrest Avenue.
"Whether we realized it or not at the time, everything that's happened has been a true blessing," Hannah said. "Opportunities are still presenting themselves, and we're trying to stay positive, all with success in our minds — this is where we want to be and what we want to be doing."
Yonder Community Market specializes in a wide selection of local provisions.
Originally from Cartersville, Georgia, Alan crossed paths with Hannah when he relocated to her native Charlotte several years ago. He was a longtime musician and owned a small business, while she was headlong into the hospitality and restaurant industry. Not long after they married, the duo started realizing the city life wasn't for them, where the noise and distraction was too much — solitude and a slower pace was the remedy.
Soon, they'd find themselves meandering around the mountains of Western North Carolina, ultimately taking the scenic route through Macon County to visit family in Cartersville. In 2017, almost serendipitously, they found a cabin tucked into the woods in the area known as Otto.
"And we made this giant move to leave Charlotte and move to Macon full-time," Hannah said. "When we came here, I knew my true passion was in the hospitality world. I love cook and entertaining, and both of us are really passionate about eating well — being able to offer people food that's local and not processed."
That keen philosophy of local provisions parlayed itself into the launch of the Yonder restaurant in March 2018. Located on Georgia Road, the establishment was a labor of love, with Hannah making everything from scratch — handmade with local ingredients, no compromises.
"Our motto is 'real folks, real food,'" Hannah said. "It's not just a tagline, it's a way of life that we want people to embrace and be educated about — to eat real food and not the corporate-run food that's everywhere."
Though Yonder held steady and began to flourish in those early days, the pandemic and ensuing shutdown of 2020 decimated restaurants worldwide, with the business (as it was initially presented) eventually falling victim to the closure of public spaces.
Rock legend Tommy Stinson performing last week on the side lawn of Yonder Community Market in Franklin. (photos: Garret K. Woodward)
Not to be deterred, the Edwards transitioned all of their local meat, produce, cheese and beverage connections into an online community market where folks could pre-order items each week. And what was seen as a temporary financial solution for the Edwards — and also the local providers still in limbo during the shutdown — kicked off the next chapter of Yonder.
"Everything was so uncertain. We were in survival mode, but we were able to keep the community fed," Hannah said. "And we were able to keep our small farmers paid, our bread makers paid, our local dairy farms paid — it was incredible."
With the success of the online service, the couple bought an abandoned property on Hillcrest Avenue and began renovating the old garage into a curbside pickup for local provisions, the building itself taking shape into a walk-in community grocery store once COVID mandates were lifted.
"All of the money spent here is not going to outside corporate interest; our money is staying inside our local economy," Alan said. "We believe strongly that small communities need micro-economies — the more a community supports itself and supports each other, imagine how transformative that is for all of us."
And as society has begun to reopen and reconvene, Yonder as it stands today is a testament to the never-give-up attitude and community-minded ethos of the Edwards. The property is a beehive of humanity, hosting live music and yoga sessions regularly. There's also an onsite AirBnB, with plans currently in the works to expand the store, build an outdoor stage, and offer more activities.
"I still can't believe that we've gotten to this point — it's been a long journey," Alan chuckled. "In my life, and in our lives, you say you're grateful or thankful for what has come to be. But, I've never really understood what it meant completely until these past couple of years — we're grateful and appreciative."
Want to go?
Yonder Community Market is located at 151 Hillcrest Ave. in Franklin. Offering local provisions, hours of operation are noon to 6 p.m. seven days a week. For more information, call 828.200.2169 or click on eatrealfoodinc.com.
Yonder will be showcasing an array of local, regional and national touring acts, including John Duncan (Americana/traditional) 7 p.m. Friday, July 22, and Hannah Kaminer (singer-songwriter) 2 p.m. Sunday, July 31.
Concerts are free and open to the public (unless otherwise noted). Donations encouraged. Bring your own lawn chair. To learn about other upcoming happenings, go to facebook.com/realfolksrealfood and click on the "Events" tab.