Archived News
Legislation provides some assistance to school nutrition departments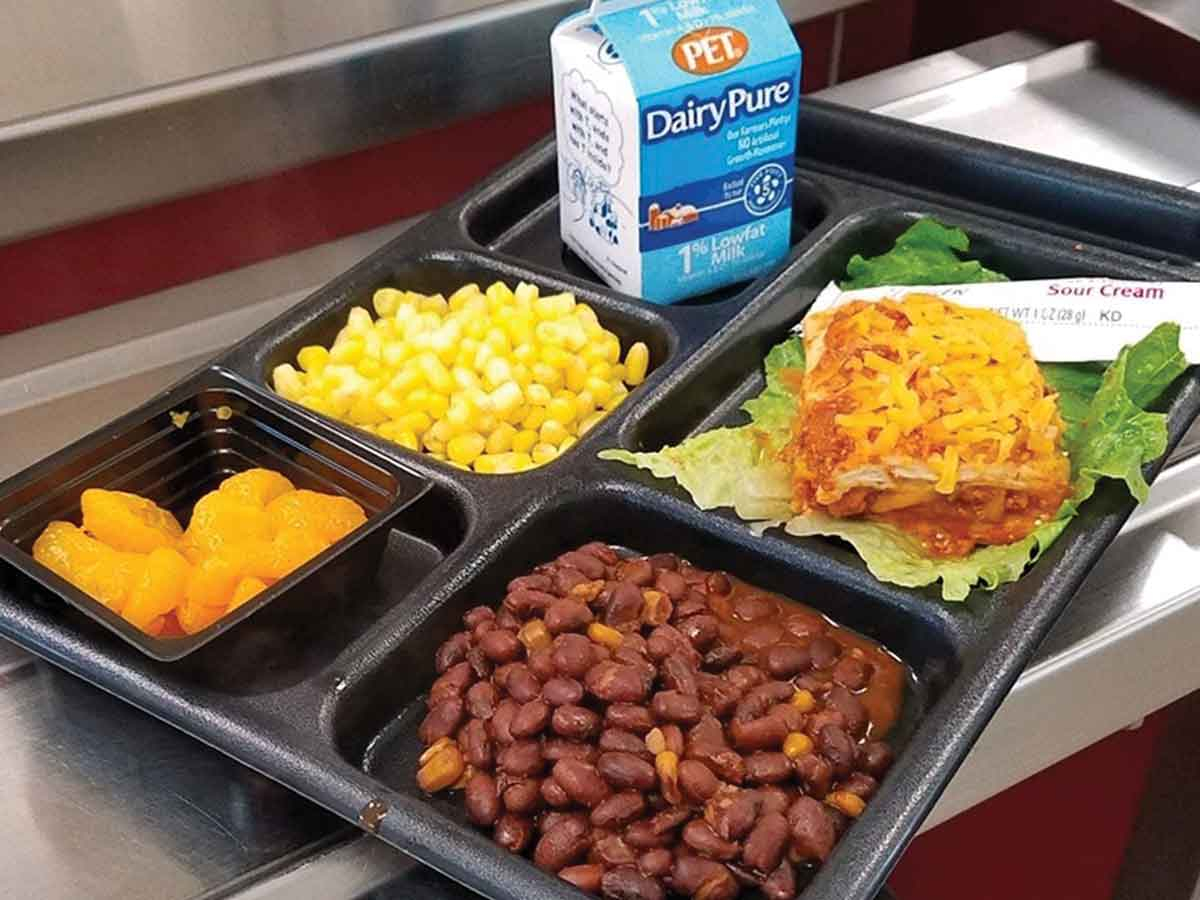 While nutrition requirements are still in place, they have become more malleable as supply chain issues have made it difficult to obtain certain foods. HCS photo
After passing in Congress, President Biden signed the Keep the Kids Fed Act on June 23, partially extending school meal flexibilities just days before they were set to expire.
Along with waivers from the United States Department of Agriculture, these flexibilities helped school nutrition programs provide meals throughout the pandemic and will now ease some of the difficulties associated with inflation and supply chain struggles.
"The Keep Kids Fed Act provides critical aid to school nutrition professionals confronting a continued onslaught of challenges in their effort to ensure students are nourished and ready to learn," said School Nutrition Association President Beth Wallace. "Supply chain breakdowns, skyrocketing costs and severe labor shortages, expected to persist well into next school year, have prevented school meal programs from returning to normal operations."
Three abnormal school years due to the Coronavirus Pandemic meant that school nutrition programs could offer free breakfast and lunch for all public-school students. During these years the USDA also provided a higher reimbursement to school nutrition programs for every meal served and flexibility for normal meal requirements. All those assistance measures were set to expire at the end of June .
In a letter to North Carolina senators Thom Tillis and Richard Burr, State Superintendent Catherina Truitt said "the loss of these waivers will devastate school meal programs and threaten their sustainability. School meals will be jeopardized for thousands of North Carolina students who depend upon them as their primary source of food during the week."
With the passage of the Keep the Kids Fed Act, congress approved an extension of the summer meal program and supply chain flexibility allowances, as well as increase the USDA reimbursement for each school meal served. Rep. Madison Cawthorn (R-Henderson) voted against the bill.
The legislation that would have extended free breakfasts and lunches for all students did not make it out of the Senate, so schools will return to the model in which, depending on income, families pay for school meals, or are granted free or reduced-price lunch.
"It's important that parents understand that they need to fill out those applications," said Macon County Schools Superintendent Chris Baldwin during a May Board of Education meeting.
The new legislation extends meal waivers throughout the summer allowing school nutrition programs to offer free grab and go meals to all families. Prior to the pandemic, summer meal service could only be offered in areas where 50% of students were qualifying for free or reduced lunch.
The bill also increases the reimbursement amount USDA pays to school nutrition programs for each meal served, intended to help offset school nutrition program costs. Reimbursement rates during pre-pandemic school years were much lower than the amount funded during the pandemic. While the increase in reimbursement does not reach levels of the pandemic years, the USDA can now offer $.40 more for lunch and $.15 more for breakfast than the last pre-pandemic school year.
"This is helpful but still not enough to cover our costs," said Allison Francis, school nutrition director for Haywood County Schools.
Because reimbursements, in addition to the money families pay for school lunches, do not cover the costs it takes to produce school meals, nutrition departments usually make up some of the difference by selling snacks and other supplemental items.
The bill also makes allowances for school systems that may have a hard time obtaining certain food items due to supply chain disruptions. Prior to the pandemic, school nutrition departments had to meet strict guidelines for what they could serve students. Meals must be made up of certain food groups. While these guidelines are still in place, they have become more malleable as the supply chain issues made it difficult to obtain certain foods.
"If we are not able to get a certain product that is required to be served as part of a meal due to the supply chain, we would not be fined for not meeting the meal pattern, as long as we have documentation that it is a supply chain issue," said Francis. "For example, if we were not able to get milk and had to substitute juice or water in its place. This has not been a big issue for us. While we may not be able to get the exact item that we've menued, our distributor substituted a similar item in its place."
Part of the flexibility also allows schools to serve meals outside of the previously required congregate settings, like a cafeteria or a park. During the pandemic, when students were learning from home, this was a vital aspect of keeping kids fed — allowing families to pick meals up and take them to go. Here, schools ran into another issue.
"We went through a stretch of about six months where it was very difficult to source paper products, lunch trays, to-go boxes, cups, et cetera," said Francis. "We made do and found other avenues for products but at a much higher price."
Western North Carolina schools were not alone in this predicament. According to the School Nutrition Association, 98% of schools reported shortages in menu items, supplies and packaging and items being discontinued.
"Most of the paper products have doubled in price while we have seen about a 30% increase in food prices," said Francis.
An additional strain on school nutrition departments in North Carolina is the rise in labor costs. State mandated increases to $15 an hour must be paid for by each school system's nutrition department.
"Our employees are getting a very well-deserved raise to $15 an hour this year," said Francis. "And while we are considered state employees, the state does not give my program funds to pay for that. So the money that we receive from school lunch and USDA reimbursements has to cover the costs of the food, the labor, any equipment purchased, everything that we do."
School nutrition departments generally see a net loss every year, but according to Francis that loss has grown exponentially over the last several years. Based on last year's figures, the school nutrition department loses between $.45 and $.65 per meal, and Francis expects that number to increase again this year.
At its July 11 meeting, Haywood County School Board members discussed funding sources to make up the loss incurred by its school nutrition program. Bobby Rogers suggested county funding. Ronnie Clark, chairman of the finance committee, asked Francis to come to the next board meeting with an amount the school system would need to pay in order to offset the rise in school meal prices for the coming school year. Schools throughout the Smoky Mountain News coverage area are increasing school meal prices in the coming school year.
"I would suggest, seek out the free and reduced lunch application process, and work through that, and if you qualify then that's great, and if not, I'm sorry," said Haywood School Board Chairman Chuck Francis.
The application for free and reduced lunch for the coming year opened July 1, families can apply at lunchapplication.com.
In a bid to help students in the return to the paid model of school meal service, the North Carolina legislature provided funds to pay students' co-pay for the reduced-price meals at school. This means families who qualify for reduced-price meals will not have to pay the $.30 for breakfast and $.40 for lunch like they normally would in the coming school year.