Archived News
Pleased to be here: Gary Carden Returns to The Liar's Bench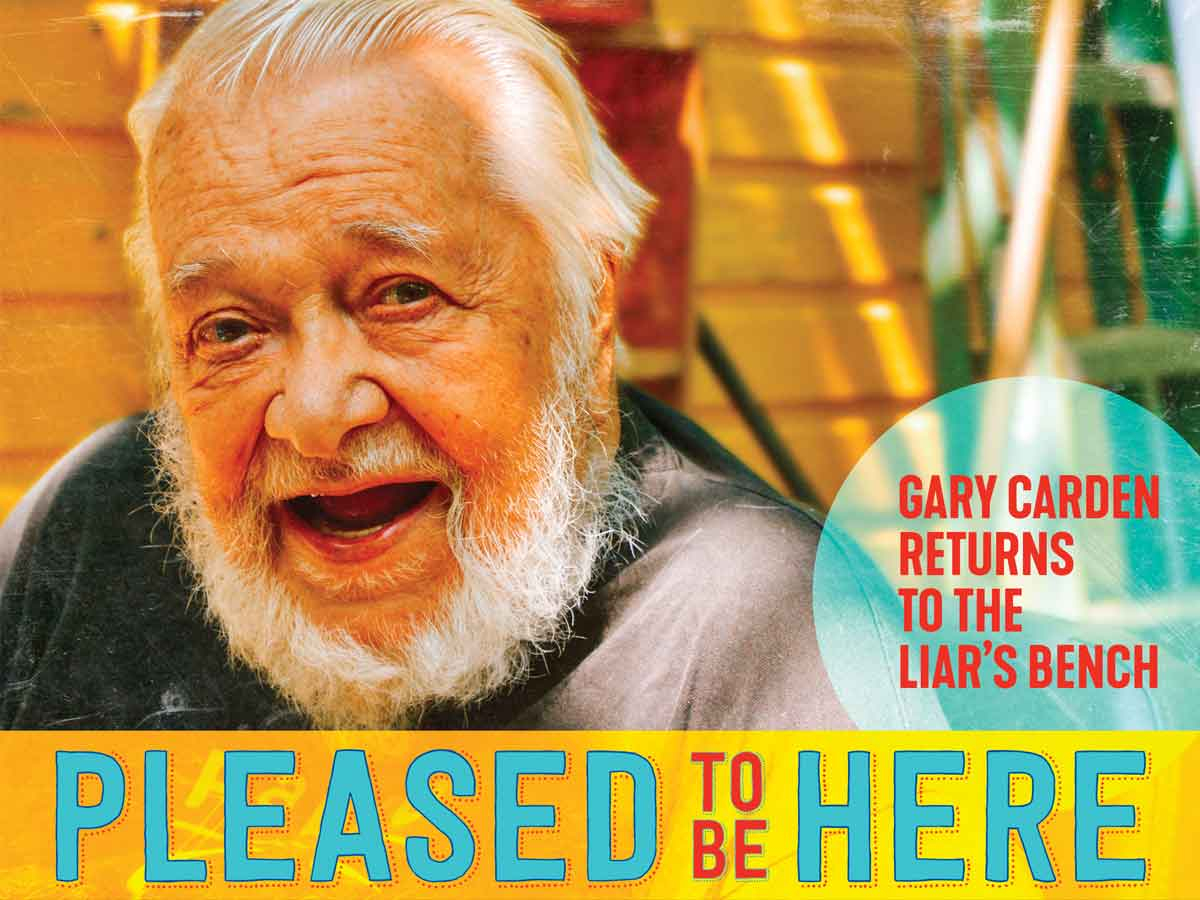 When the snakes around here want to go somewhere they put their tails in their mouths and contort themselves into the shape of a bicycle tube and roll like a wheel until to stop they straighten out tail-first and stick themselves in a tree which then swells with venom and a man cut one down once and had lumber enough not only for his house but also a barn and a chicken coop however his wife wanted him to paint it all red and the turpentine in the paint drew out the venom from the wood and caused the lumber to shrink back to regular size and he managed to get the cows out of the barn but the chickens did not survive.
That's exactly the type of tongue-in-cheek banter you'd hear outside barber shops or post offices across much of rural America in the early 20th century.
It was called "the liar's bench."
Long before the internet, social media was an in-person affair. Ardent greybeards gathered at the liar's bench most days, duping tourists with stories of milk snakes or puke buzzards and befuddling naïve young schoolchildren with make-work errands, just for a laugh.
In the 1940s, Jackson County native Gary Carden was one of those children, rushing off to the hardware store to retrieve a board-stretcher or to exchange lefthanded nails for righthanded ones.
Eight decades later, Carden is still preserving this great American tradition of storytelling, infusing it with the regional canon of Appalachian lore — a body of work that is rapidly disappearing amid a culture in the throes of transition.
But the stories and songs of the Smokies don't just live inside his head. He still sees his grandfather in the front yard sharpening an axe, sparks flying through the crisp evening air. He still smells his granny's breakfasts cooking on the stove. He still hears the noon-whistle at the papermill blow, and thinks of the father he never knew and the mother who left and never came back.
Carden's life has been touched by tragedy, but after a long and fruitful career as an actor, a singer, a teacher, a writer and a spinner of yarns, he's now ready to return to the liar's bench, one more time.
Storytellers like Gary Carden help preserve Appalachian lore.

Cory Vaillancourt photo,

Micah McClure photo illustration
"I've been dreaming lately sometimes," Carden says, sitting on the side porch of the house where he was raised and still lives. "It's a pleasant dream. I come out here and blow out the street lights and they go out all over the holler and the pavement rolls up and the dirt comes back and the trees grow up and I'm back home."
Born somewhere in Sylva in 1935 — nobody seems to remember where, exactly — Carden has watched the town grow up around him. His earliest memories are of standing up in the passenger seat of Uncle Albert's car as they cruised around a Main Street that had two-way traffic and no telephone poles.
"He was a ladies' man," Carden said of Albert. "He would drive up to Maple Springs and there was a little dark room up there with a jukebox in it, and people would dance there in the dark. I would show out at the drop of a hat, and he had girls that would ask me to sing and I would sing and they'd clap their little hands."
Carden has no memory of his father, who ran a service station in Moody Bottom called Hap's Place until he was murdered by a wood alcohol addict in 1936. Carden's mother left when he was two.
"She was one of those Blanton's Business College people, and she was going to become a secretary and then get a room and get a job and then come and get me and we were going to live in Knoxville," he said. "She never came back."
Carden was raised by his paternal grandparents in Sylva and busied himself with the popular entertainment of the day — comic books and radio dramas.
During high school, Carden's grandfather tried to get him to take over the oil truck he used to deliver fuel to rural mountain homesteads, telling him he was a "queer young'un" and that he was going to have a hard time making a living.
"I was a lousy driver. I did terrible things. I tore the doors off of the oil truck. I spilled gas. I did everything I could do to really upset him, and it wasn't working out very well," Carden laughed. "I read comic books. I had imaginary friends. I was just a strange young man and that's all there was to it."
Fate would intervene when Carden's principal, a man named Galloway, asked him where he was going to attend college after graduation. Galloway told Carden that he could find him a vocational rehabilitation scholarship to attend Western Carolina University, if his grandfather would let him.
His grandfather told him that if he wanted to pursue higher education, he could "graduate" to a neighboring cornfield.
"He always said, 'You got bad blood Gary Neil, you got it from your mother. You'll never amount to anything,'" Carden said. "And my granny had a little litany — 'Marriage can't help you. Education can't help you. You can't do anything. You're doomed. You got bad blood.'"
Carden persisted and ended up as a day student at Western, commuting from Sylva to Cullowhee until he was able to move into the dorms and take a job washing lunch trays in the chow hall.
Initially interested in teaching, Carden gravitated towards the theater department and became a drama major, much to the chagrin of his grandfather.
"I'd been coming home to get my clothes washed and every time I did, I told him what I was doing and the fact that I was in plays and the fact that I had friends and the fact that I was writing and that I edited a literary magazine," Carden recalled. "I think he still didn't understand it. I was a little something different than he expected."
During his senior year, Carden lost his scholarship because the vocational rehab program didn't approve of his major. The situation appeared dire until an unlikely hero emerged.
"My poor old granddaddy went to the bank for the first time in his life and borrowed money for me to finish that year," Carden said. "You know, he was worried about me. He still thought I was strange, but he said, 'Finish it up and I'll pay for it.'"
In 1958 Carden taught school for a year in Waynesville, which he said was "awful."
Again, fate intervened during a chance meeting with a football coach who was home doing grad work at Western. The man recruited Carden to a Cartersville, Georgia, high school where he taught English and drama for five years and met his first wife.
Not long after they married, she began acting strangely. He'd come home in the evening only to find her hiding in the closet, behind the clothes.
She'd get in their car and drive it off until Carden would get a phone call from some stranger, hours later, saying she'd run out of gas in some godforsaken place and to come get her.
One night, he woke to find a pistol pointed at his head, his wife deliberating whether to kill them both, or just herself.
The final blow came on a Thanksgiving Day outside Culberson, Georgia, 10 miles southwest of Murphy.
"There's nothing there but a steep hill and a bridge and a general store and a phone booth and when we topped out that hill, I looked at the speedometer and it was 55, and it went to 60, 65, 70, and it just kept climbing," he said. "I looked at her and she winked at me and we hit the bridge. She meant to kill us both. She didn't succeed."
Lying there in a daze with the windshield wrapped around his face, Carden could hear the faint strains of a hymn being sung from a big-tent revival across the street. Eventually, two men came over.
"They're dead," one said.
"No, the man moved a little," said the other.
The two men walked down to a phone booth and called the funeral home. Workers dragged Carden and his still-unconscious wife from the wreck, and laid them out on the road. Carden mustered up the strength to ask the workers to take them to the hospital.
"Sir," one said, "we're not allowed to haul living people."
After the divorce, Carden began working for the Eastern Band of Cherokee Indians, telling his stories in a much more impactful way — as a grant writer. He reckons he spent about 15 years there.
"I loved it," he said. "Unemployment was really bad. When the tourists came in the summer, the economy was good, but when they left, Cherokee was an abandoned place for the winter. None of that's true anymore. The casino changed all that. Hell, bingo changed all that, but back when I worked there, they got a new school, a hospital, a library. And they loved me."
Sort of. For the longest time, they called him "Unake."
"It means 'White man,' but it loses something in translation," Carden said. "It's an insult."
Once, during a particularly dry spell during which Carden's grant applications hadn't exactly been bringing home the funding the Cherokee expected, he got it into his mind that he wanted an Indian name. When they announced it during tribal council, everyone laughed. Later, he found out it meant something on the order of, "huge thunder, no rain."
Gary Carden stands near the grave of his father some time in the late 1930s. Donated photo
Call it a tragicomedy if you like, but Gary Carden's life has been filled with the sort of accolades that place him among the pantheon of Appalachian literary giants.
He won the Appalachian Writers Association Book of the Year award for a 1999 collection of stories called " Mason Jars in the Flood ."
Emmy Award-winning documentarian Neal Hutcheson called Carden the "chief inspiration" for his 2005 PBS documentary, " Mountain Talk ," which focused on the unique Appalachian dialect that Carden's teachers tried to rid him of nearly all his life.
Also an accomplished playwright, Carden has seen his work performed across the country, including " The Prince of Dark Corners ," which became a feature film on PBS.
In 2012, after a career that also featured stints teaching at Brevard College and Lees-McRae College in Banner Elk, Carden was given the prestigious North Carolina Award for Literature.
Carden's latest project, however, hearkens back to the days of the The Liar's Bench, a regular performance event he curated in Cullowhee some years back that evokes all of the drama, the wit and the wry humor of a bygone era.
"Originally there was a little bench or a couple of chairs in every little community in Western North Carolina and in other states, South Carolina, Tennessee, Virginia. It's where people sat and talked to each other. They were usually what my grandmother called loafers, the community's ne'er-do-wells, people that have no purpose in life," he said. "There's an old guy and maybe a World War I veteran sitting there and people remembered a Confederate that used to sit at one in Sylva. They just sat there and talked to each other, and they stopped people and told them things."
Told them things — lies, mostly, in the style of Mark Twain or Harold Felton, who wrote of Paul Bunyan and his blue ox, Babe. The concept of the liar's bench isn't uniquely Appalachian, or American, but the stories told in rural America seem to hold a particular flair.
"I started The Liar's Bench to rescue old and lost beliefs, customs, language, diction, everything that is sliding away — bring it back! Make it respectable again! Sing the old songs," he says, with trademark theatrical flourish. "Do you know about that snake that rolls down the hill with his tail in his mouth?"
Nowadays, Carden mostly spends his time in that house his grandfather built a century ago, entertaining visitors when they come and talking to a cat named Priscilla when they don't.
"Haunted" isn't quite the right word to describe the atmosphere of the place; crammed with books and photos and mementoes, there's literally a story everywhere you look.
He remembers crawling into Uncle Albert's bedroom at night to retrieve the stack of comic books that he'd then spend hours reading.
He remembers where his grandfather's coffin sat during his wake.
He remembers gazing at a portrait of his mother, stashed away in the attic — one of few keepsakes he had of her until she eventually did come back, later in his life. His grandparents wouldn't let her in the house, so she stood out in the street, calling to him. They walked around for a while together, mother and son, sorting it all out, and then she was gone.
He thinks that one day, he too will haunt this house, fading into the sepia-toned fabric of an Appalachia that barely exists anymore.
"I'm a part of the story, you know. I'm here," Carden said. "For a long time, I wanted to leave. For a long time, I tried to leave but I'm past that now. I'm pleased to be here. This is where I'll finish up."
Want to go?
Join Gary Carden and friends Randy Flack, Paul Iarussi and Jon Zachary for The Liar's Bench — an evening of stories and songs, history and folklore — on Tuesday, July 12 at the Jackson County Library at 7 p.m. The event is free and open to the public. Reservations are encouraged but not required. Seating is limited, as are complimentary refreshments from City Lights Café. Special guest Neal Hutcheson. Call 828.586.2016 to reserve your seats today. Sponsored by The Smoky Mountain News.
Leave a comment
1

comment
Gary Carden is one of my heroes. His stories stoke memories for all of us, and I treasure the times I've been able to hear him share them. Best wishes, Gary!

Saturday, 07/09/2022