Archived News
Haywood TDA to award special project grants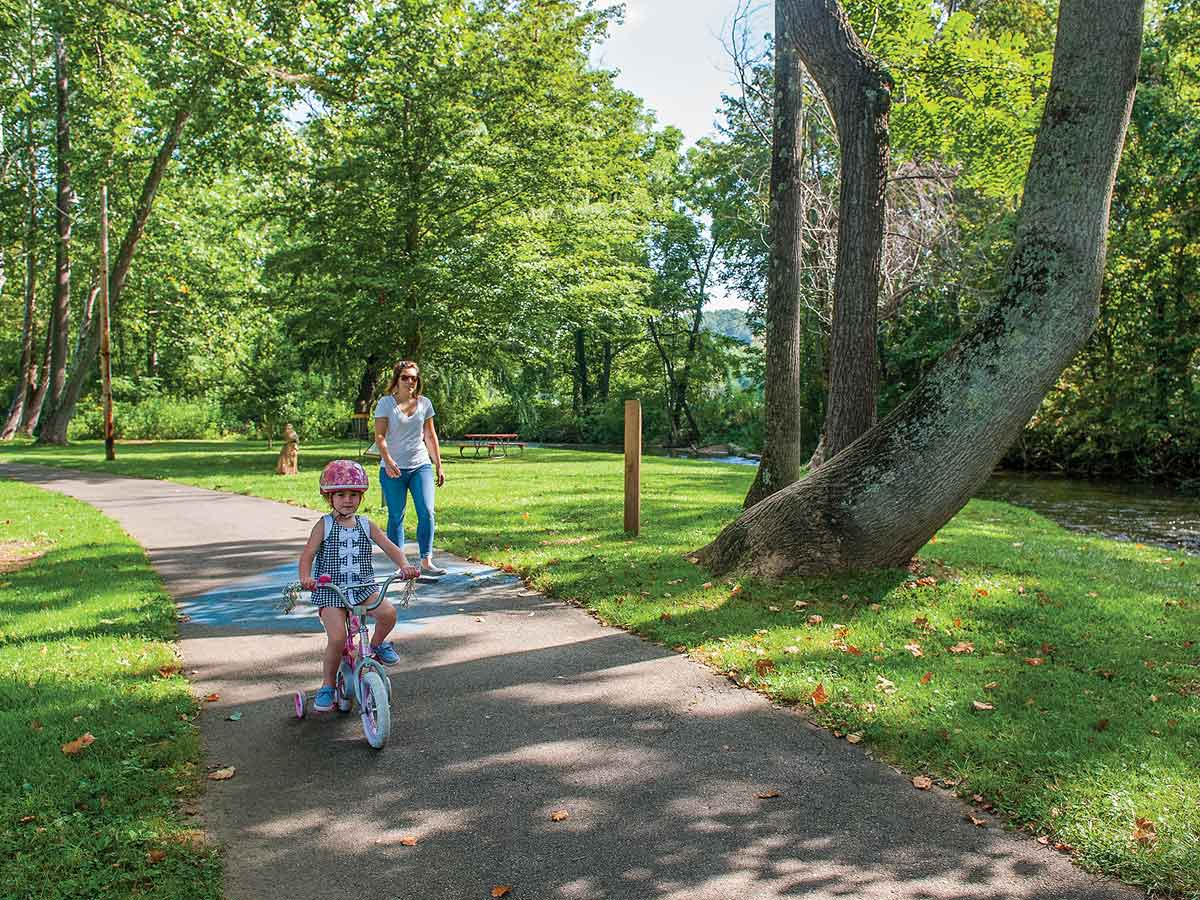 Increasingly, residents are demanding greenways as recreational options. File photo
The biggest knock against North Carolina's city- and county-based Tourism Development Authority system is that while it does collect and spend room occupancy taxes to market specific cities and counties as travel destinations — driving Western North Carolina's tourism-based economy — it does almost nothing for residents of those destinations who have to bear the brunt of soaring housing costs due to short-term rentals, overcrowded attractions and excess demand on infrastructure like roads and water systems.
Since the Haywood County TDA's inception in January 1984, it has collected exactly $29,980,815 in room occupancy tax revenue through March 2022. By the end of this fiscal year on June 30, collections will likely have topped $3 million in one year for the very first time, and will have eclipsed the $30 million all-time mark.
Now, for the first (and possibly only) time, the TDA is giving some back.
On May 2 , outgoing TDA Executive Director Lynn Collins told Haywood County commissioners that the TDA was having such a good year that the board had decided to appropriate $500,000 from fund balance towards a " one-time special project fund " for capital projects.
Application guidelines published by the TDA say the fund's purpose is to "encourage creation or expansion of capital projects that will showcase Haywood County's unique offerings and will attract visitors from outside a 50-mile radius, generating overnight stays and creating economic/destination impact for the zip code and Haywood County."
All five ZIP codes recognized by the TDA as destinations — Canton, Clyde, Lake Junaluska, Maggie Valley and Waynesville — are eligible for the grants, which give preference to shovel-ready projects and carry a 50% match requirement.
Studies and maintenance projects are not eligible for funding, but things like greenways, parks, cultural attractions and facility enhancements are.
When the application period closed on April 29, nine applications had been received, including one each from Canton, Clyde and Maggie Valley, one from the county itself, two from Waynesville and three from Lake Junaluska.
"Lake Junaluska is the largest tourism entity in Haywood County, and we're also the number one recreational location," said Ken Howle, executive director and CEO of the Lake Junaluska Conference and Retreat Center. "We applaud the TDA's efforts to invest back into projects that not only enhance tourism, but will also improve the quality of life in Haywood County."
Although the stated goal of the grants is to continue augmentation of area attractions that drive this tourism juggernaut, most if not all of the projects do carry some public benefit because they're generally available for public use — for those who can afford to live in Haywood County, and if the lines aren't too long.
Chestnut Mountain Park retail and visitor center
The Town of Canton seeks to develop a mixed-use retail establishment on frontage adjacent to Chestnut Mountain Park that it would lease out to concessionaries. According to the one-time project fund application completed by Town Manager Nick Scheuer, the space could potentially house a taproom, restaurant, retail, restrooms and maybe even a visitors center for the park, offering bike and fishing equipment rentals.
The facility itself would consist of four or more 40-foot shipping containers, provided by retailers and situated on an elevated platform. Submitted with the application are photos of the Smoky Park Supper Club , an Asheville restaurant known for its innovative and attractive use of such containers.
Berm Park is proving a popular attraction despite being only 25% complete. Holly Kays photo
When the one-time project fund application was completed in April, Chestnut Mountain Park had only been open for a week and was about 25% complete. Scheuer said the park was averaging 150 users a day, which he expects to grow in the coming years as the park nears 100% completion.
"Chestnut Mountain has quickly become one of the shining beacons to attract attention to Canton and Haywood County," said Zeb Smathers, Canton's mayor. "It brings people from inside and outside the county to Canton. With the TDA's help, we hope to get them into other places in Haywood County as well, especially our downtown area."
The town has requested $200,000 toward the total $450,000 project cost. Groundbreaking would occur almost immediately and be completed by Dec. 1 of this year.
Haywood County Bike Park
Canton isn't the only local government looking to capitalize on the increasing popularity of bicycling in Western North Carolina's mountains. In 2021, as part of Haywood County's 10-year recreation master plan, surveys showed that residents were clear about wanting more trails of all kinds, especially for bikes.
The county's $150,000 one-time project fund request is but a small part of a projected $1.9 million project that would create something known as a pump track — a series of banked turns designed to be ridden without pedaling but rather through the up-and-down motion of the rider. Pump tracks are simple, cheap, and accessible for riders of all skill levels.
Upon completion, the project would total around 2 miles of track, but would also feature restrooms, a playground, a pavilion and a walking path around the perimeter. It would also be the only Red Bull certified pump track in North Carolina outside of Gastonia.
The county has already committed more than $500,000 toward the project and has a pending $500,000 request from the state's Parks and Recreation Trust Fund.
Groundbreaking at the site — formerly a landfill — would take place sometime in 2023, with a projected completion date in 2025 or 2026.
Trail system at Haywood Community College
Although Haywood County is also known for hiking trails, there aren't many family-friendly opportunities near the Town of Clyde.
Currently, the trail system located on the campus of Haywood Community College measures around 2 miles, but with a successful application to the TDA one-time project fund it will double in length to almost 4 miles.
Composed of a multi-use natural surface, the new trail would make an ideal venue for both community events and regional or state cross country meets. Another concrete sidewalk would be added to the network to allow for better access to trails from a campus parking lot.
All in all, the trail system could be linked to the Hellbender Regional Trail System as well as Chestnut Mountain Park to provide a more expansive, extensive destination for locals and visitors. The expanded trail system would also allow for future expansion of the existing disc golf course. According to the application, HCC would provide in-kind marketing support to publicize the expanded trail system.
The Town of Clyde is requesting just over $66,000 as part of the $137,000 projected cost, and would complete work by this coming November.
Lake Junaluska overlook and connector trail
The Lake Junaluska Conference and Retreat Center has long been known as one of the best destinations for walkers and runners in Haywood County, with a 3.5-mile lakeside trail that provides significant recreational opportunities with views unparalleled in the region.
To that end, the Lake Junaluska Assembly has also developed a phased plan to improve pedestrian access between the Terrace Hotel, the Susanna Wesley Garden and the former World Methodist Museum, now called the Warren Center.
Phase 1 of the project would create an overlook that would become a new destination for Haywood County residents and visitors, who could then continue along the connector to the Susanna Wesley Garden and arrive at the Warren Center.
Once upgrades to the Warren Center are complete, the venue will be able to accommodate weddings, conferences, proms and other events for up to 240 people.
"We want to create a seamless experience where the Warren Center can be used in conjunction with the Wesley Garden. There's already $1.1 million committed to the project and that will create a new and unique space in Western North Carolina," said Howle.
The funding request is for $100,000 to go toward a $250,000 total project cost. The project could be completed as soon as winter, 2023 with a spring or summer opening in 2024.
Lake Junaluska outdoor recreation area development
The Lake Junaluska Assembly also has a plan to improve its outdoor recreation amenities.
"The recreation area at Lake Junaluska is beloved by people that come not only to enjoy conferences but also while they visit other parts of Haywood County," Howle said. "It also contains a unique feature — mountain lakes are rare, and so improving our recreation facilities around the lake is a good investment for everyone."
The plan includes replacing the shuffleboard courts with an open-air pavilion suitable for rental by groups holding family parties, class reunions or other events.
A series of amenities near the pavilion would include new shuffleboard courts and other family-friendly attractions like cornhole, bocce or ping-pong. The mini golf course would also get a much-needed update, as would pedestrian walkways with access to the site.
Lake Junaluska is unique among the special project fund applicants in that it is not a municipality, but is a designated zip code that both collects and spends room occupancy tax revenue. It's also open to the public as a historic and unique institution well-known to generations of visitors and residents.
The Lake Junaluska Assembly is requesting $100,000 for the recreation project, which has a total cost of $700,000. It would open in phases, with completion projected for the spring of 2024.
Lake Junaluska Stuart Auditorium improvements
Constructed in 1913, the Stuart Auditorium is an iconic structure on the banks of the lake that has played home to thousands of concerts, gatherings and speakers — including First Lady Eleanor Roosevelt and hometown favorites Balsam Range — for more than a century. That being said, it's also desperately in need of some critical upgrades that will carry it through another century, or more.
The third of three applications by the Lake Junaluska Assembly seeks to address these upgrades by requesting $100,000 towards a total project budget of $250,000.
"There's probably 4,000 people in the last three days that have been in Haywood County to attend an event in the auditorium," Howle said. "Of those guests, only 25% stay in Lake Junaluska, so the economic impact is far and wide. The ongoing preservation and enhancement of that facility benefits everyone in Haywood County."
If granted, the funds from this application would preserve the historic nature of the facility while also integrating modern technology. That would include refurbishment of the stage, restoration of the deck overlooking the lake, replacement of broken windows, doors, lights and seats and an update to the bathrooms.
Painting and staining would also be carried out, as well as the relocation of A/V equipment to the floor from the crow's nest.
The application says that the Assembly will invest more than $40,000 annually toward marketing the venue to audiences more than 50 miles away.
Like the recreation improvements, the Stuart Auditorium project would likely be completed by spring, 2024.
Maggie Valley Festival Grounds parking lot
The Maggie Valley Festival Grounds has become a victim of its own success, so to speak, especially in regard to parking. This summer, there are 21 scheduled events that will take place over 45 days and bring thousands of visitors — and tourism dollars — to the Valley.
As visitors swarm the summer slate of events, it's become harder and harder for them to find convenient access to the grounds.
But back in 2021, the town acquired a 1.03-acre parcel across the street for $185,000. Since then, it's been used to provide additional town-owned parking spaces; however, the lot is unpaved — which means it's often muddy, disorganized and crowded.
If the TDA grants the Town of Maggie Valley's $125,000 one-time project fund request, the lot would include 90 paved parking spots and two fast electric charging stations as well as landscaping that meets the town's appearance standards.
The project has also been designed to compliment an NCDOT pedestrian project that will provide an enhanced crosswalk and pedestrian island that will safely link the satellite parking lot to the fair grounds.
The total cost of the project is $250,000. The town's application estimates groundbreaking and completion would all take place during the month of August.
Sulphur Springs Park improvements
Located on the town-owned former grounds of the historic White Sulphur Springs Hotel, Sulphur Springs Park is a small parcel of open ground owned and maintained by the Town of Waynesville. It's also the purported location of the last shots fired east of the Mississippi River during the Civil War.
The only part of the hotel that remains is the spring house, a dilapidated gazebo that houses the natural spring. Recently, the town's historic preservation commission ramped up efforts to enhance the site by committing $4,500 to its restoration. The town has also received a $17,500 grant from the Mib and Phil Medford Endowment fund.
The Sulphur Springs springhouse is in dire need of repair. File photo
The town's $22,000 one-time project fund request would rehabilitate the spring house, restore the stream bank, replace an existing culvert with a historically accurate footbridge, provide interpretive signage and construct a simple outdoor amphitheater that could be used for cultural or educational events.
Work would take a year, culminating in 2023.
Richland Creek Greenway
The Town of Waynesville has been eager to capitalize on the transition of the former Bi-Lo grocery store on Russ Avenue to apartments because of the potential to emphasize a section of Richland Creek that's both popular for trout fishing and a part of the town's greenway plan.
That plan would create a multi-use trail from Balsam Road through Hazelwood and Frog Level up through Recreation Park to Lake Junaluska.
Waynesville's special project fund request would create a 12-foot wide greenway along the banks of Richland Creek that will serve not only the forthcoming residents of the Mountain Creek apartments, but also the general public by connecting Russ Avenue to West Marshall Street, the dog park and the all-abilities playground recently constructed with the help of Kiwanis.
The $87,781 request is just under half of the project's estimated $175,563 cost. Groundbreaking would take place 90 days from the grant award, and work would be completed by next July.
More funding has been requested ($800,000) for the nine projects than is available from the TDA, meaning the TDA's five-person special project fund committee will have to make some tough choices on which applications will be successful, and which will not. Announcement of the grant recipients is expected to take place soon.