Archived News
Walk in their shoes: Event raises awareness for elder abuse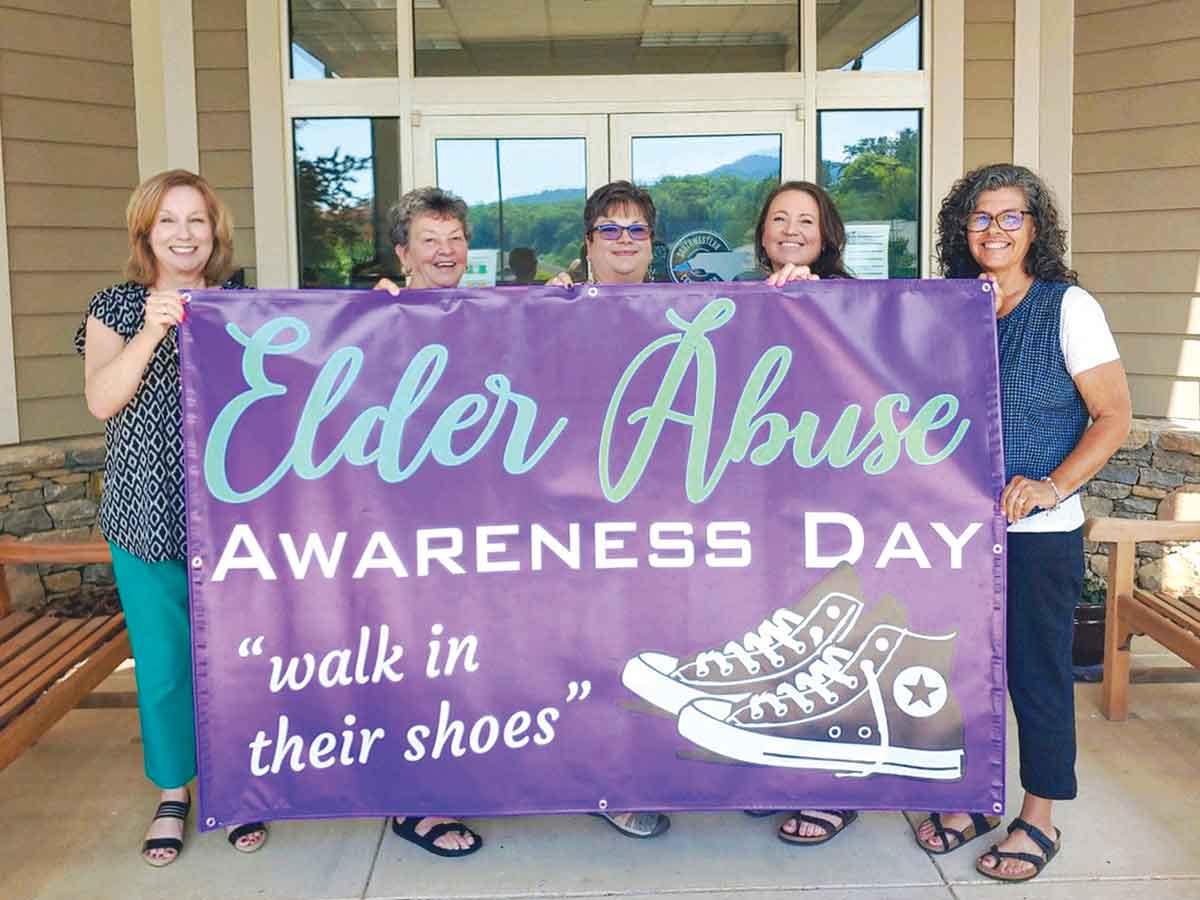 Area Agency on Aging staff hold up this year's banner for Elder Abuse Awareness Day. Donated photo
For the tenth year in a row, people will gather in towns across Western North Carolina on the evening of June 15 to raise awareness about elder abuse.
"We are walking simultaneously as a region in awareness and support of older adults and encouraging folks to become more aware of elder abuse and what they need to do if they suspect it," said Sarajane Melton, director of the Area Agency on Aging for the Southwestern Commission Council of Governments.
Launched in 2006 by the International Network for the Prevention of Elder Abuse and the World Health Organization at the United Nations, Elder Abuse Awareness Day provides an opportunity for communities around the world to promote a better understanding of abuse and neglect of older persons by raising awareness of the cultural, social, economic and demographic processes affecting elder abuse and neglect.
Ten years ago, Melton was working as a long-term care ombudsman for the Southwestern Commission Council of Governments. In order to mark Elder Abuse Awareness Day, she organized a walk for awareness in three of the commission's seven counties — Haywood, Macon and Jackson.
"That first walk was relatively well attended," said Melton. "The other counties heard about it and wanted to be involved. So we expanded to seven counties and one on the boundary the next year. And it has just grown incrementally."
In her organization process, Melton knew that mountain geography would hinder one large gathering of people from across the region. For this reason, groups gather on the same day, at the same time, at their local senior center to partake in the Elder Abuse Awareness Walks.
Seniors participate in last year's Elder Abuse Awareness Walk.
Today, Melton is the Area Agency on Aging director for the Southwestern Commission. As both an ombudsman and director, she has advocated for older adult issues, making sure their voices are heard, not only in the region, but across the state. For four years she was the director for the Area Agency on Aging State Association.
Melton knew from a young age that she wanted to be a social worker, but she found her niche in the study of gerontology and the care of elders.
"It has been a blessing to me; I've learned a whole lot more than I've given," said Melton. "People laughed at me when I was the ombudsman. If I was having a bad day, I'd go walk through the nursing home, because they're such uplifting, extremely uplifting folks who just need a kind word and will provide you with way more than you give them."
There is a misconception that most elder care takes place in facilities. However, according to Melton, 90% of it is done by family caregivers and the community. An important aspect of Melton's work is advocating for those caregivers and making sure they have what they need to be able to provide vital care. One program offers family care-givers respite from their daily responsibilities.
"They need a break," said Melton. "We have lots of strong, responsible individuals who see it as their responsibility to take care of their loved one. That is true, and we celebrate that with them, but they also need to take a break. So we have a respite program that provides a voucher, and they can hire whoever they want, and it gives them a break."
The most common type of elder care needed is for dementia.
"That is a hard road for folks because it is a slow progression for most," said Melton. "The physical body remains the same, but the mind goes away. That's a tough place for families to be, that's a tough place for the person to be."
The 10th annual elder abuse awareness walks are a chance to draw attention to a very real issue that tends to fly under the radar. According to the National Council on Aging, up to five million elders are abused every year, and the annual loss by victims of financial abuse is estimated to be at least $36 billion. Social isolation and mental impairment make older people especially vulnerable to abuse and neglect. However, according to Melton, there is a unique stigma that comes along with elder abuse.
"On some level, elder abuse has more of a stigma, is more taboo than child abuse," she said. "No one wants to believe that it could happen to their nana or grandpa, but it does."
This year, groups will gather to combat that stigma in Andrews, Murphy, Clay County, the Qualla Boundary, Graham County, Haywood County, Jackson County, Macon County and Swain County.
"The intended message is twofold, that elder abuse does occur, and we need to be alert and aware and know the steps to take if we suspect," said Melton. "In North Carolina, the steps are to report it to the Department of Social Services, or law enforcement, but DSS is your primary, first contact."
Though Melton's work is often filled with the trauma and difficulties of abuse, it has also shown her the compassionate side of human connection and community.
"I have seen both the good and the bad, but the good strongly outweighs the bad," she said.
Participants gather (below) to raise awareness around elder abuse. Donated photos
Particularly during COVID-19, Melton saw how communities rallied to serve older adults who were at a higher risk of contracting the virus and getting seriously ill or dying. People delivered meals, offered transportation, and provided human connection in unique ways at a safe distance.
"People really came together to make sure that those older adults were taken care of," said Melton. "It was a wonderful thing to see. It happens every day, but when there is a crisis, it certainly raises that up. I talk about the collaboration that happens in Region A all the time, the seven Southwestern counties, but that certainly was a strong sentiment of humanity."
Walk in their shoes
The 10th annual Elder Abuse Awareness Walk will take place on June 15.
•  Cherokee County - Both walks begin at 6 p.m., in Andrews at the Valley River Park and in Murphy at the pavilion behind the old rock gym and wellness center.
•  Clay County - Register beginning at 5:30 p.m. at the Clay County Recreation Center, the walk will begin at 6 p.m., refreshments served afterward.
•  ECBI/ Qualla Boundary - Participants should meet at the Tsali Manor Pavilion in Cherokee at 5:30 p.m.
•  Graham County - The senior Resource Fair will be in the Graham County Community Building from 10 a.m. to 2 p.m. The walk will be at the Robbinsville High School Fit Trail with registration beginning at 5 p.m. and walking at 6 p.m.
•  Haywood County - Pre-walk activities will start at 4 p.m. with carnival games, cake walk, Senior Resource Bags, free snacks, prizes, a photo booth and therapy dogs. The Walk begins at 6 p.m. at the Haywood County Senior Resource Center in Waynesville.
•  Jackson County - Pre-walk activities begin at 5:15 p.m. with music, games, snacks, and cornhole. The Walk starts at 6 p.m. at the Department on Aging in Sylva.
•  Macon County - Presentations/Pre-Walk Activities begin at 5:30 p.m. followed by the Walk at 6 p.m. at the Gazebo in downtown Franklin. Local merchants are providing cookies and drinks for walkers.
•  Swain County - Walk starts at 6 p.m. at the Swain Senior Center in Bryson City. Refreshments will be served afterward.