Archived News
Wayne Dickert's river life born at NOC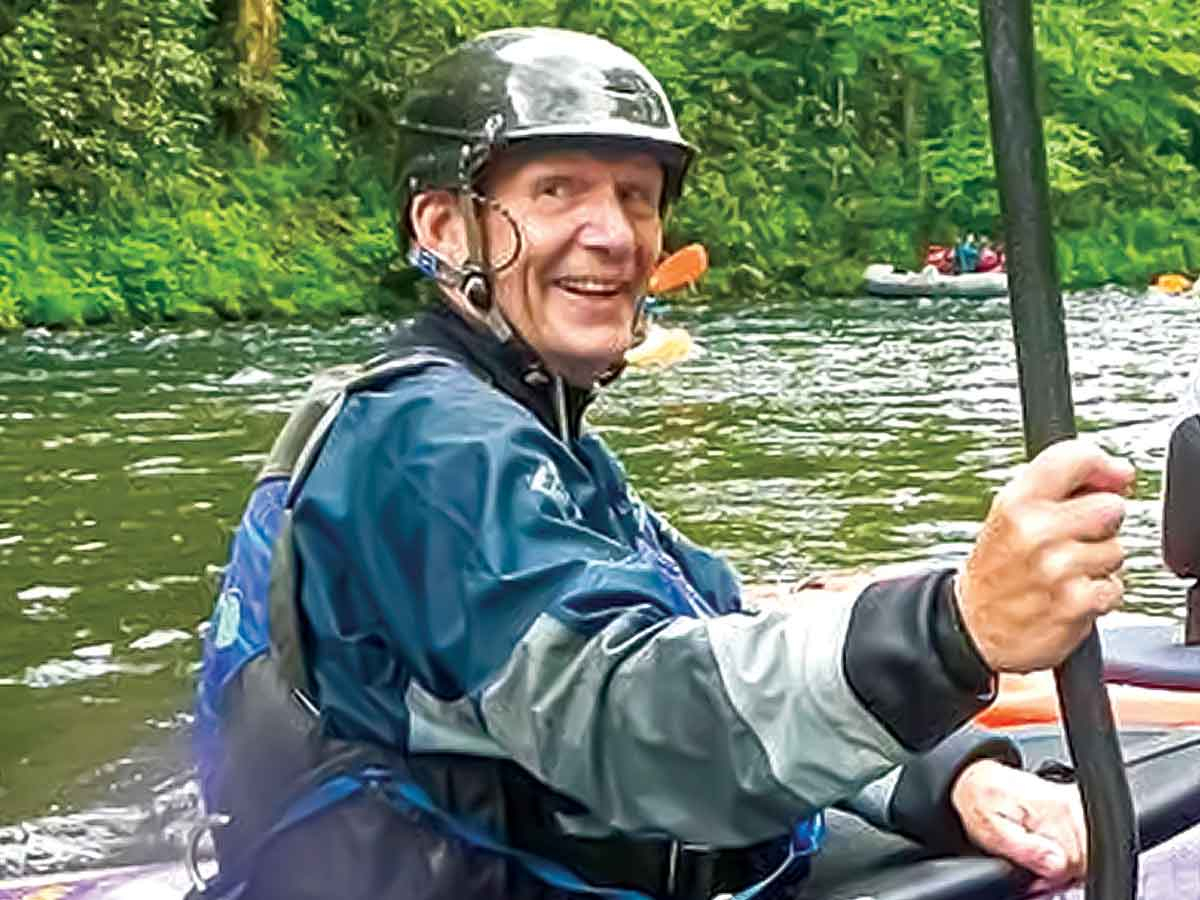 Olympian Wayne Dickert has been paddling most of his life. Donated photo
Wayne "Wayner" Dickert may not have started paddling until he was 18 years old, but that didn't stop him from competing at the sport's highest level when he made it to the 1996 Olympics. For Dickert, NOC was an important part of that success.
"The Nantahala Outdoor Center had a definite impact on me, on my paddling skills for sure," said Dickert. "I think both the competition fed into what I could give to NOC, but also the NOC gave a lot that fed into my own competitive skills. It helped me grow as a leader. I believe it helped me understand how to build partnerships."
Growing up as a Boy Scout, Dickert was the only member of his troop who didn't have his canoe badge. Years later, while undergoing staff training for a summer camp, he was introduced to whitewater canoeing.
"I just kind of had a natural knack for it, so they recruited me into their special paddling adventure camps," said Dickert.
Dickert continued paddling during summers throughout college until his senior year when friends convinced him to buy a kayak. The part-time hobby became a full-time diversion. After college, he entered the military and for three years of active duty was mainly in the Washington, D.C. area, which happened to be the hotspot for paddling sports at that time.
"There were several world champions that lived there and a really good coach," said Dickert. "So I kind of dropped in the middle of all that pretty early on, and I was able to get pretty good, pretty fast, just because I was around really, really good people."
In the 1980s, Dickert began working at NOC, first as a raft guide, then as a canoe and kayak instructor. In the lead-up to the '96 Olympics, the NOC created a position for Director of the Nantahala Racing Club to build synergy and publicity between the NOC and the Olympic Games.
"A lot of what I did was coordinate the racing club, do all the publications, connect them with NOC, support athletes, hire coaches, that sort of thing," said Dickert.
Following an unsuccessful bid for the '92 Olympics, Dickert retired from competitive canoeing to take the new position at the NOC, but he came out of retirement the winter before the '96 Olympic trials. That year, he and his tandem canoe teammate Horace Holden, Jr., qualified for and would go on to finish ninth on the Ocoee River Course in Tennessee.
Following the '96 Olympics, Dickert took a job with USA Canoe and Kayak as the Slalom Development Director, helping to train coaches and develop kids' programs that could feed into the Olympic team. Years later, Dickert and co-author Jon Rounds would win a National Outdoor Book Award for their book "Basic Canoeing: All the Skills and Tools You Need to Get Started."
In 2000, Dickert found his way back to the NOC as director of the paddling school and would later become an ambassador. In this role he was tasked with building the regional relationships that helped sustain the NOC through its 50 years, connecting with summer camps and other programs that bring groups to explore rivers throughout the region all season long.
Since July of 2011 Dickert has been serving his community as pastor of the Bryson City United Methodist Church. His passion for ministry grew out of a riverside ministry for boaters and other outdoors folks he had helped to start on the campus of the NOC called River of Life.
"I loved working with kids, and I was really involved in youth ministry at another church that I was attending and loved it, so I thought I was going to go into youth ministry," he said
While Dickert's work for the NOC is unofficial these days, after its 50 years of existence, he sees the impact it has had on his community.
"NOC was an outlier for sure at first, because it was seen as a bunch of river hippies by the local community," said Dickert. "The integration, as people have left NOC to move to other jobs — teaching, the medical field, all kinds of other jobs — that have that NOC background, those relationships that have been built over the years have helped integrate both the NOC and the local community to work well together. Economically, the NOC has had a significant impact on our community, on the community of Swain County and it still gives back. The money that flows through it into the local community has been pretty significant for a long time."
Leave a comment
1

comment
Great article

Wednesday, 06/08/2022