Archived News
Maggie Budget proposes additional staff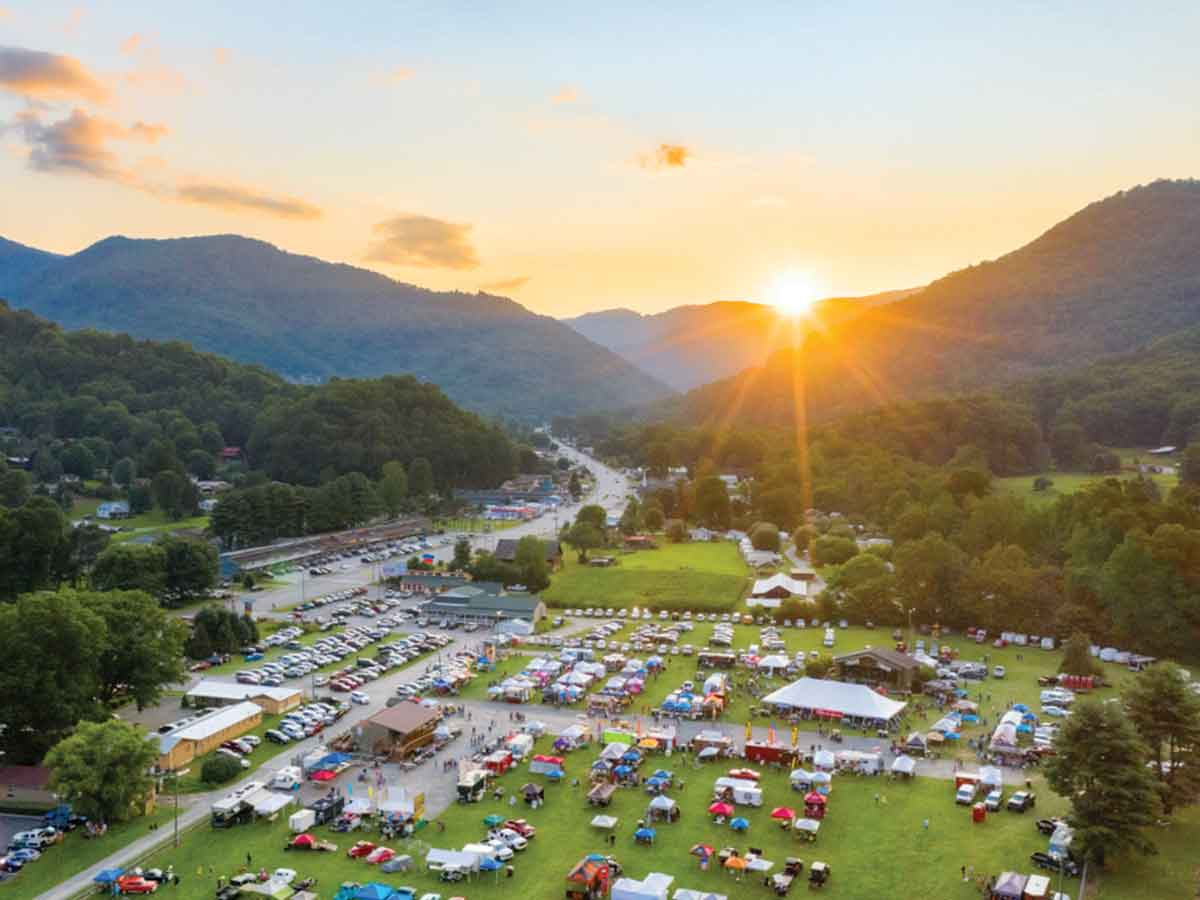 Festival ground fees are scheduled to increase beginning in 2023. Haywood TDA photo
If the Maggie Valley Board of Aldermen accepts the proposed FY 2022-23 budget, taxes will remain at $0.40 for the upcoming year without change. With this rate, the town will continue to have the lowest property tax rate of any municipality in Haywood County.
The budget lays out a framework for hiring two additional town employees, one assistant planner and one administrative assistant in the police department.
The total cost for the planning assistant is $58,578, and the proposed start date for the employee is July 1. This employee would assist Town Planner Kaitland Finkle and handle application intake, facilitate information to the public, receive complaints, manage code enforcement deadlines, legal notices and inspection scheduling.
"If you look at Maggie Valley over the last one to two years, land use issues and concerns are the dominant thing of the town," said Clark. "Trying to add human capital to that department, to better serve the people of the development community I think is a must going forward. Kaitland recommended that in her budget, I couldn't agree more."
The total cost for the police administrative assistant is $29,289, and the proposed start date is January 1. This person would coordinate training, maintain data, coordinate equipment and process evidence and property.
On top of those new roles, Maggie Valley is set to have a new town manager beginning in July, when longtime manager Nathan Clark will depart for a new position in Georgia.
The town's finance director, Shayne Wheeler, will also be retiring at the end of this year.
"Shayne's commitment to financial planning, accuracy and transparency is second to none and has been continually recognized by the Government Finance Officers Association," Clark said. "Her professional guidance and expertise as well as her advanced understanding of budget mechanics has allowed me the opportunity to concentrate on creating a budget that I hope reflects not only the values of the Mayor and Board of Aldermen but the people of Maggie Valley."
Maggie Valley's estimated total tax value for FY 22-23 is $498,103,992, which demonstrates a 4.6% increase from the previous year due to natural growth. The general fund of $3,322,044 represents a 6.4% increase from FY 21-22 while the sewer fund of $1,022,508 represents a 17.6% decrease from FY 21-22.
Because Maggie Valley has such a large fund balance, a transfer to the fund balance is not required and was not recommended in the FY 22-23 budget. Back in 2003, Maggie Valley received a warning from the local government commission for a low fund balance at 27%. Today, the town has a fund balance of over 138%, meaning the town has enough cash on hand to operate without revenue for 16 months.
Staff recommends the town choose two projects to utilize 20% of the fund balance. Some of the options it laid out were Bethel Village Street paving, a festival grounds parking lot project and the much-needed public works seasonal storage building.
With one penny of the tax rate equaling $48,814, Maggie Valley's estimated property tax revenue is $1,952,568. This is based on a 98% collection rate. While property tax is the largest source of revenue, the second is sales tax. Based on Haywood County's projections, Maggie Valley should receive 2.18% of total collected sales taxes, which equals $694,019. Sales tax revenues are 35.2% higher than in FY 21-22 due to the census population increase.
In addition to a new administrative position, the police department will need two new vehicles this budget year totaling $100,593.
Public works has $20,000 in the non-Powell Bill Road Fund. It will also need $14,000 to purchase a zero-turn mower and $8,000 to purchase a new salt spreader.
The board of aldermen has set aside $40,000 for economic development and place making projects. It will continue to put $25,000 into its new facade, sign and landscaping program — something it began during the FY 21-22 budget year that allows businesses in Maggie Valley to apply for a portion of the money for a project that improves its facade. The board has also allocated $25,000 to boardroom audiovisual improvements, something both elected officials and residents have been asking for since before November elections when new board members took office.
In addition to ongoing expenses, there are a few other special projects planned for the upcoming budget year. Construction on the veterans memorial park will begin in June of this year. Phase I includes site preparation, drainage, concrete, rock, flagpole and benches. Phase II will include plaques, signage and other design amenities. Last budget year, the board allocated $50,000 to the project, and the proposed budget calls for the same amount in FY 22-23. This will complete the cost of the veterans memorial park.
For the last three fiscal years, the town has allocated $120,000 to the Soco Road Improvement Project, which resulted in the town's required match of $360,000. This year, it is recommended that the town allocate $60,000 to the project. The project will focus on pedestrian islands, crosswalks and signage. Bike lanes have been removed from the project and the road will remain a five-lane highway. Total cost is estimated to be $2,370,000.
"Unfortunately, our design work on the project is complete, the project is in the bid, letting and preconstruction phase, but it has failed to receive bids during both the winter cycle and spring cycle of DOT lets," said Clark.
Maggie Valley received a total of $396,000 in American Rescue Plan money. Though the funds are not committed and may only be committed by the board of aldermen, the budget recommends using these funds for two sewer fund projects — levee repairs and aerial sewer line removal.
"I believe these projects make the most sense to fund using ARPA funds and have the greatest positive impact on the town's most important asset," said Clark.
The total revenues and expenditures for the sewer fund are $1,022,508. The proposed budget does not recommend increasing sewer development fees; however, it does recommend an increase in sewer user fees as a result of the town's Sewer System Financial Analysis and Capital Improvement Plan which lays out a 5% increase in all residential, commercial and campground categories for FY 22-23.
Festival grounds fees are also scheduled to increase beginning in 2023. Venue rental will increase from $500 to $600, and camping will increase from $25 to $30. This increase was discussed during budget workshops earlier in the year and will cover the cost of operation.
The board will hold budget workshop at its agenda setting meeting June 7. There will be a public hearing on the proposed budget at the June 14 regular board meeting. The board can adopt the budget at that June 14 meeting, but if there is strong public input or changes that need to be made, another workshop will be scheduled between June 14 and 30. The budget must be adopted by June 30.