Archived News
Equinox Ranch is up and running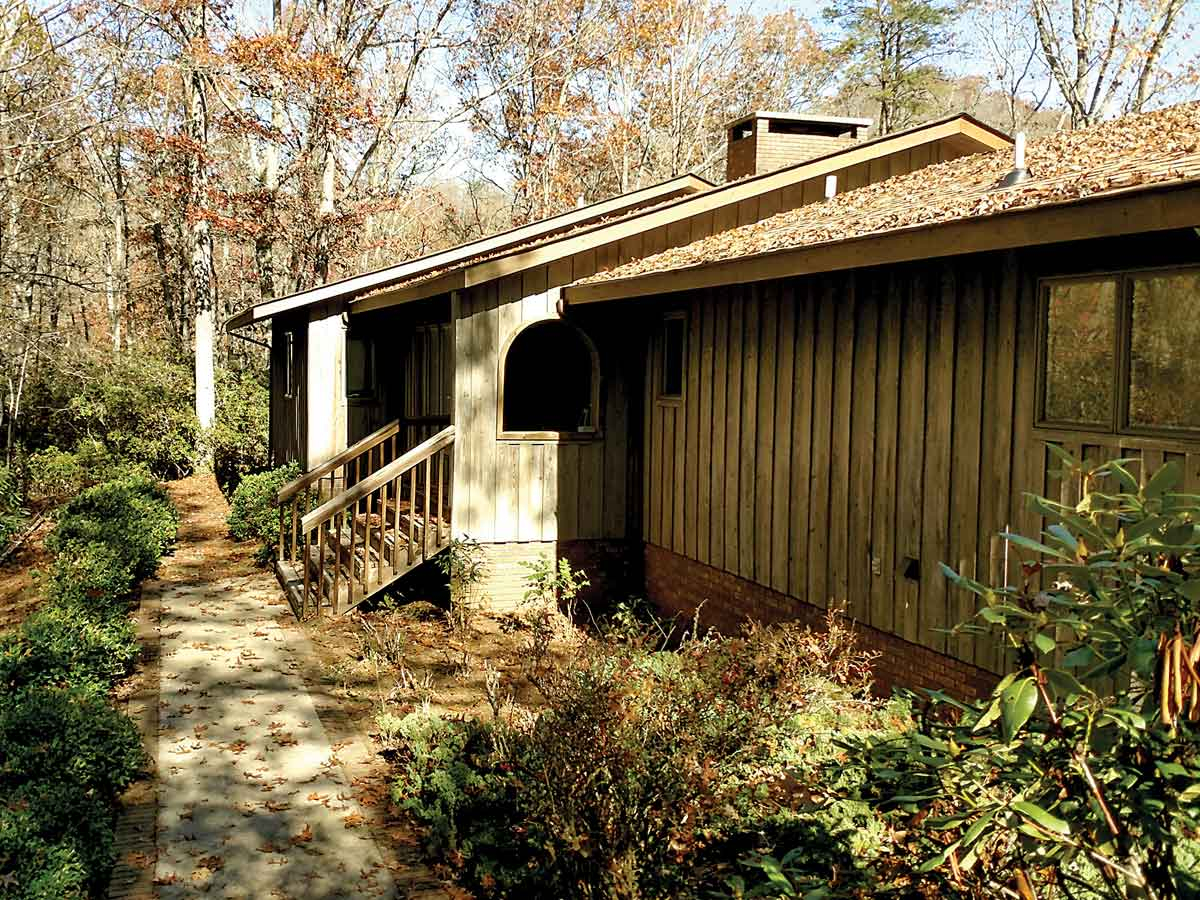 Not long after pulling off the busy NC 107 onto the small, single-lane road leading to Equinox Ranch, leafy green trees form a tunnel over a narrow street.
From the driveway of the recently remodeled house, the sounds of the highway are exchanged for something more natural — birdsong, the remnants of an afternoon rain shower dripping onto the forest floor, rushing water from the nearby Tuckasegee River. The sensation is one of leaving the hustle and bustle of the modern world behind.
This is exactly what Margo Capparelli had in mind when she envisioned Equinox Ranch. A place for veterans to take a step back from everyday life and get a handle on the process of healing.
"A lot of veterans really love to be here," said Capparelli. "It's away from the civilian world, they don't have to go anywhere."
The idea for Equinox Ranch grew out of Capparelli's experience with the veteran community. Fourteen years ago, she took a job teaching for the University of Maryland's European division. This meant teaching classes on U.S. military bases in Djibouti, Bahrain and Kuwait. Following this introduction to military life and the challenges faced by veterans, Capparelli earned her master's in psychology and began working for the National Veterans Suicide Hotline answering phone calls.
It was through this work, on the other end of the line with veterans in the midst of desperation, that the idea for Equinox Ranch began to grow — a place of respite, far-removed from the trials of everyday life that veterans often struggle to deal with after military service.
"It's part of the PTSD. As you go home, you pretend that life is great, and you keep it down and you keep it down," said Capparelli. "Roy, who owns the radio station here, he's a Vietnam veteran and he always describes it as trying to keep a big beach ball underwater. You can do it, but you're living in the past. You can't really enjoy the present. The civilian world is messy."
Renovating the 1980s house into a place where veterans can come and stay for weeks at a time has been a years-long process. Capparelli and her board acquired the property in Cullowhee in 2017 and have been working to outfit it ever since.
What used to be a four-bedroom house is now a 10-bedroom facility with a large group kitchen, meeting room and a private therapy room, all of which is ADA accessible and dog friendly. The meeting and therapeutic rooms are situated in what used to be a two-car garage, connected to the house by a paved, covered walkway.
"I always wanted the meeting space to be outside of the living conditions," said Capparelli. "I just think that's better for therapeutic reasons."
This required a total renovation of the interior of the house, knocking down walls in some places and installing them in others. New flooring, new doors, new paint, new windows, updated water and sewer — the list goes on.
"We're just happy that we have enough space and all the things we need to run our program," said Capparelli.
All of the work to transform the house was done by volunteers, many of whom were part of veterans groups or just interested individuals who came to believe in Capparelli's vision. One of those was Diane Brazier. A retired Air Force veteran, Brazier read about Capparelli's project in a women's magazine. On a trip from Florida to New York, she stopped in for a couple nights to help out before moving on.
"I painted a room, did some floors, and then I said, 'I'll be back. I don't know when, but I'll be back,'" said Brazier.
That was several years ago. The bathroom she painted isn't even in the house anymore, but Brazier, like so many others who pass through Equinox Ranch, did come back and stayed long-term to become instrumental in building out the inside of the facility. She is a handywoman who seems to be able to do just about anything that needs getting done around a construction or renovation site.
As she and Capparelli lead the way around Equinox, it is clear that Brazier knows where every nail, wire and pipe is located. She can tell someone where every wall of the original house stood in comparison to the walls that divide the place now. She spoke of digging out the earth that surrounded the house's foundation by hand in order to facilitate repairs and install windows on the bottom floor.
"It took us a year," said brazier. "We literally had to dig everything up, redo things, redo the front, everything."
Capparelli has been overwhelmed with gratitude. Were it not for the hard work of volunteers like Brazier and generous donations of materials from members of the community — every piece of material necessary for the renovation was made available through donations — the project wouldn't be nearly as far along as it is. Western Carolina University was especially helpful in providing volunteer services and assistance throughout the renovation process.
"The university's been great to us in many, many ways," said Capparelli. "We've had staff and students doing all kinds of things for us. The service learning department, they just gave us an award for being a good community member."
Even though the renovation is complete, Brazier and Capparelli are brimming with ideas for the future. They see themselves turning the old shed beyond the garage-turned-meeting room into a music and art studio for creative therapy. They also want to continue renovating the 23-acre property for outdoor activities.
"Who knows what the future brings? We've got 23 acres in total, and we're talking about raising vegetables, and possibly having a horse or two down the road, perhaps chickens," Capparelli said with a smile. "We have a goat; bees were the first to arrive, but I'm sure once we get ahead, other animals will just show up."
What will visiting veterans experience at Equinox Ranch?
Unlike many programs that aim to address PTSD, veterans are invited to stay at Equinox Ranch for two-week stretches, multiple times. While on the ranch, they will have access to a number of therapies, but importantly, they will also be in a calm environment, where outdoor recreation opportunities are abundant, as they work through trauma and recovery. Both Capparelli and Brazier see this as key to what Equinox is offering.
"Going in once a week and seeking therapy, it's not like being immersed in it and living it and being able to process it while it comes up," said Brazier. "Something might get triggered, and then you have to deal with it, and it comes up when you get home. Whereas here, they have the space to deal with it, even if they just walk to the river, they have the space to deal with it. If they want to go into a private therapy session, they can do that too."
The outdoor opportunities available at Equinox Ranch are abundant. Right now, a group of volunteers offer classes such as fly fishing and beekeeping, but Capparelli hopes to eventually employ a fulltime staff that would be in charge of leading these activities.
"The veterans seem to love bees," she said. "And when I think about it, it's because the bees are a nice little military. It's not messy. A lot of veterans, when they come out of the service, it's messy, and you don't know what the rules are like you do in the military."
Capparelli also hopes to provide educational opportunities for the community. She sees a gap in the care that veterans need, and the level of knowledge most people have about PTSD. Equinox will be instrumental in helping veterans and families learn about the intricacies of PTSD and the best tactics for handling the hardship.
"I think that a little education can go a long way to understanding people's behavior," she said.
The next step is getting people through the doors of Equinox Ranch. Though the facility just started offering its two-week programs over the last couple of months, they have been met with a great response. Capparelli and her team are prepared to assist veterans from Jackson County, and all over the United States, in their process of healing.