Archived Arts & Entertainment
Credits roll on Quin Theater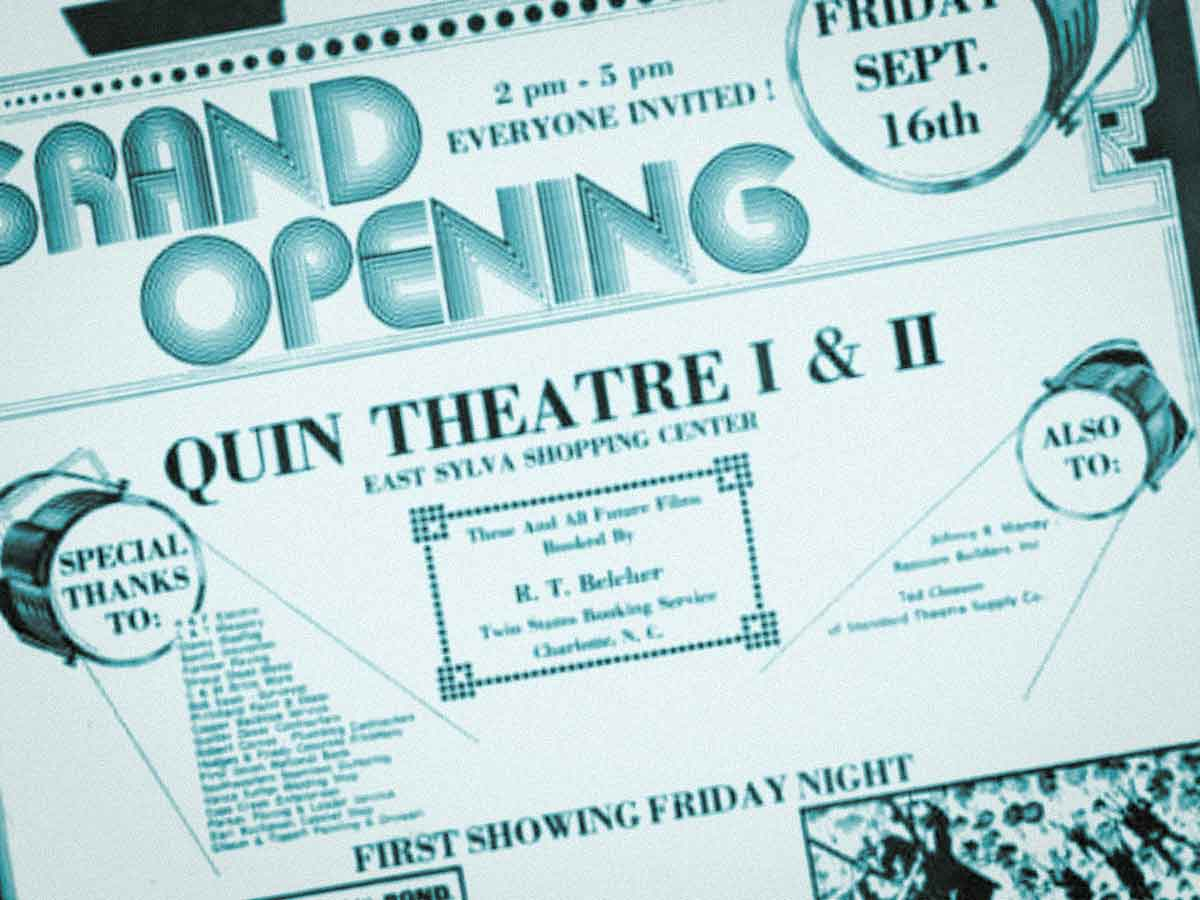 Since Johnny and Paulene Maney opened the doors to the Quin Theater in 1978, it has been a community staple and the home to many memories made. When the final credits rolled on April 26, it marked the end of an era not just for the Maney family, but for all of Sylva.
"We had been discussing [the closing] amongst ourselves," said Chris Maney. "My parents have been in the theater industry for 44 years. They built the theater when I was eight years old, and I started working there when I was 14."
After years of running a theater that was almost always open seven days per week, the Maneys decided they were ready to enjoy retirement with their family.
"In the entertainment business, especially a theater, you're on call anytime the theater's open," said Maney. "We were open seven days a week, all day long on Friday, Saturday and Sundays, and we were just wore out."
The abrupt nature of the closure, a Facebook announcement on the same day the theater would close, felt like the easiest way to part with the vast community that had become so invested in Quin Theater over the course of its lifetime.
"If we had said, we're gonna close in a month, then for that entire month, we'd be saying goodbye to people we've been friends with and gotten to know, and mentally didn't think we could handle it," said Maney. "It was just a lot. So we decided that we were going to close it, they picked the date and that's the day we shut her down."
Contrary to popular suspicion, the theater did not close due to pandemic hardship or lack of profitability in today's age of streaming abundance. Rather, it was time for the family that had been at the helm since the beginning to take their leave.
The poster from Quin Theater's opening weekend in 1978. Donated photo
Like many businesses in the area, Quin Theater did have to close temporarily during the Coronavirus Pandemic. According to Maney, the family kept the movie theater closed for about 18 months total.
"It was tough, getting through that time, but we had reopened and people were starting to come back, the crowds were coming back," said Maney.
When the theater was able to open back up, the Maneys noticed some changes to the business. Around this time, many of the large movie studios, like Warner Brothers, had deals with streaming services to make movies available at home the same day they were released in theaters.
"We noticed a fall off then," said Maney. "But then when they stopped allowing them to stream on opening weekend, our numbers were going back up."
According to Maney, the family has had several inquiries from people looking to lease the building that housed the Quin Theater. Some of those entities inquiring would like to reopen it as a movie theater, some would use it for other purposes, but nothing is set in stone and meetings have yet to take place.
"We would love to see them keep it as a theater," said Maney. "We're just kind of feeling our way around with it. Kind of seeing what's going on."
Regardless of what comes next, it is a bittersweet goodbye for the family.
"It's very emotional, lots and lots and lots of memories," said Maney. "I hear people say, if the walls could talk, and my wife runs our Facebook page and the response we got, the overwhelming memories that come back when you get to talking to friends and family and people, that have posted on our website, it made us feel really good that we had been able to be a part of their movie going experience for so long."
Under the post that announced the closure of Quin Theater, people shared their cherished memories. Several wrote about working at Quin for their first job; others reminisced about first dates at the theater, and some of those couples are still together years later. Still others shared memories of going to the theater as children and expressed how meaningful it was to then take their own children to the spectacle that is movies on the big screen at the same place.
Quin Theater witnessed a lot of change in its 44 years and from the community response it is clear it will be sorely missed.